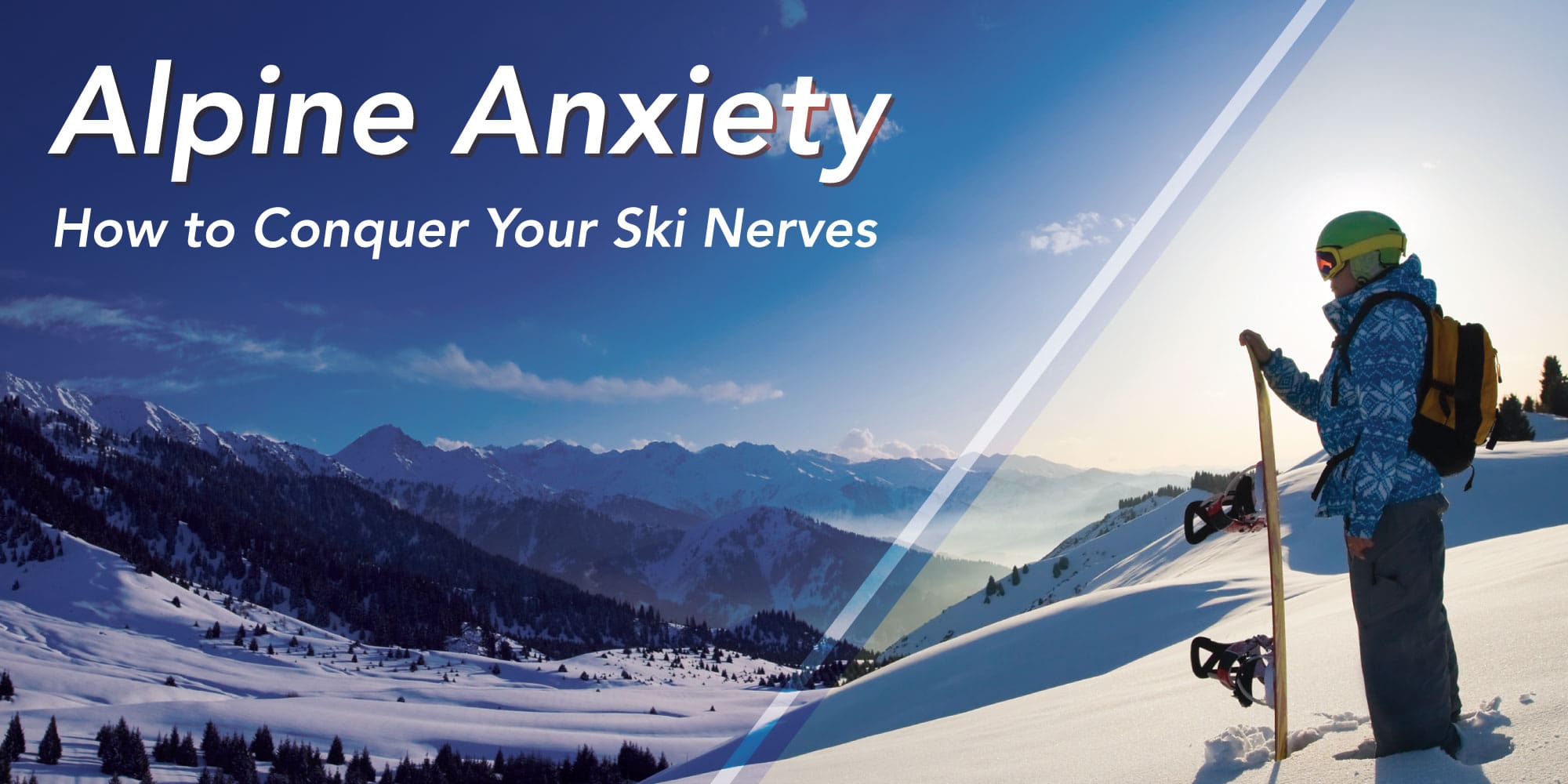 Alpine Anxiety: How to Conquer Your Ski Nerves
Alpine Anxiety: How to Conquer Your Ski Nerves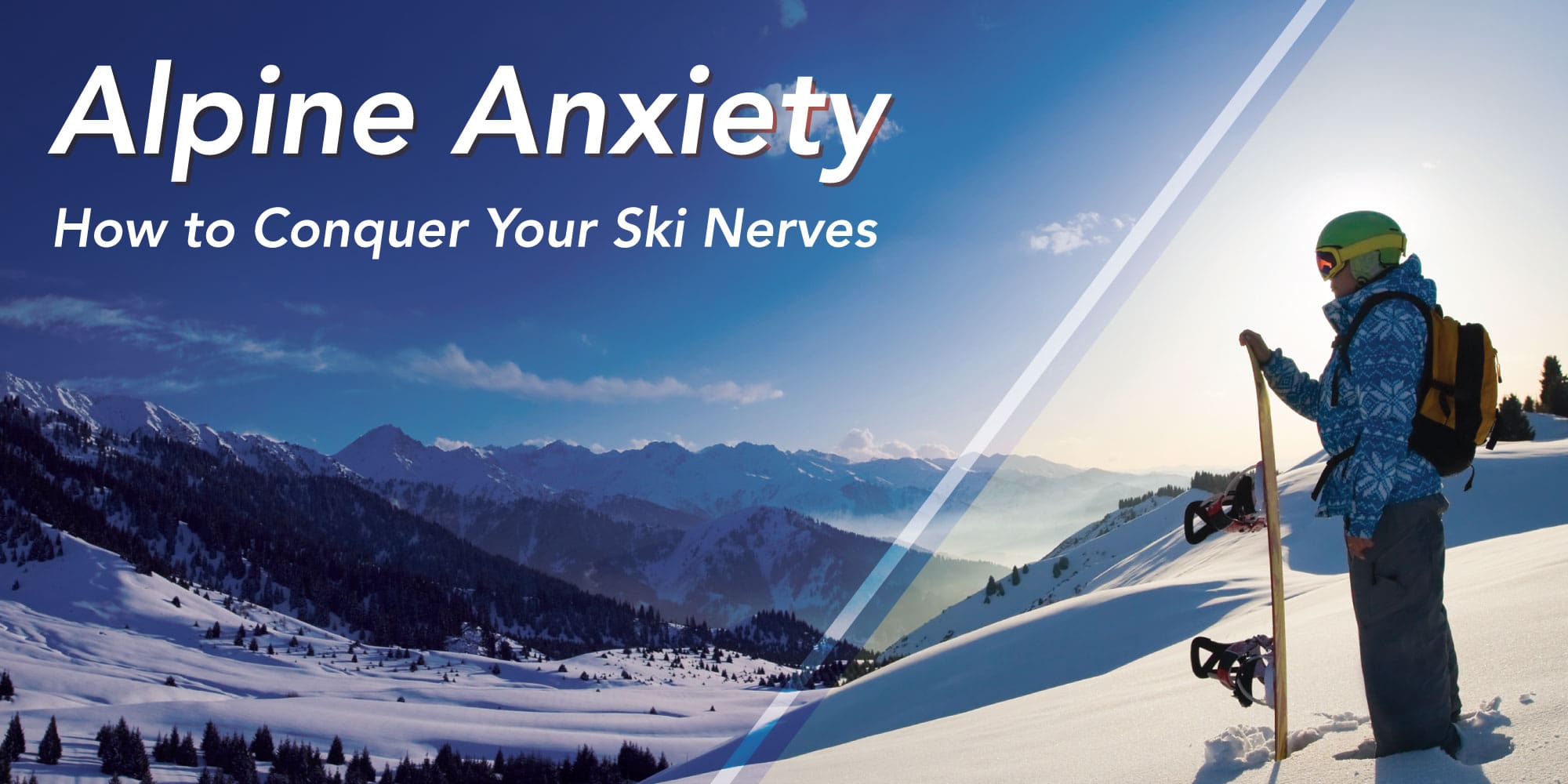 Picture the scene. You're returning to the slopes for the first time in a long time. Ski boots feel alien, the slopes look daunting, and you can't remember the difference between pizza and French fries.
How can you conquer both the mountain and your nerves?
Whether it's your first ski holiday, or you're returning to the slopes after an injury, there are plenty of rational reasons to feel nervous about skiing. Hurtling down a mountain does carry its risks, unsurprisingly.
We're here to help. Here's how to conquer your ski nerves.
Get Used to Falling Over
First time on the slopes? Falling will be inevitable.
If you're returning for the first time in a long time, be prepared to spend a lot of the day on your backside.
When you do fall – laugh it off!
You'll find the fear of falling is worse than the fall itself. There are harder landings than snow, after all.
Move on From Mistakes
If you fall over, don't dwell on it.
Focusing on wipe-outs will not help in your mission to get over your nerves.
You fell over, so what? Put it out of your mind until later, when it becomes great story to tell at après-ski.
Take Your Time
Whether you've lost your mountain mojo, or trying to discover it, take things at your own pace.
Don't feel pressured to take on the toughest runs until you're ready. Build your confidence up by sticking to the easier slopes. Once you've mastered them, you'll feel ready to tackle the bigger challenges.
There's no shame in taking it slow, at least for one day. Showing off can wait for another time!
You have the rest of the holiday to get competitive, after all.
Watch Some Tutorials
If you're feeling a bit rusty, refresh your memory by watching some YouTube tutorials.
Ski School by Elate Media has videos that cover everything you need to know to get your confidence back on the slopes.
If you're a first-timer attempting to brave the pistes without lessons, video tutorials are also a great way to get over your nerves. You'll be confidently pizza and French-frying in no time!
Take Ski Lessons
Lessons are a guaranteed way to see you mastering the slopes. An instructor can patiently talk the technique through with you and show you all the safety tips you may not know.
Your friends or family won't have as much patience!
If you've been skiing before, you might be reluctant to pay for more lessons. But, a ski instructor will be able to tap into confidence you never knew you had.
When it comes to getting over ski nerves, we recommend swallowing your pride. One lesson might be all you need to get your mountain mojo back!
Think 'Blue Pistes'
The resort can make or break your ski holiday!
For those who have lost their bravado on the slopes, or are trying to discover it, choose a resort with plenty of blue pistes.
Head to a resort with forgiving terrain to help you get to grips with the mountain again. You're much less likely to lose your bottle on a blue run!
Fake It 'til You Make It
Lost your nerve? Just pretend you haven't.
Getting yourself into the right headspace will help you get over your nerves. Replace any negative thoughts with positive ones.
Confidence is mostly mental! Looking good while skiing will help you act like you know what you're doing, even if you don't.
Whatever you're feeling on the inside, the trick is not to show it.

Practice on an Indoor Slope
They might never live up to the real thing, but practising on an indoor slope is a good idea for nervous skiers.
Get all your falls and shaky starts out of the way before you hit the mountain!
It's much less embarrassing to fall over on an indoor slope, if nothing else.
Embrace the Fear
It makes sense to be scared!
Realistically, getting nervous at the thought of skiing isn't irrational.
But, if you're feeling nervous, just ski through it.
If you respond well to a challenge, leave your comfort zone. Pushing past the nerves will not only see you embracing fear, but conquering it.
Scared of falling over? Attempt a more difficult run or play around with leaning sideways to get yourself used to the sensation. Make friends with the fear!
Get Fit for the Slopes
Get your body slope-ready! If your muscles aren't used to the sudden shock of the pistes, do some practice exercises beforehand.
Squats and lunges, or simply some cardio, are all great ways to prepare your body for a ski holiday.
Warm-up exercises will also reduce your chance of injuries or falls, which should help take away your nerves.
Focus on Something Else
When battling your nerves, try to distract yourself.
If the current slope looks daunting, don't focus on it. Instead, imagine yourself getting down it.
The breath-taking views aren't a bad distraction either!
Relax Your Body
When you're nervous, your body will automatically tense up. This can cause more injuries, as well as ruin your technique.
The solution? Loosen up a little!
Can't wait to head to the slopes? Make sure you can count on your transfer to get you to your resort. At Alps2Alps, we provide an affordable and reliable transfer service to all major resort destinations in the Alps. Find your low-cost transfer here.