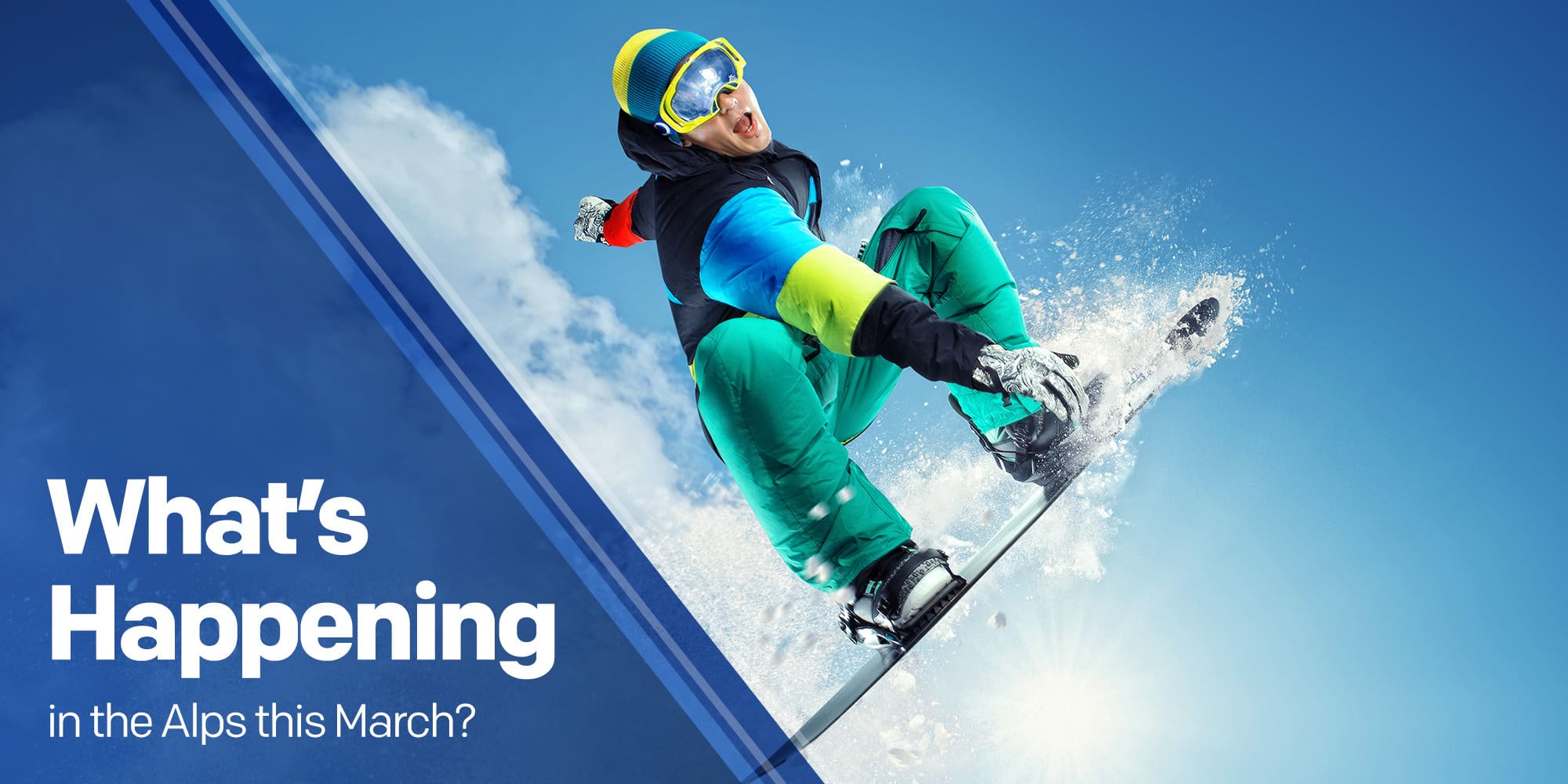 What's Happening in the Alps this March?
What's Happening in the Alps this March?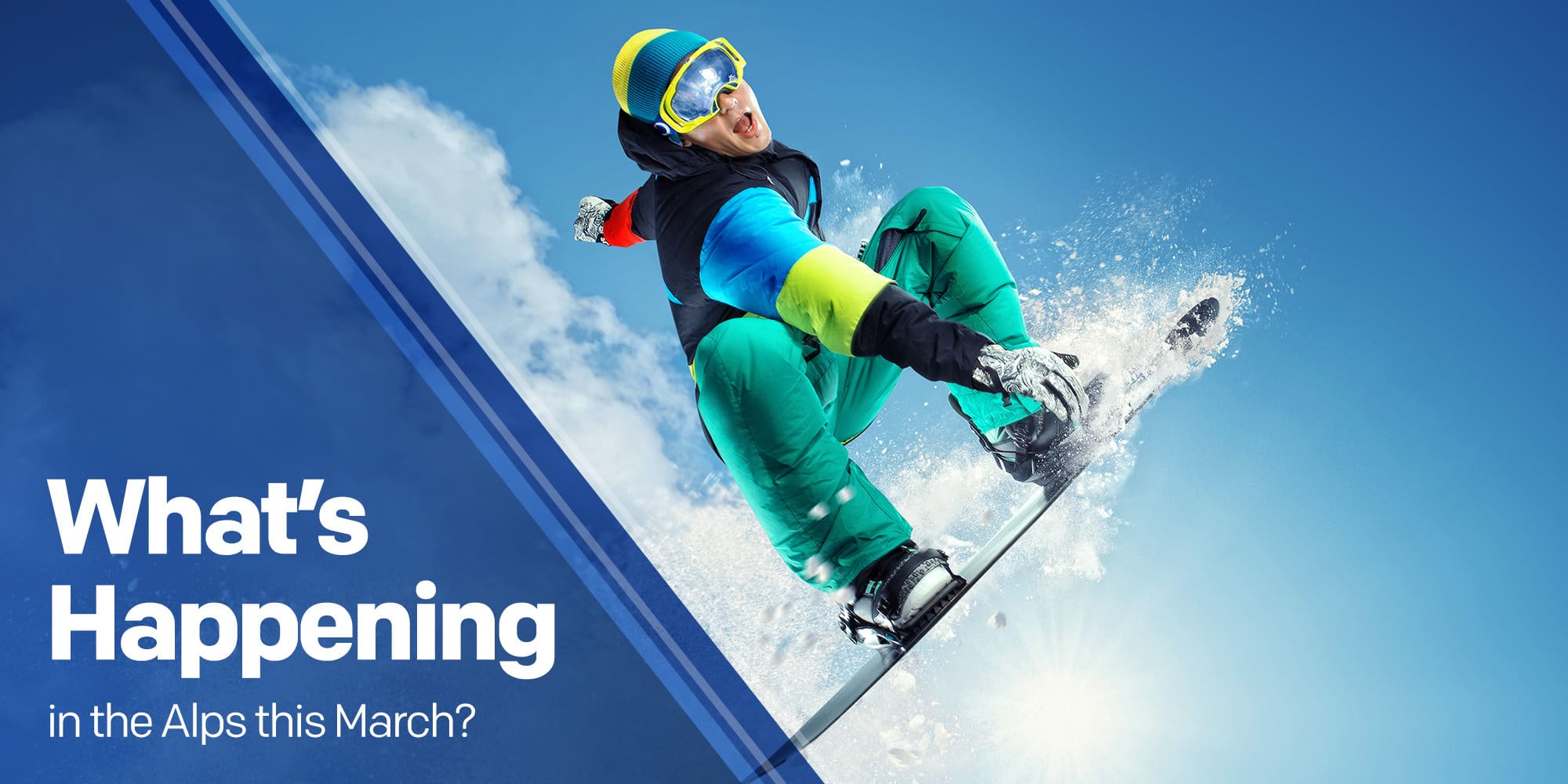 So, the ski season is coming to a close. This means that there won't be much happening in the Alps this month, right?
Wrong!
In fact, this month sees the Alps ending the season on a high. From music festivals to ski races, there's a lot happening off the slopes this March.
Don't believe us? We've rounded up the biggest and best events that should make your ski holiday an unforgettable one. Here's what's happening in the Alps this March.
RFM Winter Week, Avoriaz, France, 5th – 9th March 2018
RFM is a one of kind event hitting the slopes of Avoriaz this March.
Showcasing international artists and hosting daily radio shows, RFM Winter Week is the ultimate musical event.
You'll get the chance to discover some new artists as well as celebrate the famous ones!
If this wasn't enough, the clubbing lasts all night.
There's no chance of being bored off the slopes here!
Conquer the Alps, Innsbruck, Austria, 9th – 11th March 2018
Conquer the Alps is an event where winter sports lovers and party goers come together.
Skiers and snowboarders will put aside their rivalry and bond over a love of music and partying.
There's something for everyone! From team activities to scavenger hunts, you're sure to find something to suit you.
Good music sounds even better when echoing off the mountains!
Freeride World Tour, Fieberbrunn, Austria, 9th – 15th March 2018
Spending your ski holiday in Tyrol? Head to Fieberbrunn in Pillerseetal Valley for the Freeride World Tour.
Here you'll witness some jaw-dropping skiing accomplishments and amazing stunts.
This event will surely put your skiing skills to shame!
Skicolor, Les Gets, France, 10th March 2018
Up on the pistes of Mont-Chéry, Skicolor is an annual event that combines skiing and colour.
Facing Mont Blanc straight on, participants will ski down a specially prepared area while being immersed in explosions of colour.
This event is a uniquely fun experience that will see you standing out against the white of the slopes! Think 'The Colour Run' while on skis, and you've got the idea.
It's not technically a race, but no one will blame you for exploring your competitive side.
This event is sure to be an unforgettable one!
SnowBoxx, Avoriaz, France, 17th – 24th March 2018
Love festivals but hate the mud? You're in luck.
SnowBoxx is a festival on the slopes, complete with incredible snow and a star-studded line-up.
This event can boast five sell-outs in five years, so we're confident you won't be disappointed.
Think of it as the ultimate après-ski experience!
European Snow Pride, Tignes/Val d'Isère, France, 17th – 24th March 2018
For one entire week, Val d'Isère and neighbouring Tignes will host European Snow Pride, an event in its sixth year.
This event will be home to many internationally famous artists, all-night dancing and even a pool party.
It's an unmissable event that celebrates the LGBT community as well as excellent skiing.
It's a week of skiing and partying that you don't want to miss!
European Gay Ski Week, Les Menuires France, 17th – 24th March 2018
European Gay Ski Week is celebrating its tenth birthday in Les Menuires!
This event promises to be the biggest one yet. With cabaret, live music and non-stop partying, you'll experience the slopes like never before.
Is there a better way to celebrate spring skiing?
Rock the Pistes, Les Portes du Soleil, 18th – 24th March 2018
Want to combine snow, mountainous views and partying? Rock the Pistes has all of this and more!
This ski festival is so epic, it even crosses the border of two countries. Both France and Switzerland will be home to live concerts, treasure hunts and thousands of festival goers.
We can't think of a better way to end the ski season!
Glisse en Cœur, Le Grand Bornand, France 23rd – 25th March 2018
Glisse en Coeur is the ultimate charity event in the Alps.
Every year, skiers raise money for a certain charity with a 24-hour skiing relay that takes place non-stop from Saturday to Sunday!
It's a heart-warming event that showcases solidarity and raises money for a good cause! Why not show your support?
'Hochzeiger Rocks' Tribute Music Festival, Jerzens, Austria, 23rd – 25th March 2018
Fancy watching some tribute acts perform the music of your favourite artists while on a mountain? Well, now you can!
They might not be the real thing, but these acts know how to put on a show.
This one definitely ticks all the boxes for entertainment factor!
The Great British Celebration, Les Arcs, France, 24th – 30th March
You may never have heard of the Great British Celebration before now, but it's a hugely exciting event.
Complete with races, tournaments, partying, and even an appearance from Jenny Jones, the first Brit to win a medal in the Winter Olympics, this festival is not to be missed.
It's an event that celebrates skiing and British culture! So, if you're lucky enough to be in Les Arcs this March, make sure you check it out.
Speed Masters, Vars, France, 27th – 30th March
Every year, Speed Masters gets more and more impressive! This is an event that showcases some incredible skiing achievements, where participants reach jaw-dropping speeds.
In 2016, one participant was clocked at 254.958 km/h! So, we're confident this year won't be a disappointment either.
This speed skiing trail shouldn't be missed! It might be over in a blink, but it will be an unforgettable event.
So, now you know what's happening in the Alps this March, you just need to get there! At Alps2Alps, we offer an affordable, reliable service to all major resort destinations in the Alps. Find your low-cost transfer here!