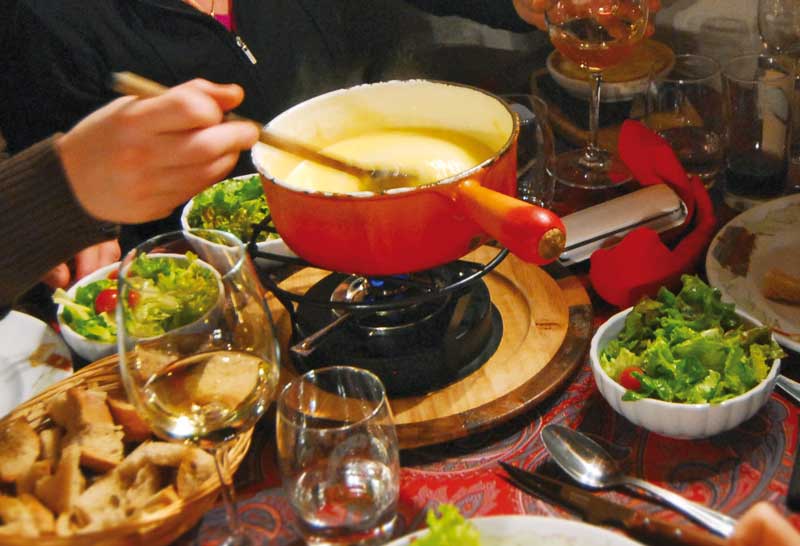 Fondue Savoyarde Recipe – Classic Apres-Ski Dish in the French Alps
Fondue Savoyarde Recipe – Classic Apres-Ski Dish in the French Alps
The Savoie region is one of the most famous and fashionable skiing destinations in France.  Nestled in the heart of the French Alps, the Savoie ski resorts attract winter sports fans and gastronomy lovers to enjoy an outstanding traditional Savoyard dishes and unique French gourmet experience. The food here is rich in traditional ingredients, such as delicious mountain cheese, fresh berries, apples, mushrooms collected in the forests, fresh fishery products, etc. The traditional Savoyard dishes have enough calories to fuel the skiers and help them maintain energy and focus.
You have probably heard of dishes like Reblochonnade, sheep, rabbit and goat meat grilled on hot rocks, tarts, local wines and desserts, which are served in the local restaurants. But, the region's most famous dish is, of course, Fondue Savoyarde, which is cooked in an iron cauldron from local cheese and crusty bread. This is the best mountain food to enjoy after a day on the slopes.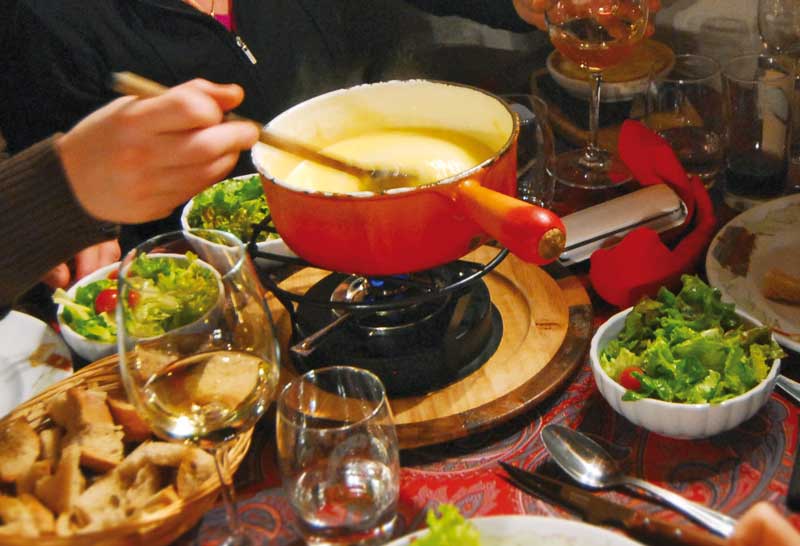 History of Fondue Savoyarde
The history behind this superb, but easy to cook dish goes back to the times long before mountain ski resorts became commercially viable. The origins of Fondue Savoyarde are in Switzerland, in the region of Fribourg. It is supposed to have been invented by shepherds, who spent long periods in the mountain pastures. They used leftover bread, cheese and a few drops of alcohol they had at the moment to cook high-energy, but economical food.
Then, people living in the Alps started to cook this dish when the weather was cold. Nowadays, there is no dining place in the Savoie region that wouldn't have the Fondue Savoyarde in its menu. If you have tried it at least once, while skiing in the Alps, you may want to make one at home and enjoy it with your family and friends!
Fondue Savoyarde Recipe
Ingredients:
250 g of Beaufort cheese
250 g of Comté cheese
250 g Emmental cheese
40 cl of dry white wine
1 tablespoon of kirsch
3 pinches of grated nutmeg
1 clove of garlic
Preparation:
Rub the inside of the fondue pot with a large, peeled clove of garlic.
Grate all the cheeses.
Put all the grated cheese in the fondue pot and add the white wine and grated nutmeg.
Heat the fondue pot over a low heat and mix the contents making a figure of 8 movement until the cheese is completely melted (do not let the mixture boil).
Pour in the kirsch and continue stirring.
Then cut the "stale" bread into small cubes (you can use any kind of bread that you like: with sesame, poppy seeds, nuts and grains if you feel the need to add a healthy touch).
Enjoy your Fondue Savoyarde!