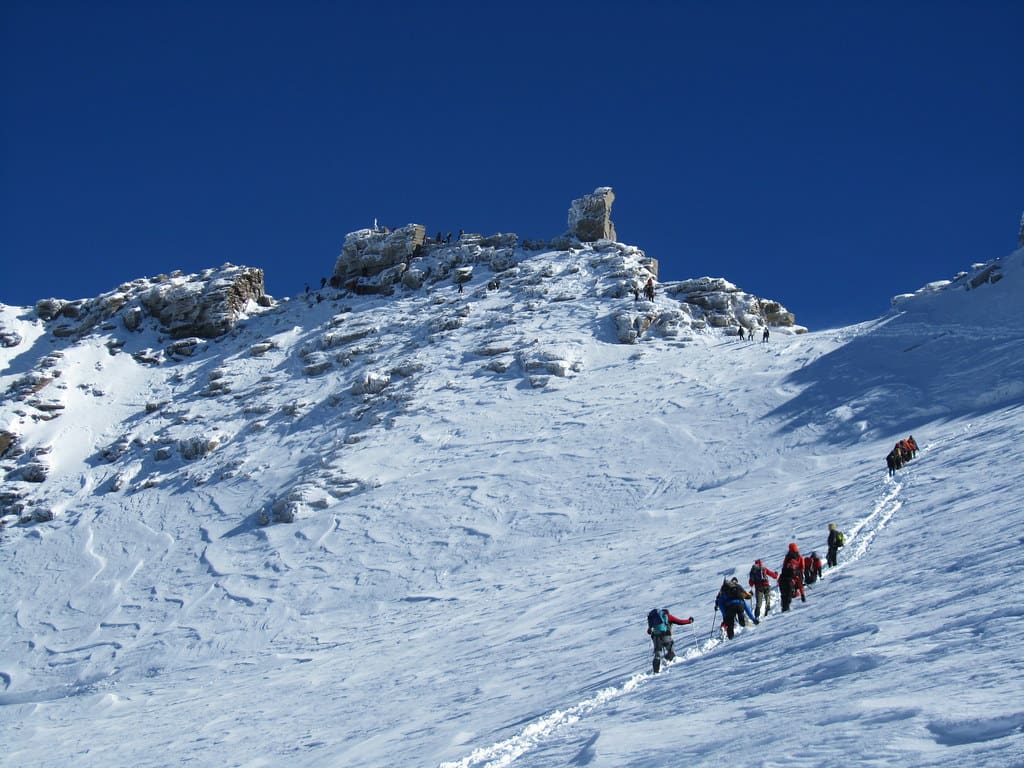 The Gran Paradiso Climb: Hiking in the Italian Alps
The Gran Paradiso Climb: Hiking in the Italian Alps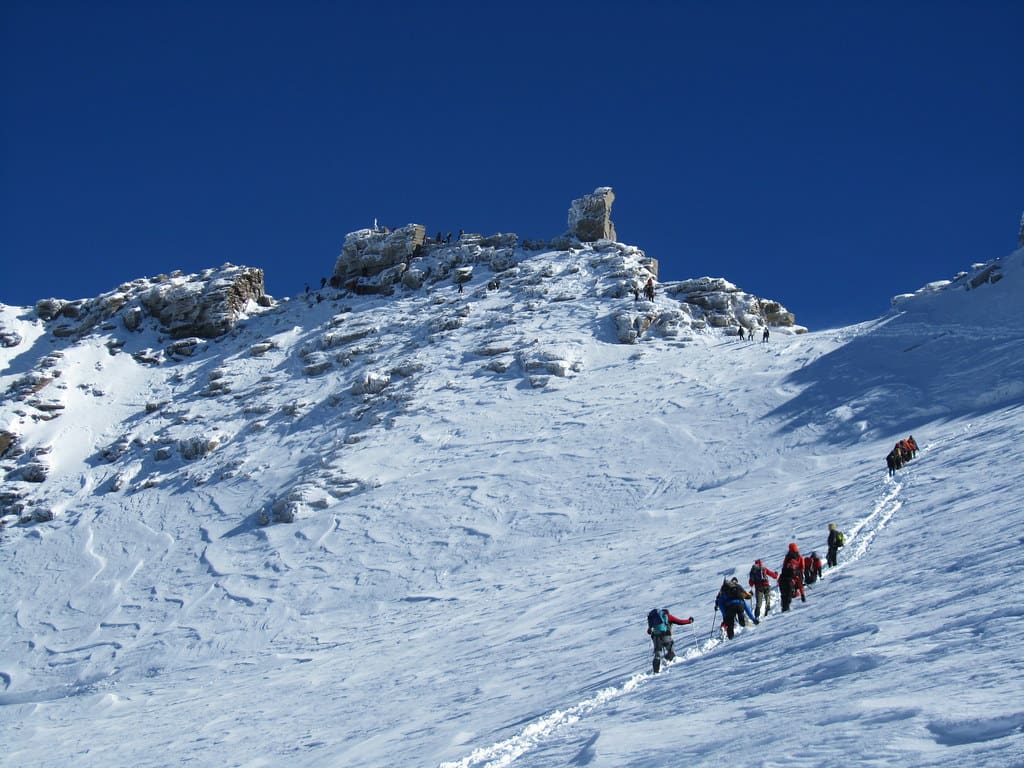 Fancy taking on the highest mountain in the Italian Alps? The summit of Gran Paradiso reaches 4061 metres up into the alpine mountains, and is set within the glorious Paradiso national park.
Reaching the summit takes dedication, a sturdy pair of mountain boots and a taste for adventure.
Read on to find out how to tackle the Gran Paradiso climb and spend this summer on top of the world.
Gran Paradiso Hiking Highlights
The Gran Paradiso hiking route is a great way of exploring the alps from a different perspective. Climb among some of the highest peaks in the alps to see some spectacular natural phenomena;
See incredible views of the Matterhorn, Monte Rosa and the Mont Blanc Massif
Walk through blossoming alpine meadows
Experience the feeling of accomplishment when you reach the summit!
Now we've got you revved up, let's get down to some details.
Gran Paradiso Guide: Essential Information
To get started, here's the route details at a glance;
Starting point: Chamonix/Turin
Duration: 1-3 days
Highest point: 4061m
Lowest point: 1850m
Mountain grade: F+
Cost: a guided hike can cost between 300-600 euros p/person
How Long Does it Take to Climb the Gran Paradiso?
This climb usually takes between 1 and 2 days to complete, depending on your pace and choice of route.
The first stage is to walk to a mountain hut that takes around 2.5 hours followed by the climb to the summit and descent which takes around 6 hours.
Three day guided hikes are available which offer an additional climb to one of the nearby, smaller summits to learn the ropes.
Gran Paradiso Difficulty
So, is this climb for you?
It is possible to attempt this hike with little previous mountaineering experience, but it will help. You will be walking along high and exposed mountain ridges and across rocky terrain at certain points of the hike. For this reason, it's a good idea to get some scrambling practice in before you start.
It's also important to go with a guide, especially if you haven't had much practice. Guided hikes usually offer training beforehand to get you used to the equipment you will be using and familiarise yourself with best safety practices.
You will need a good level of fitness as you'll be climbing 1300m on the second day and walking for up to 10 hours.
Top tip: It's a good idea to get acclimated to the high altitude by heading out a few days early for a shorter practice hike.
Gran Paradiso Weather: When to Climb the Gran Paradiso
The great thing about this climb is that it can be completed all year round! In winter, the journey can be made on skis. However, the summer months bring excellent weather and abundant wild flowers, making it our favourite time of year to visit.
During the summer, average temperatures on the mountain range between 8 and 12 celsius. However, higher up in the glaciers it gets much colder so don't forget to pack warm clothing!
Peak visiting times are between June and September, with August seeing the majority of visitors. Late spring and early summer is our favourite time to visit, as the mountain is quieter and the park is bursting with wildlife.
Top tip: Avoid weekends in August if you're looking for a quiet break!
Climbing Gran Paradiso Solo or With a Guide
Although it is possible to attempt this climb as a solo hiker, we don't recommend it. To be on the safe side, we recommend hiking with a small group. After all, reaching the top is better when you can celebrate with friends!
If you do want to go ahead with climbing solo, you will need lots of mountaineering experience behind you. Make sure you notify someone of your whereabouts and take all the relevant safety equipment with you. You will also need good travel insurance which covers hiking activities.
The best way to experience this hike is to go with a trained guide. Your guide will know the trail inside and out and will be the best person to ensure you reach the summit safely and responsibly.
Gran Paradiso Equipment: What do I Need?
Here's a list of essential items needed to complete this climb comfortably;
Comfortable clothing
Warm layers
Mountain shoes & climbing shoes
Backpack
Water Bottle
Toiletries
Sun protection
First aid kit
Headlamp, torch & batteries
Helmet
Rope
Climbing axe/ice axe
Crampons
Carabiners
Most of this equipment can be rented at the starting point of the hike.
Where to Sleep
Most hikers spend the night in one of the mountain huts along the route; Rifugio Vittorio Emanuele II or the Rifugio Chabod hut. A night spent in a hut costs around 50 euros. Although basic, these huts are comfortable places to lay your head and are full of rustic Italian charm.
Top tip: The Chabod hut is newer and a little quieter.
Camping Gran Paradiso
The campsites in Valle d'Aosta are a great option for nature lovers. Campers can set up in this beautiful natural setting and spend a few more days after the climb taking in the area.
Gran Paradiso Climbing Route Itinerary
Here's what to expect on your climb;
Getting There
Gran Paradiso is accessible from both France and Italy. One of the most common starting points for the climb is Chamonix in France as lots of guided climbs meet here.
Here's how to get there;
The closest airport is Geneva International. A transfer to Chamonix from here takes around 1 hour 45 minutes depending on traffic.
Alternatively, travel to Chambery Airport. From here, it's a 1 hour 55 minute transfer to Chamonix.
Alternatively, you could start from Turin in or at Port Valsavarenche in Italy.
Stage 1: The 'Normal' Route
The first stage of the climb is the walk to a mountain hut. There are two routes to choose from, both starting from Pravieux in Valsavarenche;
Starting at 1960m, the first route is slightly quicker at around 2 hours walking, and takes you to Vittorio Emanuele hut.
The second route is less popular and therefore quieter. This route takes you through Larch forests populated by the park's famous ibex inhabitants. Start at 1850m and climb for 2.5 hours to the Chabod Hut at 2750m.
Top tip: Makes sure you fill up on carb-heavy food before the big ascent!
Stage 2: Summit Day
From your mountain hut, set off early on a glacier walk to reach the summit. Here's where you will need your ice axe! The final climb features rocky terrain and a 60m scramble which is the most challenging part of the route. There are no lift systems so this part is all on you! Most guided groups make this final ascent with ropes for safety.
You will be met at the peak of the summit by a statue of the Madonna. Take in the view before heading back down to Valsavarenche to finish the trip and return to Chamonix.
The Gran Paradiso National Park
The Gran Paradiso National Park was created in 1992 to protect the local fauna and flora and preserve the areas natural beauty. Within the park you can spot wild ibex, stay in mountain huts and explore old villages and religious frescoes.
If attempting the Gran Paradiso climb isn't for you, there are plenty of easier trails to discover. Try the Becca della Traversière which offers lovely views during the summer, or if you're looking for a challenge, the Alta Via 2 trek is 12 day hike across the park.
Gran Paradiso Day Hikes
If you don't have time for a multi-day hike, or simply want to take it easy, there are several day trekking options to choose from;
Hike to Dres Lake
Taking just two and a half hours, this day hike starts at Villa Poma and ends at the Dres lake at over 200m altitude.
The Colle Bora Walk
Begin in the small town of Piamprato Soana, and spend around 3 hours hiking through woods and grassy alpine valleys.
Trek the Sylvenoire – Gontier
This longer hike takes around 7 hours, ascending 1205m to a mountain hut to spend the night.
Alternative Activities in the Gran Paradiso Area
It's easy to turn your weekend hiking trip into a week long summer holiday. With lots of exciting outdoor activities on offer in the area, even non-hikers will have plenty to do here.
Here's a list of alternative activities to do in the area;
Rock climbing
Mountain biking
Canyoning
Rafting
Trail running
Wildlife spotting (including golden eagles and weasels)
Visit an adventure park
Visit a botanic garden
Now all that's left to do is book your summer holiday to the Italian Alps!
Summer in the Italian Alps
To experience the beauty of the Alps during summer and to take part in thrilling adventure activities such as the Gran Paradiso climb, all that's left is to book your transfer.
Here at Alps2Alps, we have a team of friendly, English-speaking drivers on hand to whisk you to any major destination in the Alps. Our convenient, affordable service is the quickest and easiest way to get to the Alps.
Get your fix of the Alps this summer and head to the Alps2Alps transfer booking page for a quote in minutes!