Chamonix Resort & Transfer Guide
Chamonix is one of the oldest ski resorts in Europe and France. This resort, which is more than 200 years old, is famous for the first in the history the Winter Olympics (1924). Moreover, this place is the ancestor of skiing in general. Skiing started here in 1893.
One can confidently say that if the visiting card of France is Paris, then in relation to the Alps it is Chamonix. If we talk about the possibility of rest at this resort - in Chamonix, prices are such that it can be afforded both by very well-off people and by fans of mountain landscapes of medium-level prosperity.
The resort is deservedly considered one of the best ski resort in Europe. For two centuries Chamonix was the cradle of the mountain skiing, remains so nowadays and does not intend to take off its positions.
Ski Resort Location
Chamonix is located at the intersection of the mountain tunnel under the massif of Mont Blanc (Italy) and the Monte Pass (Switzerland), at an altitude of 1010 - 1200 meters.
Chamonix is circled by the mountains from all sides - it's hard to find a place from which one of the peaks would not be visible. The most majestic view opens from a height of 3842 meters with Aiguille de Midi, where in 20 minutes you can climb by the cable car (one of the highest in Europe). It is not only the opening of a panorama of mountains, of valleys, of glaciers but also of a huge structure. And, of course, Chamonix is Mont Blanc: the highest mountain of Western Europe is visible from different points of the valley, and especially well from the slopes over the resort.
Closest Airports to Chamonix
Going to Chamonix you should arrive via one of these closest airports:
Closest Train Stations to Chamonix
There are direct trains to Chamonix. Operated by the French national rail network SNCF. The main train station is Gare de Chamonix Mont-Blanc.
Transfer Times
These transfer times are approximate only. Notice that unfavourable weather and traffic conditions can impact the time of your transfer:
Chambery Airport (CMF) – 1 hour 55 minutes
Grenoble Airport (GNB) – 2 hours 40 minutes
Lyon St-Exupéry Airport (LYS) – 2 hours 40 minutes
Lyon Saint-Étienne–Bouthéon Airport (EBU) - 3 hours 30 minutes
Milan Malpensa Airport (MXP) – 3 hours 10 minutes
How Much Will My Transfer Cost?
Alps2Alps is a team of professionals, and we do everything possible to keep our fares uniquely beneficial costs through the whole season.
There are only some factors that can impact on your final transfer price:
Via which airport you will be travelling
Way to the ski resort (distance and transfer time)
Date of your trip and seasonal demand
The size of your group and the age of the travellers
Shares and our current discounts
You can be sure of the most beneficial transfer costs. We never make our prices growing at any time or for any reason.
In Alps2Alps we consider all the factors to make the transfer cost as low as possible. We always recommend booking our services in advance, in order to get the best offers. Be sure of significant discounts for off-peak and midweek transfers to Chamonix. We offer midweek (Monday to Friday) prices with up to 60% discount than at weekends.
The final cost of your transfer will also be dependant on such factors as vehicle availability, transfer schedule, vehicle utilisation and some others (road tolls and airport parking charges).
If you have any requests or will be travelling in a large group, please contact us directly to discuss all your needs.
Resort Open & Closing Dates
Seasonal opening dates at Chamonix are dependent on snow conditions, currently scheduled:
Season opens – 24th November 2018
Season closes - 1st May 2019
Ski Resort Essentials
Chamonix is a real Mecca for skiers and snowboarders from all over the world. Fans of freeride and professionals are waiting for the slopes of Gran Monte and descent to the famous White Valley "Vale Blanche" (22 km - the longest ski slope in Europe), and less experienced skiers – for a large selection of well-equipped tracks.
90% of the ski runs are at an altitude of 2000 m and above
50 km of cross-country ski runs
More than 3000 hectares of perfectly prepared trails
106 Pistes (in total about 120 km )
14% Green pistes
34% Blue pistes
38% Red pistes
14% Black pistes
49 Ski lifts
Amazing views of Mont Blanc (peak Aiguille du Midi (3842 m) with panoramic terrace and restaurant
Family Friendly/Kids
Even those who have never stood on skis should come here with no doubts. At least - to enjoy the amazing views of the French Alps from viewpoints from the restaurant window. There are a lot of opportunities for active recreation with children in Chamonix. In the valley, there are many private instructors and several schools equipped with special easy trails, which are convenient to learn to ski.
Tourist offices offer babysitting services and on some slopes, there are nurseries and kindergartens. A real delight among young travellers is caused by dog sledges with the blue-eyed husky. Skating on snowdrifts or toboggan tracks will also bring a lot of pleasure to both children and adults.
Weather/Snow Weekly Forecast

View detailed snow forecast for Chamonix at:
snow-forecast.com
Maps of Chamonix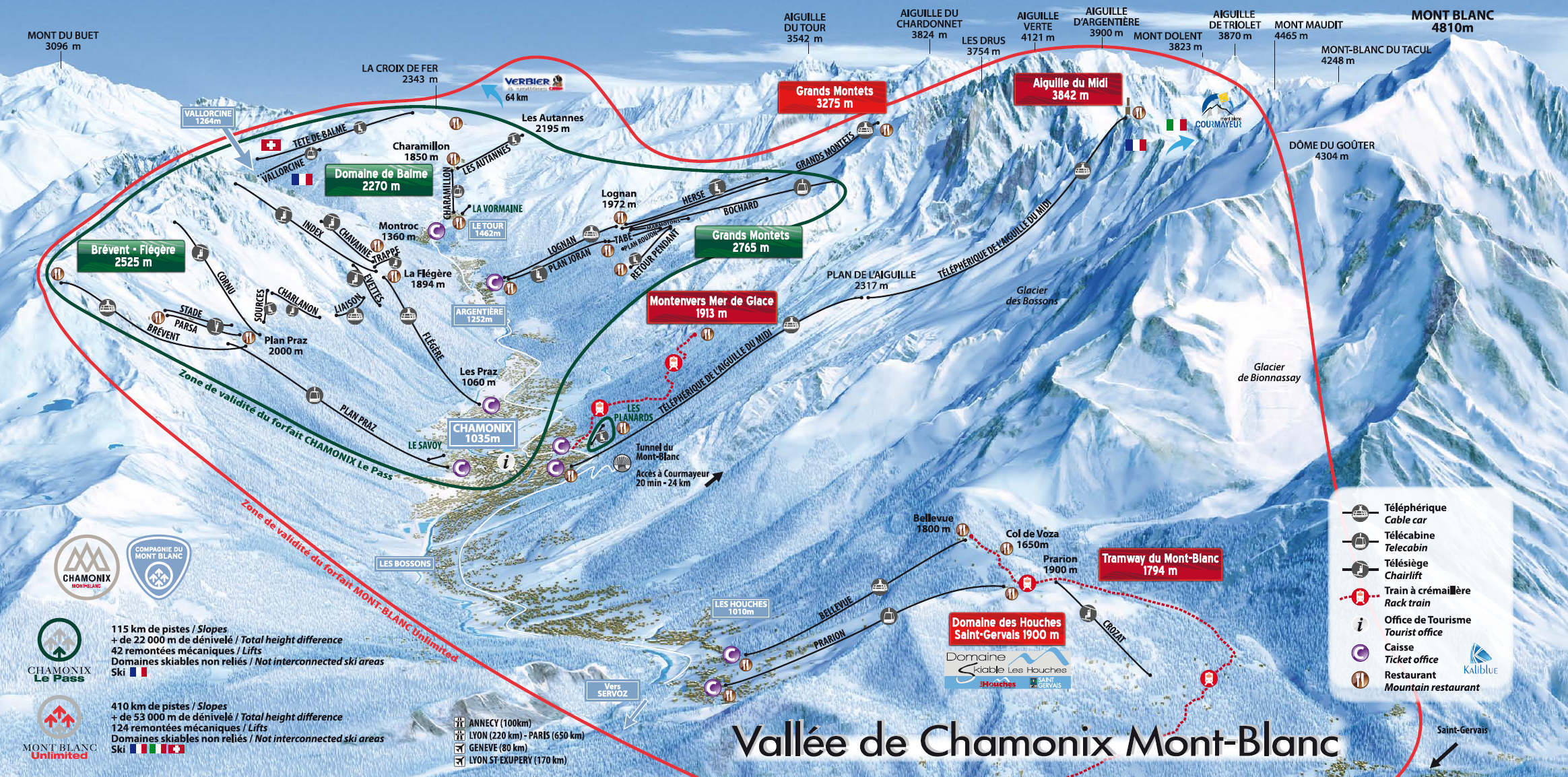 Live Webcam
Tourist Resources & Links
Going to spend your holiday at Chamonix, be sure to check out some web pages to get more information about all the opportunities provided by this ski resort:
How to Choose Transfers to Chamonix
Alps2Alps always are ready to offer you a premium quality transfer services to the ski resorts with the highest level of reliability and hospitality and at the lowest price also. Choosing Alps2Alps you can be sure of:
Punctuality and professionalism in all cases
The most attractive prices for all our transfers
Family-friendly Customer support service 24/7 for you
Good English speaking drivers
Discounts through whole season
Safe and clean vehicles always
Book Your Ski Transfer to Chamonix
We advise you to book your transfer in advance to avoid of prices growing.
If you need to get more information about our transfer services, just give a call to our customer service support team and you will be told all the missing information: