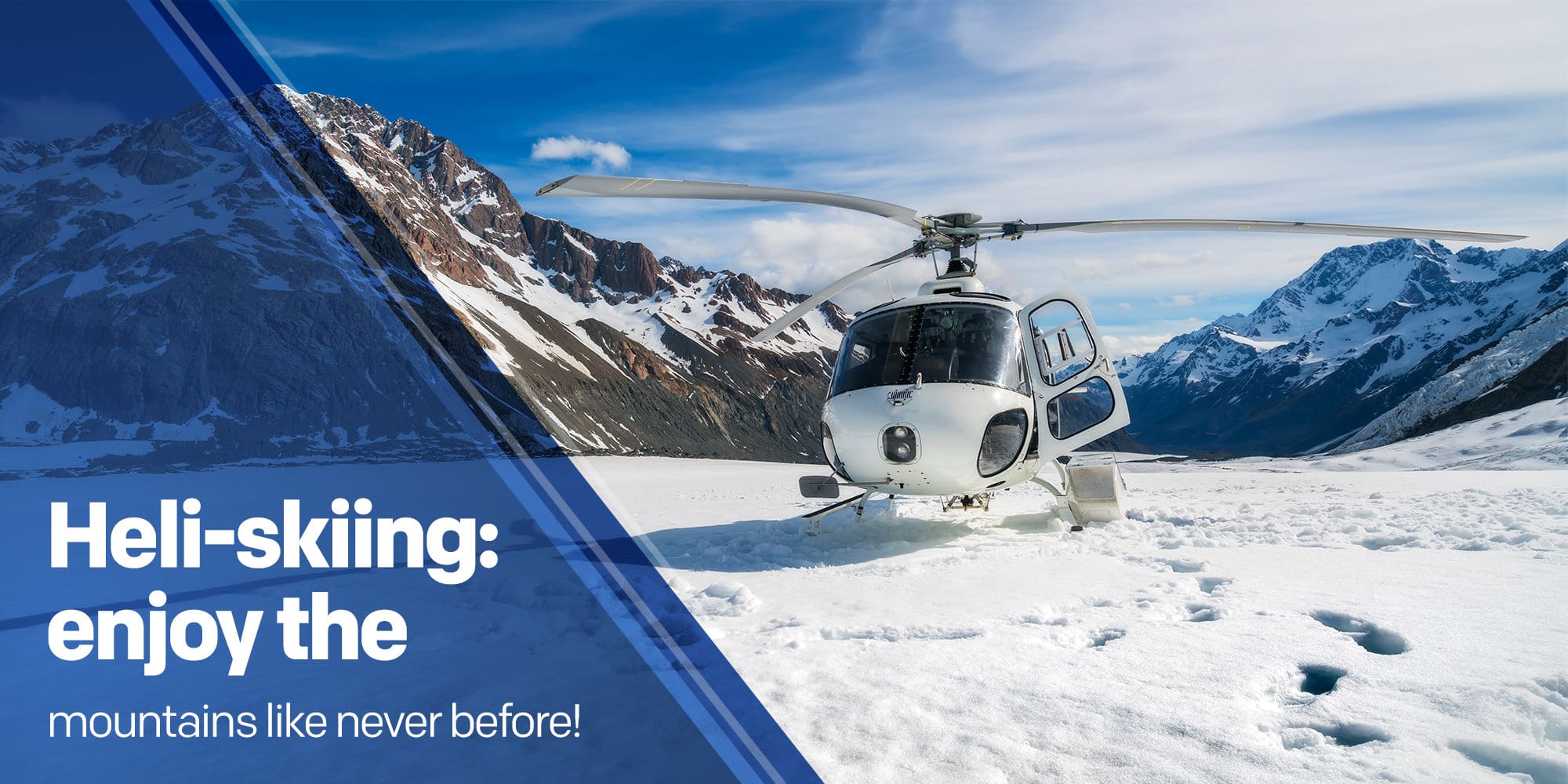 Heli-skiing: enjoy the mountains like never before!
Heli-skiing: enjoy the mountains like never before!
If you are an intermediate or advanced skier, popular pistes and habitual landscapes may become too well-known to you. Luckily, skiing industry is constantly evolving and there are captivating opportunities for those who want to have a great run. Heli-skiing provides a chance to ski on untouched snow, far from crowded pistes and hustle and bustle around the lifts. Read our article, co-produced with heli-skiing operator Adrenaline, and find the essential information on what heli-skiing is and who can try it!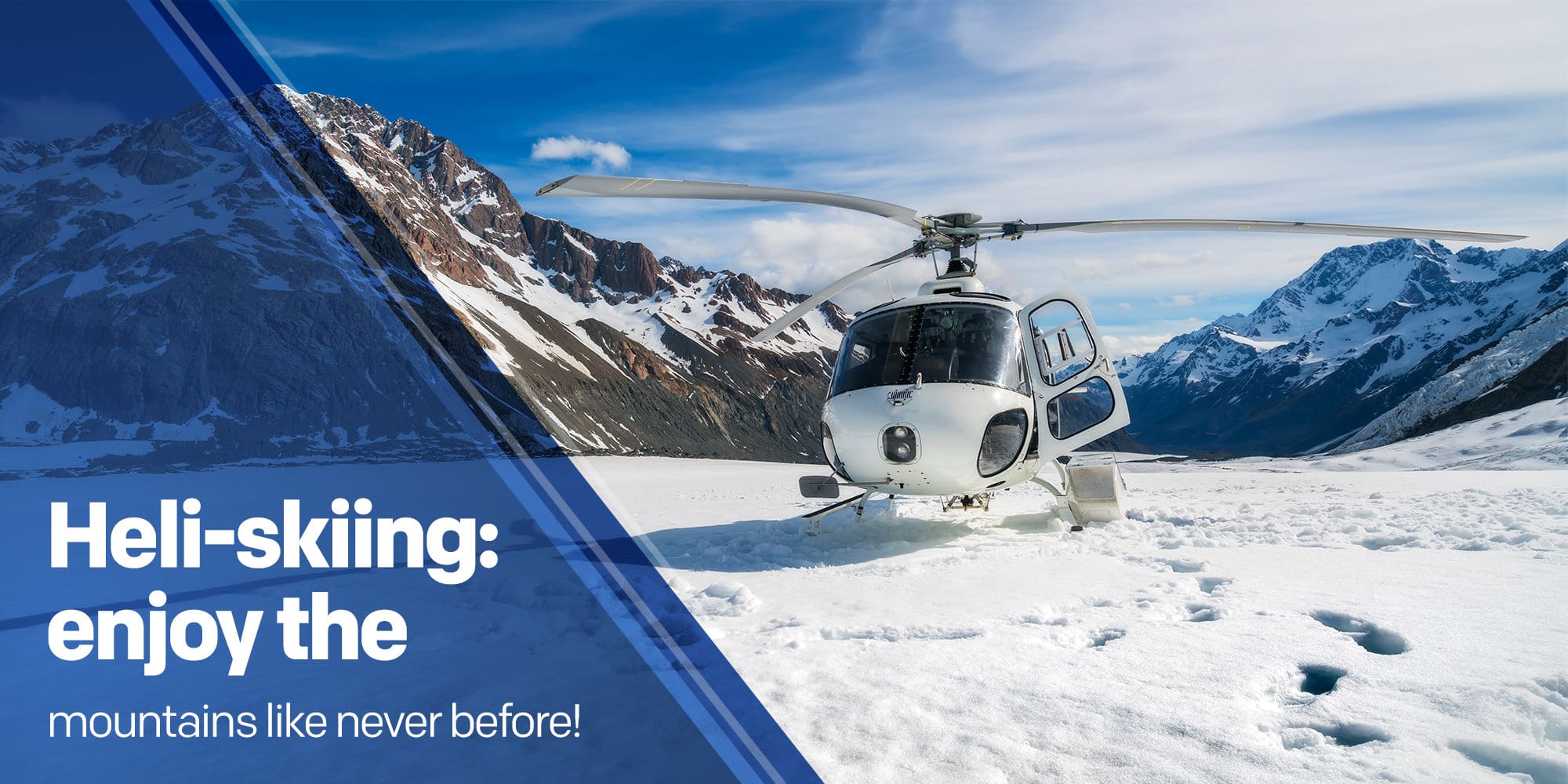 Skiing & sightseeing combined
Heli-skiing is great for explorers and those who don't want to be disturbed. Instead of taking a lift and using routes thousands of people have used before, you can board a helicopter and be on a landing spot in a couple of minutes. The average heli-ski run is around 2000 m, and it normally takes from 90 to 180 minutes to complete the run.
Heli-skiing is worth trying because of:
You will never see the mountains from this angle when skiing on lower pistes. Even the higher lifts don't go that high up the mountains, whereas a helicopter leaves you in an area unspoilt by human activity;
great powder snow. A very smooth and dry kind of snow is ideal for advanced skiing. High altitude, low temperatures, and frequent snowfalls guarantee top-level snow for most of the season.
There will be no noisy crowds on top, just your small company of friends and pristine glaciers around. Heli-skiing provides a unique opportunity to see mountains as they were hundreds of years ago – majestic and overwhelming. But how "good" must you be in order to experience it?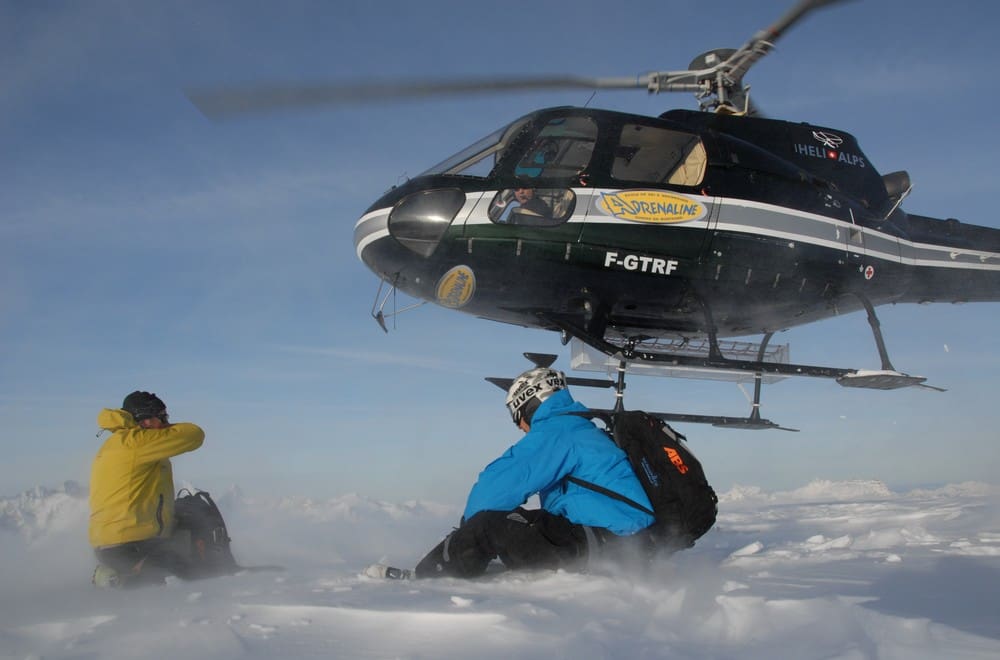 Source: http://www.heliskiing-switzerland.com/
Check if heli-skiing is for you!
Heli-skiing is designed for those who have enough experience with regular pistes. As this kind of skiing is challenging and more demanding than regular one, skiers should impartially evaluate their skills before booking a tour. An ideal heli-skier:
is in good shape;
feels confident on red and black runs;
preferably has some off-piste skiing experience.
Heli-skiing in groups is only available to advanced skiers, who perfectly control skis on all kinds of terrain and snow. You should also take into account that specific equipment is necessary for heli-skiing.
Every skier should have:
a pair of freeride skis. Those who want to walk in order to find remote routes, need to have touring skis as well;
warm and waterproof clothes: hat, gloves, insulated jacket, breathable shell;
a set of safety equipment: transceiver, shovel, probe, ABS airbag and harness.
In case you don't have your own safety equipment, you can usually rent it from heli-skiing operator. However, you should know how to use all these items, so take your time and get some practice before actual tour.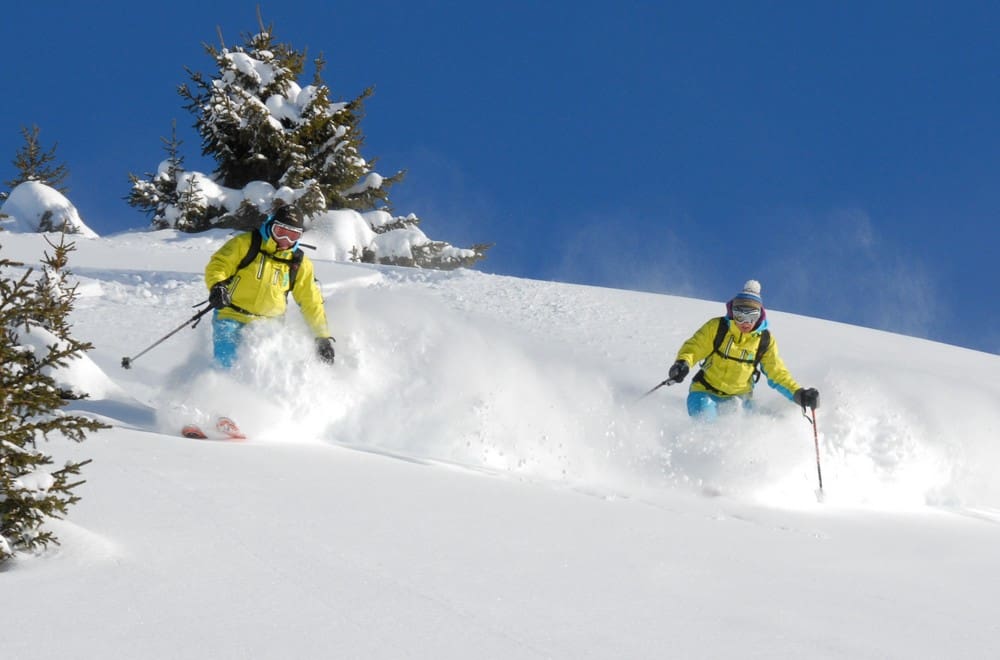 Source: http://www.heliskiing-switzerland.com/
Heli-skiing step by step: 5 things that will happen on a tour
Heli-skiing is a complex service, and if you book a tour, you will receive instructions for every stage. However, it is good to know the theory in advance, so here is a list of what a heli-skiing tour consists of:
the day before the trip the time of departure and the meeting point are arranged;
a group of skiers meet with a guide or a guide collects skiers from their chalet or hotel;
a guide briefs skiers on the tour, gives a description of the chosen route, and distributes safety equipment for those who reserved it;
a helicopter takes skiers up to the mountain, leaves them there with their equipment, and takes off;
skiers begin descent and later are either picked up by the guide or take the lift down.
Bear in mind that heli-skiing depends heavily on weather. The tours might be cancelled if weather conditions are unfavourable, for example, if there are risks of avalanches. These precautions are necessary to make skiing as safe as possible.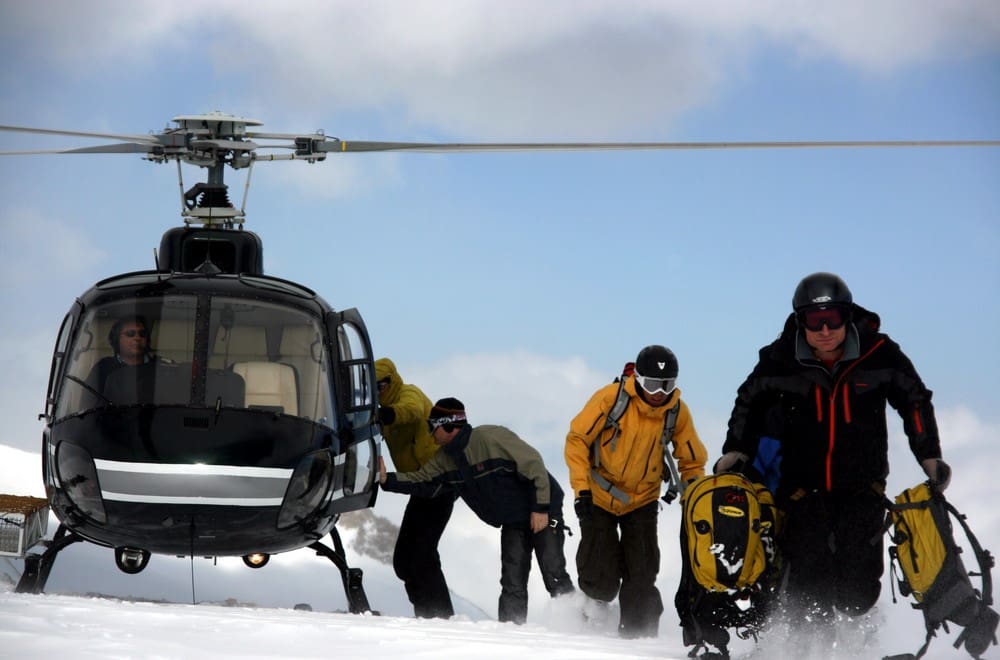 Source: http://www.heliskiing-switzerland.com/
Private & group heli-skiing in the Swiss Alps
Switzerland is the place where you can try heli-skiing in Europe. Adrenaline operator only works with certified guides and uses powerful helicopter Eurocopter AS 350 B3 for its operations. The AS 350 B3 can take up to 6 people on board – 4 clients, a pilot, and a guide. Heli-skiing tours are available for groups from 2 to 7 people.
Adrenaline's services are currently available in the canton of Valais. Several meeting points are located around Verbier village – a holiday resort, famous for its off-pistes. Due to high altitude some mountains and glaciers are covered with top-quality snow all year.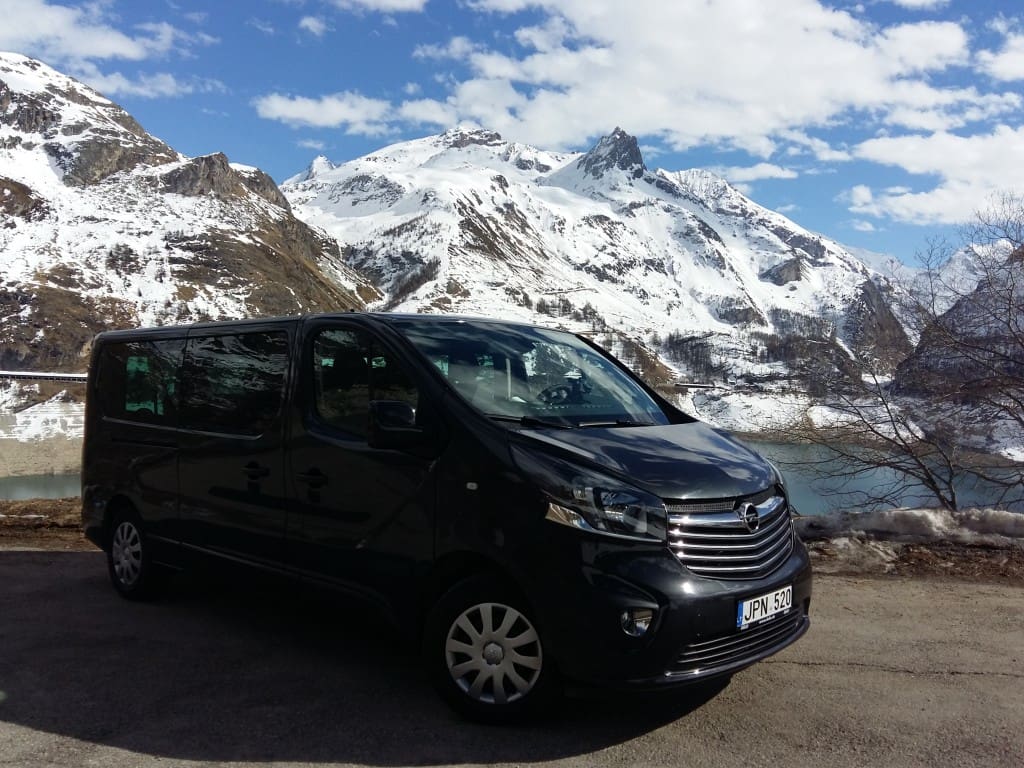 The closest international airport is Geneva airport, from where you can quickly get to Verbier using Alps2Alps transfer. Affordable ski rental service makes travelling even easier, as you don't have to pack and transport equipment on your own.
Breathtaking scenery, challenging routes, and unrivalled feeling of accomplishment – this is why experienced skiers opt for heli-skiing. Spread the message around your fellow skiers and plan next ski holiday together!