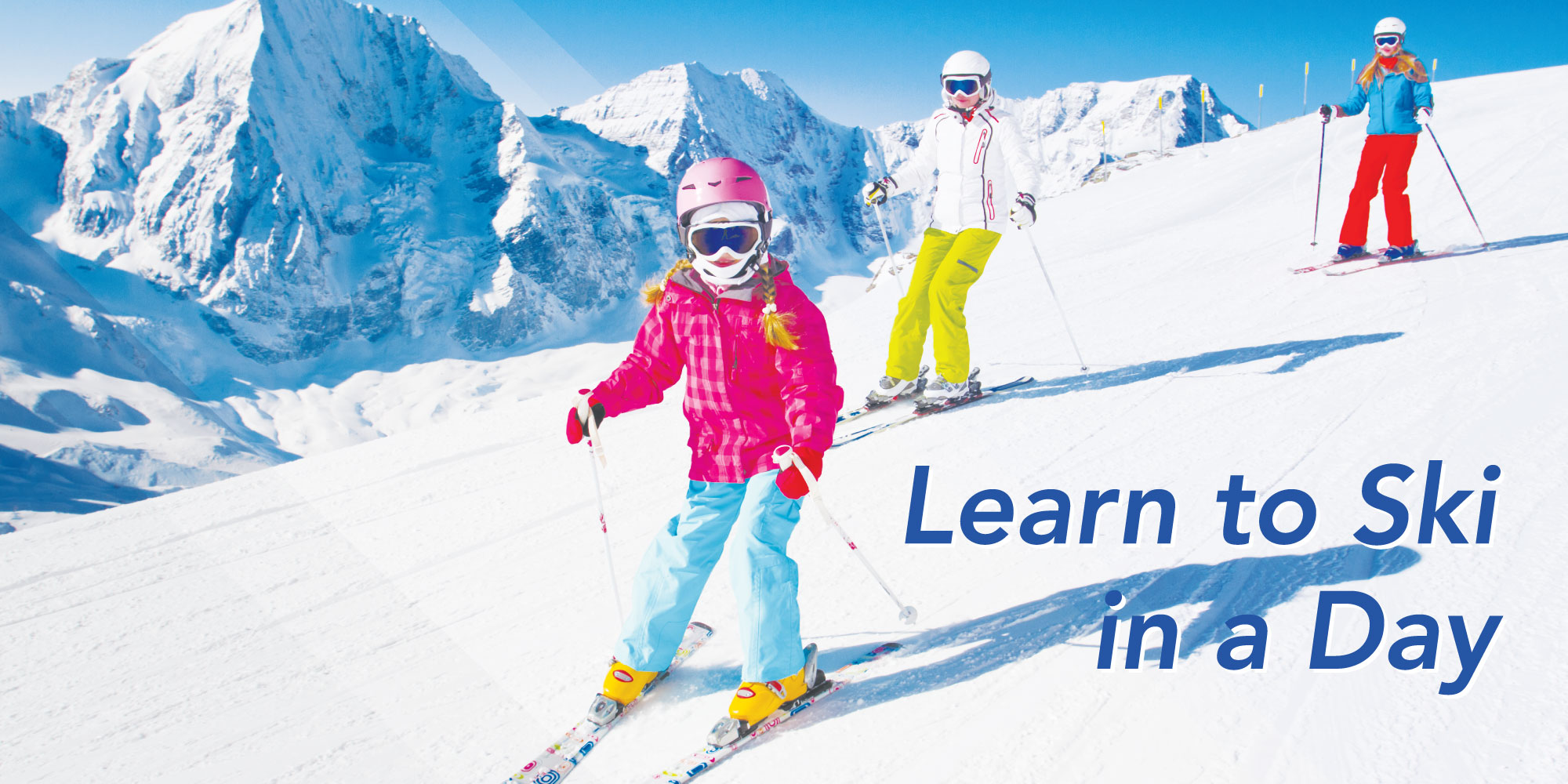 Learn to Ski in a Day: The Rogue's Handbook
Learn to Ski in a Day: The Rogue's Handbook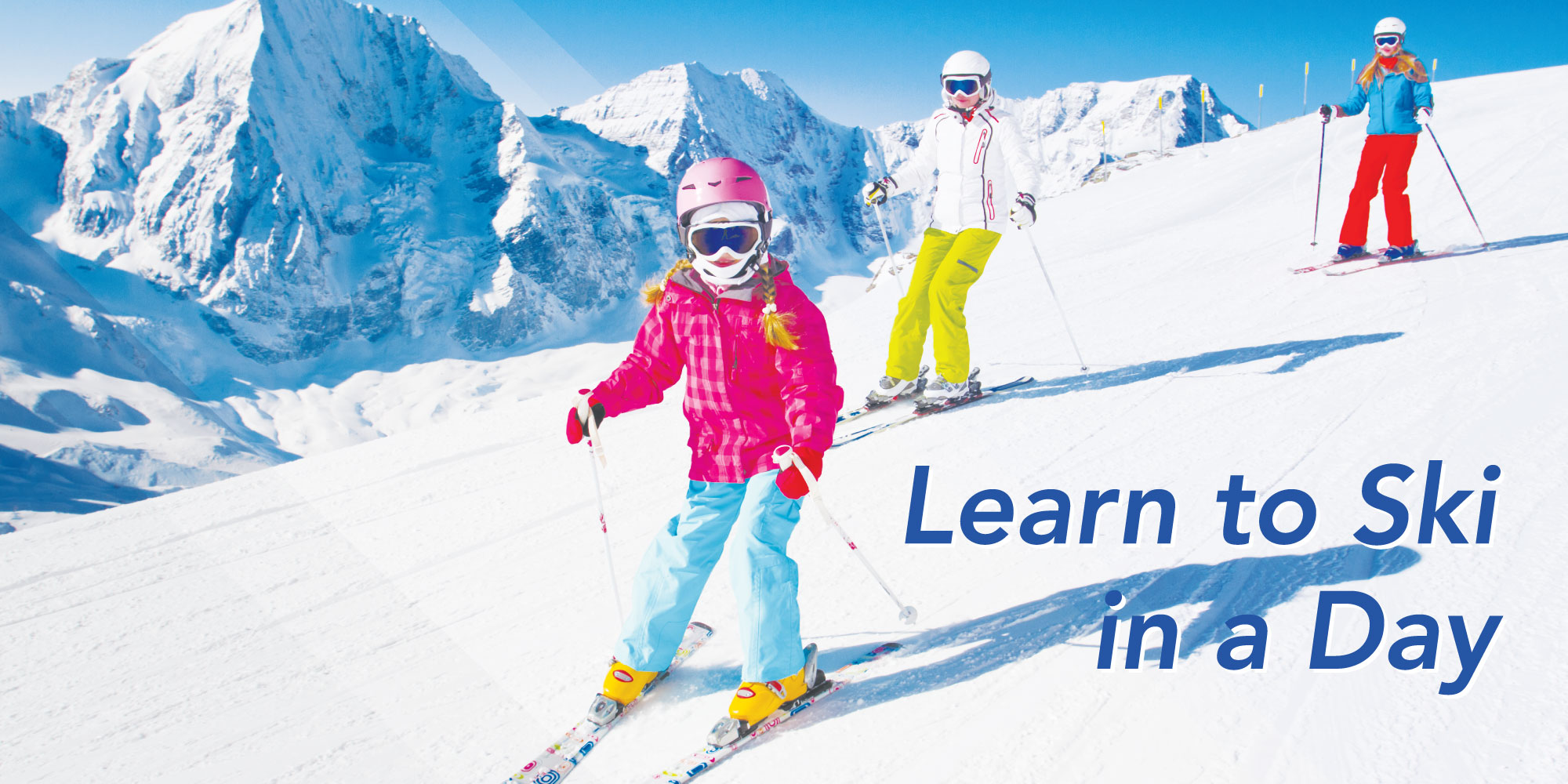 If it's your first ski trip and you're not keen on being the last one down the mountain every time, it's tempting to cut some corners when learning to ski.
We wouldn't call it cheating, per say. Rather, a crash course in skiing for those who are a little impatient, or who love a challenge.
So, here's our guide to help you learn to ski in a day. A word of warning: we're not promising to make you a pro in a few hours. But, we can certainly help you on your way down the slopes.
Where to Learn to Ski
Wondering which resorts are the best for first time skiing?
You'll need plenty of easy runs, lots of snow, and hopefully some quieter slopes. For this reason, we recommend avoiding the school holidays, or skiing later on into the season.
When learning to ski in a day, you'll have to be honest about your skill level. The more difficult black runs and off-piste adventures are out of bounds… for now!
In answer to the question: 'is skiing dangerous for beginners?' Yes – if you overestimate your ability!
While every resort will have its share of easy slopes, there are a few which are particularly well catered to newcomers. So, here's a few of our top picks for skiing in a day:
Obergurgl, Austria
Courchevel, France
Avoriaz, France
Alpbach, Austria
Les Gets, France
Cervinia, Italy
Mayrhofen, Austria
Méribel, France
Tips for Learning to Ski in a Day
After you've picked your resort, you'll need a few 'how to ski' tips to see you down the mountain!
Luckily, we've got a few tried and tested methods up our sleeve. Handy hint #1: don't be afraid of the chair lift!
Get your Posture Right
If you want to shape up on the slopes, make sure your posture is good.
Locking your knees can cause falls and injuries. Bending them will give you far better balance!
Plus, putting too much weight on one foot will make you veer off in weird directions. It's best to keep things even. Keep your weight on the balls of your feet too!
The technique can sometimes only come through trial and error. But, we only have a day to work with, so following these quick tips should help you in your mission to learn to ski.
If you're struggling, there's no shame in copying someone else!
Don't Underestimate the Basics
Sometimes, it's the things which look easy that are the hardest.
Putting your ski boots on correctly is surprisingly difficult first-time. Another tip? Try getting to grips with your ski bindings to help avoid your skis flying off at every angle.
Plus, your hands should go through your ski pole loops before you hold them. It might sound simple – but it's easily forgotten, and will help you learn to ski much quicker!
Carrying your skis wrong will make you look ridiculous and can also be dangerous. Also, mind the gap between your helmet and your goggles – this just isn't a good look. Try and look like a pro even if you're still a beginner!
Walking in ski boots on the snow can feel alien, but you'll soon get used to it. Mastering how to walk up stairs is a different story, though. But, you only have a day to get to grips with the slopes, so you don't have time to dwell on this!

Skip the Lessons
If you're trying to learn to ski in a day, you don't have time for lessons. While it's possible to go on an intensive course, we're taking a shortcut here.
There are many reasons why missing out on the expertise of the professionals is a bad idea. But, skiing lessons are a long process. Most ski instructors wouldn't advise learning in a day!
An extra bonus of skipping lessons? You'll save money!
Watch Videos
When taking the shortcut, you'll need the second-best thing to lessons. We've found it – videos!
Videos have easy to follow, bitesize bits of information which should make your first few hours on the slopes that little bit easier. Learn from the best!
Ski School by Elate Media have an extensive collection of instructional ski videos to suit all levels. You're sure to pick up a few helpful hints!
Don't Be Arrogant
Everyone needs an air of confidence on the slopes! Acting like you know what you're doing and not being afraid to push yourself is how the best skiers are made.
But, there's a fine line between being confident and being cocky. Arrogant skiers can be dangerous to both themselves and others.
Use Relevant Experience
Ever been on an indoor slope?
When learning to ski in a day, all relevant experience is beneficial.
If you haven't tried indoor ski lessons, why not give them a go? They're the perfect opportunity to get that problematic first slope experience out of the way.
Avoid Snowboarders
There's an age-old rivalry between skiers and snowboarders.
So, if you've chosen to bat for the skiing side, stay away from snowboarders. They'll see you as an easy target to cut across or spray with snow!
How to Ski in a Day
So, you're armed with some handy hints to see you through your first few wobbly moments. But, what about the rest of the day?
A day might sound too short a space of time to learn to ski. Some might say it's impossible. But, if you use the time well, it can be done!
Get There Early
You only have a day, so head to the slopes as early as possible.
You'll be rewarded with quieter runs, fresh powder and more time to learn to ski. What's not to like?
Stick to your Level
We recommend spending the first hour or two on the green slopes, making sure you fully understand the basics. In fact, spend as much time on the easy slopes as you need. The better you are with the basics, the easier learning to ski in a day will be.
If you feel ready, maybe try out a blue or red run towards the end of the day. We have some advice though. No matter how confident you feel, keep away from the black runs. There's no shame in sticking to your level for now!
Plan your Day
You might not like the idea of a schedule for your ski trip.
But, your first ski holiday could benefit from a small amount of planning! At least, on the very first day.
Give yourself some targets to achieve each hour. We're talking about DIY ski lessons – you could benefit from a little structure!
Why Learn to Ski in a Day?
The experts would probably frown at the idea of learning to ski in a day. You'll never fully master the technique, and you might be more likely to injure yourself or others.
But, picture the scene. You're with a group of friends who have all been skiing since childhood, while you've never set foot on the mountain before. It's easy to see the appeal of cheating your way down!
We admire those who like to set themselves a challenge!
Can't wait to head to the slopes for the first time? You'll need a cheap transfer to get you there. Alps2Alps provide an affordable, reliable service to all major destinations in the Alps. Find your low-cost transfer here!