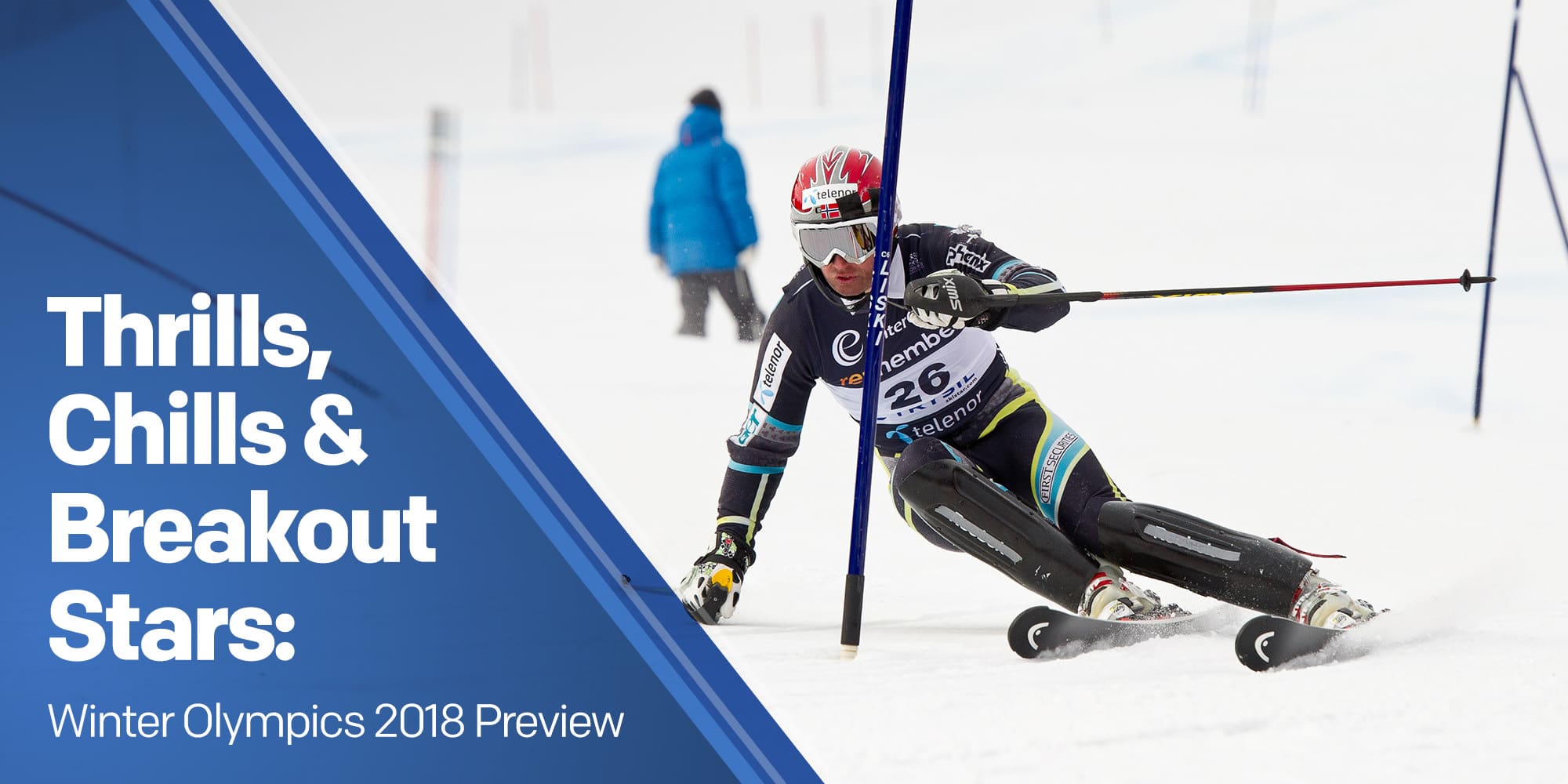 Thrills, Chills & Breakout Stars: Winter Olympics 2018 Preview
Thrills, Chills & Breakout Stars: Winter Olympics 2018 Preview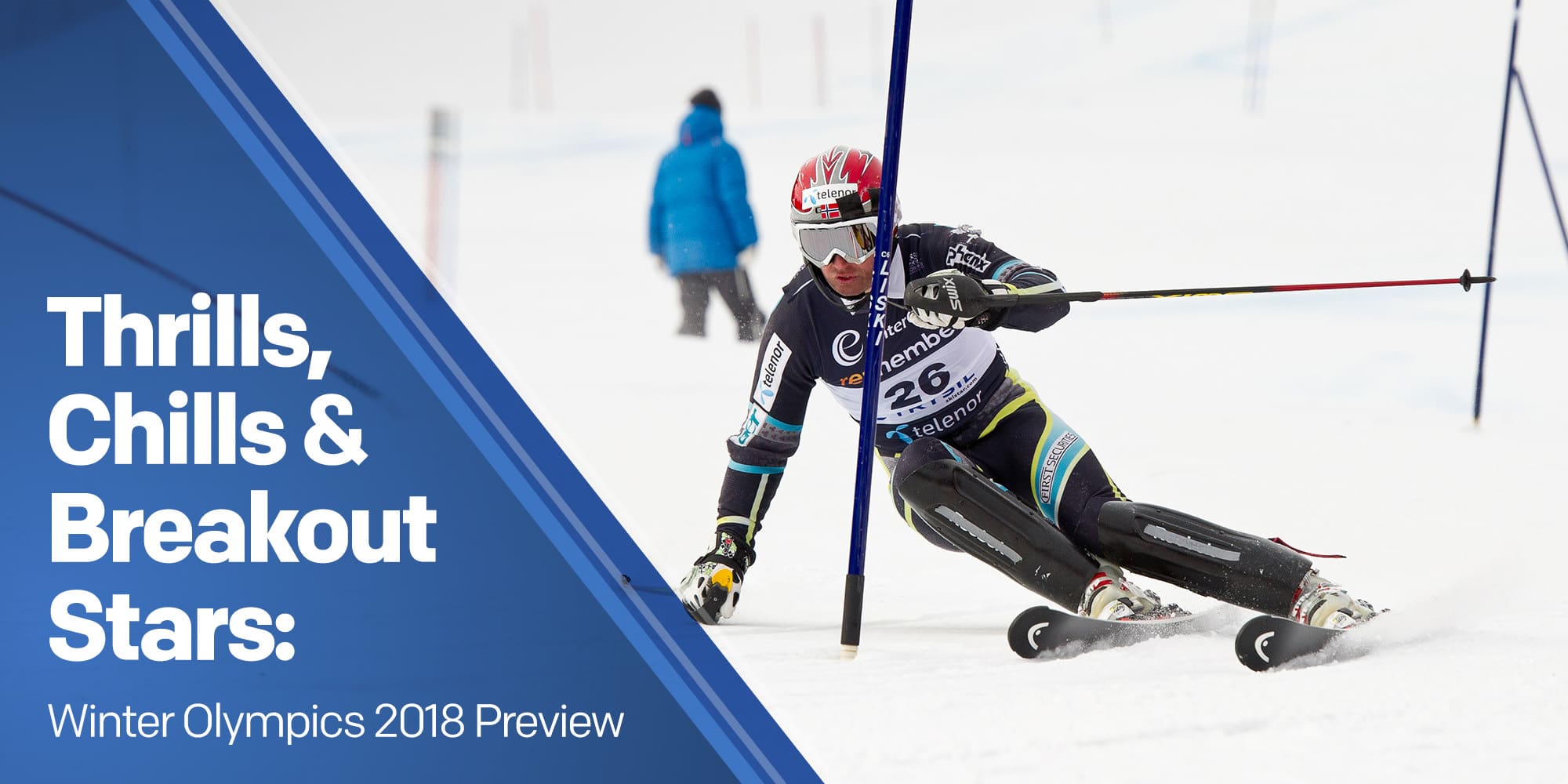 For any winter sports lover, the Winter Olympics is an event to get truly excited about.
We've almost been counting down the days! Four years is far too long to wait, and the suspense can be tough. But, it's almost here!
This year, the Winter Olympics will take place from 9th to 25th February 2018 in Pyeongchang County, South Korea.
To help commemorate the biggest occasion in the winter sports calendar, here's our Winter Olympics 2018 Preview.
Why We're Excited About the Winter Olympics 2018
Where to start? From inspiring athletes to jaw-dropping achievements, the Winter Olympics is full of thrills all the way to the finish line.
But, we'll try to put together the things we're looking forward to the most.
Feeling Patriotic
There's nothing wrong with a little healthy patriotism – being proud of your team is a great feeling.
You've got to support your own, right? The Winter Olympics only rolls around every four years, and we can't wait to experience the patriotism it brings with it once again.
Saying this, we're all about supporting the sport too. There are some really exciting athletes making their way through the ranks of all nations!
Seeing Something Different
What we love about the Winter Olympics is seeing some less well-known sports on our screens.
We're not tearing down other sports! But, no one can deny that seeing something new adds some extra excitement.
Fancy seeing a bit of speedskating? Big air snowboarding? Or, is Alpine skiing the event for you? You'll find all of them (and more) at the Winter Olympics.
The Mascot
We always look forward to meeting the new mascot.
This year, the mascot is a white tiger named Soohorang! As well as being adorable, the mascot's associations with Korean culture and mythology are an added bonus.
Sometimes, Olympic mascots can be disappointing. But, Soohorang has started this year off on the right foot. We're hoping this is a sign for a good Winter Olympics!
Seeing Our Passion
If you're anything like us (and we're guessing you are) you're passionate about winter sports.
So, seeing something you love on the TV is a hugely proud moment.
After watching the Winter Olympics, we feel like grabbing our gear and heading to the slopes straight away.
The Winter Olympics is the one time where skiers and snowboarders forget their rivalry and bond over a love of winter sports. This truce doesn't last long, though.
But, the Winter Olympics provides a white flag in this great debate. It's powerful enough to unite all winter sports lovers alike!
Breakout Stars
Who doesn't love an underdog?
It's amazing to see a previously unknown athlete get launched into the stratosphere of fame due to one great performance.
You can quite literally watch someone's life transform!
Plus, watching breakout stars always inspires us to improve our technique. We'll never be Olympic-standard, but it won't stop us trying.
If you're trying to get your kids into winter sports, share your Olympic excitement with them. You never know, they could be the next breakout star!
Our Favourite Historic Winter Olympics Moments
Of course, we couldn't talk about the Winter Olympics without taking a trip down memory lane.
There's been falls, scandals and record-breaking moments.
Our favourite winter sports event has provided us with endless thrills and excitement. But, we'll try our best to countdown just a few of our favourite moments from the Winter Olympics in the Alps.
Franz Klammer, Innsbruck, Austria, 1976
Franz Klammer's spellbinding gold medal win in the men's downhill had viewers on the edge of their seats for more than one reason.
While his victory and speed were amazing, there were many times he appeared to almost lose balance!
He threw himself down the mountain with impressive force, making viewers cheer as well as wince.
Clearly, taking risks pays off! No one else had tackled the mountain quite so forcefully before!
Chamonix, France, 1924
We've not included this one for memory's sake. We had to mention this, in case you assumed we were telling you to cast your mind back to 1924.
But, we had to commemorate the location of the first ever Winter Olympics! The birthplace of our favourite sporting event deserves a place on this list.
What's now the Winter Olympics was once thought to be a one-off event!
Georg Hackl, Albertville, France, 1992
Albertville is now most famous for hosting the games back in 1992.
One stand-out star from this event was Georg Hackl, who won a gold medal in the luge in Albertville.
This was the start of Hackl's success, as he went on to be the first luger to win three consecutive Olympic gold medals.
Toni Sailer, Cortina d'Ampezzo, Italy, 1956
Toni Sailer was an Alpine skier who became the most successful athlete in the 1956 Winter Olympics.
This achievement does not go unnoticed, even to this day. So, Sailer deserves his place on our Alps hall of fame!
The V Olympic Winter Games, St. Moritz, Switzerland, 1948
St. Moritz held the first Winter Olympics after the second world war!
These were the first games for 12 years, and St. Moritz was faced with the challenges of post-World War Two tension.
So, this clearly deserved a spot on our list of memorable Winter Olympic moments!
Winter Olympics 2018 Dates for Your Diary
So, what's in store for this year?
Here are some key events to watch out for this Winter Olympics. We haven't included them all, just the ones we're particularly excited about.
Alpine Skiing, 11th-24th February
Variety is the spice of life, right?
Alpine skiing (also known as downhill skiing) consists of 5 different disciplines: Downhill, Super G, Slalom, Giant Slalom and Alpine Combined.
This year, Alpine skiing will be held from the 11th-24th February, excluding the 16th, 19th and 20th.
The Skeleton, 15th-17th February
The Skeleton always makes for gripping viewing. Seeing someone pick up great speed while hurtling down a run headfirst can only be described as thrilling. In fact, this is an understatement.
It's an event you almost want to watch through your fingers, but in a good way.
Snowboarding, February 10th-24th
Held throughout the entire games, except the 17th, 18th and 20th, the snowboarding events are sure to provide some jaw-dropping moments.
We're particularly excited for the Big Air Snowboarding events. The women's final will be held on the 23rd and the men's on the 24th of February.
This event is, sure to provide some inspiration for any keen snowboarders. Love watching winter sports videos? Think of this event as the extreme version of these stunts. We can't wait.
Bobsleigh, February 18th-25th
Running in the second half of the games, excluding the 22nd and 23rd, the bobsleigh event is one you don't get to see very often.
It's one of those events we want to try for ourselves! But, we're very content with watching.
Excited for any more events we haven't included? Let us know your thoughts on Twitter!
Heading for the slopes? Make sure you can rely on your transfer to get you there. Alps2Alps provide a professional, affordable transfer service to all major resort destinations in the Alps. Find your low-cost transfer here!