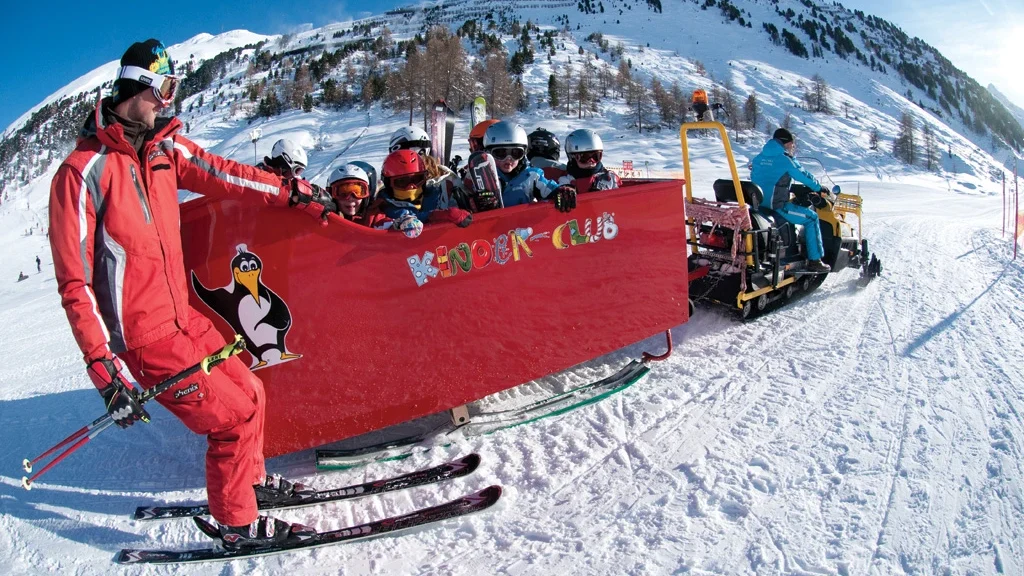 Most Popular Ski Resorts In Austria for Beginners
Most Popular Ski Resorts In Austria for Beginners
Austrian mountain resorts have always been popular ski areas, attracting winter sports enthusiasts from all over the world. But where do you go when you're a skiing novice, just starting out on the slopes? You'll be pleased to hear there are plenty of ski resorts situated in the Austrian Alps, ready to welcome you into the wonderful world of skiing! 
With nursery slopes and blue runs aplenty, here are the best ski resorts in Austria for beginners…
Sölden, Ötztal Valley
Ski area essentials:  
1870m altitude

144 km of total pistes

33 ski lifts
Sölden ski resort is a perfect winter vacation spot for beginners. Nestled in the Ötztal Valley, it's one of the Austrian top-class skiing terrains.
High-altitude, beginner-friendly slopes and runs are snow-sure thanks to two glaciers that make Sölden an almost year-round ski destination. The majority of runs on the mountain are blue, with 74km to explore once you've progressed from the nursery slopes. You'll find a vast selection of blue pistes in the Giggijoch area.
Sölden also has a strong reputation for lively apres-ski fun and entertainment – 45 bars, restaurants, cafés and discotheques. Thanks to its advantageous location – 1 hour away from Innsbruck Airport, the resort can be a perfect ski destination for ski weekends, snowboard breaks and short ski holidays.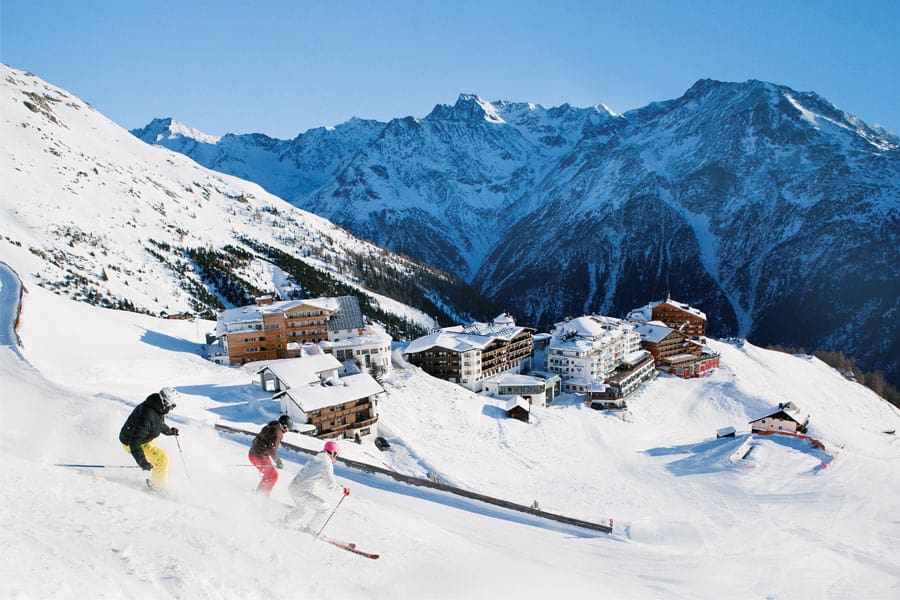 Obergurgl-Hochgurgl, Ötztal Valley
Ski area essentials:  
1,930m altitude

112 km of total pistes

25 ski lifts
Obergurgl is known as one of the highest ski villages in Europe, situated at the end of the Ötztal valley near the city of Innsbruck. It is the most snow-sure non-glacial Austrian ski resort. Thanks to its mid-mountain link to neighbouring Hochgurgl, the resort is open from mid-November until early May. 
The Obergurgl-Hochgurgl ski resort's groomed ski terrain includes 112 km of pistes and is the ideal place to start your skiing career. Families with children can often be seen on the slopes as about a third of the ski area is classified as blue runs, with the resort providing special family offers and supervised kids programs. 
There are cross-country ski trails and toboggan tracks that run to the village, ensuring that visitors are always active. There is a great choice of dining places, ranging from expensive to budget. Taking off your skis, you can dive into Obergurgl's traditional apres-ski activities and explore some late-night spots with music, dancing and good local food.
Alpbach, Alpbachtal Valley
Ski area essentials:  
1000m altitude

45km of total pistes

46 ski lifts
Alpbach ski resort, located in the Ski Juwel ski area in Austria, is hosted by a small, medieval village with plenty of friendly inns, chalet-style guesthouses and relaxed locals. Alpbach is one of Austria's prettiest destinations, with narrow streets and wooden chalets adding plenty of charm to the resort. The picturesque scenery and friendly atmosphere make it the perfect place to enjoy your first time on the slopes.
It's one of the best ski resorts for beginners in Austria because of plenty of easy terrains, gentle slopes and dedicated learning areas. 32km of blues make up the beginner scene here, and there are some stunning routes and expert ski schools to refine your skills.
Saalbach-Hinterglemm, Pinzgau Region
Ski area essentials:  
1100m altitude

270km of total pistes

70 ski lifts
Saalbach-Hinterglemm, southwest of the city of Salzburg, is one of the most beginner-friendly resorts for skiing in Austria. With its wide, gentle slopes and a network of easy-access lifts providing access to the ski circuits of the Skicircus Saalbach-Hinterglemm, it's the perfect place for first-time skiers to learn the ropes. The nursery slopes are on your doorstep, and once you gain confidence, there's a whopping 140km of blue runs on the main mountain. A network of lifts provides access to the ski circuits of the Skicircus Saalbach-Hinterglemm.
The scenery at Hinterglemm is breathtaking, and the snow is always fresh and powdery. And with plenty of apres-ski options to keep everyone entertained, it's a great choice for a family ski holiday.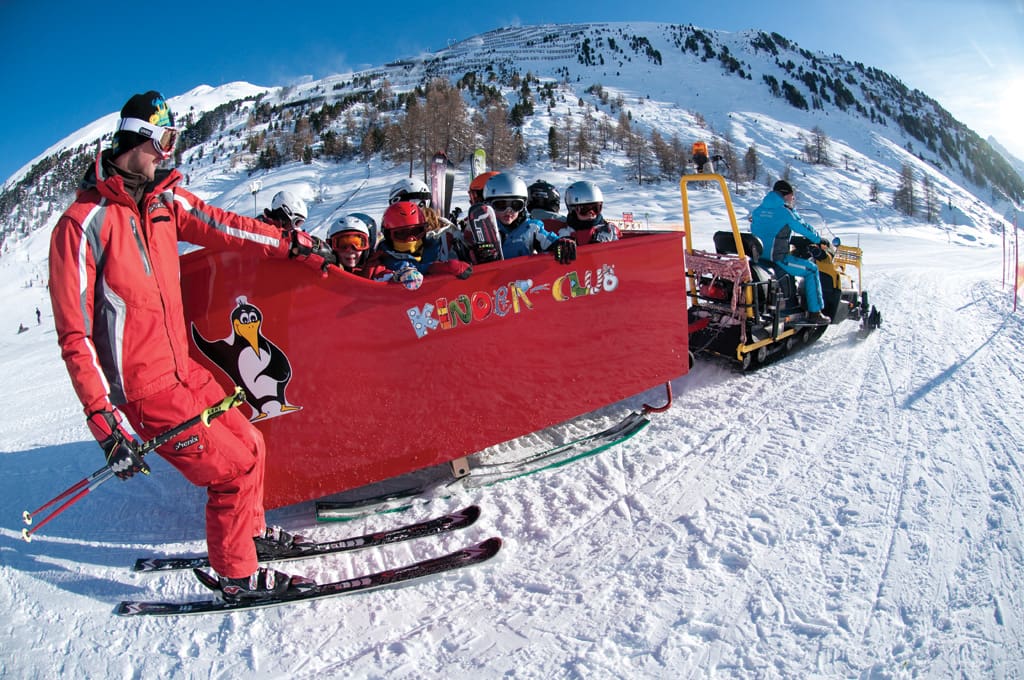 Mayrhofen, Zillertal Valley
Ski area essentials: 
2500m altitude
136km of total pistes
57 ski lifts
Mayrhofen is a world-famous ski resort located in Austria. The resort is renowned for its beginner-friendly slopes, making it the perfect choice for first-time skiers. Mayrhofen offers a variety of ski lessons – ski kindergartens, schools, snow cannons and magic carpets, easing all generations of novices into the world of snow sports.
And when you're ready to take a break from skiing leisurely down the Ahorn Mountain, the town has plenty to offer in terms of dining and nightlife.
Lech, Bludenz District
Ski area essentials:  
2900m altitude
1450km of total pistes
42 ski lifts
Lech ski resort in the Ski Arlberg area consists of gentle slopes and world-class instructors, making it the dream spot for beginners. With its picturesque setting in the Austrian Alps, Lech is also a great choice if you're just looking to enjoy a winter wonderland.
Lech offers a wide range of ski schools, a variety of dedicated nursery slopes and excellent piste prep ready to surpass your expectations. After you progress from the nursery area, you can explore 133km of easy rolling blue runs.
Family-friendly Lech also offers special discounts for families and children. Family snow weeks with special prices and Christmas activities are available throughout December.
Ellmau, SkiWelt Domain
Ski area essentials: 
1870m altitude
820m of total pistes
20 ski lifts
Ellmau, a quaint, traditional ski village set against the splendour of the Wilder Kaiser Mountains, is a great place for beginners skiing. The well-groomed slopes are not too steep, with plenty of beginner-friendly ski slopes in the village to choose from and little learners will have a whale of a time in Kinderland.
Once you have mastered the basics, there are plenty of other activities to keep you entertained at Ellmau ski resort. There is an indoor pool, a spa, charming shops and restaurants and even a nightlife scene if you want to keep the party going after a long day on the slopes.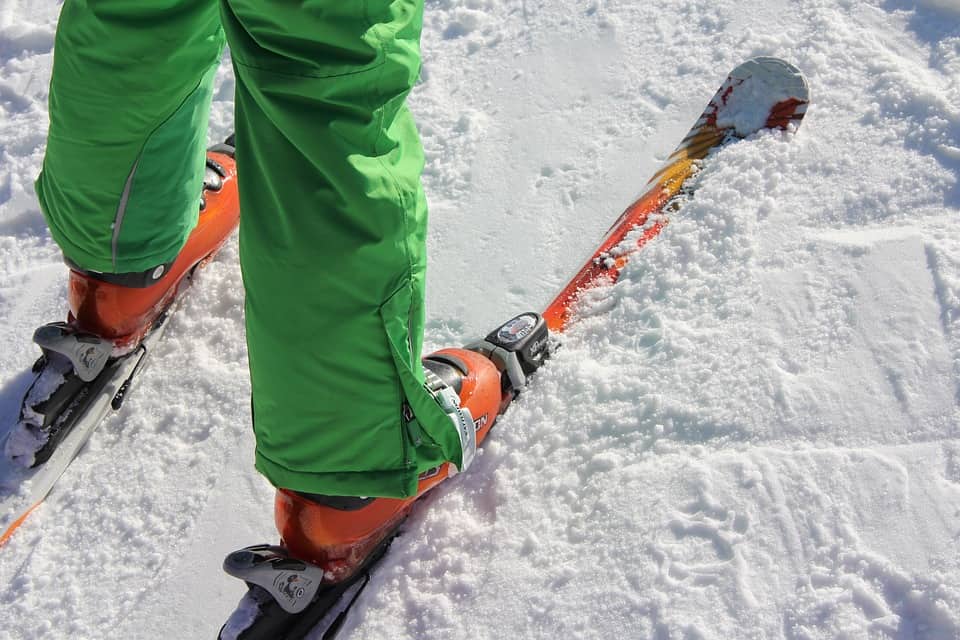 Niederau-Oberau, Wildschönau Valley
Ski area essentials: 
2025m altitude
97 km of total pistes
45 ski lifts
Niederau-Oberau, located in the Austrian Tyrol, with gentle slopes and patient and experienced ski instructors, is the perfect place to learn how to ski. The resort is known for its picturesque mountain views and friendly atmosphere, and with a wide variety of ski schools, you'll be skiing like a pro in no time. Once you've mastered the basics, there are plenty of other activities to keep you entertained, from snowshoeing to sledding.
Ready to kick-start your skiing career in the Austrian Alps? Book your Alps2Alps ski transfer here. Get packing; we'll see you at the airport!