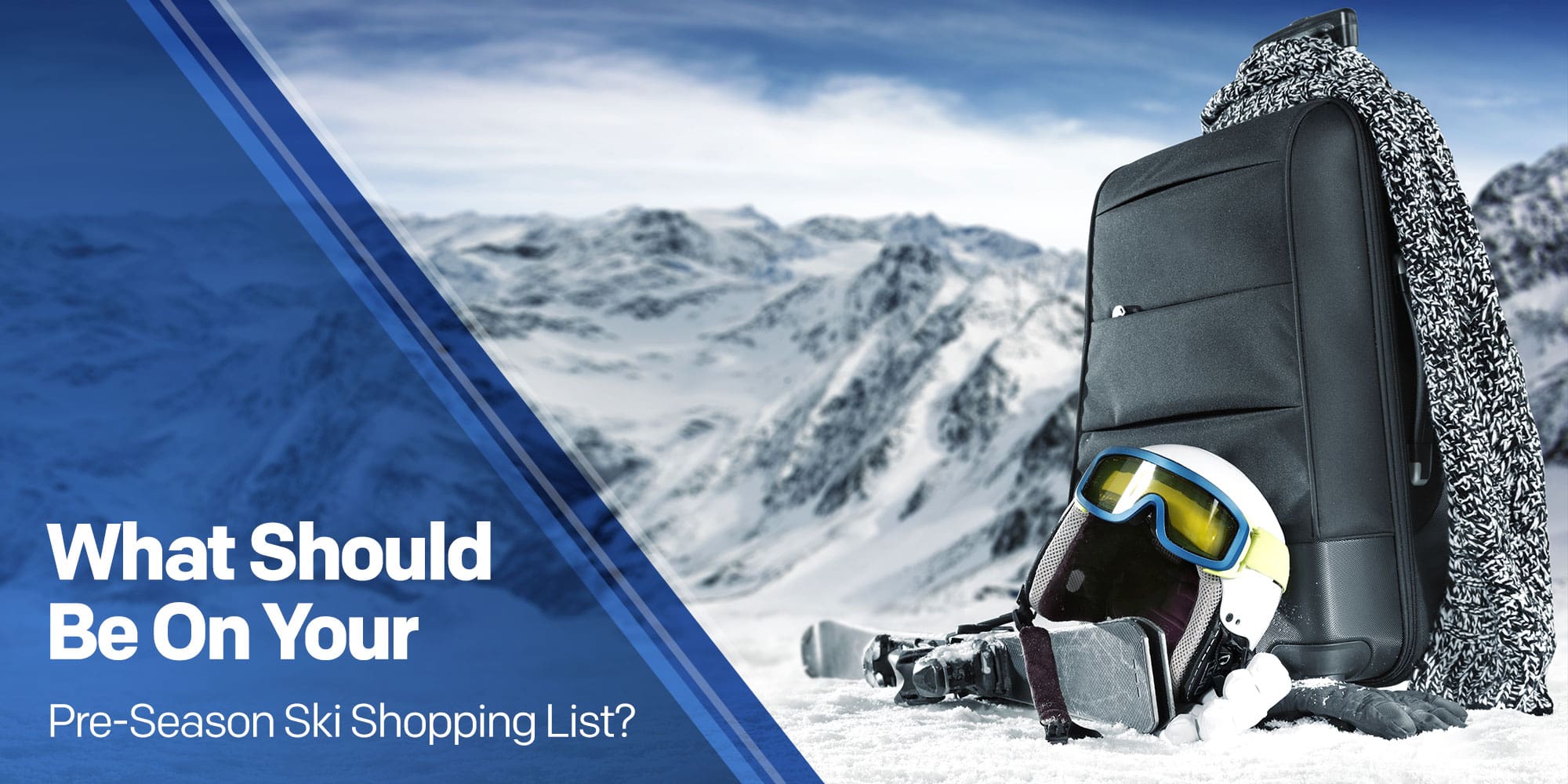 What Should Be On Your Pre-Season Ski Shopping List?
What Should Be On Your Pre-Season Ski Shopping List?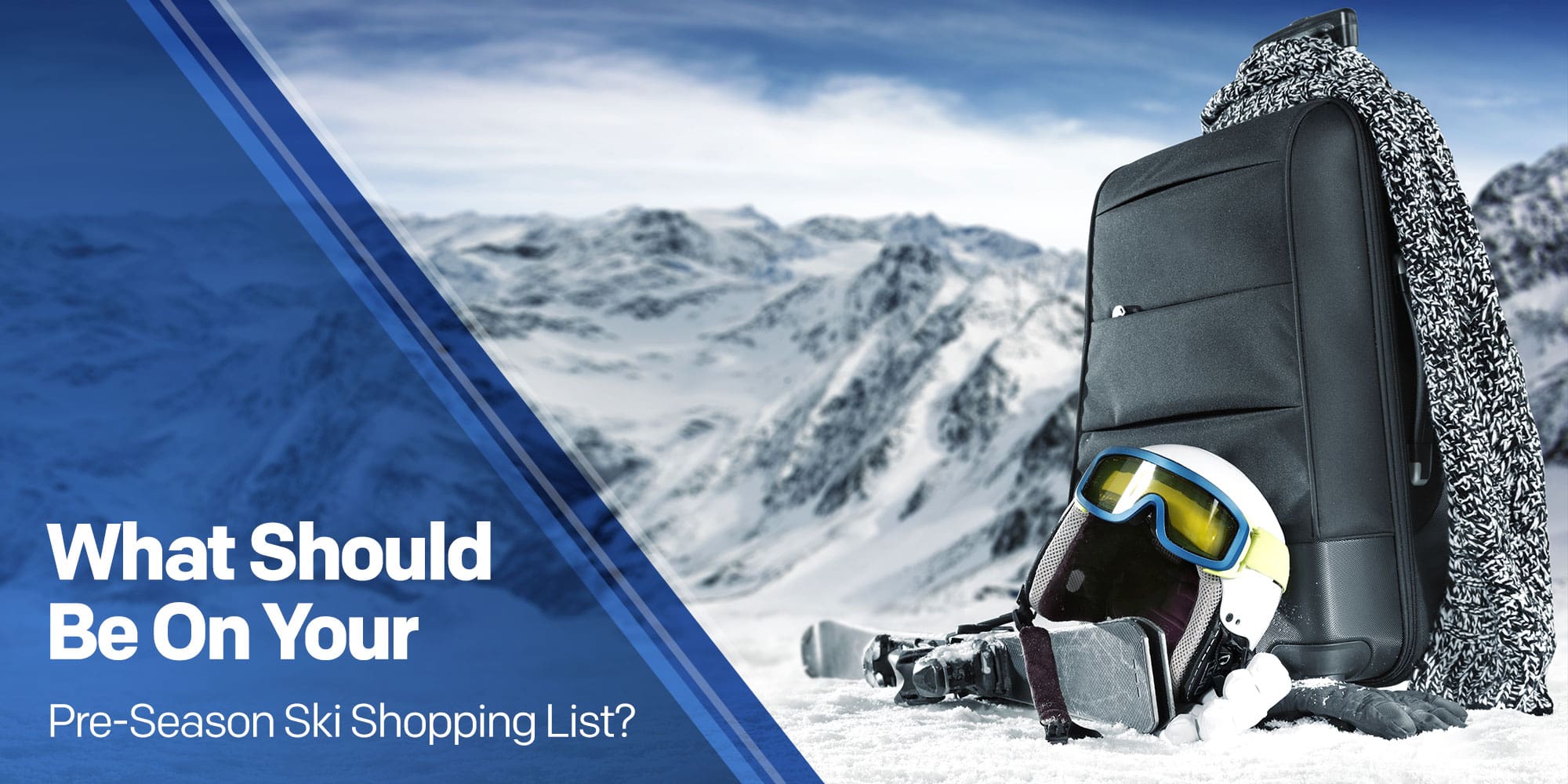 The winter skiing season is fast approaching!
There can be a lot to remember when packing, and even the most experienced can be overwhelmed by each trip. Whether you're a first-time skier or returning after a break following the previous season, a pre-season shopping list is a good way of keeping track of your equipment.
Organisation is key. Splitting your list into groups and identifying the key essentials will help the process run far smoother. It will also help identify what you already have alongside any essentials you absolutely must buy.
Here's our guide on what should be on your pre-season shopping list for the upcoming ski season:
What Clothes to Wear
The first thing to check your list for is clothing.
Ski clothing isn't necessarily about looking good (there are other ways you can look good while skiing) but more about the practical advantages they provide you.
As we approach the winter season in general, the temperatures are beginning to drop and its imperative you keep warm.
When it comes to the actual skiing itself, you need to strike a balance between warmth and flexibility.
The Baselayer
It's essential to wear a baselayer, which is made of synthetic and breathable material, and wraps tightly to the skin.
The reason for this is to help move moisture away from the skin and into the fibres of the clothing. The excess sweat is then evaporated, keeping you cool and dry while you ski.
The Midlayer
Dependent on how good your baselayer is, your midlayer doesn't need to be anything overly special or expensive. You can add or detract layers depending on the temperature.
A jumper, fleece or t-shirt are all sufficient midlayers – look for features such as pockets, breathability, and wind resistance to add a little bit extra to your experience.
Ski Jackets
You'd be hard-pressed to find a skier without a ski jacket – it's an important part of the checklist.
Apart from keeping you warm, there's a few features to look for when picking out a ski jacket:
Breathability: make sure your jacket can keep out your excess sweat.
Waterproof: this may seem self-explanatory, but make sure your ski jacket is water resistant to a good degree. Falling over in the snow will cause you to get wet, and with temperatures already being low, it can be both uncomfortable and dangerous for your core body temperature to dip too low.
'Snow and Rock' have an extensive range of ski jackets on offer for women and men, with in-depth product information to help you decide which one is right for you.
Lower Body Clothing
Clearly an important piece of clothing, the right underwear is essential – make sure it's made from material which will wick moisture away from your skin to stop you from freezing during your downtime.
A pair of trousers which are both flexible and breathable is also ideal. You'll be bending your knees and using your legs to balance, so it's important for your leg wear to feel as comfortable as possible.
Materials which cause chaffing when wet are not ideal, and can put a serious dampener on you and your holiday.
Walking Through the Snow in Comfort
Since you'll be stepping in snow throughout most of your skiing trip (we'd be slightly concerned if you weren't) you'll need adequate footwear to stay comfortable.
The main features to look for are durability, thickness and warmth.
Make sure you pick up a pair of thermal socks to keep your feet warm, as well as ski boots with thick soles to maintain a strong grip.
Water resistance is also important for comfort, since you'll wear the boots for long periods of time – they can even be taken to the après-ski, so make sure you pick up a good pair!
What to Wear on Your Head
Not an area to be underrated, there's some gear you'll definitely need to keep both your head and your face warm and protected.
The Right Headgear
The right headgear can essentially be the most important piece of gear keeping you warm throughout your stay.
As heat rises through your body, a good hat will retain that heat, which will in turn help regulate your body's temperature.
While a well-made hat (made from wool, fleece, or other suitable material) will prevent frostbite and essential heat escaping your body, a helmet is a good way of preventing any serious skiing or snowboarding injuries.
It's worth investing or borrowing a good helmet and a warm ski hat to make sure you're fully protected throughout your trip.
Protecting Your Eyes
Everyone wears a pair of goggles when skiing – going down a slope with your eyes closed is not an option.
Goggles are key for effective eye protection.
Investing in a good quality pair of goggles will not only avoid irritation from the wind or snowflakes rushing into your eyes but will also double as a pair of sunglasses – especially useful for reuse if you choose to go skiing during the summer.
What About Actual Equipment?
Now that your body is covered in full from head to toe in essential ski clothing, the final addition to your shopping list is your equipment.
The beauty of this, however, is that you don't need to physically attain these items before embarking on your trip. Instead of carrying these heavy items with you in your luggage, you can rent them and pick them up on the way to your resort!
Alps 2 Alps offers affordable ski and snowboard hire alongside private transfers to and from the airport. Both will help make your trip seamless and hassle-free.
Now you have the essentials on your pre-season shopping list sorted, go ahead and book your low-cost transfer and complete the list by renting your ski equipment in advance, guaranteeing yourself a smooth and memorable ski trip for the next season!