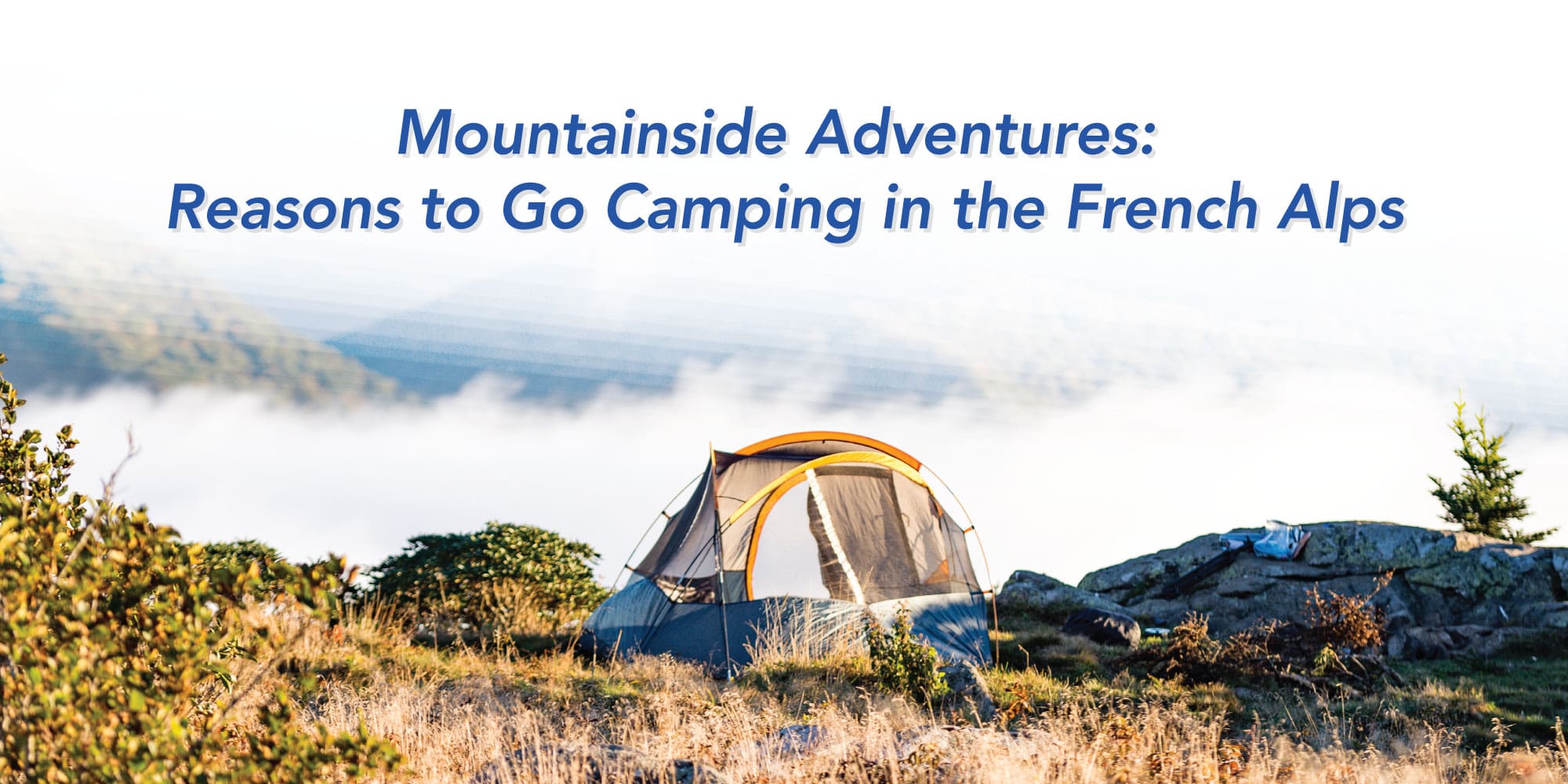 Mountainside Adventures: Reasons to Go Camping in the French Alps
Mountainside Adventures: Reasons to Go Camping in the French Alps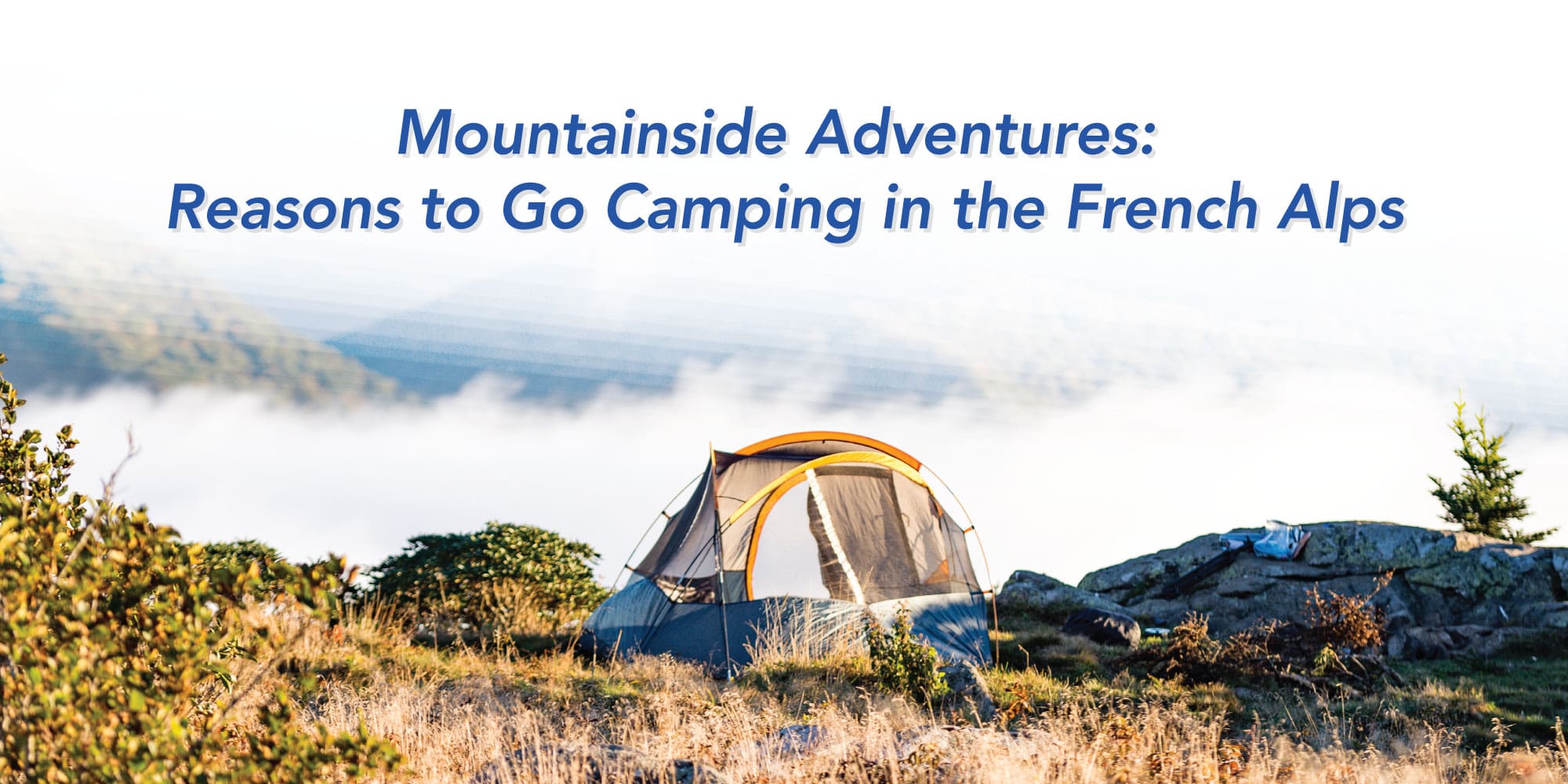 Sleeping in a tent? Cooking over an open fire? Setting off into the wilderness in whichever direction you choose?
Sounds like the perfect holiday to us… well, apart from skiing of course!
One of the big appeals to camping is disconnecting from our normally hectic lives and reconnecting with nature.
While there's a myriad of amazing camping destinations, nothing quite matches the French Alps.
If you're debating whether to go camping in the French Alps this summer, we're going to do our best to convince you.
So, first question…
Why Go Camping in the French Alps?
Alps holidays are well renowned for their incredible beauty and the abundance of summer activities taking place. A camping trip takes the entire experience to a whole new level.
Here's how…
The Peace and Quiet is Unmatched
Camping in an environment filled with fresh air, peace and serenity is unlike any other experience. The French Alps offer all three.
The mountains are quiet and relatively untouched, meaning a low risk of any thoughtful moments or picturesque views being interrupted.
This makes the Alps a perfect destination for camping. From the moment you wake up and step outside your tent, you're surrounded by the calm and gentle nature of your environment.
Whether you're looking for an escape from your usually busy lifestyle, or looking for a mellower environment for your next summer holiday, camping in the French Alps has you covered.
However, even after establishing the calm and serenity of the Alps, you may be wondering…
Is There Much to Do?
In short: yes.
Seeing as you're up in the mountains, there's a lot of ground to make use of. The Alps are perfect for a range of activities.
Leave your tent and go for a hike through the Mont Blanc region, or take the 'High Route' through Chamonix and into Switzerland to visit Zermatt, exploring new sights and terrains along your way.
There are designated treks on offer for hikers to get the most from their trip, taking in the best sights and avoiding any built up areas.
For something a bit more high energy, rent a mountain bike and test your endurance around the Alpine trails.
Alternatively, find a river or lake and dive in to a variety of water-based activities.
Some of our picks would be:
• White water rafting
• Sailing
• Scuba diving
• Sailing
• Water skiing
• Boat rides
• Kayaking
• Fishing
In the summer heat, we recommend white water rafting in the southern part of the French Alps (the Durance and Ubaye rivers in particular, for their longevity and excitement) or a relaxing boat ride at Lake Annecy.
There's a wonderfully unique balance between peace and activity, which is what makes holidays to the French Alps so endearing.
The Mountain Towns
You're not confined strictly to your campsite. If anything, the point of camping is to reconnect to your sense of freedom.
So embrace the freedom and find your way towards some of the best Alpine towns.
Some destinations are exceptionally beautiful and picture-perfect during summer, making them excellent summer holiday destinations. You may as well appreciate them while you're there!
Go and visit the beautiful mountainside town of Annecy, and follow its deeply integrated canal system to landmarks such as L'Imperial Palace hotel, which played host to many a famous figure.
Visit the so-called "capital" of the Alps with the town of Grenoble and soak in the incredible blend of city sights and Alpine scenery.
Discover the lakeside town of Aix-les-Bains – relax on the beach, take a ferry, or just walk along the shores and take in the views. The town also offers an opposing indulgence in its Casino Grand Cercle – regardless of your gambling habits, the interior alone is a beauty to be marvelled at.
There are many towns to discover and explore, depending on where in the Alps you stay, and all of them possess their own unique charm and beauty.
Where Are the Best Places to Camp?
We're glad you asked.
The French Alps in the summer is a beauty to behold, so it's no wonder it has some of the best places to camp in France.
Whether you're looking for somewhere grand or something a bit more minimalistic, there's plenty of choice.
But first…
Camping Laws in France
Since we're talking about where to go camping, we should address the general camping laws in France.
Any registered campsite is of course legal, but there's a grey area when it comes to wild camping (that is, setting up your tent outside of a campsite) in France.
Technically it's not allowed, but if you adhere to certain rules, it's generally tolerated.
• Stay out of the way of main tourist sites
• In the French Alps especially, don't set up for 7pm, and don't leave after 9am the next morning.
• Don't start a fire
Wild camping has a particular allure to it, but it's not necessarily for everyone. If sticking to these rules doesn't sound appealing to you, then take a look at some our picks below:
Camping Ravoire
Camping Ravoire is less than 1km from Lake Annecy, and is perfect for the sporty and adventurous. A nature lover's paradise, the area is surrounded by spectacular mountain views and green areas.
The campsite possesses a small village feel, and is equipped with facilities to cater to your entertainment and comfort.
Camping Lac Bleu
The Lac Bleu campsite is located directly on Lake Annecy, so if relaxation and nautical activities is your holiday of choice, then this is the place for you.
Situated in Haute-Savoie, there are opportunities off the campsite for mini golf, tennis and general exploration. Explore the rich history of the landscape and the nearby villages while soaking in the incredible Alpine views!
Camping Domaine du Cros D'Auzon
Domaine du Cros D'Auzon is situated in the countryside near the river Ardèche, sporting access to a private beach, sporting activities and many child-friendly areas.
The countryside settings maintain the essence of disconnecting from the stress of urban life, while offering amenities and activities to keep you comfortable and occupied throughout your stay.
Camping Domaine de Chaussy
Ardèche Méridonale plays host to the Camping Domaine de Chaussy, which is surrounded by masses of oak trees and a variety of hiking trails.
Located close by the Gorges de l'Ardèche Nature Reserve, the campsite embodies all things nature. There are spa treatments, pool areas and breathtakingly beautiful environments to explore, alongside activities and amenities for all ages throughout the day.
Camping L'Ideal
Camping L'Ideal is another campsite associated with Lake Annecy, with this particular one being situated by the shores of the lake. Their pitches are luscious and green, creating a warm and inviting atmosphere for the avid campers out there.
Being on the shores of the lake opens up opportunities for water-based activities AND relaxation; go sailing down the lake or stay and sunbathe by the beach. The surrounding areas are also ideal for hiking, aerial tours, and exploring the hidden passageways of the old town.
Camping Les Dômes de Miage
Remote yet populated, the pitches at Les Dômes de Miage are spacious and plenty. You can cycle or walk to your heart's content without bothering anyone else, and yet the space still feels like it flows with activity.
Set against the backdrop of the Mont Blanc and the surrounding Rhône-Alpes, this particular campsite embodies peace and beauty, and is one of the more minimalistic sites compared to the others on our list.
The campsites range from minimal facilities to extensive campsite centres, so have in mind what you want from your particular trip, and choose accordingly.
How Do I Get There?
This is important.
We've shown you how camping in the French Alps is a step above the typical camping trip, but getting yourself there doesn't have to be a hassle.
This is where Alps 2 Alps can help you. Alps 2 Alps offer private transfers to and from the airport or train station, with drivers situated around the premises. Find the ski resort closest to your desired location and your driver will take you there.
So what are you waiting for? Get one step closer to reconnecting with nature in one of the many beautiful Alps locations by booking your transfer now.