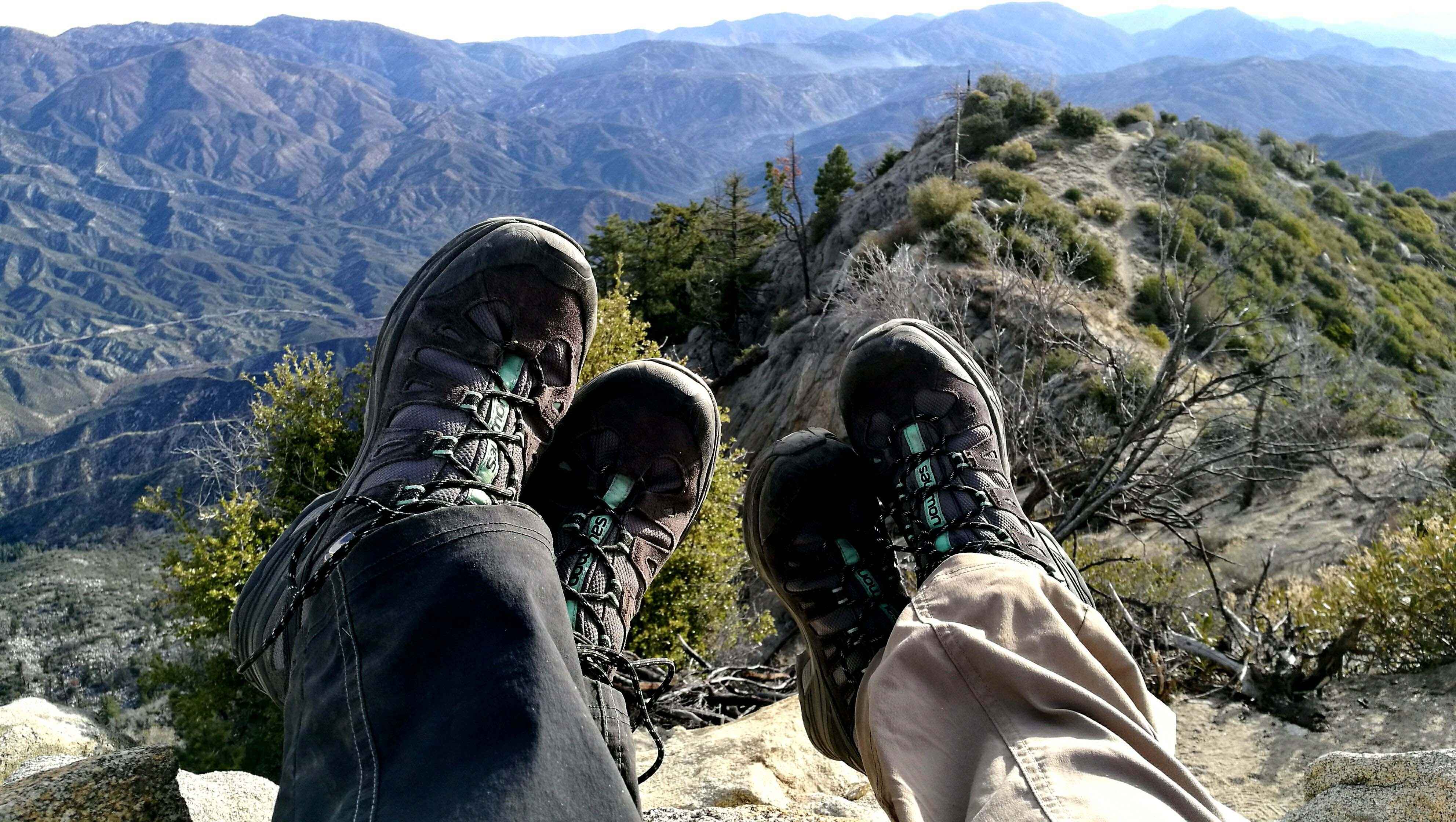 What to Wear Hiking: A Handy Checklist
What to Wear Hiking: A Handy Checklist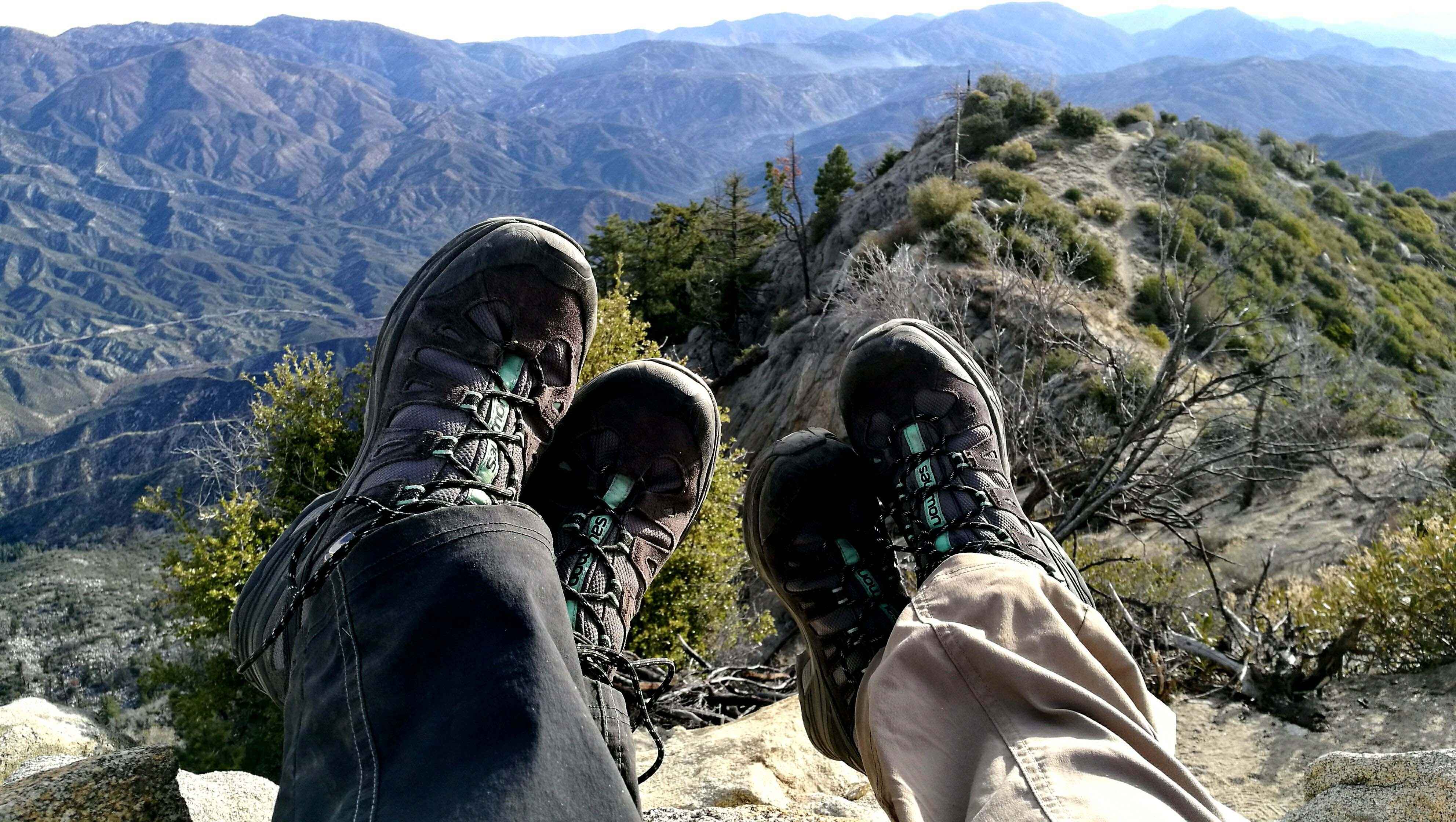 Is it the breeze in your hair, the challenge of reaching the summit or the wonders of the great outdoors that makes hiking so addictive?
If you're relatively new to hiking, the amount of clothing styles and brands on offer may seem overwhelming. We're here to show you that you don't need to spend a fortune on fancy equipment to have a good time. With a few, hard-working garments you can take on that mountain with confidence.
So, without further ado, here's our guide on what to wear hiking to make the most out of your trip.
What's the Difference Between Hiking and Walking?
First things first, let's define hiking.
There isn't really an official definition. The main difference between hiking and walking is that a hike is usually a lot longer and more challenging- it's as simple as that! Hiking usually takes place in the countryside, on a mountain or any place of natural beauty.
Now let's get down to what to wear.
What Should I Wear on My First Hike?
If you're preparing for your very first hike, the different options and advice can feel overwhelming.
The most important thing is to feel comfortable in your clothes. Adding uncomfortable footwear or a heavy backpack into the mix is the last thing you need on top of a physical challenge!
One thing you can do for yourself is to choose clothes in high-performing fabrics.
What Fabrics to Look For
Your choice of fabric can make all the difference when it comes to hiking clothes.
Here are some fabrics to look out for;
Wool – Merino wool is a particular favourite among hiking enthusiasts, thanks to its quick drying nature and soft, breathable feel. We're not talking about itchy Christmas jumpers here, good quality wool garments have fine fibres which help wick moisture away from the body. It's also great for minimising body odour so your friends will thank you!
Fleece – Ideal for when temperatures drop, fleece is typically made from polyester and retains warmth while remaining lightweight.
Polyester – Manmade fibres can be just as effective when it comes to hiking gear. Great value for money, fast-drying and lightweight.
Nylon – Designed as an alternative to silk, Nylon is durable and affordable.
Bamboo – This natural fibre is having a moment, with everything from socks, underwear and T-shirts being made out of the stuff. With a silky soft feel against your skin and antibacterial properties, bamboo is great for hiking.
And here's what you should avoid:
Cotton – At the tiniest drop of rain or sweat, super absorbent cotton soaks up moisture. This prevents you from drying out and can bring down your temperature. This can be particularly dangerous when hiking in cold weather.
Hiking Gear Lingo
When shopping for your new hiking wardrobe, you're bound to come across all manner of terms you may or may not be familiar with.
To simplify things, here's a few terms you should look out for;
Wicking – Wicking means that a fabric is great at keeping you dry when you start to sweat. These fabrics collect moisture on their surface where it can dry quickly. This is particularly important for clothes directly in contact with your skin.
Breathable – Fairly self-explanatory, breathable fabrics help you to stay dry and prevent you from feeling hot and clammy.
Insulating – Clothing that holds in body heat. Try to choose insulating mid layers which you can remove as you heat up.
Waterproof – A waterproof outer layer is essential in unpredictable weather. Hiking for hours drenched to the skin isn't fun for anyone! Check the garment says waterproof rather than water resistant for maximum rain protection.
Windproof – Similar to waterproof clothing, windproof garments block out the wind, keeping you warm
Sun Protection – New technology means that clothing can now come with inbuilt sun protection from UV rays. Essential at high altitude.
Now we're clued up on fabrics and materials, let's look at what types of clothing to wear.
Hiking Base Layers
Here's what to wear underneath the rest of your clothing to keep you feeling dry and comfortable throughout the day.
Underwear
Avoid cotton and opt for seamless underwear that won't chafe as you walk. Some women may prefer to wear a sports bra for added support.
It's a good idea to try underwear out before your hiking trip to make sure it's comfortable.
Base Layers
Depending on the weather, you could either wear a lightweight T-shirt or a long top and leggings in moisture wicking fabric to help keep you dry under your clothes.
Hiking Socks
Good socks are vital when it comes to trudging through mud and undergrowth all day. Ensure your socks reach higher than your shoes or boots to avoid rubbing and choose the thickness based on the weather.
Top tip: Always pack more socks than you think you'll need!
Hiking Mid Layers
Your mid layer provides warmth and comfort. It's worth having a few options to change into as your body temperature fluctuates.
Fleece
A fleece is a great midlayer as it's lightweight yet warm.
Down Jacket or Gilet
In colder weather, you may want an extra layer of warmth. A gilet is easy to slip on and off as needed.
Hiking Outer Layers
Your outer layer protects against wind, rain and the cold.
Waterproof Jacket
It's best to choose something that is both waterproof and windproof to cover any weather eventualities. Something lightweight that fits easily into your bag is best if you think you won't need to wear it throughout your hike.
Waterproof Trousers
If heavy rain is on the cards, you might want to play it safe and invest in a pair of waterproof trousers. However, some people find them a little uncomfortable to walk in for extended periods of time.
Essential Hiking Accessories
And last but not least, let's talk about essential accessories.
Head Protection
Depending on the weather, it's worth wearing either a sun hat or cap to keep off the sun, or a wool beanie to protect ears from the cold.
Backpack
It's really important to use a comfortable, lightweight backpack that can fit enough water for your trip. Choose one with adjustable straps so it doesn't move around as you walk.
What Hiking Shoes to Buy?
Choosing the right type of footwear for your hike depends on the terrain and the weather.
Hiking Boots – This style of boot is cut higher up the leg for extra ankle support. This type of boot is best when carrying heavy loads or for walking on rocky, uneven terrain over long distances.
Hiking shoes – Hiking shoes end just above the foot, more like a normal shoe or trainer. They are a good choice for day hikes on smoother ground.
Hiking sandals – Hiking sandals allow for extra breathability when hiking in hot weather. However, they are not suitable for long-distance hikes or rough terrain.
Make sure you spend some time in your chosen shoes before the hike to make sure they don't rub throughout the day.
What to Wear Hiking in Winter
If you plan to hike during winter, the trick is to find the right balance between staying warm and preventing sweat. The answer? Intelligent layers and fabrics.
Wool and fleece are great at wicking sweat from the body to keep you dry under your warming layers.
Opt for long trousers, long sleeved tops and extra layers such as a thin fleece, gilet and rain jacket that you can take on and off when required. A polyester rain jacket will keep you warm and protected in windy, wet weather.
In extreme cold, you will need a thermal base layer. Go for wool or a synthetic fabric with wicking properties.
The most important parts of your body to keep warm on a winter hike are your extremities- that means heads fingers and toes! Don't forget a warm hat, gloves and thick socks.
What to Wear Hiking in Hot Weather
Blue skies and hot sun, the perfect hiking weather, right?
Although beautiful, warm weather brings with it extra sweat and annoying insects, so you need to be prepared!
In terms of fabric, go for anything with excellent wicking abilities and built-in sun protection.
For clothing, choose short sleeves on top and shorts or lightweight trousers on the bottom. If you want an extra layer, go for something super lightweight and breathable in synthetic fibres.
Protecting yourself from the sun is essential, particularly if you are hiking high up in the mountains. That means sun cap, sunscreen and extra water in your backpack.
In hot weather, you have the option to swap heavy hiking boots for hiking sandals. These let your feet breathe without compromising on comfort and support.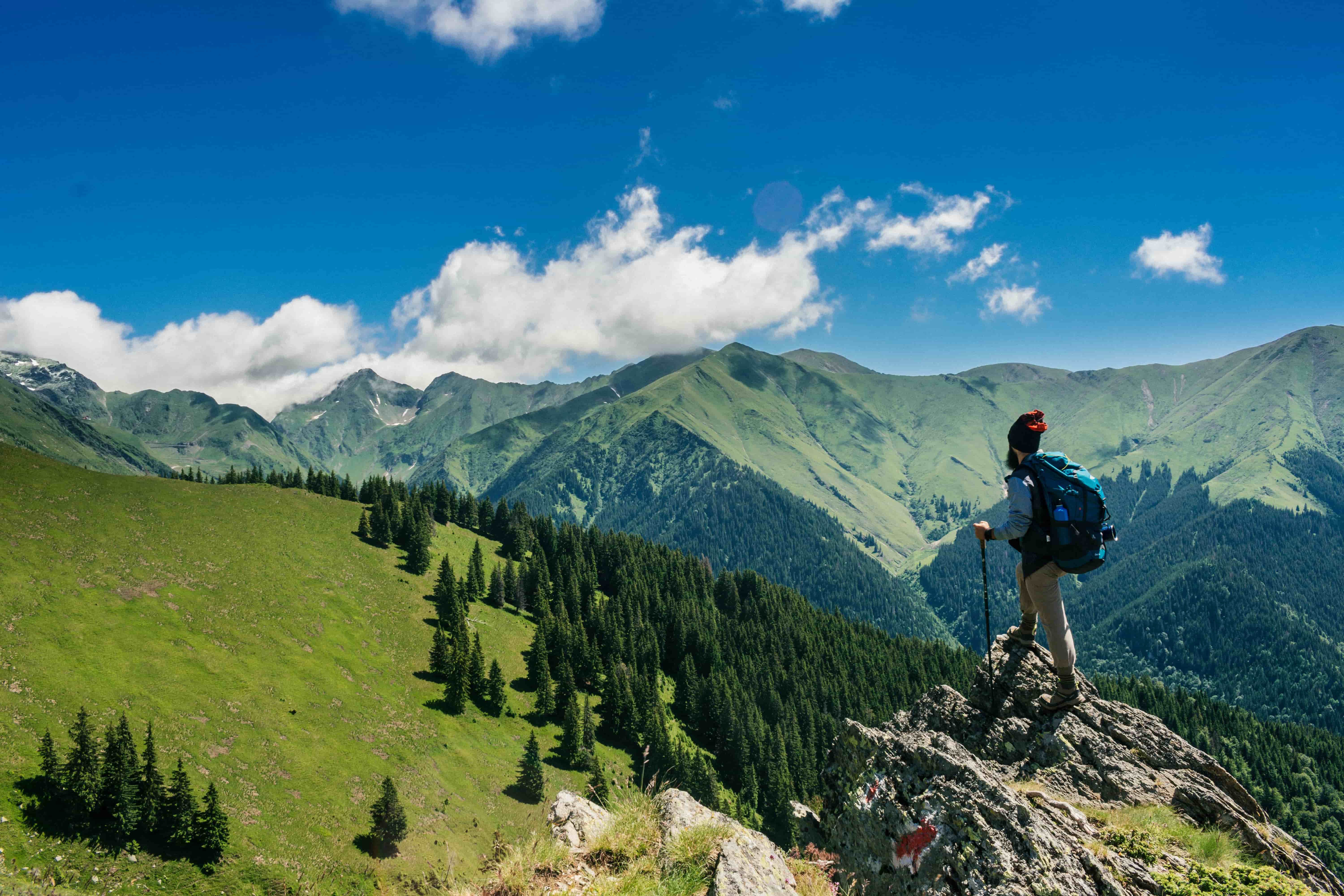 What to Wear Hiking in Spring
Heading on a spring hiking trip? Lucky you! Pleasant weather and blossoming flowers should make for a stunning trip.
Clothes-wise, spring can be more unpredictable than summer, so take extra layers and waterproof clothing with you.
Hiking Clothes Recommendations: Best Affordable Brands
When it comes to hiking clothes, good quality doesn't have to mean expensive. There are lots of great brands out there that offer high-performing clothing at affordable prices.
The North Face – This brand is known for its highly insulated Gore-Tex jackets, perfect for chilly mountain hikes.
Cotopaxi – This brand is all about sustainability and giving back. Their innovative jacket design is insulated with llama wool and part of the price goes back to communities in need.
Kathmandu – This New Zealand brand covers everything from heavy duty hiking boots to sleeping bags. They do excellent merino wool products for hiking.
Patagonia – This environmentally friendly brand uses recycled fabrics to make high quality outdoor clothing.
Montane – This UK brand specialises in Gore-Tex rain jackets and light, windproof outerwear.
If you're on a budget, second-hand hiking gear will do the job at a fraction of the cost!
Can You Wear Jeans Hiking?
The short answer? No! Not only will you get hot and uncomfortable as you walk, you'll also look pretty out of place among seasoned hikers.
One piece of advice from us? Look and feel the part by donning a pair of hiking pants!
What to Pack for a Hike
Now we've discussed what to wear, let's get down to what goes in your bag. If you're planning on hiking up a mountain, you don't want to get caught out without one of these essential items!
Here are the essentials;
Backpack
Phone/Camera
Tissues
First Aid pack
Sun Protection
Extra layers
Water
Snacks
You may also consider packing the following:
Book/Notepad
Walking poles
Map/compass
Torch
Insect Repellent
How Do I Get the Most Out of My Hike?
If you're new to this hiking business, there are a few simple steps you can take to make the most out of your first hiking experience;
Check the weather before you leave! Rain and storms can spoil the view and put a dampener on spirits.
Don't push yourself too hard. Start easy and pace yourself until you gain more experience.
Wear comfortable, well-fitting clothes.
Fuel up on carbs and protein in the morning for maximum energy on your trail.
Arrange your travel to and from the starting point in advance. The last thing you need after a long hike is to work out how to get home!
Hiking in the Alps
Getting ready for a hiking adventure holiday in the Alps this summer?
Before you set off, make sure to book your transfer to your destination. Alps2Alps provide affordable, fuss-free transfers to all major locations throughout the Alps.
With cut-price midweek transfers and a handy booking app, we make travelling to the Alps a breeze. So, what are you waiting for? Head to the Alps2Alps transfer booking page to get a quote in minutes.