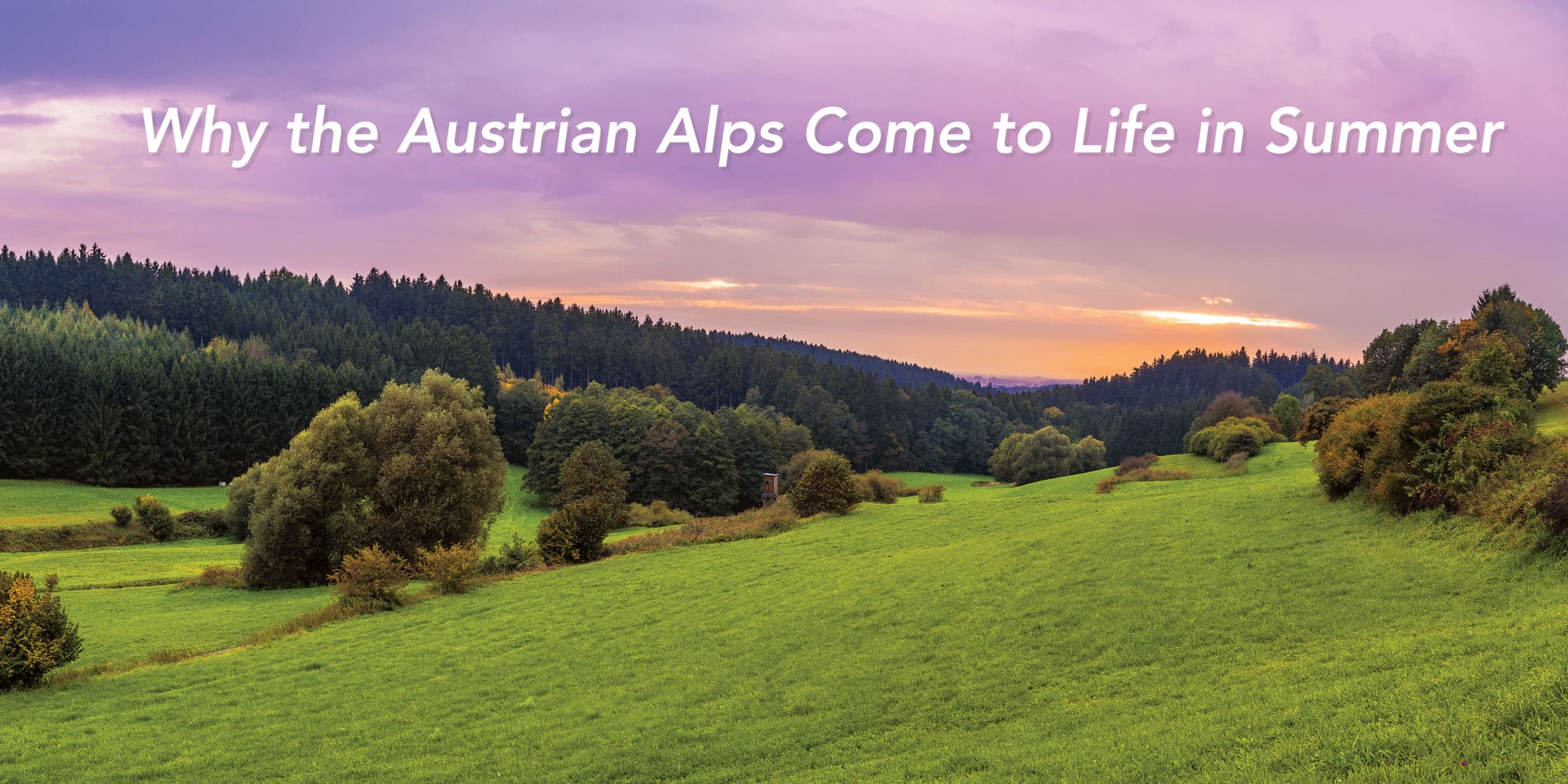 Austrian Alps Summer Holidays: Why the Alps come to Life in Summer
Austrian Alps Summer Holidays: Why the Alps come to Life in Summer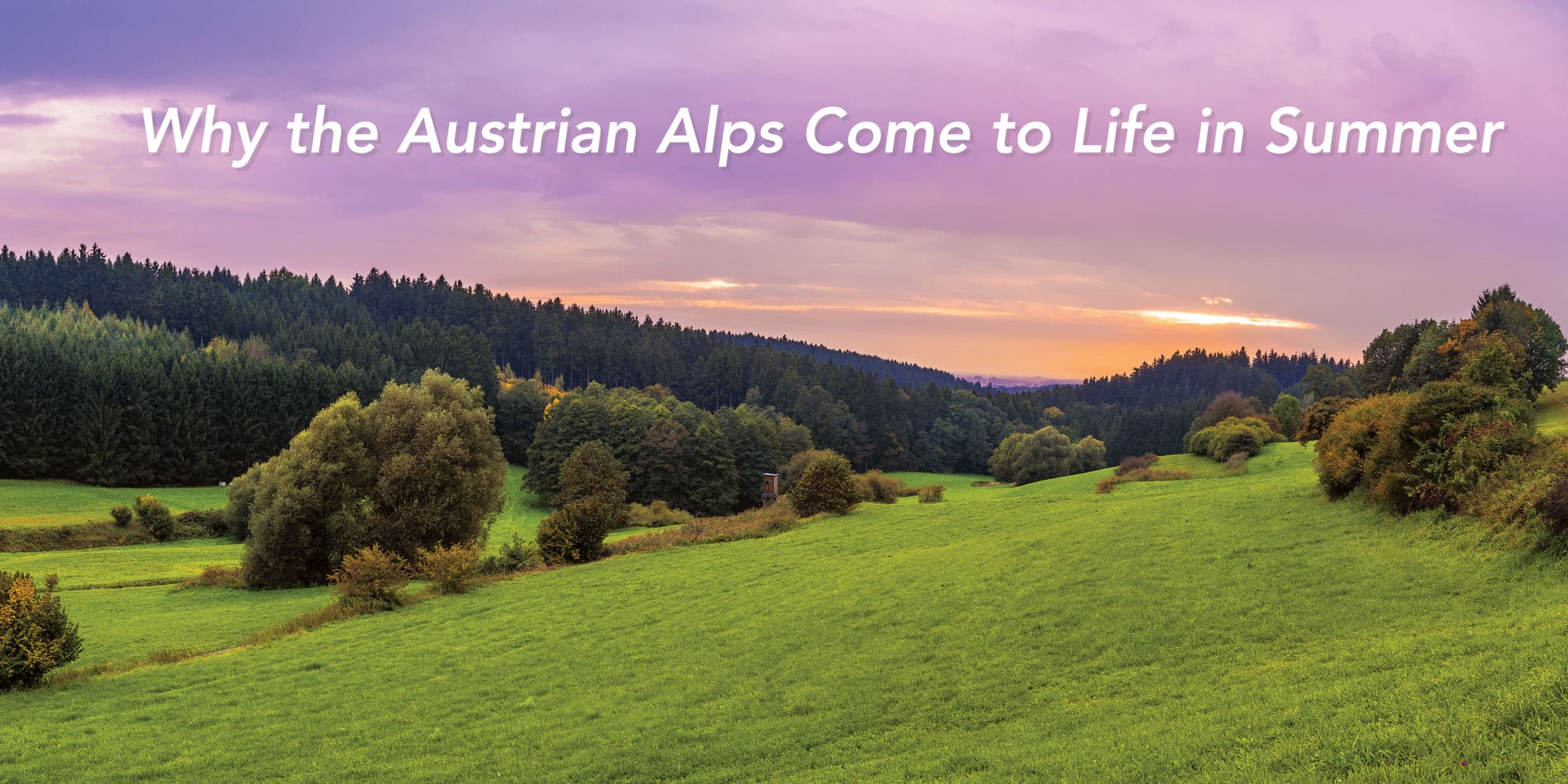 Austria's appeal as a holiday destination doesn't disappear when the snow does. The region truly comes to life during the summer months. From hiking and biking to swimming and high ropes, there is no shortage of outdoor activities to enjoy in this stunning mountain range.
Contrary to popular belief, the Austrian Alps offer much more than just skiing and snowboarding. In fact, summertime visitors can take advantage of longer days and warmer temperatures to explore the natural beauty of this rugged landscape. 
Whether you're looking for an adrenaline-fuelled adventure or a peaceful escape surrounded by breathtaking scenery, there's something for everyone in the Austrian Alps.
If you're still unconvinced, here are our top spots to make the most of your Austrian Alps summer holidays…
Town of Kitzbühel
Kitzbühel in Tyrol is renowned for its winter activities. However, neglecting to explore it during summer would be a huge mistake.
Once the ski enthusiasts have departed, the residents promptly trade their skis and snowboards for bicycles and hiking boots, eagerly welcoming the new season.
You can climb a peak, embark on a hike, play golf, go mountain biking or take on a trail run.
Tiroler Lech Nature Park
Extending across the majestic Lechtal Alps, the Tiroler Lech Nature Park is home to breathtaking views, rare wildlife and natural rivers.
At just over an hour away from Lech Zürs am Arlberg, the famous ski resort, it's in a familiar location for those who have visited the Austrian Alps before. But, you'll experience a completely new side to these well-known mountains.
As summer takes over the Alps, the Tiroler Lech Nature Park is uncovered. If you love exploring, you won't be disappointed here.
The park is home to an amazing array of wildlife, such as stone crayfish and rare birds. There's a bird-watching tower for those who are keen to admire these animals up close!
It's not just animals that you can discover! Many rare plants have been allowed to grow freely, creating an undisturbed natural landscape.
If that wasn't enough, this nature park is also home to some incredible panoramic views of Austrian mountain ranges.
Lake Zell
Lake Zell is a freshwater lake in the Austrian Alps that comes to life in summer.
Home to a wide array of water sports, such as kayaking, the lake embraces the warmer weather. It's also a great place for swimming! The warm climate will see you welcoming the refreshing waters.
For those who are keen on a spot of exploration, Lake Zell offers daily boat trips for its visitors.
The lake makes an ideal family-friendly location for those heading to the Alps during summer. It's the perfect playground for holidaymakers!
Wondering where it is? Lake Zell is located less than an hour and a half away from Salzburg airport.
The City of Innsbruck
Hiking, climbing, cycling and swimming are just some of the activities on offer in Innsbruck during summer.
Innsbruck is famous for its skiing, but, it's still a sports lovers' dream retreat after the snow disappears. We feel it deserves more attention for its vast array of summer sports!
After flying into Innsbruck airport, holidaymakers can get out into nature and experience a different side of the city.
Innsbruck is truly an Alpine jewel that transforms during summer, shedding its snowy slopes and revealing endless green mountain trails. If you're seeking a more relaxed holiday, Innsbruck's sunny pathways make the perfect places for a stroll or bike ride, with plenty of photo opportunities. Plus, it's home to many picnic spots!
Visitors to Innsbruck can easily appreciate the city and its surroundings by taking the Hungerburgbahn, a hybrid funicular railway located just outside the old city centre, which takes you to the Nordkette Cable Car.
Also, exploring the city's colourful architecture and enjoying its lively atmosphere won't disappoint either!
The Austrian summer experience is a unique one, making for an unforgettable holiday.
Gasteiner Wasserfall
As Austria settles into the warmer months, many new attractions are uncovered.
Apart from its slopes, Bad Gastein's star attraction is its waterfall. Summer is the perfect time to experience this waterfall at its best!
At a height of 341m, across three levels, the waterfall is a spectacle that keeps keen tourists visiting year after year. For the best views, head to the waterfall bridge.
Alternatively, walk along the waterfall path for some great photo opportunities.
Exploring the forest around the waterfall can be as exciting as viewing the attraction itself!
For those who can't wait to witness this attraction, it's located in the well-known ski resort Bad Gastein. Experience a completely new side to this popular winter attraction!
The Eagle Way
The Eagle Way is a popular hiking trail located in Tyrol. The walk boasts spectacular Alpine scenery, wildlife spotting and high peaks. So, it's unsurprising the trail is one of the best that Austria has to offer.
The Eagle Way suits all hiking abilities and ages. For those seeking a relaxing afternoon stroll, the trail has some less intense parts that make for the perfect serene day out. The picturesque landscapes make the experience an unforgettable one!
But, for those looking to push themselves, the trail's high peaks won't disappoint. If you're looking for a challenge, you'll find it along the Eagle Way.
Thanks to the sheer vast expanse of the trail, your route won't be overcrowded with tourists, allowing you to fully take in what's around you!
Kids and adults alike can enjoy exploring the Eagle Way, making it the perfect destination for those on a family holiday. Offering unparalleled views of the Alps and a rewarding hiking experience, the Eagle Way shouldn't be missed by anyone seeking an unforgettable trip!
Tempted to head to the Austrian Alps this summer? Don't spend your holiday waiting for delayed public transport! Alps2Alps offers an affordable, professional transfer service all over the Alps. Get your Austrian summer holiday started by finding your low-cost transfer here.