Enter to win €100 off a ski transfer!
Enter to win €100 off a ski transfer!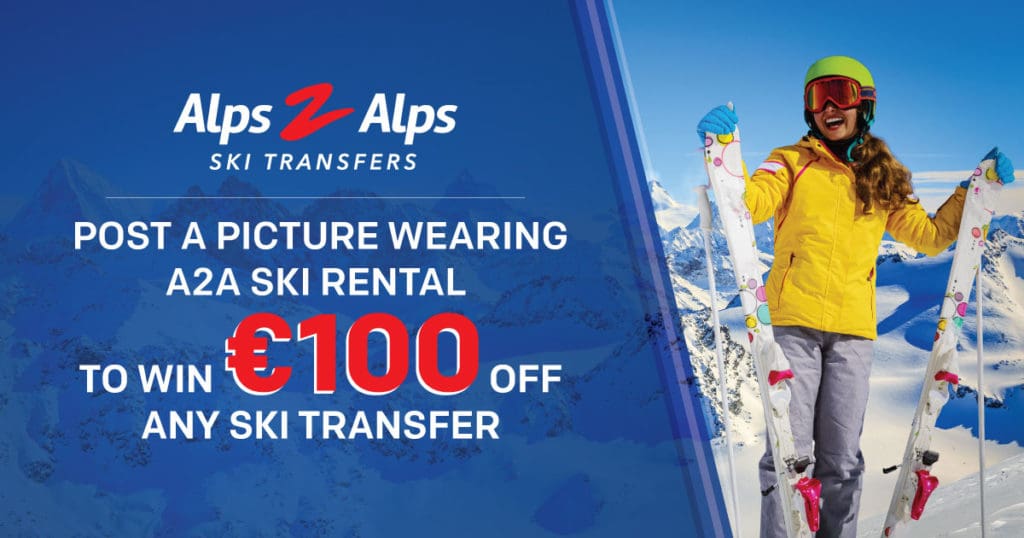 Choosing Alps2Alps for your ski gear hire just got even better!
Not only do you get an easy, convenient and cost-effective service when you use our ski rental service for transfers from Geneva and Albertville, but now you also get to enter our competition for a chance to win €100 off any ski transfer!
Read on to find out all you need to know!
How to enter
All you need to do for the chance to win €100 off any ski transfer, is simply post a picture on social media wearing your Alps2Alps ski rental gear, tagging @Alps2Alps!
And that's it! Sit back and keep your fingers crossed, as you could be the lucky winner!
Book your ski-rental with us
We offer some of the lowest prices on the market without compromising on safety, reliability or service.
And there's more. We know that bringing your children along makes a skiing holiday more expensive, so we're helping by giving ski rental to kids… for free!
Avoid the hassle and expense of travelling with your own equipment. Rent your ski & snowboard equipment from Alps2Alps today!
Why go mid-week?
Did you know you could get up to 50% off your holiday by going mid-week?
For the same experience for a much lower price, we recommend you book mid-week with Alps2Alps. Our services are still as reliable as in busy periods, so you will receive the same care while keeping costs down.
Avoid weekends to save yourself some extra cash in the run-up to Christmas!
Fancy even more money off?
We're all about saving you money at Alps2Alps. Your transfer shouldn't break the bank!
To help you save money this ski-season, we're also offering a 5% discount when you book your return transfer with us.
For a reliable, family orientated service, book with Alps2Alps, or contact us for more information.