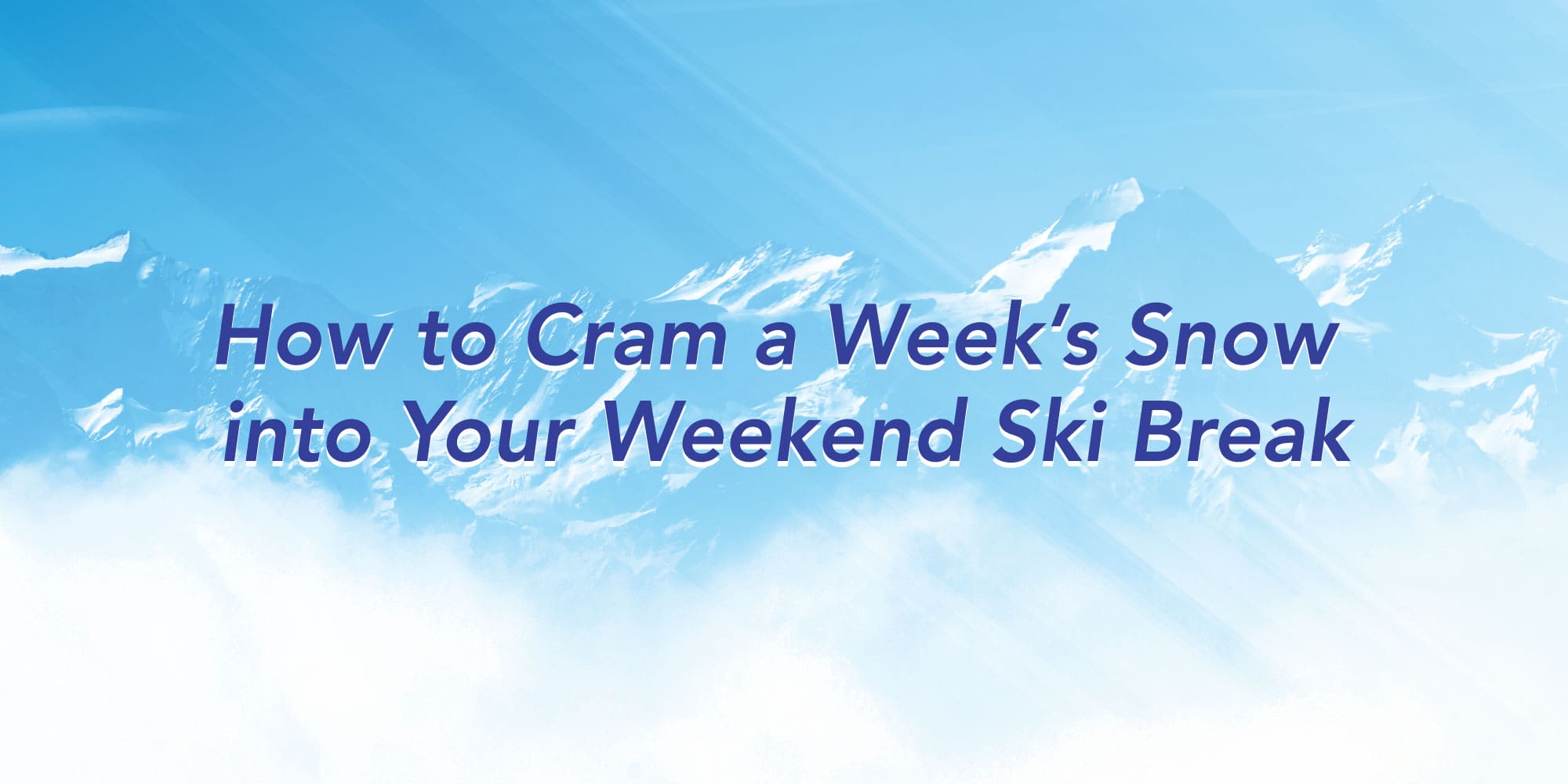 How to Cram a Week's Snow into Your Weekend Ski Break
How to Cram a Week's Snow into Your Weekend Ski Break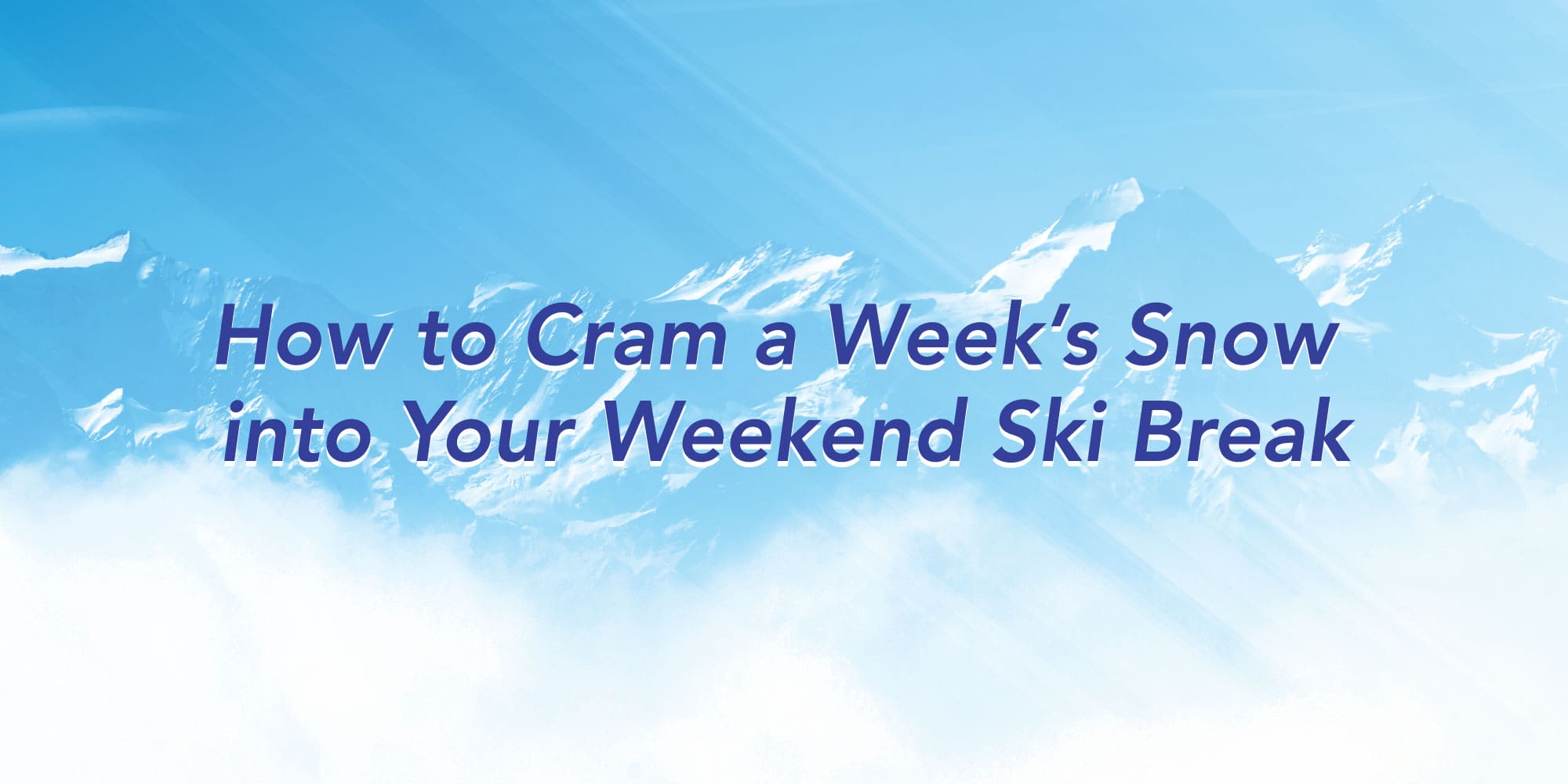 Picture the scene. It's a grey Wednesday afternoon, and the burden of mundane everyday life seems to have no end.
But, there's no option to take a full week off to wash away the stress of the day. Sound familiar?
This is where weekend ski breaks come in. If you fancy a last-minute getaway or a quick trip, you might be tempted by a skiing weekend.
But, surely there just aren't enough hours in the weekend to make the most of your holiday?
Here's how to cram a week's snow into your weekend ski break.
Do Your Own Thing
Your weekend ski break requires a fierce mentality. You want to spend as much time on the slopes as possible, with no one getting in your way.
So, don't be afraid to leave some of your slower friends behind! No one wants to spend their day waiting at the bottom of the mountain.
As your time is precious, don't waste a second of it! Solo-skiing can be just as fun as sticking with your group. You only have yourself to answer to!
All ski weekends could benefit from being a little selfish. Actually, this goes for ski holidays in general.
Be ruthless! You'll find a little freedom helps make the most of your holiday.
Don't Take Work with You
The slopes have no space for your work woes!
We all dread Mondays, but the best holidays happen when you forget all about them.
It may be easier said than done, but try not to stress about upcoming presentations or new hires.
The weekend is a precious commodity, especially on the pistes. Leave work at the airport!
Detox from Your Phone Addiction
Don't waste any time on your phone!
While this may sound like obvious advice, we're all guilty of spending too much time on our phones.
Far too often we see skiers taking a photo of the mountain rather than skiing down it.
Your Twitter followers can manage without you for two days.
Think of it as a 'blink and you'll miss it' situation!
Plan for Efficiency
While we all make plans and rarely stick to them, they can be useful for weekend ski trips.
If you make a rough 'itinerary' for the day, you give yourself the best chance of cramming more snow into the weekend.
Working to a specific time lets you make the most out of your day. No more half-hearted 'we'll get to the slopes when we feel like it' nonsense!
Thinking ahead should help avoid poorly thought-out plans which may ruin the weekend.
Saying this, don't plan your day to the minute. The best holidays aren't overly strict.

Get there Early
The early bird catches the worm, remember.
If you only have two days on the slopes, make each second count. Getting there early will mean less queues, emptier slopes, and more runs down the mountain!
It's far too easy to waste half a day on holiday. With a weekend ski break – you can't afford this!
Forget to Relax
Holidays are about rest and relaxation, right?
Wrong! Skiing weekends are about ruthlessly getting as much slope time as possible. If you head into work on Monday tired, so be it. It's a small price to pay!
You don't have time to spare for massages or spas or any such luxuries. Ski weekends are made for those who love the pistes and the pistes alone.
If you wanted to unwind, you could have just stayed in bed and saved yourself the costs!
Challenge Yourself
The best trips are the most memorable ones. Why not add in a little adventure to shake things up?
Set yourself a challenge. This is a fool-proof way to get the most out of your weekend ski break. Make the weekend an unforgettable one!
After all, it's not the length of time it's what you do with it, right?
Ski weekends were made for those who love to look good skiing. Don't show yourself up by sticking to the boring pistes!
Skip the Après
We know – controversial statement.
But, if you're really trying to get the most out of your skiing weekend, maybe cut back on the number of pints at the bar.
We're not suggesting going teetotal! But, getting to the slopes at lunchtime with a hangover will waste precious piste-time. You can't afford this!
Leave the Kids Behind
Leaving the kids at home will free up a lot of your time. With weekend ski breaks, you don't have a lot of time to spare, so this is a clear win-win!
You won't have to worry about making travelling fun, or organising your holiday around ski-schools.
Weekend ski trips are all about keeping things simple. Just you, your skis, and the open slopes. It can be hard to achieve this with children in tow!
Get a Reliable Transfer
Time is money when you only have the weekend! So, you don't want to waste a second of it waiting around for your transfer.
Trust Alps2Alps to provide you with an affordable, reliable transfer service to all major resort destinations in the Alps. Let us take the hard work out of getting to and from the airport! Find out more about our low-cost services here!