Crans-Montana Ski Resort & Transfer Guide
The twin Alpine towns with their centres just 1 km apart offer breathtaking views of the mountain border with Italy, the majestic Matterhorn and even Montblanc. High-quality slopes, awarded restaurants, as well as the most extensive Alpine shopping opportunities in the region makes Crans-Montana your go-to ski holiday destination. Below you'll find essential information about the twin resorts along with help and guidance in booking your transfers.
Ski Resort Location
Crans-Montana is located in the French-speaking canton of Valais at an elevation of 1500 m above sea level. Due to being larger than other ski resorts, Crans-Montana packs a busier apres-ski. The resort even hosts Caprices Festival, the only winter mountain pop music festival.
Closest Airports to Crans-Montana
If you're flying to Crans-Montana, be sure to arrive into one of the closest airports:
Closest Train Stations to Crans-Montana
Crans-Montana is easily accessible by train as there is a train station in town. From the station, further transfers to your final destination can be arranged.

Transfer Times
These transfer times are approximate only. Weather and traffic conditions can significantly impact transfer times:
Sion Airport (SIR) – 1 hour
EuroAirport Basel Mulhouse Freiburg (EAP) – 3 hours 40 minutes
Zurich airport (ZRH) – 4 hours
How Much Will Your Transfer Cost?
Regardless of your plans for visiting Crans-Montana, our dynamic pricing system will keep your travel costs as low as possible. By taking into account the specifics of each individual transfer, we can offer our costumers the best possible deals at all times.
The transportation costs may be affected by:
Size of your group (number of adults/children)
Your chosen point of arrival
Date and time of transfer
Seasonal demand at the time of chosen transfer
Travel time and total distance to your destination
Special offers available at the time of booking
Choosing Alps2Alps means securing comfortable and reliable transfers for you and your group to your chosen destination for the lowest possible price. All of the aforementioned criteria will only ever result in our ski transfer base-rate. We never over-inflate our prices at any time or for any reason. We also offer considerable discounts for off-peak, off-season and midweek transfers to Crans-Montana. If scouting for the best possible deals, travelling outside peak season or midweek typically results in the biggest savings. Save up to 60% by travelling midweek (Monday to Friday)!
The quote for your transfer can also depend on overall vehicle availability, your transfer schedule and vehicle utilization, as well as other possible expenses like road tolls and airport parking charges.
If you have any specific requirements or you to be travelling in a larger group, please contact us directly so we can discuss this.
Resort Opening and Closing Dates
Crans-Montana season opening dates are subject to snow conditions:
Season opens – 7th December 2019
Season closes – 19th April 2020
Ski Resort Essentials
Crans-Montana sits at an elevation of 1500 m with pistes ranging from 1500 m to 3000 m above sea level. The majority of the slopes are facing South, providing a lot of sun for your holidays. The wide and varied slope area are suitable for all tastes. Some essential stats on the resort:
4 Black pistes
20 Red pistes
17 Blue pistes
140 km Downhill pistes
30 km Cross-country pistes
25 ski lifts
Max vertical: 1524 m
Family Friendly/Kids
Crans-Montana ski area is family friendly and provides ski areas designed for those enjoying calmer descents. The Swiss Ski and Snowboard School of Crans-Montana offer different courses suitable to all ages and skill levels as well as help to those stepping their first steps on the slopes. Consider booking a private ski instructor, if the whole family is learning or want to improve their skills together. Off-the-slope activities include bowling, cinema, climbing and much more!
Weather/Snow Weekly Forecast

View detailed snow forecast for Crans Montana at:
snow-forecast.com
Maps of Crans-Montana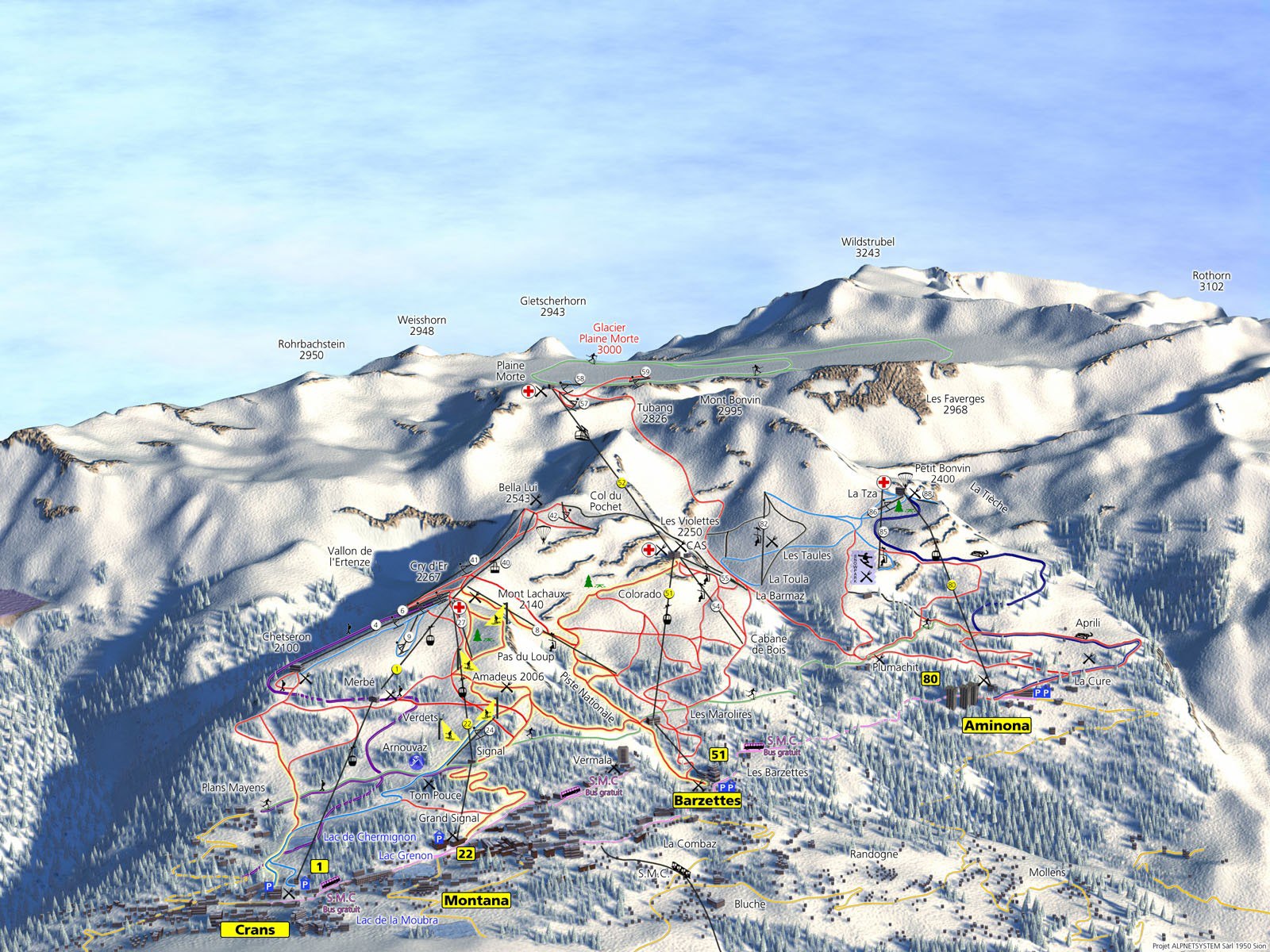 Live Webcam
Tourist Resources & Links
If you're heading to Crans-Montana, these useful links will inspire and help in preparation for your holiday:
How to Choose Transfers to Crans-Montana
Get your trip up to speed with a little help from Alps2Alps. We're proud to offer the most reliable, affordable and enjoyable Crans-Montana resort transfers. Begin your much deserved holiday stress-free and start enjoying the magnificent Swiss Alps the moment you step on board.
Choose us for your Crans-Montana resort transfers and benefit from:
Modern, clean and convenient vehicles
Through commitment to punctuality and reliability
Attentive drivers with advanced English language skills
A helpful customer care team on-call 24/7
Family-friendly service with a smile
Guaranteed low prices on all resort transfers
Book Your Ski Transfer to Crans-Montana
If you're out to get the best possible deals on your resort transfers to and from Crans-Montana don't forget to book well ahead. If you are unable to spot a service or destination you're looking for on our website, do not hesitate to contact the Alps2Alps customer service team.
Whatever it takes to get you to your desired location on time and in comfort, you can count on us to satisfy!