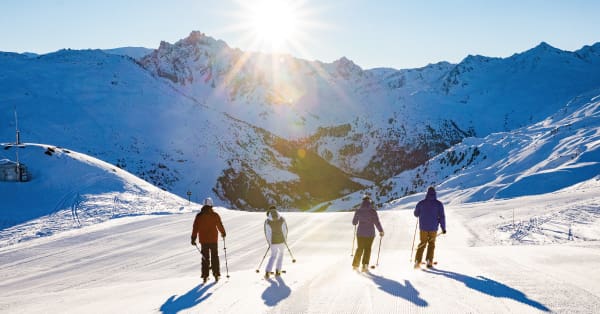 Best Easter Ski Resorts for Snow-Sure Easter Skiing in 2023
Best Easter Ski Resorts for Snow-Sure Easter Skiing in 2023
With the winter season almost behind us, it's time to look ahead and start planning something exciting to look forward to. That's why we've done the leg work to find the best Easter ski resorts for Easter skiing in 2023.
Despite being late in the season, there are still plenty of ski resorts with good snow conditions over Easter. We've spotlighted some of the best, along with just some of the reasons that make Easter a surprisingly clever choice for keen skiers.
From family-friendly Easter events, to the best snow-sure Alpine resorts – here are Alps2Alps' recommendations for where to ski this Easter…
When are the Easter Holidays 2023?
First thing first, when is Easter?
This year, Good Friday is the 7th of April, Easter Sunday falls on the 9th, and Easter Monday is the 10th.
School Easter holidays may vary depending on the school.
Where to ski at Easter?
There are plenty of European ski resorts to choose from which still offer great skiing conditions at this time of year.
However, be sure to opt for a snow-sure resort with a high altitude to be on the safe side.
Where does it snow in April in Europe?
If you visit a high-altitude ski resort, you're likely to still find some good snow through April. For example, Val Thorens has a peak altitude of 3230m, making it home to some great late-season skiing.
To be safe, pick a resort above 2,500 m with north-facing slopes, such as a resort in the Three Valleys, Cervinia, or Zermatt.
Where in Europe can you ski at Easter?
There are snow-sure resorts to be found across the Alps in April, many with glacier skiing available all year round.
Can you ski in Italy at Easter?
Although there aren't as many high-altitude resorts in Italy as there are in its neighbouring ski spots, you can still ski in places like Cervinia, Livigno and Champuloc.
Can you still ski in Switzerland in April?
Glacier skiing in Switzerland means you can ski all year round at its highest resorts!
Can you ski in April in France?
Yes, there are plenty of options to choose from in France and lots are super family-friendly!
Can you still ski in Austria in April?
Austria has a great selection of north-facing, high-altitude resorts to choose from for an April ski trip. Try Solden, St Anton or Obergurgl.
The best places to ski in April in the Alps
Here's our pick of where to ski for Easter, 2023;
Easter Skiing in Val Thorens
Taking pride of place as the highest ski resort in Europe, you'll be hard-pressed to find somewhere with a more reliable snow cover. Val Thorens in France sits loftily at 2300 m and is part of the Three Valleys, the world's largest connected ski area.
Excellent nursery slopes and a beginner-friendly magic carpet lift makes this resort perfect for new skiers and younger visitors. Intermediates can enjoy leisurely runs to the neighbouring resorts of Les Menuires and St Martin de Belleville.
Impressive alpine scenery and a lively après ski scene guarantee a great time skiing in Val Thorens.
The season doesn't end until early May, and Chambery to Val Thorens transfers are as short as 1 hour and 40 minutes.
La Plagne Easter Skiing
North facing slopes and an altitude of 2000 m positions La Plagne in the Paradiski ski area as another fantastic Easter option.
Intermediate and advanced skiers won't get bored exploring the red and blacks, and the slopes tend to be less populated during the low season. The purpose-built resort has all the modern conveniences you'll need for a fuss-free trip.
Well known as a family-friendly resort, La Plagne offers numerous quality ski schools, a kindergarten and a jam-packed events program.
Geneva to La Plagne transfers take on average 2 hours 40 minutes.
Alpe d'Huez Easter Skiing
Thanks to the lifts built on the resort's glacier, skiing in Alpe d'Huez during springtime is now an option. Access to the highest ski lifts is open until the end of April.
Top-quality snow cannons are on hand as a backup, and sunny, south-facing slopes mean you'll spot skiers gliding around in T-shirts! Alpe d'Huez isn't nicknamed 'Island of the sun' for nothing!
Family-friendly activities are arranged at the resort, including a giant Easter egg hunt.
Geneva Airport to Alpe d'Huez transfers take around 3 hours.
Obergurgl Easter Skiing
For those looking for a chilled out Easter break, Obergurgl in Austria is just the place. As Austria's most snow-sure resort, Obergurgl enjoys an unusually long ski season.
Beginners will feel comfortable testing the water in the smaller-scale ski area, while intermediates can branch out into off-piste territory.
The appeal of this resort is the low-key, traditional atmosphere and stunning architecture. A far cry from the likes of St. Anton, Obergurgl is for relaxing and recharging, rather than partying into the night.
Salzburg to Obergurgl transfers can take around 3 hours 30 minutes.
Late Season Skiing in Les Arcs
Les Arcs is made up of several resorts within the Paradiski ski area with peaks reaching over 3000m in altitude. If you're travelling in a big ski group, this resort is a great choice, as the massive and varied terrain has everybody catered for.
Geneva to Les Arcs transfers take on average 2 hours and 30 minutes.
Find Late Season Snow in Tignes
Snowy Tignes in France offers top altitudes of 3456 m, providing the perfect environment for an Easter ski break.
The Tignes area is made up of several resorts:
Tignes Lavachet

Tignes Le Lac

Tignes Les Brevieres

Tignes Val Claret
Grenoble to Tignes transfers take around 3 hours, traffic and weather dependant.
Val d'Isère in France
Home to both the Pissaillas and Grande Motte glaciers, Val d'Isere is a safe bet when it comes to a snow-sure Easter ski holiday.
Take advantage of the high altitude, charming resort village and family-friendly activities.
Transfers from Geneva to Val d'Isere take just under 3 hours.
Les Deux Alpes
Les 2 Alpes is a great resort in the Alps to visit if you're looking for some Easter fun. Sun, skiable glaciers and altitudes exceeding 300 m make it a popular option for families.
Join the community Easter hunt or send the kids off to do seasonal crafts while you kick back at the spa.
Book a Geneva to Les Deux Alpes transfer, and you'll be there in approximately 3 hours.
Work Hard Play Hard in St. Anton
A reliable snow record establishes St. Anton in Austria as a safe bet for an Easter skiing getaway.
Famed for its legendary nightlife and off-piste terrain, St. Anton is a wilder option for those who aren't afraid of a late night. Challenging runs attract adrenaline junkies who stop at the Mooserwirt bar to fuel up on beer and Jägermeister.
That's not to say families won't have a good time here. The extensive Arlberg ski area has plenty on offer for all abilities, and the village is full of rustic Austrian charm.
Snow-Sure Andermatt
The resort of Andermatt occupies an optimal Northern position high up in the Swiss Alps that guarantees snow when other nearby resorts are lacking. Expert skiers will enjoy pounding the black runs and exploring off-piste routes.
For families, thrilling toboggan rides and picturesque village-wandering make for excellent daytime activities. There's also a children's snow park for little ones to experiment in.
A period of expansion saw more lifts and varied runs being developed at the resort.
A transfer from Zurich airport takes around 2 hours and 20 minutes, and the resort stays open until mid-May.
Saas Fee, Switzerland
With spectacular glaciers and peaks over 400 m, Saas Fee in Switzerland makes for a safe Easter ski destination. Not only is it one of Europe's highest resorts, but it also boasts family-friendly facilities, gorgeous scenery and year-round skiing.
Transfers from Geneva take just over 3 hours.
Easter events across the Alps in 2023
It's not just skiing on the menu with a trip to the Alps over the Easter holidays. From egg hunts for families to concerts and festivals – see what's happening this year…
Switzerland – The Easter bunny has been let loose in the Saas Valley! Easter eggs and prizes have been hidden around the resorts for children to find via an interactive map. Find a nest, scan the QR code and enter the competition to win prizes.
Switzerland – Special entertainment for children and families is being arranged at Crans Montana over the long Easter weekend.
Switzerland – Join the egg hunt at Champex-Lac kicking off from 10 am at the chairlift – chocolates all round!
Austria – The Salzburg Easter festival features orchestral, chamber and choral concerts.
Austria – The Top of the Mountain Easter concert in Ischgl welcomes German rapper SIDO on the 9th April.
As well as these events, most of the big resorts will be putting on Easter parades, egg hunts and Easter-themed entertainment for families.
When to Book an Easter Ski Holiday
Although Easter isn't the most popular time to go skiing, the school holidays can mean family-friendly resorts can get booked up.
However, booking before January can be risky as snow cover can vary. February or March is the perfect time to secure your plans as you have a better picture of what the weather will look like in your chosen resort.
Why Choose an Easter Ski Trip?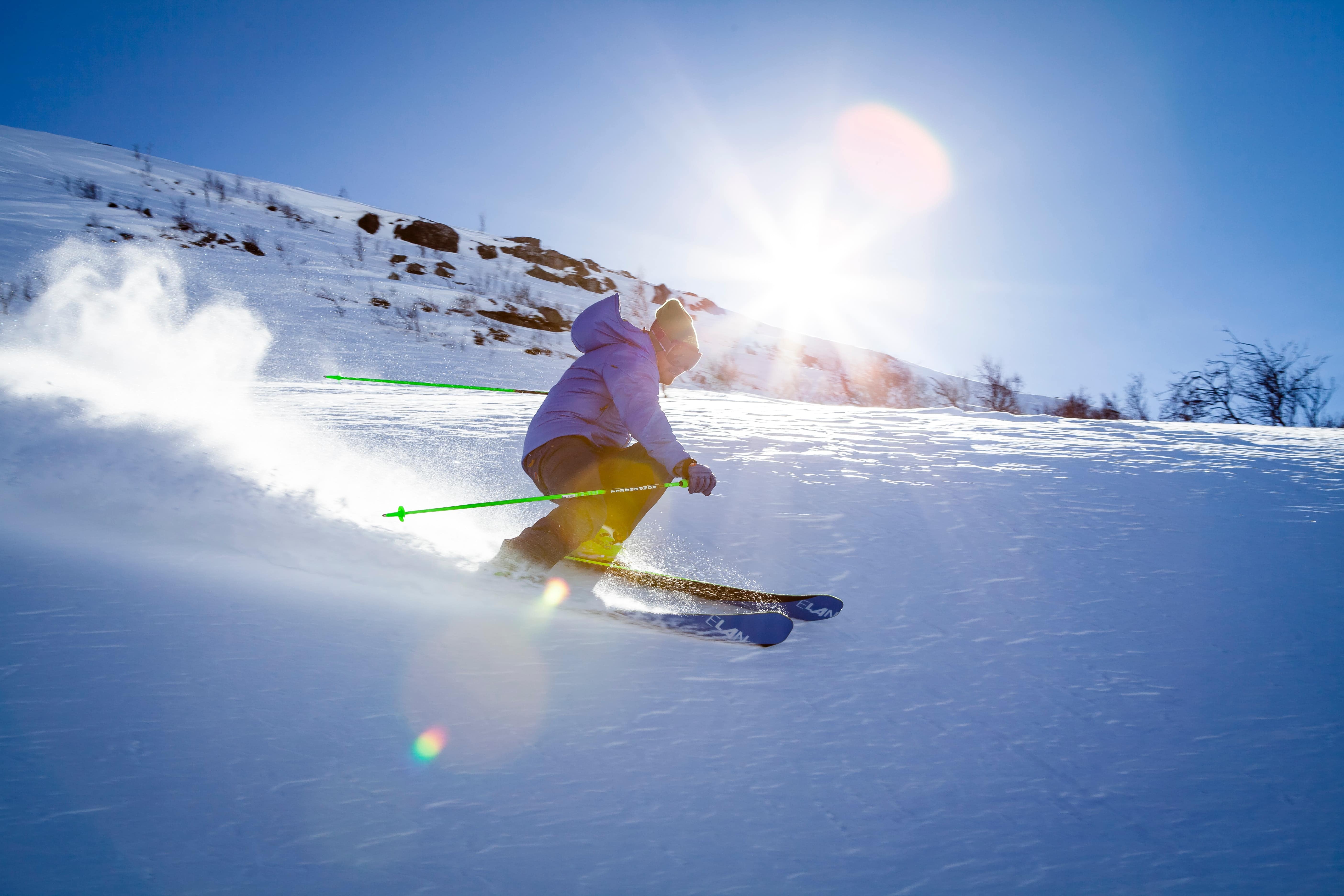 Easter is a great excuse for a spring skiing holiday. The kids are off school; there's a hint of warmth in the air, and blue skies and fresh snow make for an exhilarating skiing experience.
Are ski resorts busy over Easter?

If you're planning a family ski trip, your time away will be dictated by school holiday dates – although the February half term skiing offers the most reliable snow cover, this benefit draws massive crowds to the best European ski resorts. Fine, if you don't mind queuing for the ski lifts and cable cars and rubbing elbows on the slopes.
If you're looking for a quieter holiday, the Easter break lies outside of the peak season, meaning more peaceful slopes and shorter queues.
Is skiing good at Easter?

There are plenty more benefits to an Easter ski holiday;
Sun and Blue Skies
One of the great things about skiing during this time of year is the likelihood of blue skies and some much-needed sun!
Strip off a few layers and enjoy whizzing down the slopes, free from bulky jackets and scarves.
Longer Skiing Days
Longer daylight hours mean more time on the slopes! Instead of getting up at the crack of dawn, a more leisurely approach can be taken to Easter skiing. Ski lifts are open longer so you can make the most of your lift pass.
Later starts are also especially important when getting youngsters up and ready for the day!
Easter Ski Holiday Bargains
As Easter is outside of peak ski season, there are great Easter ski deals to be had. Lower prices for ski chalets, ski and snowboard lessons and travel are good news for those on a budget.
Even ski transfers are cheaper when you opt to travel off-peak! Alps2Alps offers loads of discounts when travelling off-season. You can even cut costs by up to 50% by travelling midweek! An easy way to make serious savings.
The Alps2Alps ski transfer app gives customers access to the latest deals and offers and allows you to track your driver's route in real-time.
Quick and Convenient Travel
Another benefit to skiing at Easter is the reduced travel times. The winter months can sometimes bring heavy snow leading to traffic build-ups and travel hazards, making it more difficult to reach your resort.
Clear roads and smaller crowds mean faster transfer times.
How to Have a Cheap Easter Ski Holiday
Possibly the best thing about an Easter ski trip is the savings you can make! There are plenty of ways to make your ski holiday more affordable.
Rent Your Ski Equipment
Renting ski gear is a lot easier than marching through the airport laden with bags and bulky equipment. It's also a lot cheaper.
If you only ski once a year, or you're relatively new to skiing, renting ski equipment usually works out as the more affordable option.
With renting, you can pick up your skis on the way to your resort, saving a lot of time and hassle. 
Book a Ski Transfer from the Airport
Instead of deciphering bus timetables or splashing out on expensive taxi fares, a ski transfer to your resort is a far easier option.
Get the best deals and biggest savings by travelling off-peak with Alps2Alps.
Now you're primed and ready with all the information you need for a memorable Easter skiing holiday, it's time to start booking your ski transfer.