Auris en Oisans, Grandes Rousses ski resort & transfer guide
If you are just in the beginning of learning ski or snowboarding, or you simply want an easy-going holiday with your family, Auris en Oisans, Grandes Rousses is exactly what you need. This resort gives an opportunity to learn how to ski from the very basics. While most of the Alpine sports lovers, who are visiting Grandes Rousses go to some of the better known and more popular sectors in Alpe d'Huez ski area, local French people choose Auris en Oisans. Here you will feel peace, joy and at the same time enjoy amazing French Alps views.
Auris en Oisans, Grandes Rousses location
Auris en Oisans is located at the south-eastern France, 30 km from Grenoble and 5 km from Mont-de-Lans. This resort is small and cozy. If you are tired of places full of tourists and want to enjoy the real French culture, this place will be the best to catch some local feelings.
Closest airports
Closest train stations
If you are planning trip to Auris en Oisans by train, take the Grenoble train station which is the closest to the resort.
Transfer times
Grenoble train station – 1hour
Grenoble airport – 1 hour 20 minutes
Chambery airport – 2 hours
Lyon airport – 2 hours 10 minutes
How Much Will My Transfer Cost?
If you decide that Auris en Oisans resort will be the next destination for your holidays, make sure that you choose the best transfer for the best price. We, Alps2Alps, guarantee that your transfer costs traveling with us will be fair, flexible and lowest possible. However, the price you will have to pay is influenced by individual factors, including:
Your chosen airport of arrival
The size of your group
The time and date of your journey
Journey lengths and times
Seasonal demand
Special deals and discounts on offer at the time
The most important for us is our passengers comfort and well-being. That's why we never over-inflate our prices at any time or for any reason, which means that all of the factors above will only affect the transfer costs by going down. Moreover, we also offer essential discounts for off-peak, off-season and midweek transfers to Auris en Oisans. If you are looking for the best possible deals, we recommend travelling outside peak season or midweek – you'll get 60% discount of the prices from Monday to Friday.
However, the price will also depend on vehicle availability, transfer schedule, vehicle utilisation and other costs like road tolls and airport parking charges.
If you have any specific requirements or will be travelling as part of a larger group, please get in touch directly so we can discuss this.
Resort Open & Closing Dates
Season opens: 14th December 2019
Season closes: 13th April 2020
Ski Resort Essentials
Auris en Oisans resort is the real family paradise. Here you will find many activities suited for children and parents, including free animations like fun rubber rings, family challenges, night skiing etc. Nevertheless, Auris en Oisan offers significant view at the top of National Park "Les Ecrins" and on the Meije.
As already mentioned, this resort really is the perfect place for family. One more reason for that is ski passes which are perfectly suited for the youngest snow lowers:
Ski pass Auris – 45 km and 11 ski lifts
Ski pass Alpe d'Huez grand skiable domain – 250km with 135 ski lifts
Weather/Snow Weekly Forecast

View detailed snow forecast for Auris En Oisans at:
snow-forecast.com
Maps of Auris en Oisans, Grandes Rousses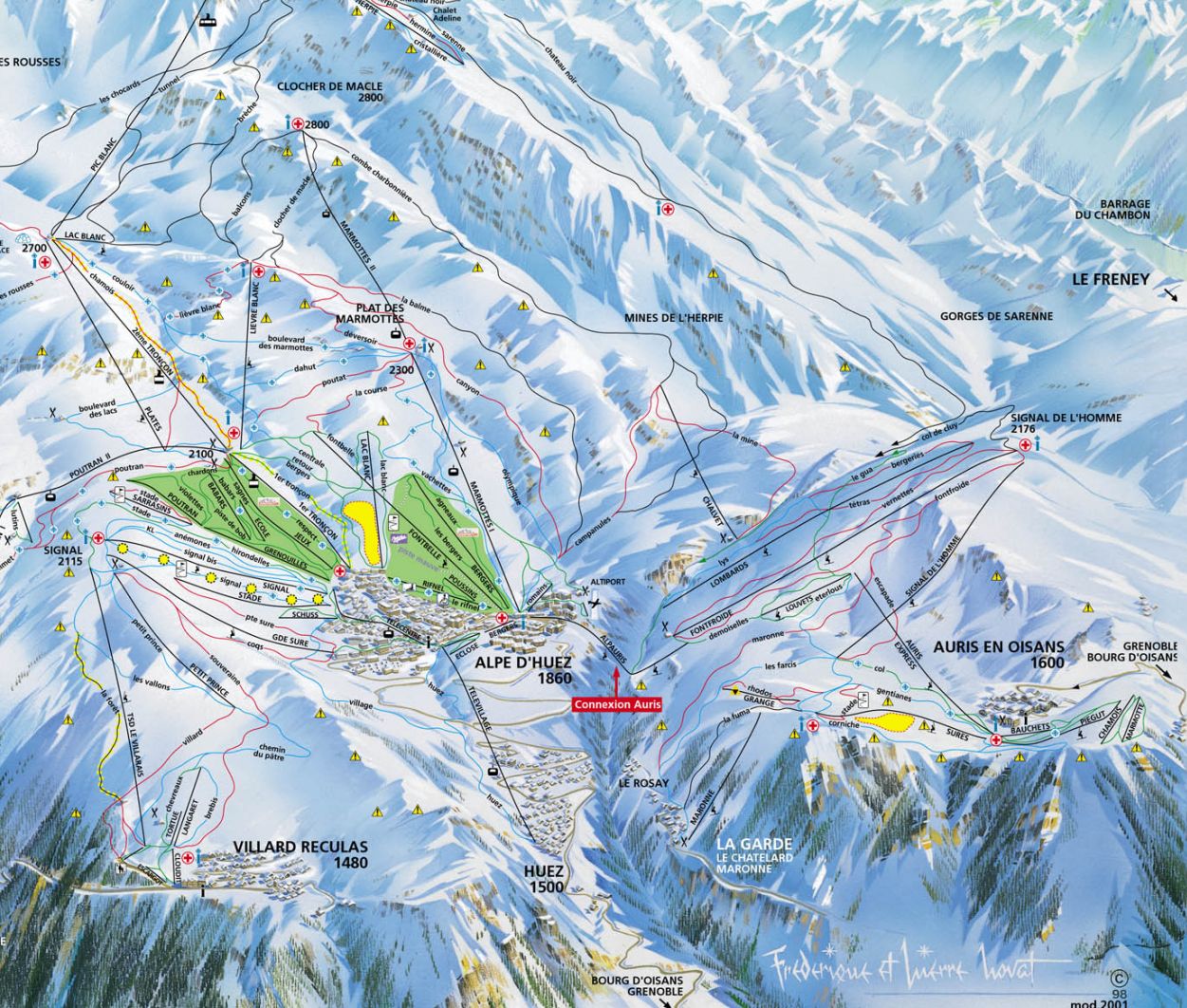 Live Webcam
Tourist resources & Links
For additional information, prices and news, visit Auris en Oisans official:
How to Choose Transfers to Auris en Oisans, Grandes Rousses
What is a good transfer? For every person it may be different, but the most common and important things are:
Safe, comfortable and reliable vehicles always
Total commitment to reliability and punctuality
Customer service staff available 24/7
English-speaking drivers with solid local knowledge
Family-friendly service with a smile
The lowest possible prices for all trips at all times
If you choose us, Alps2Alps, as a transfer for your trip to Auris en Oisans, we guarantee you all the factors mentioned above, as we know how important for passenger is to arrive on time, feel comfortable and friendly customer service.
Book Your Ski Transfer Auris en Oisans, Grandes Rousses
We kindly recommend you book transfer to Auris en Oisans timely in order to get the very best price. How to do that? Simply give a call to our customer care team or fill out the online query form - Book your transfer here!
Every trip begins on the road- make a great one with Alps2Alps!