Campitello di Fassa Resort & Transfer Guide
Campitello di Fassa is one of the biggest resorts in Val di Fassa. It is a great ski holiday destination with a whole family thanks to new and modern facilities. Using fast modern cable car, you can be astonish by the beautiful view on Pian, other harsh peaks and their surroundings. If you are sports lover, this is the right place for you. Campitello is a great place to practise winter sports as well other activities.
Ski Resort Location
Campitello di Fassa is a medium sized ski resort in northern Italy. It was the first alpine and tourist resort in the Val di Fassa with hotels and other main facilities for use of alpinists and famous scientists. In the past the resort and it's surrounding area was used as for pasture and work with wood.
Closest Airports to Campitello di Fassa
If you're flying to Campitello di Fassa, be sure to arrive via one of the closest airports:
Closest Train Stations to Campitello di Fassa
There are good train services from Italy and most surrounding countries to Bolzano. From there, you can take a transfer (shared or private) to Campitello di Fassa.
Transfer Durations
These transfer times are approximate only. Weather and traffic conditions can significantly impact transfer times:
Bolzano - 1 hour 40 minutes
Treviso Airport (TSF) – 3 hours 20 minutes
Venice Marco Polo Airport (VCE) – 3 hours 20 minutes
Salzburg Wolfgang A Mozart Airport (SZG) – 4 hours 50 minutes
Innsbruck Airport (INN) – 3 hour 10 minutes
Orio Al Serio (Bergamo) Airport (BGY) – 4 hours 10 minutes
Milan Linate Airport (LIN) – 4 hours 35 minutes
How Much Will My Transfer Cost?
Developing the price for your transfer to Campitello di Fassa we take in consideration several specifics of your trip. But you can count of Alps2Alps to get you there on-time and in-comfort, throughout the season. We do our best to keep all the transfer costs as low as possible.
The cost of your transfer to Campitello di Fassa are calculated in accordance with the following factors:
Arrival airport
The time of your travel
The number of persons travelling
Traveller ages
Length and duration of transfer
Availability
Special offers available at the time
All of the above will only ever result in our base-rate for ski transfers going down – we never over-inflate our prices at any time or for any reason. We also offer substantial discounts for off-peak, off-season and midweek transfers to Campitello di Fassa. If looking for the best possible deals, travelling outside peak season or midweek typically results in the biggest savings. We offer midweek (Monday to Friday) prices with up to 60% discount than weekend prices. Your transfer quote will also depend on vehicle availability, transfer schedule, vehicle utilisation and other costs like road tolls and airport parking charges.
To discuss any specific requirements or plans to travel as part of a larger group, please get in touch directly so we can discuss your needs.
Resort Open & Closing Dates
Seasonal opening dates at Campitello di Fassa are of course dependant on snow conditions, though are currently listed as follows:
Season opens – 5th December 2019
Season ends – 14th April 2020
Ski Resort Essentials
Campitello di Fassa sits at an altitude of 1450 m and has a max vertical of 990 m. Here's some more vital info about the resort itself:
1 Black piste
4 Red pistes
3 Blue pistes
15 km Cross country pistes
7 Ski lifts
Lowest Piste: 1410 m
Highest Lift: 2400 m
Campitello di Fassa is perfect ski destination for beginners and intermediate skiers. You will find here plenty of great ski slopes for your entertainment.
Family Friendly/Kids
Campitello di Fassa is a great ski destination for all the family, with kids in all ages. The resort offers several winter activities and entertainment in winter playgrounds. Each ski area offers snow playgrounds, nursery and easy slopes for children and beginners and many other facilities for all the family.
Weather/Snow Weekly Forecast

View detailed snow forecast for Campitello at:
snow-forecast.com
Maps of Campitello di Fassa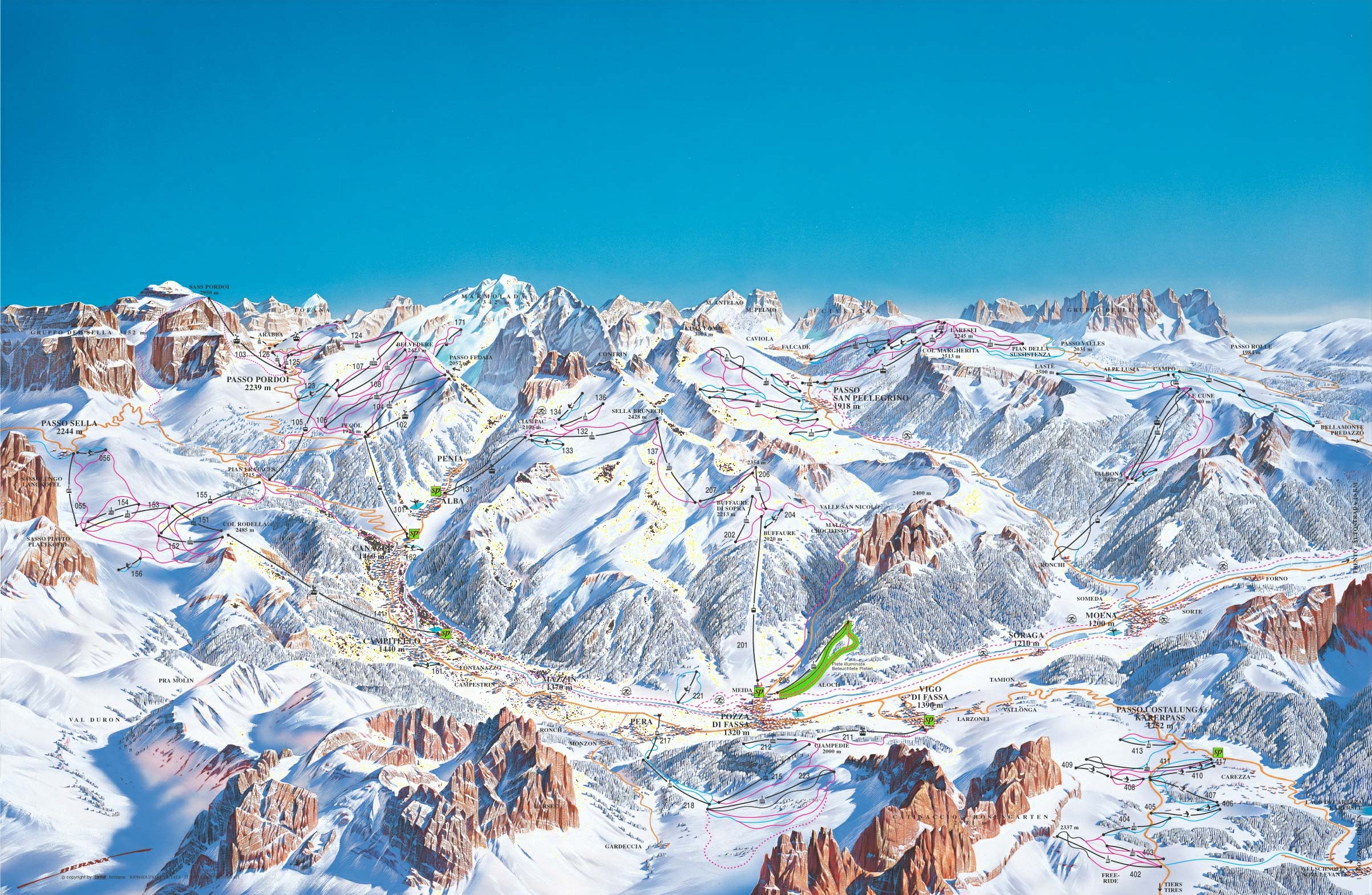 Live Webcam
Campitello di Fassa live webcam stream:
www.fassa.com/EN/webcam-val-di-fassa/
www.visittrentino.info/en/webcams
Tourist Resources & Links
The size and offer of Campitello di Fassa is rich and it would be very useful to do a little homework before setting off for Campitello di Fassa. If you want to make the most of your stay, here are some useful information you can go through:
How to Choose Transfers to Campitello di Fassa
It is the worst thing to start your winter holidays with the left foot because of poor transfer service. Lucky for you Alps2Alps is committed to offer you the highest possible service standards with the lowest prices you'll find. Book your transfer to Campitello di Fassa in advance to get some benefits:
The promise of the lowest possible prices
Punctual and reliable services
Modern and comfortable vehicles
English-speaking staff with essential local knowledge
Family-friendly service with a smile
Maximum flexibility
Book Your Ski Transfer to Campitello di Fassa
To get the best possible deal for your transfer to Campitello di Fassa ski resort, book your service as soon as possible. If you are planning to travel to Campitello di Fassa during the peak of season, act fast because transfers fill up fast. If you can't find the services you have been looking for, get in touch with us and we will do everything to help.
Wherever you choose to go, Alps2Alps will help you get the most from your ski trip!