12+ Tips You Really Need to Know When Driving in the Alps in Your Own Car
12+ Tips You Really Need to Know When Driving in the Alps in Your Own Car
There are many options when it comes to getting to that Alpine ski resort that you've already chosen – a plane, a coach or even train. But there are several advantages if you choose driving through the mountains in your own car. For example, you can have all the flexibility – take as much luggage as you want or even move on to another skiing destination any time!
However, mountain driving is a serious matter, therefore all Alps2Alps cars are adjusted and transfer drivers are specially trained for driving through the mountains. If you do decide driving your own car, you have to be really prepared and take lots of things in consideration. Read this article to get some essential tips for safe driving in the Alps shared by the experienced Alps2Alps transfer drivers!
Check everything before you take off
Any advanced Alps driver will repeat again and again – safety first! Before you hit the road, double check everything and prepare for safe driving in the Alps in winter. First, your car has to be in excellent technical condition! Mountain driving in winter requires a lot more stability than everyday driving in the city. It's even recommended that you take your car to a service station for a full inspection.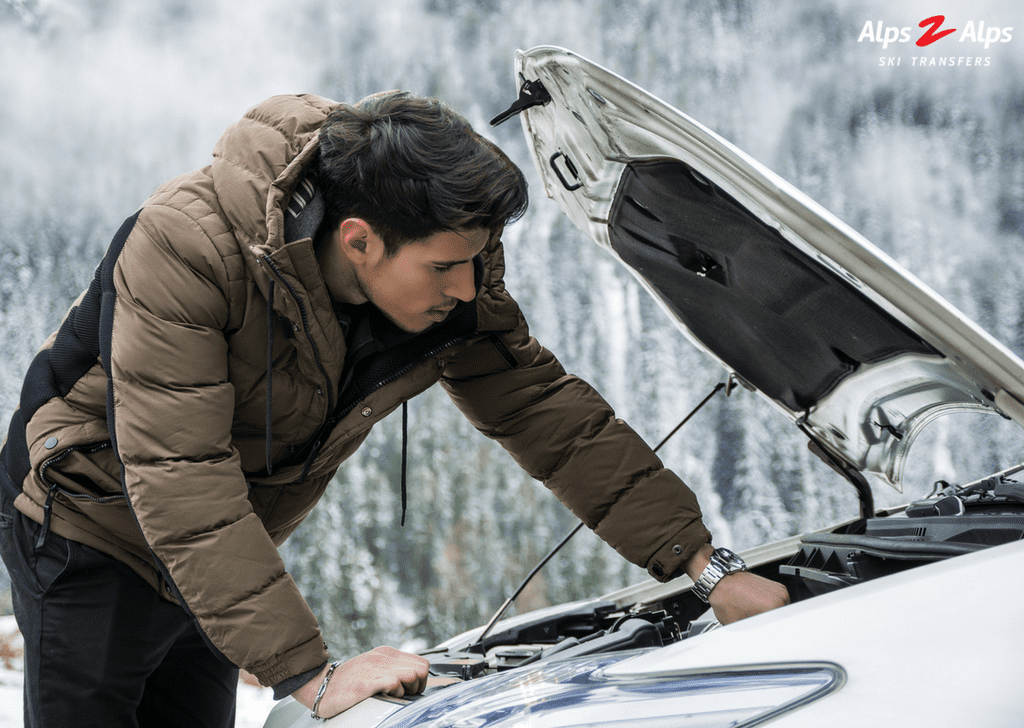 If you're more of a DIY person, here's some of the most important things that our drivers suggest you pay attention to;
Brakes – take your car for a test drive and see how your brakes work if you need a swift stop;
Battery – make sure it's charged, because cold weather and driving through the mountains up-and down-hill makes the battery work harder;
Have all the liquids checked and topped up. Get an antifreeze and windscreen washer solution with a low freezing temperature. Wiping your windscreen and clear sight on the road are essential!
Things to have in your car when driving in the Alps in winter
Don't forget about the documents while preparing for your mountain driving trip! Check all the papers a few weeks before, because it may take some time to get those in order. And double check again shortly before departing – have you packed your passport, driver's licence, car registration documents and insurance certificate? Make sure that your insurance is valid in the country that you're traveling to!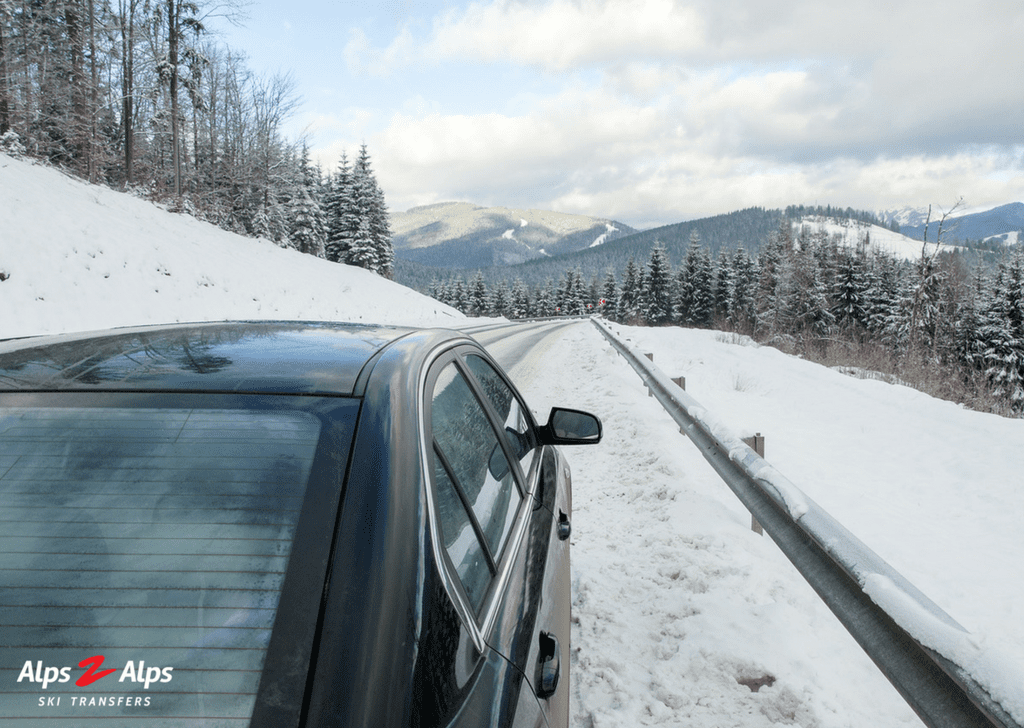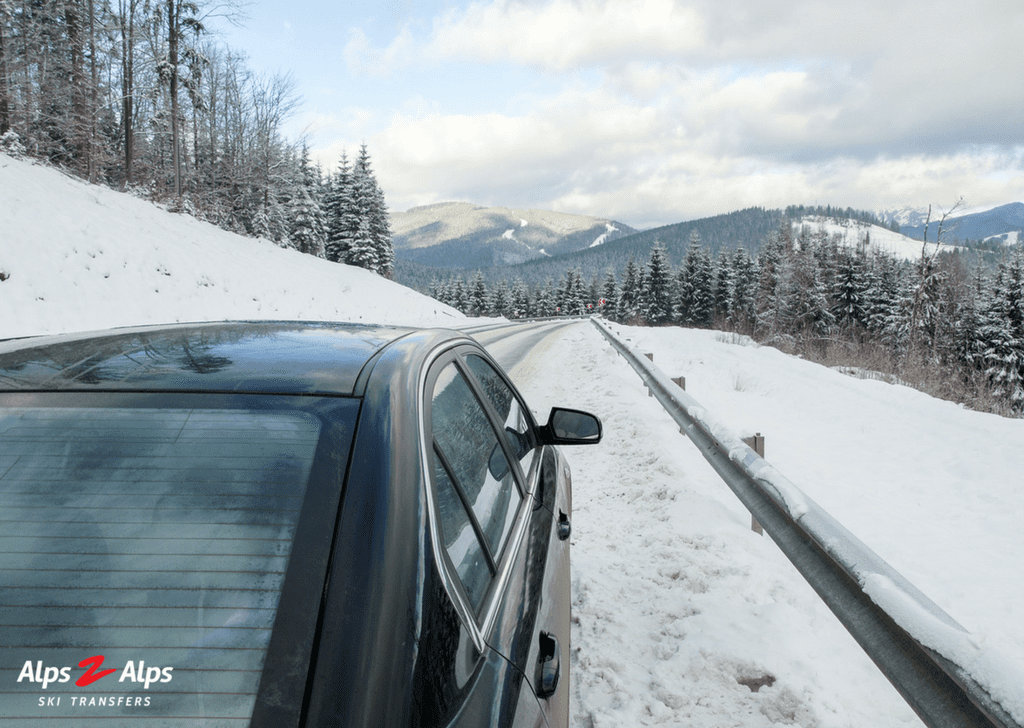 Apart from that, again – always be prepared! Based on Alps2Alps drivers' experience, here's a list of things you must have in your car if you plan on driving in the Alps in winter.
First aid kit – in many European countries, it is the law to have one in your car;
Snow chains – it is also a legal obligation to have these if you're driving through mountains. And (this is essential) – try them at home! Our drivers experienced many traffic jams in Alps, caused by someone trying to put snow chains on  his car for very first time!
Scraper for your windscreen;
Bulb set if you happen to have a broken light;
Warning triangle and high visibility jacket;
Torch;
Shovel;
Tow rope.
Fasten and protect your skiing equipment
If you're taking your own skiing equipment with you, the safest and cheapest option is to store it in your car's salon. But this might reduce your company – folding down at least one back seat is inevitable.
Our experienced drivers recognise roof box as the safest option to transport your skiing equipment. But if you're not up for investing in one, a ski rack might be the best for you. Be sure to fasten your equipment safely and don't forget about covering it. Dirt, mud and salt (slippery roads in Europe are often scattered with salt) can get to your skis and snowboards and damage them.
Not an owner of skiing equipment? Well, you can always rent some at your ski resort or – there's even a better and more convenient option – make a stop at Alps2Alps ski shop when driving through the Alps! It's located just 15 minutes away from Geneva airport and is really close to Alpine ski areas like Chamonix and The 3 Valleys.
General rules and information
Drive on the right! This might seem odd to a continental European, but if you're from the UK, you know it's important to remind yourself now and then that you must keep to your right when driving outside Great Britain. Especially when you're driving through mountains and you're the only one on the road.
Traffic might be busy. Start your trip early, because you might get stuck in a traffic jam! Alps2Alps drivers confirm that critical days are the weekends and pre-holidays. You can avoid heavy traffic by choosing mid-week to start your journey.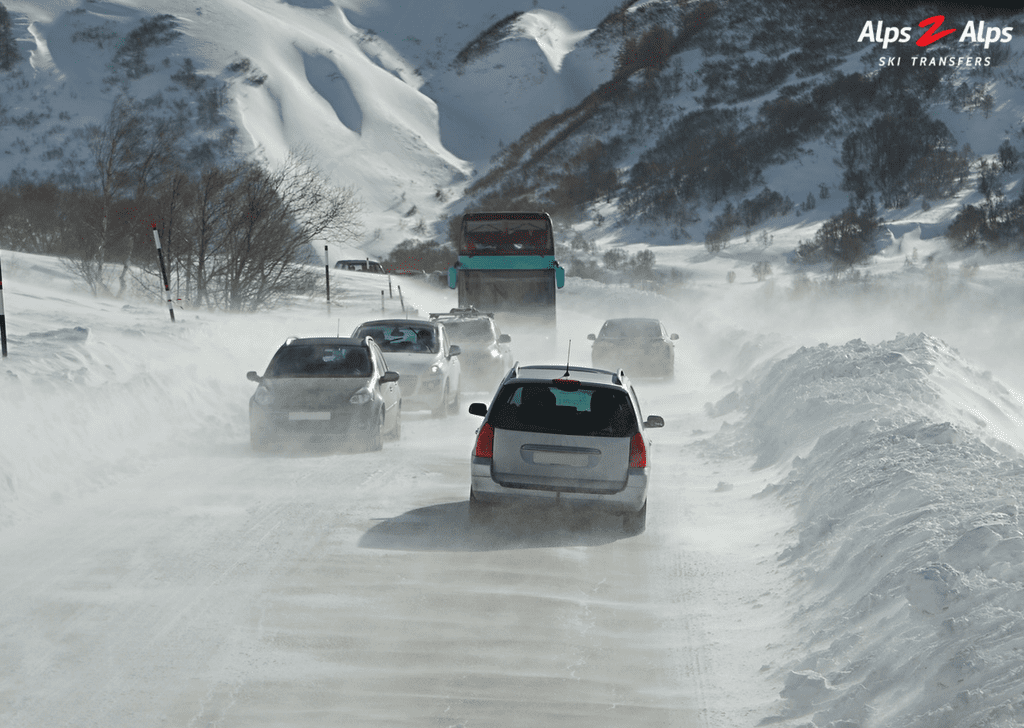 Be careful during a snowfall when driving through the Alps. Keeping a good distance is key. Drive slowly, brake and accelerate softly to avoid skidding, but do not stop going uphill – it will be really difficult to get back on track driving if there's ice. Headlights on at all times when the snow is falling, it is the law!
If not sure, rely on professionals
Hopefully you will find our experienced drivers' tips useful and have a safe trip to the Alps. But if you don't feel experienced enough, you can always choose going to the Alps by plane, and then – to make your trip as safe and comfy as possible – book an airport transfer that will take you to your ski resort and back, so you don't have to drive yourself!
All of our friendly drivers here at Alps2Alps are fluent in English, highly professional and experienced – they are specially trained for mountain driving and they do it every day! On top of that, there are many other benefits to choosing our airport transfer like:
Modern fleet with spacious 8-seaters and 16- to 19-seaters.
Lots of luggage space for your ski equipment
WIFI in all cars.
Click on this link to read more about our experienced drivers and advantages to choosing our airport transfers. See you there, have fun and be safe!