TOP 10 Mountain Dishes to Try when Skiing in Alps
TOP 10 Mountain Dishes to Try when Skiing in Alps
A few weeks ago we published an article on the best Alpine restaurants that offer top-notch cuisine. But we thought it would be a good idea to get into all those tasty details and get a little bit more authentic. Here is a delicious list of top Alpine dishes to try during your winter holiday.
France – Mountain Dishes that Surprise with Simplicity
France will, of course, spoil you with the best selection of Alpine foods; however, the simplest things are often the truest. Like Tartiflette – a gratin of many tasty ingredients topped with lots of the local treasure –Reblochon cheese. The recipe may vary, but usually, Tartiflette is made of:
Potatoes;
Lardons;
Bacon;
Onion;
Garlic.
Tartiflette tastes insanely good, which makes it one of the most loved Alpine dishes.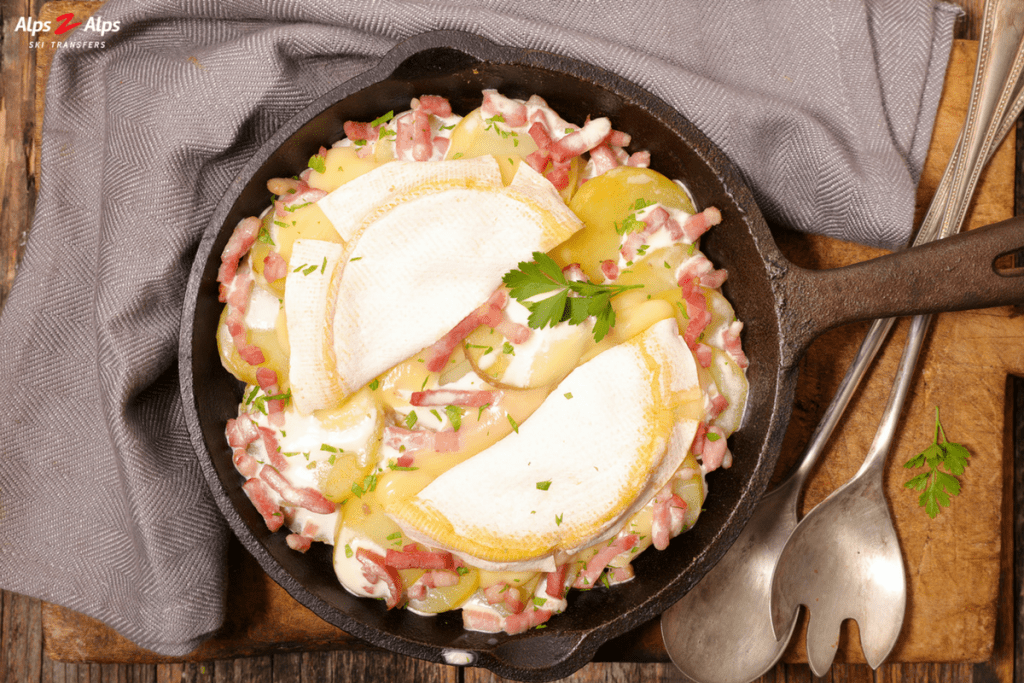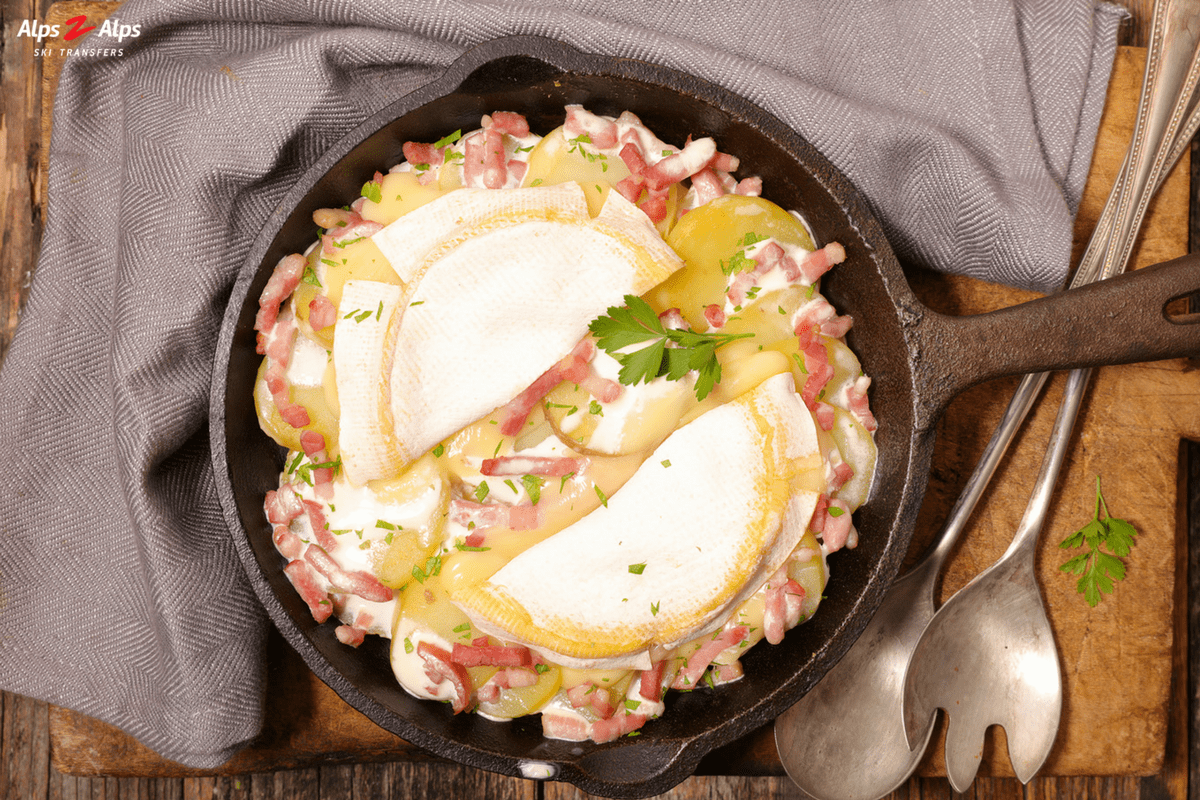 Looking in the sweet direction of French Alps food? Try Gateau de Savoie, which stands for the "Cake of Savoy." Just 4 ingredients (flour, corn, eggs and sugar) and proper speed of beating the egg yolk and baking time will get you a perfectly textured and full-flavoured cake.
Val d'Isere and Megève ski resorts will be perfect for a foodie! Get an affordable transfer to these from the nearest airport or train station!
Austria – Authentic Alpine food
You haven't been in Austria if you haven't tried Schnitzel! Imagine a super thinly hammered slice of veal or pork, breaded and then fried. Add some potato salad on the side and you're having one of the best mountain dishes ever! For some more exotica, try dipping pieces of Schnitzel in lingonberry jam!
Apple Strudel dessert is one of those Alpine dishes that you will not—and definitely shouldn't—avoid in Austrian Alps! Imagine crispy dough with warm apple filling straight out of the oven. Plus, there are several options for serving it, for example:
sprinkled with caster sugar;
served with vanilla sauce;
a scoop of ice-cream.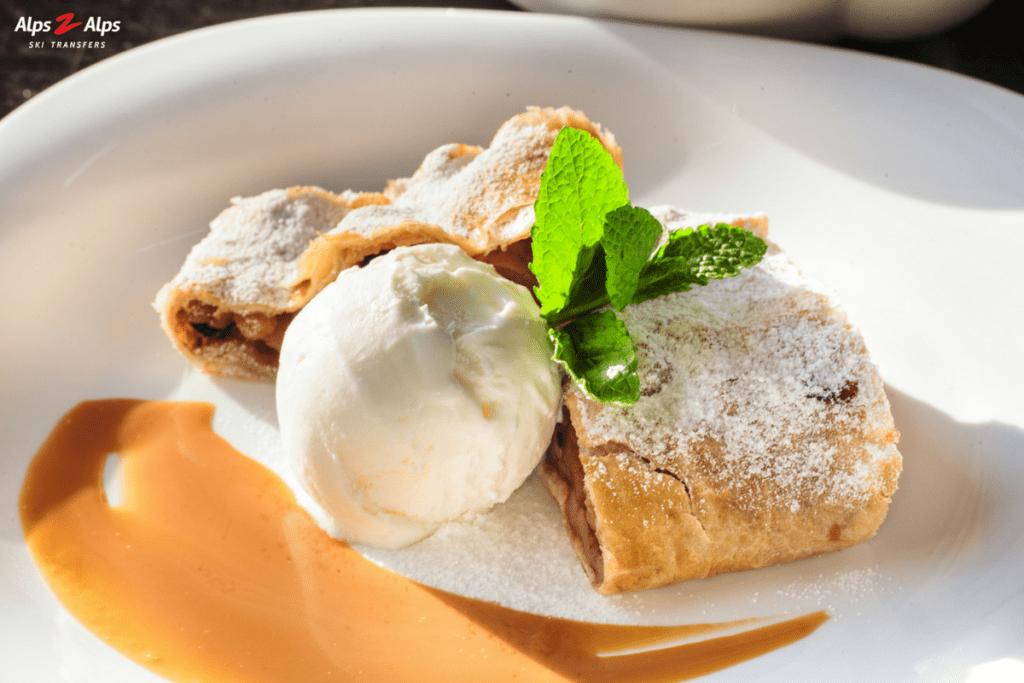 We're providing airport transfers to numerous Austrian ski resorts, including Ischgl and Kitzbühel that will offer you top quality ski food!
Switzerland – Best Pre and Post Skiing Foods
Cheese lovers! When in a Swiss Alps restaurant, the word you should look for in the menu is Raclette – an Alpine food that is almost pure cheese! The name stands for "to scrape" in French because medium soft cheese is fried on an open fire and scraped to a plate full of potatoes and pickled vegetables.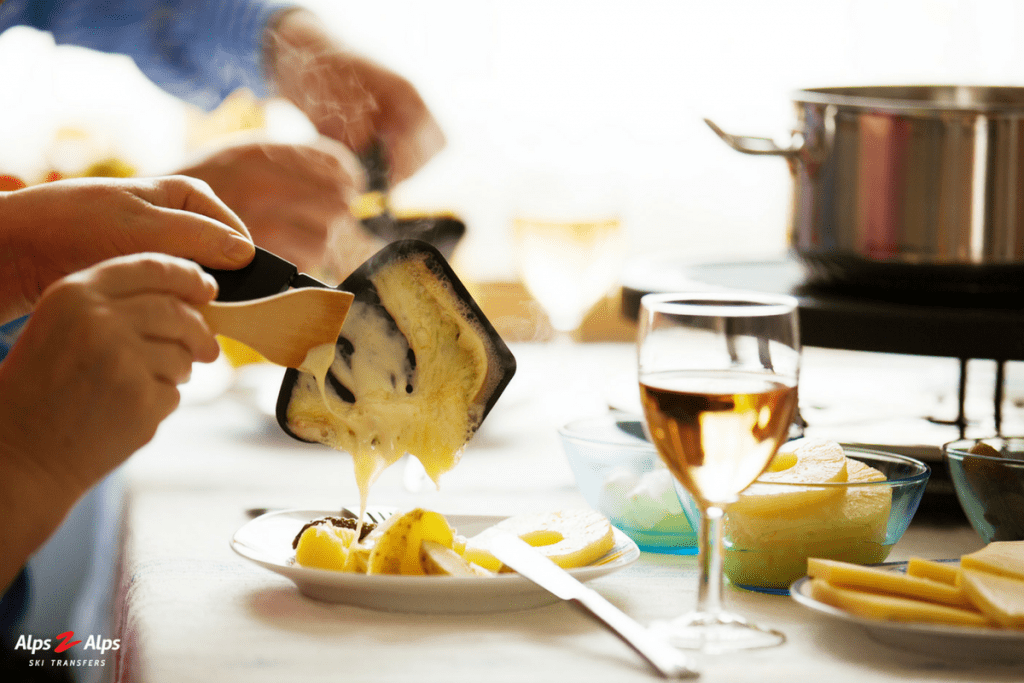 Did you know that muesli comes from Switzerland? Here it is called Birchermuesli in honour to its inventor Doctor Bircher-Benner. Made of oats, nuts and a bit of condensed milk, in Swiss Alps it tastes like nowhere else and gives you a lot of energy. The perfect ski food for breakfast!
Such gourmet ski resorts as St. Moritz and Zermatt can be easily reached from Geneva and Zurich airports!
Italy – Traditions and Novelties
You might be surprised, but one of the must-try Alpine foods that we really suggest you try in Italy is… No, not pasta and not even pizza… but polenta – a winter dish made of maize (corn) flour. Especially popular in Northern Italy, this winter dish can take up many variations – hot or cold, pureed and runny or stiff and even cut into pieces. It's usually very creamy, mild and served as a side to spicy meats.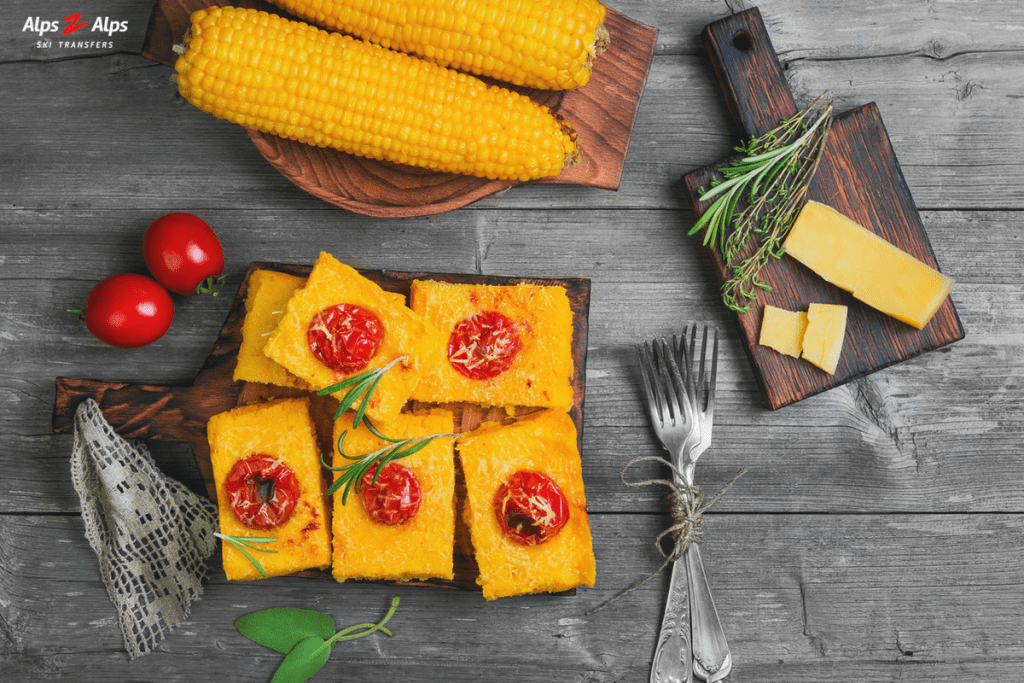 Let's forget for a moment that it's cold and there's snow. You're in Italy and nothing should stop you from taking a break from skiing to enjoy a scoop (or two, or three) of gelato! Our recommendation – extra creamy pistachio gelato. Greenish in colour, but tastes like heaven!
Courmayeur ski resort is one of the top destinations for foodies seeking the best of Alps food. And you can easily get there with a transfer from:
Germany – White Peaks, White Alps Food
When in Bavaria, you must try the famous Weisswurst that has become a really popular Alpine dish too. Weisswurst literally translates as the "white sausage", because… it's white. This Alpine food is usually made of veal and pork and despite heavy seasoning, very mild in taste and smooth in texture.
If you're a sweet tooth, here's another Alps food that is white in colour – Bavarian cream. This is a really basic dessert, but, as mentioned above, the simple things are often the truest. Bavarian cream is a winter dish that will be a nice addition to your white winter holiday – white peaks, white Weisswurst and white dessert!
Garmisch-Partenkirchen ski resort offers excellent German cuisine and we provide transfers to this ski resort from:
We hope that your winter vacation to-do list has now been updated with some delicious Alpine dishes. See when the ski resorts open this year so you can begin planning your next trip and get your hands on some of these dishes! Which one of these have you already tried? Leave a comment below and ask your friends about their favourite mountain food by sharing the article!