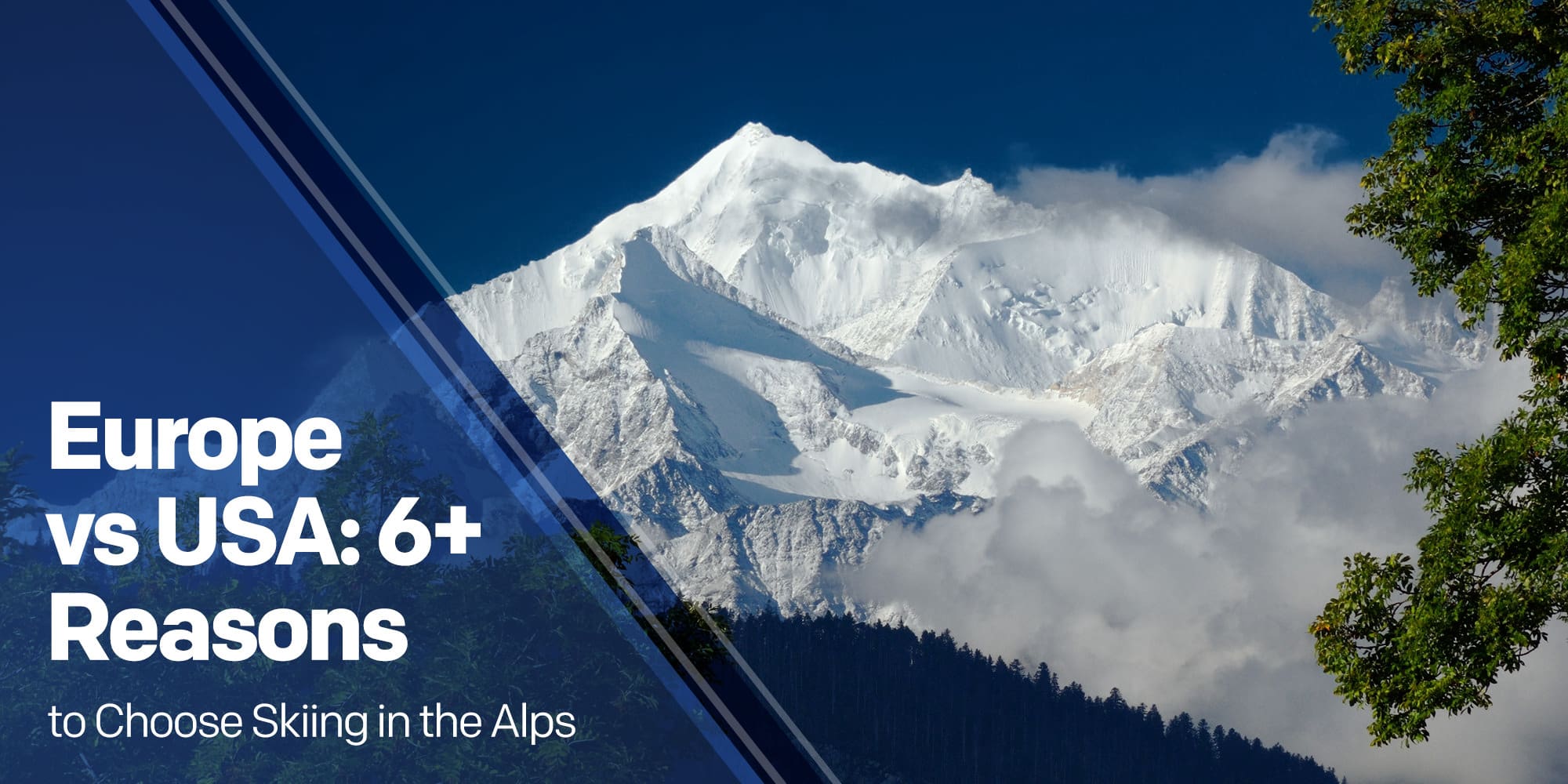 Europe vs USA: 6+ Reasons to Choose Skiing in the Alps
Europe vs USA: 6+ Reasons to Choose Skiing in the Alps
As a passionate winter sports enthusiast from America, you will take a chance to hit any slope, that's for sure. But a time may come when you want a completely different experience and the peaks of North America start to seem too tame. The answer is – skiing vacation in Europe, the Alps! Read this article that reveals some of the many advantages to skiing in Europe rather than in the USA.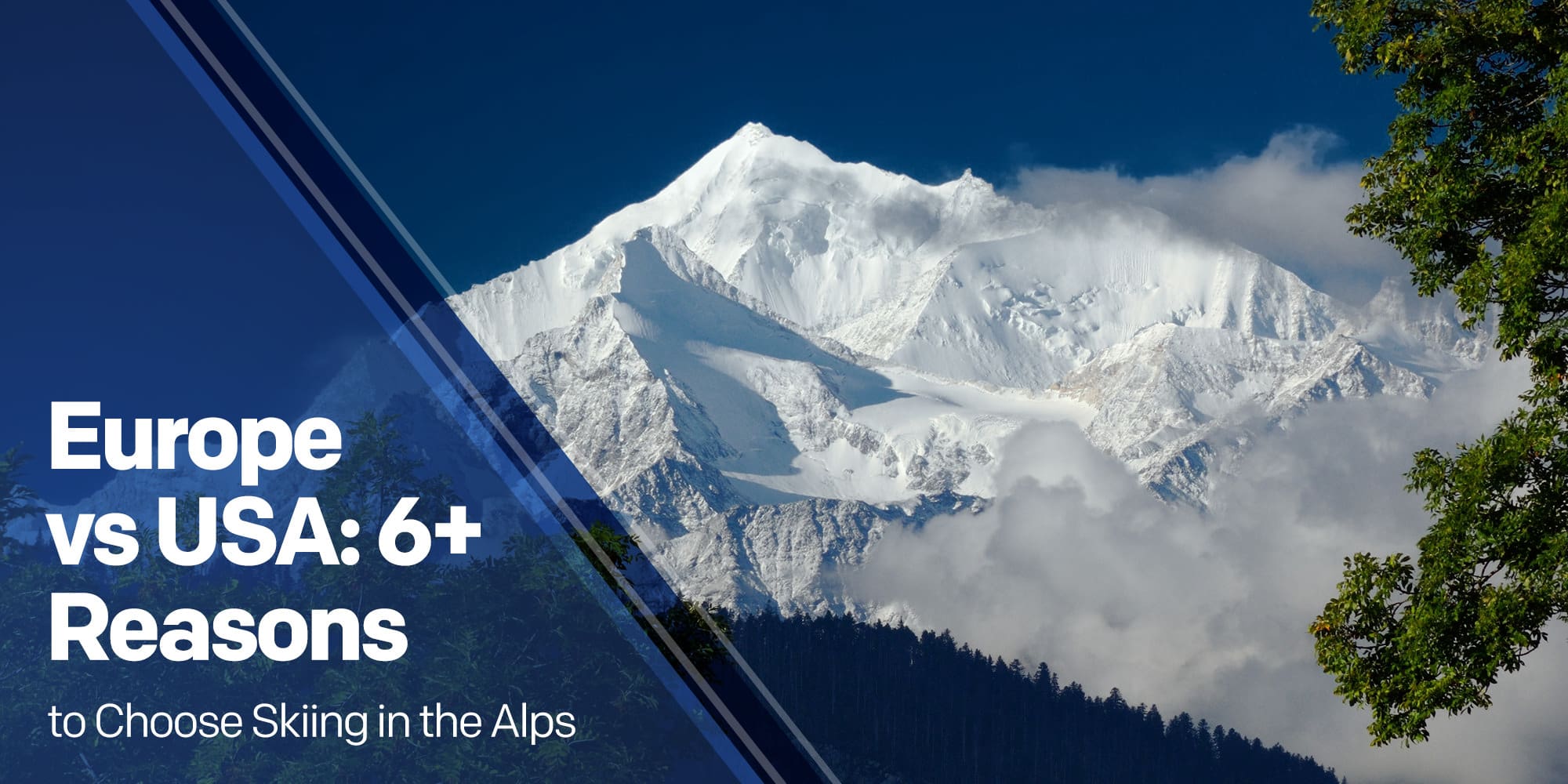 Alps vs Rockies
When talking about differences between skiing in Europe and the USA, we will generally refer to the largest mountain ranges there – the Rocky Mountains and the Alps. To warm up, let's compare the number of ski resorts in those areas. According to Skiresort.info, there are:
Around 100 ski resorts and areas in the Rockies;
More than 1,100 ski resorts and areas in the Alps.
Quite a number! You will definitely find a ski resort that fits your taste and will make skiing in Europe the best experience of your life.
Ski Resorts form Large Ski Areas
Yes, skiing in Europe can mean larger crowds than in North America. Mostly this is the case for the popular runs. Get a bit creative, hop on a ski lift that takes you a little bit further and you will find a ski lift with almost no queue at all.
There are many Alpine ski resorts really close to one another. And together they form large skiing areas where resorts, villages and peaks are interconnected with trails and shuttles. 9 out of 10 world's largest ski areas in the Alps and here's some of them:
The 3 Valleys, France (600km / 373mi)
Les Portes Du Soleil, France and Switzerland (650km / 404mi)
Paradiski, France (425km / 264mi)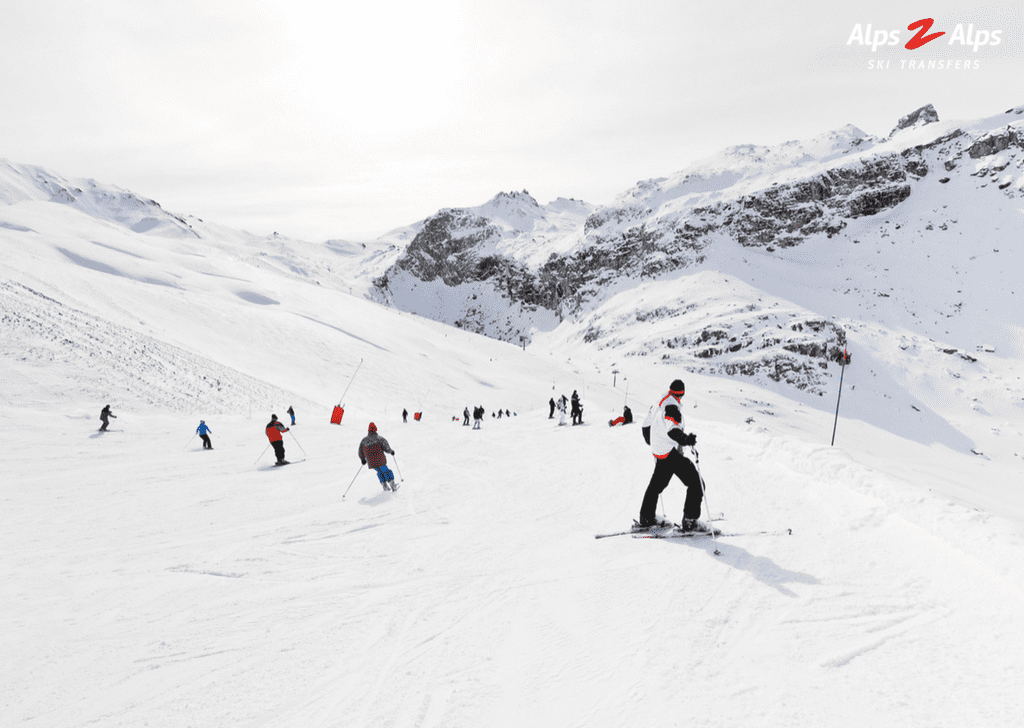 Slopes are Higher and Steeper
When seeing the Alps for the first time, many Americans who are regulars at the Rockies, take a deep breath and whisper "wow" and "that's what I call mountains" or even "Rockies now look like hills to me!"
And that's just at the foot. Wait until you get to the top – the views are just stunning! And no trees wherever you look, which might be a surprise for those used to being surrounded by trees while skiing in North America.
Here are some of the highest ski resorts in the Alps (and the world, too).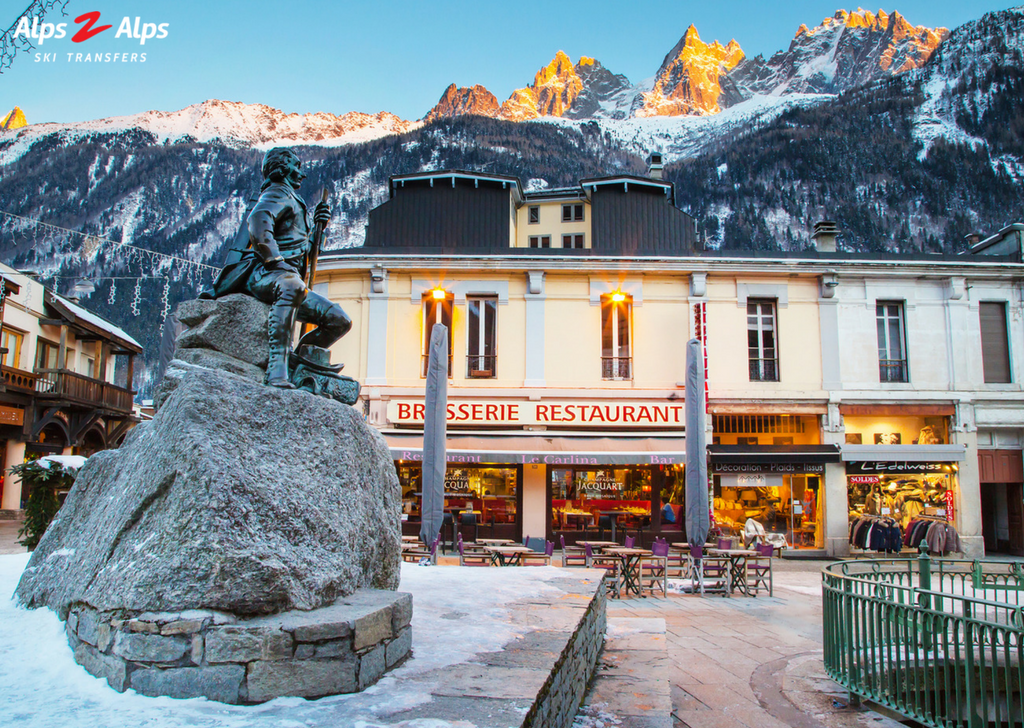 Mountain height is only one difference between USA and Europe ski slopes. Vertical drop is also a benefit worth mentioning. Alpine slopes vary from beginner to extreme level, but the average vertical drop here makes all North American slopes look like they're made for beginners.
The Alps will definitely be appreciated by experienced and extreme skiers. However, there are as many options for beginners as well as those who seek a more relaxed and safe family holiday.
Snow forecast: Extended Season in the Alps
Global weather forecasts predict that after two consecutive slightly warmer years (El Niño), 2017 will be colder (La Niña) and bring more snow to the slopes worldwide. But there is a great chance that the winter season in the Alps will be significantly extended due to low temperatures and snowstorms predicted for the early spring.
Snow or no snow, but in the Alps you can always rely on glaciers and the high altitudes. These are the locations where you will find a thing called "snow sure ski resorts". Here's just some of them.
Kaprun, Hintertux, Solden in Austria
Zermatt, St Moritz, Andermatt in Switzerland
Tignes and Val Thorens in France
Cervinia in Italy
Après-Ski was Invented in Europe
Europeans can be (and really are) proud of making après-ski almost as important as skiing itself. Here you will enjoy a wide spectrum of activities like:
Merry gatherings with mulled wine;
Crafts markets;
Drinking beer at pubs;
Disco dancing and even techno parties until early in the morning.
And there's good food everywhere! If you're skiing in America, a meal is more like a quick bite to get more energy for more skiing. In the Alps, food is one of the most important experiences. From honey roasted almonds for a snack to exquisite gourmet restaurant experiences.
When hitting slopes in America, people usually focus on skiing and snowboarding as much as possible. But in Europe, a ski holiday is considered more like a vacation, relaxation and time to spend with friends and family. Basically, you should think of skiing in Europe as an all-inclusive winter holiday at a resort.
As you can see, there are plenty of reasons to choose skiing in Europe and the Alps as your next skiing holiday destination. And now is the time to start planning all details of your trip. Reading this article was a good start! Get more tips from us on how to make your European trip as comfortable as possible and check out the ski resort open days for this season!