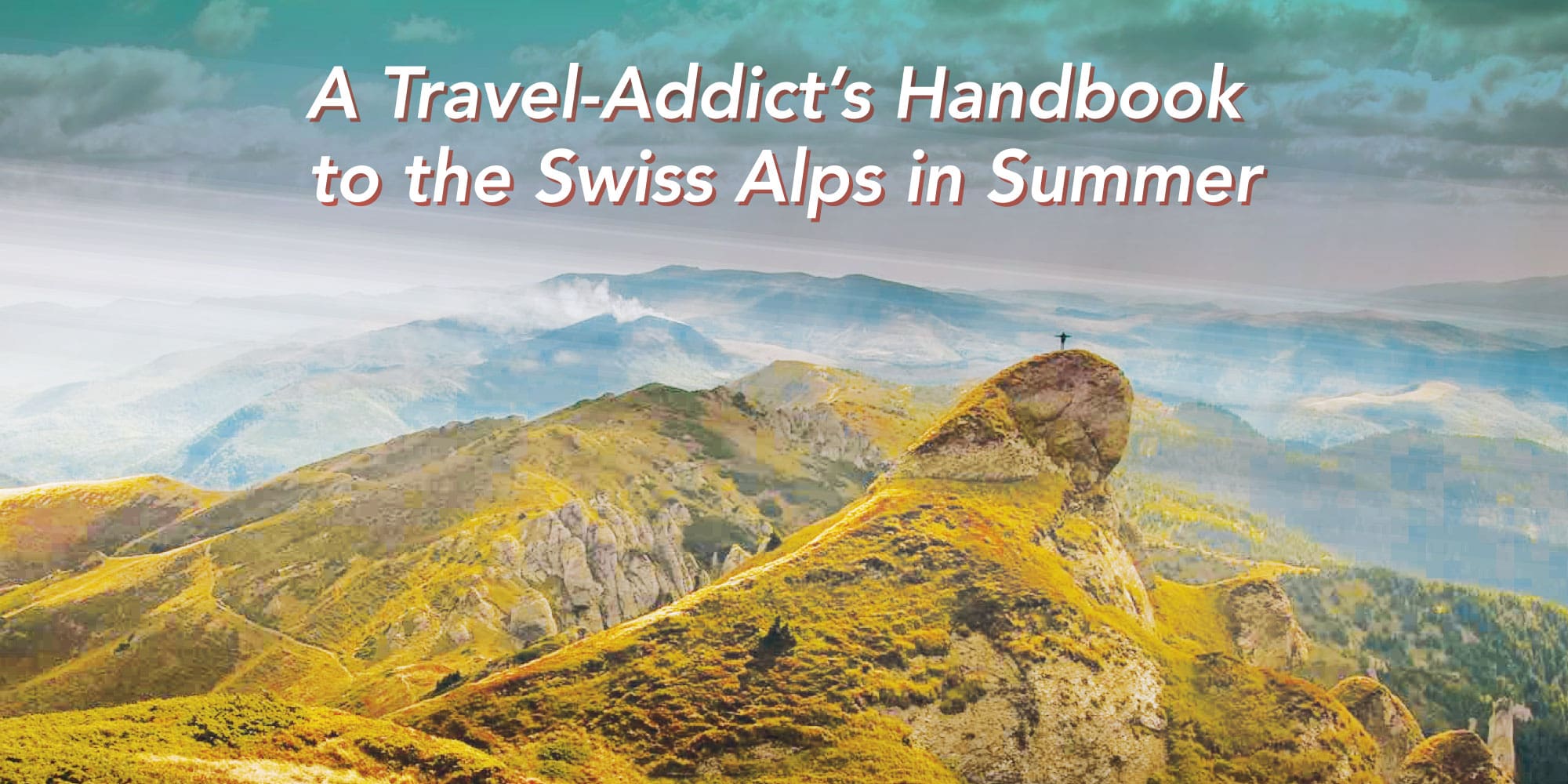 A Travel-Addict's Handbook to the Swiss Alps in Summer
A Travel-Addict's Handbook to the Swiss Alps in Summer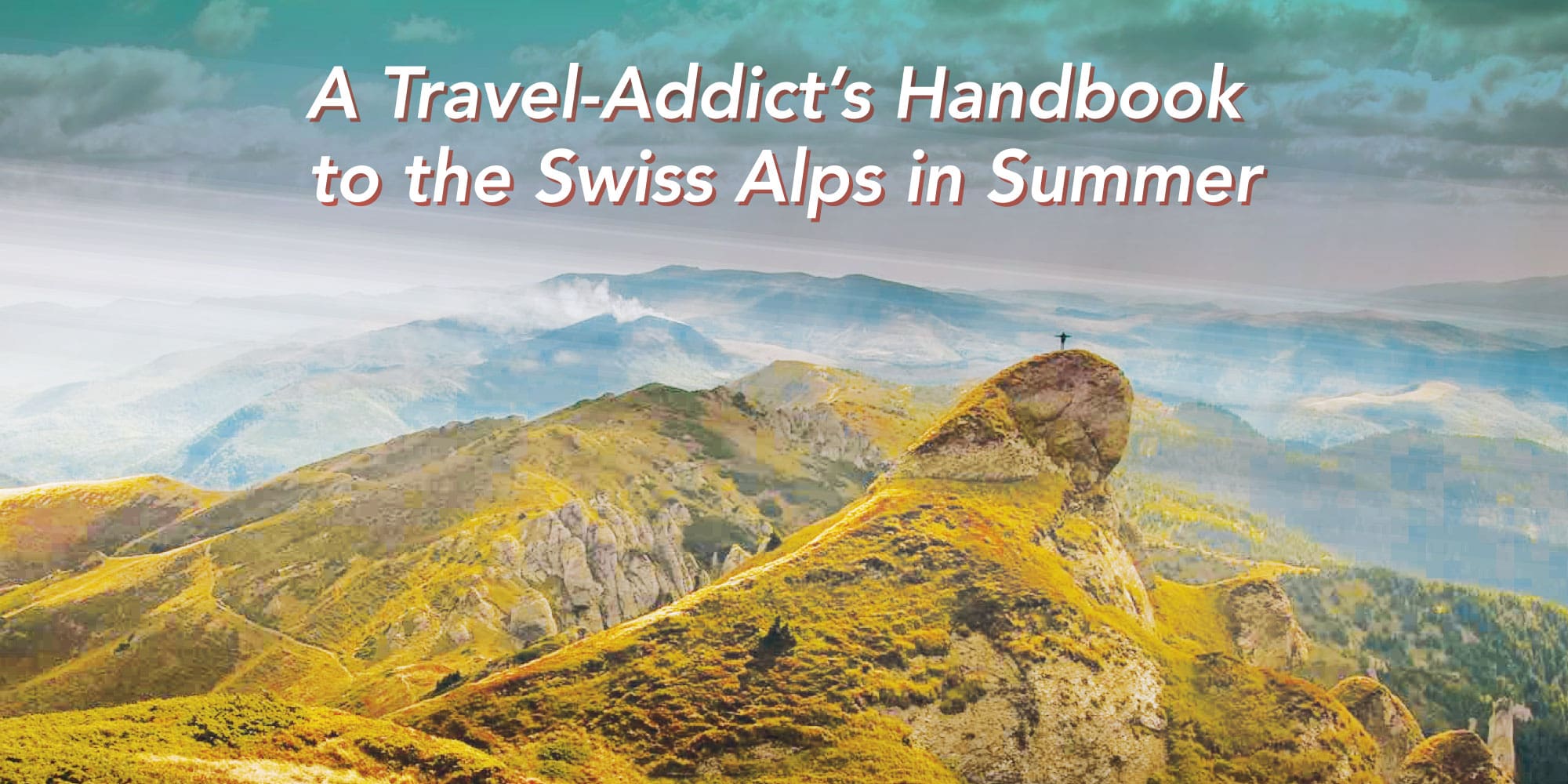 Who said mountains were only for winter?
Contrary to popular opinion, the Alps make the perfect summer holiday destination. Once keen skiers and snowboarders have finished tearing through the pistes for the year, the Alps transform, giving way to an exciting range of summer outdoor pursuits.
Boasting many undiscovered hidden gems, there's a lot on offer in the mountains all year round.
Still unconvinced? Here's a travel-addict's handbook to the Swiss Alps in summer.
Lake Geneva
Shared by France and Switzerland, Lake Geneva (also known as Lac Léman) is Western Europe's largest lake.
Home to many popular water sports, including swimming and kayaking, it's unsurprising so many tourists head there each summer. Located near the famous Geneva airport, it's an easy journey for those who can't wait to get on the water.
But, it's not just water sports on offer! The lake boasts many attractions, including museums, castles and cathedrals, dotted around it. Here's a closer a look at some you don't want to miss:
Peak Walk by Tissot
If you're looking for stunning Alpine views, make sure you experience the world's first peak-to-peak footbridge. Peak Walk by Tissot is open all year round, so those looking to admire the summer landscapes can do so.
It's sure to be an unforgettable experience! The 107m-long walk gives you unparalleled views of the Swiss Alps, perfect for those with a good head for heights. Complete with viewfinders, you'll see the mountains as you've never seen them before.
While not directly on Lake Geneva, the walk is located in the same region. This is one hidden gem you may not have heard of, but you don't want to miss!
Musée Olympique
Calling all sports-lovers! Lake Geneva is also home to an exciting Olympic museum near its shores.
Featuring scenic gardens, interactive displays and Olympic memorabilia, the museum is a fun day out for those looking to explore somewhere they may not have been before.
It may seem strange that a museum is located near a lake, but, it fits perfectly with the Alps' passion for sports.
Cathédrale de Notre Dame
Want the chance to explore a Swiss Gothic cathedral?
Lausanne is home to the Cathédrale de Notre Dame, which is a stunning piece of Swiss architecture overlooking the waters of Lake Geneva.
Free guided tours are available for those who can't wait to explore this little slice of Swiss history!
Château de Chillon
Montreux is a traditional Swiss town located on the banks of Lake Geneva.
Exploring this charming Swiss town will uncover many hidden gems, such as a spectacular church, Château de Chillon, which is nestled on the Montreux waterfront. Overlooking the water, the church is in a wonderful position for those who want to see the lake in its full glory.
The church itself is a wonderful historical attraction. Filled with period artwork and made up of a maze of courtyards, Château de Chillon is an exciting place to explore.
For those interested, there are some Gothic dungeons just waiting to be discovered!
Swiss National Park
The Swiss National Park is so beautiful, it will surprise you that it's the only one of its kind in Switzerland. Boasting stunning Alpine scenery, rare wildlife and endless hiking trails, exploring the Swiss National Park is an unforgettable experience.
It's closed in winter, meaning summer is the only chance to explore it. There are some rules for visitors, including no camping or cycling, as it's a strictly protected conservation area.
Some of the animals you'll spot include red deer and marmots.
If you're a fan of hiking, there are plenty of trails to explore, as the park is home to many forest areas just waiting to be discovered.
The park was created to protect the area from further destruction and deforestation, and once exploring it, you'll see why its founders wanted to protect the area.
Wondering how to get there? The park is located less than an hour away from the popular Swiss ski resort St Moritz.
The Village of Randa
The quiet, Alpine village of Randa is located near the well-known Swiss resort Zermatt. While the village has a lot to offer, it's often overshadowed by its famous neighbour.
It might not be well-known, but this Swiss village comes to life in summer. It oozes Alpine charm without even trying!
Randa is home to many hiking trails of varying difficulty, offering a unique mountain experience. From the village, there's easy access to the Täschhorn and the Dom, some of the highest peaks in the Alps.
If hiking isn't for you, there's plenty of other attractions to entertain yourself with! From gourmet restaurants to suspension bridges, this little Swiss village deserves more attention!
The village of Randa is home to a small yet welcoming community who greet tourists year after year. Whether its camping, golf or meeting the friendly locals, you're sure to find something to suit you!
Zweisimmen High-Rope Park
Got a taste for adventure?
At heights that vary from 13 to 65ft, this high-ropes park is a haven for those looking to explore the Obersimmental trees.
Whether its zip-wiring, tight-rope walking or rope ladders, groups of all ages and abilities will be entertained at the Zweisimmen high-rope park. There's even a dedicated area to children!
Located in Gstaad, an upscale resort town in the Swiss Alps, the park is in a familiar location for anyone who's visited the region before.
There are many thrills to be had, as the park makes for an exciting and adrenaline-fuelled day out. If you're looking for excitement, you won't be disappointed here!
Summertime in the Swiss Alps makes for the perfect climate for the park, and a guide will be on hand to quite literally 'show you the ropes'!
Even if you want to venture out of the Alps, there's a whole lot of more activities you can do in Switzlerland, which are perfect for day trips.
Many people only consider the Swiss Alps to be a winter holiday destination. But, as you can see, this is not the case! So, if you're tempted to head to the Alps this summer, you'll need a reliable transfer from the airport to get you there. Find your low-cost transfer here!