How to Ski Red Runs: Intermediate Skiers' Guide to the Alps
How to Ski Red Runs: Intermediate Skiers' Guide to the Alps
There's nothing quite like the satisfaction that comes with mastering a new ski slope or skiing technique. Good skiing takes time, practice and patience but the results are well worth it.
If you're progressing from beginner to intermediate skier and are looking for tips on how to ski red runs, we can help. From how to control your speed to the best ski areas to practice in, read our advice to kickstart your journey towards steeper slopes.

What are the Ski Run Colours?

Before we get stuck into learning to ski red runs, let's make sure we're all on the same page when it comes to ski run colours.
Here's an overview of what the colour classifications mean;

Green Runs

A green route is a beginner or practice slope.
Suitable for: Beginners

Blue Runs

Blue slopes are gentle, with a gradient of less than 25%.
Suitable for: Most skiers, including confident beginners

Red Runs

Red slopes can be steeper and/or narrower than blues. They are groomed and do not exceed 40% gradient.
Suitable for: Intermediate/ advanced skiers

Black Runs

Black runs can mean slightly different things in different places. On the whole, a black run usually has a gradient that exceeds 40% and can include more challenging terrain.
Suitable for: Advanced skiers
It's worth noting that ski slope safety ratings differ in North America, where the 'red' classification is often replaced with black diamond and double black diamond.

What is a Red Run?

As we touched on above, a red run is usually steeper and narrower than a blue.
While red runs are groomed, they might include bumpy, more challenging terrain than a gentle blue slope. Some parts of the run may be easier than others so don't be lulled into a false sense of security if the start of the run feels too easy!
Red runs can be found throughout Europe and are commonly marked with a red circle.

How Steep Are Red Runs?

Red runs commonly have a gradient of between 30% – 45%.

What's the Difference Between a Blue and Red Run?

While a blue run has a gradient of between 20% and 30%, red runs are much steeper at 30% +. Blues also have consistent, gentle terrain unlike reds which could feature some moguls.

What's the Difference Between a Red and Black Run?

Blacks can have a much steeper gradient of 45%+ and can be pretty scary for everyone but the experts. As the most difficult slope rating, blacks feature extreme terrain and hazards such as trees or very narrow parts.

Who Can Ski Red Runs?

Red runs are suitable for skiers of intermediate ability. This means skiers who have a few years of experience and/or are confident linking their parallel turns and controlling their speed on all types of terrain.
If you're not sure, spend some time skiing blue runs to ensure you are completely comfortable on this type of slope before progressing.
Don't attempt a red run if;
You are still learning how to parallel ski
You use the wedge shape to turn
You find it difficult to keep your skis parallel
You don't feel entirely confident on the blue runs
You struggle to turn left and right at speed

How Long Does It Take to Ski Red Runs?

This all depends on your skiing ability, for some it can take weeks, for others, years. The main thing to consider is whether you can parallel ski confidently and turn quickly with ease.
There shouldn't be any pressure to jump ahead before you're ready- skiing should be about fun on the slopes not broken bones!

How to Ski a Red Run: Tips & Tricks

Here's our top tips for learning to ski red runs…

Learn to Control Your Speed

With a steeper gradient, comes faster turns. Controlling your speed is vital for safely skiing reds. For shorter, sharper turns you will need good edge control and to know how to lean into the turn.

Master Parallel Skiing

To ski a red run, you will need to perfect parallel skiing. With this skiing technique, your skis are parallel to each other as opposed to in a wedge shape. This position allows you to turn much faster.

Practice, Practice, Practice

Now you've got the skills, it's time to practice, practice then practice some more! The more confident you feel on the blue slopes, the better prepared you'll be for the more challenging reds.

Attend Ski School

Taking a few extra ski lessons before attempting your first red slope is never a bad idea. An expert instructor can help you perfect your technique so you can take on the challenge safely. Another benefit of bringing in a professional is that they will be able to tell you if and when you're ready for this next step.

Best Ski Resorts for Red Runs in the Alps

If you're an intermediate skier looking to ski their first red run, the Alps is a great place to start. With loads of incredible ski resorts offering an abundance of blue and red runs, we've picked some of our favourites;

Saalbach, Austria

With one of the largest ski areas in Austria, Saalbach is a great choice for those looking for an intermediate ski holiday. Great powder, state-of-the-art infrastructure and great ski schools makes Saalbach a popular alpine resort.
Red pistes: 53
Blue pistes: 52
Getting there: Transfers from Salzburg to Saalbach take on average 1 hour 30 minutes

Cervinia, Italy

With a longer than average season and high altitude, Cervinia in Italy boasts excellent skiing conditions and carefully groomed pistes. A paradise for intermediate skiers, there are 29 red pistes to explore that are all relatively calm to help you get to grips with the slopes.
Red pistes: 29
Blue pistes: 10
Getting there: Transfers from Turin to Cervinia take just over 2 hours

Méribel, France

Located in the Three Valleys ski area, the largest linked ski area in Europe, Meribel is not short on intermediate routes to discover. This massive area provides newly intermediate skiers a fantastic opportunity to make the most of the slopes and find red runs they're comfortable with.
Red pistes: 107
Blue pistes: 131
Getting there: Transfers from Chambery to Meribel can take around 2 hours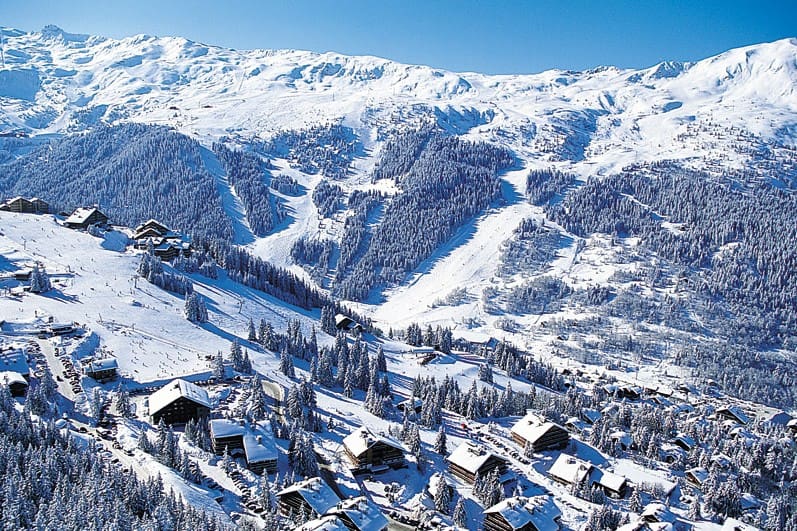 Zermatt, Switzerland

Reliable snow, stunning scenery and an eco-friendly outlook makes Zermatt an incredibly popular ski resort. The resort offers a huge variety of intermediate skiing and snowboarding opportunities, including snow parks and cross-country routes.
Red pistes: 41
Blue pistes: 12
Getting there: Geneva to Zermatt transfers take approximately 2 hours 40 minutes
Ready to take your skiing to the next level? Head to the Alps to start practicing and conquer the reds to the best of your ability!
We can help by providing fuss-free ski transfers across the Alps. Helping you get to your chosen resort quicker and make the most of your time on the mountain.