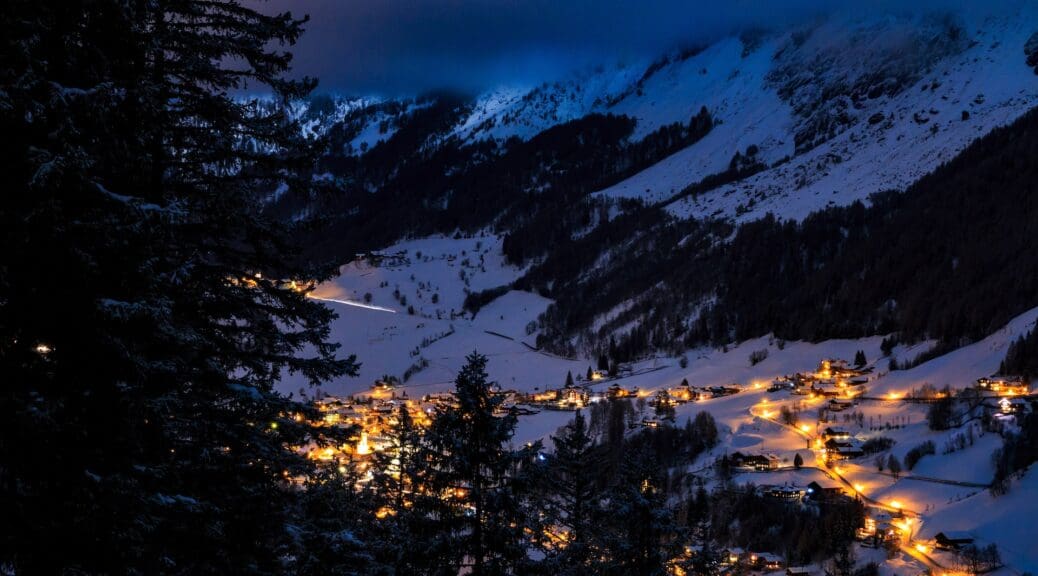 Luxury Après Ski near Geneva: Unforgettable Ski Evenings
Luxury Après Ski near Geneva: Unforgettable Ski Evenings
When booking a luxury ski holiday, you want to be sure you're getting the full experience. During the day, that means racing down well-maintained pistes past stunning mountain views. But to make a truly first-class experience, your evenings should be just as memorable. Luckily, there's no end of luxury après ski experiences near Geneva Airport that will help turn your luxury ski holiday into something truly special.
We've looked at some of the best ways to fill your evenings on the slopes, from fine dining restaurants, to high-end bars and more.
Fine Dining and Restaurants
At the end of a long day on the slopes there's no better way to treat yourself than indulging in a truly first class restaurant experience. Luckily, Geneva and its surrounding areas are renowned for their culinary prowess. On the slopes you'll be able to Indulge in gourmet dining at Michelin-starred restaurants, where world-class chefs craft exquisite dishes using the finest local ingredients. And the only thing that tastes better than fine dining is fine dining surrounded by the beautiful landscapes of the alps.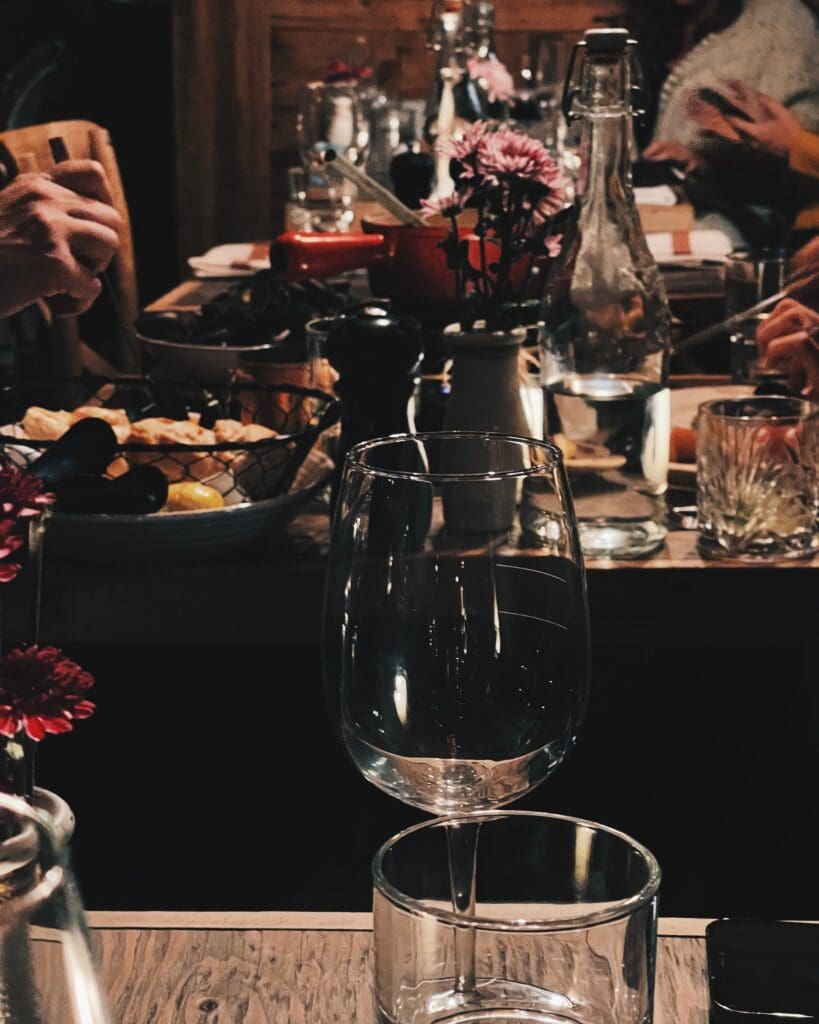 Le Farinet, Verbier:
Located in the renowned ski resort of Verbier, The Le Farinet Hotel Restaurant boats an impressive dining experience to go with its luxurious accommodation. It showcases Head Chef José's Dos Santos' love for Japanese cuisine but marries it with an Iberian twist. The menu is designed to be shared and can be enjoyed with a cocktail from the hotel's bar.
Le Chabichou, Courchevel:
Two Michelin-starred chef Stéphane Buron said that "simplicity is the art of perfection" and his food at Le Chabichou in Courchevel, France embodies this. His food showcases the very essence of each ingredient with the menu changing with the changing seasons, making a truly unique dining experience.
La Bouitte, Saint-Martin-de-Belleville:
This three-Michelin-starred gem is nestled in the charming ski village of Saint-Martin-de-Belleville, a short drive from Geneva. La Bouitte offers a culinary journey that celebrates local flavors, elevated to the highest standards of Savoie haute cuisine in a beautifully rustic setting.
L'Atelier Edmond, Megève:
L'Atelier Edmond, a two-Michelin-starred restaurant, offers an exceptional gastronomic experience. Chef Julien Burlat's creations are a symphony of flavours, perfectly complemented by the elegant decor.
These top-class restaurants not only promise exceptional food, but also provide a luxurious dining experience in a unique setting. Keep in mind that reservations are often recommended, especially during peak ski season in Megève.
Luxury Nightlife and Clubs
Just because the sun has set doesn't mean your day in the alps has to come to and end. The ski resorts near Geneva boast a thrilling nightlife with exclusive clubs and bars and a vibrant social scene for those looking to continue the evening in style. From handcrafted cocktails, to world-class DJs there's a way to enjoy the night whatever your prefer.
Farm Club, Verbier:
Founded in 1971, Farm Club is an iconic institution in the Swiss alps. Known for its elegant, intimate and quirky atmosphere, this legendary nightclub has stood the test of time. The Farm Club has always been a favourite of international luxury travellers and is a must for those seeking a truly unique club experience in the mountains.
Les Caves du Roy, Courchevel:
Courchevel is a luxury ski destination with Les Caves du Roy as its crown jewel. This renowned nightclub exudes opulence, featuring world-class DJs, extravagant decor, and a sophisticated crowd.
La Folie Douce bar, Chamonix:
Situated in the popular ski resort of Chamonix, La Folie Douce offers a unique après-ski experience that transitions into a vibrant nightclub. With a unique combination of live music, DJs, dancers and performers it has an electric atmosphere that makes it a must-visit for those seeking a lively party scene.
GreenGo, Gstaad:
At Gstaad's legendary GreenGo club, dancing queens and disco kings are in their element. The club is sure to make an impression with its unique and striking interior design evoking the 1970s. The turntable sees acts from resident DJ Jim Leblanc and international acts bringing the latest hits.
Whether in a high-end nightclub or a refined cocktail bar, Gstaad ski resort has plenty of options for an unforgettable night during your luxury ski holiday. Keep in mind that these venues may have varying opening hours, especially during ski season, so it's a good idea to check in advance.
Après Ski After Dark
There's more than just food and drink available at the end of the day on the slopes. Many resorts have a range of activities best enjoyed after dark. These unique experiences can add a truly memorable touch to your luxury ski holiday experience.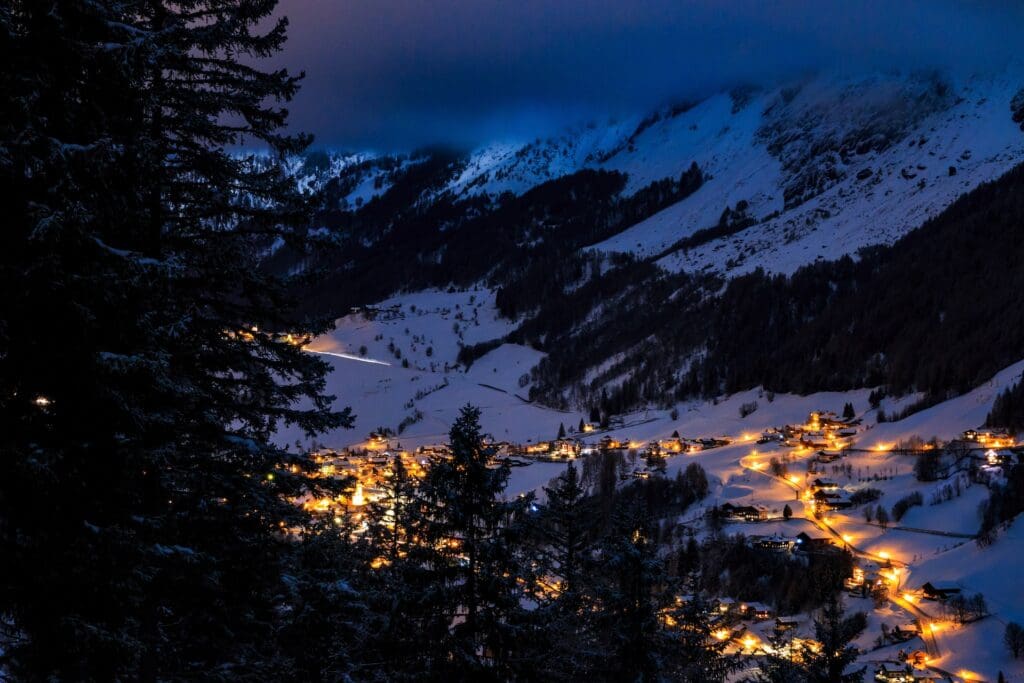 Night Skiing:
Some ski resorts offer the exhilarating experience of night skiing. With well-lit slopes and a serene night time atmosphere, this activity provides a unique perspective of the mountain. Resorts like Avoriaz and Les Gets in the Portes du Soleil region offer night skiing options.
Spa and Wellness:
Many luxury ski resorts have world-class spa facilities that offer a range of treatments, including massages, facials, and hydrotherapy. Unwind in opulent surroundings and rejuvenate your body after a day on the slopes.
Candlelit Snowshoe Tours:
Experience the magic of the mountains at night with a guided snowshoe tour. Some resorts offer guided night time excursions where you can explore the serene winter landscape under the starry sky, followed by a cosy fireside gathering.
Remember to check availability and make reservations in advance for these luxury nighttime activities, as they often have limited availability and high demand, especially during peak ski season.
The Full Package
Your luxury ski holiday near Geneva is sure to be a memorable experience, but there's no reason to limit that to the daytime. By immersing yourself in the fine dining and vibrant nightlife of the alps you'll be truly embracing a lifestyle of opulence and adventure, and taking your holiday to a whole new level of luxury.
There's no reason that you should wait until you reach your resort to start indulging in the good life either. Your travel should be just as high quality, from flying business class to Geneva, to a luxury ski transfer to take you straight from Geneva airport to your holiday in style.
Make every part of your holiday a first-class experience by booking a luxury ski transfer today.
https://www.alps2alps.com/en/ski-transfer-destinations