Summer Ski Alternatives
Summer Ski Alternatives
Sure the summer's great for some, but for any dedicated powder-heads it's one of the most bewildering times of year. I mean, it's not like it's easy to find decent snow and slopes when its heading for 30 degrees in the shade, so what's a poor soul to do until things start turning nice and icy again?
There's always the option of spending the summer getting fat and miserable until the alps2alps ski transfers start running again, but what about genuine, bona-fide ski alternatives to fill the gaps?
Lucky for you there are more than a few, if you're willing to use your imagination!
Roller Skiing
I'm sure you could probably figure this one out for yourself, but roller skiing basically involves skis that roll, rather than slide. Think of it as strapping two planks of wood to your feet with any number of wheels that do a pretty good job of recreating the thrill of plummeting down a steep slope. Just be sure to factor in the understanding that the physics are rather different when it comes to things like turning, stopping and landing flat on your face – especially if go against sensible advice and insist on roller skiing on concrete/gravel/anything hard!
Stair Skiing
It would be irresponsible to recommend this as such, but fear of death doesn't stop thousand each year from strapping on their standard winter skis and hitting any long enough staircases they can find. It can be fast, fun and pretty easy to locate a suitable place, with the only slight downside being that skis aren't meant for stairs or the ground they run into. As such, it's about a 50/50 chance as to whether you'll break your neck or just your legs. Such fun!
DIY Ski Jumps
Folk build their own skate ramps in their back gardens all the time, so why not take it a bit further and go the whole hog with a DIY ski jump? It's easy really – you just need enough wood or sheet metal to create a long run-from the roof which ultimately fires you off a ramp and safely onto a nice soft surface- a pool or giant inflatable bag will usually do the trick. And if you're more about downhill skiing and the like that ski jumping in the traditional sense of the sport, this could be the perfect way of expanding your horizons in time for the next season! Up, up and away!
Sand Dune Skiing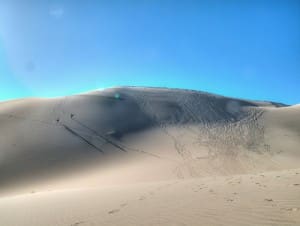 Last but not least, why not really stick it to Mother Nature by refusing her summertime ski ban with a session of rousing sand dune skiing? This isn't a tough one to work out either – just take your usual gear to any big enough sand dunes you'll find all over the coast and there you have it, a different kind of powder for a whole different experience. The bonus of this one is that you're at least guaranteed a pretty safe landing, plus you don't have to undertake a massive home remodelling project at five-figure expense.
(Photo: Tim Macpherson – flickr.com/photos/ifl)