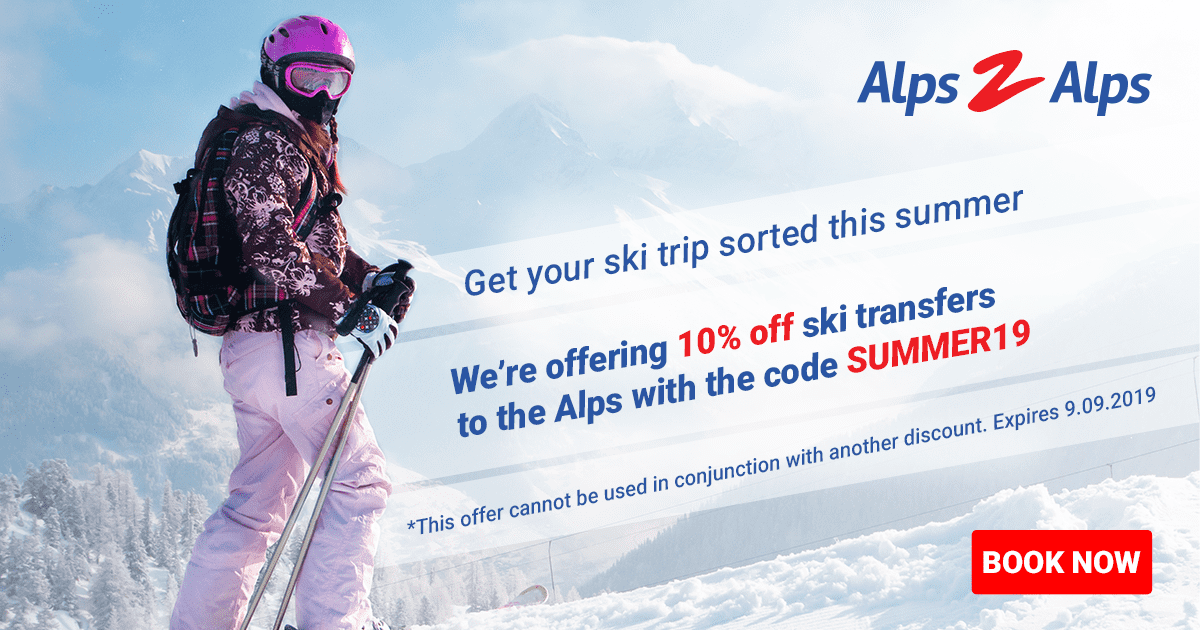 Get Saving With Our 10% Summer Transfer Discount
Get Saving With Our 10% Summer Transfer Discount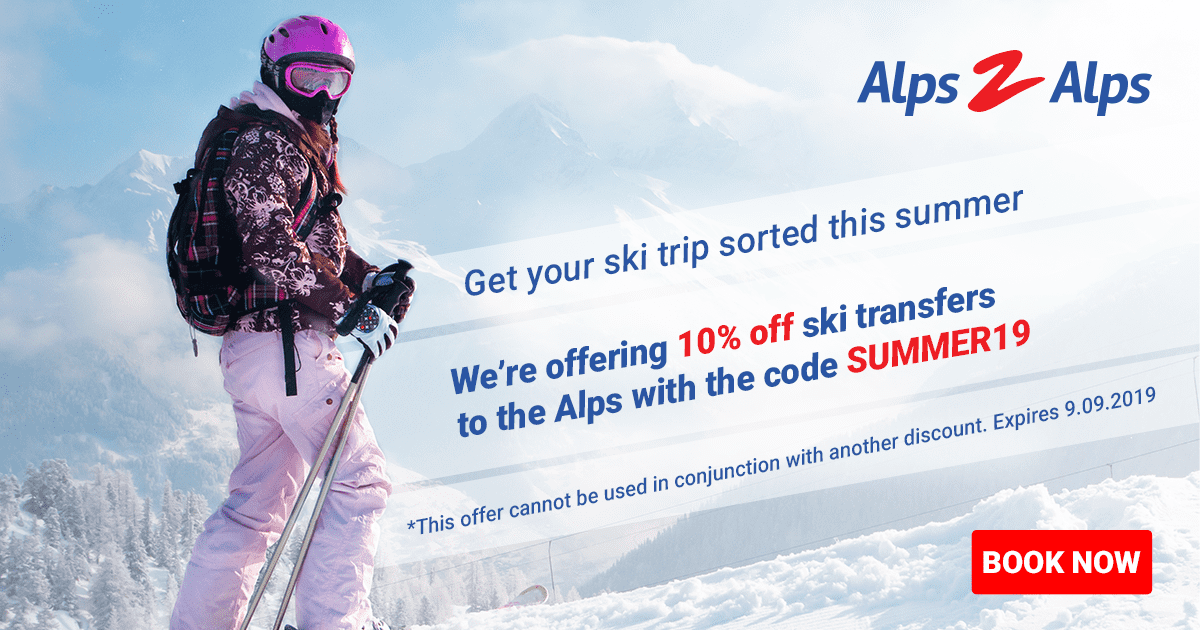 Thinking ahead to your next skiing holiday? We've got you covered. With a 10% summer transfer discount on all our transfers to the Alps, getting to your ski resort just got a whole lot cheaper.
Here's everything you need to know about this exciting new offer.
What's The Offer?
To keep costs down, we're offering 10% off all of our transfers to the Alps when you book between now and the 9th September!
Simply enter the discount code to make big travel savings and discover the Alps from a fresh perspective.
How To Save
We've made saving as easy as possible. Follow these simple steps for 10% off your booking;
Offer Terms and Conditions
This offer is only available from 05/08/2019 until 09/09/2019 and is eligible for all transfer destinations we service.
Book within this period to enjoy 10% off your transfer.
Popular Routes and SKi Resorts
Need some inspiration? The Alps are home to incredible slopes, rich cultural traditions and delicious local cuisines. With so many vibrant destinations to choose from, picking one can be tricky!
Here are some of our most popular routes with the shortest transfer times:
From Geneva International Airport
From Chambery Airport in France
Summer In The Alps
From hiking epic peaks in Italy to exploring the French Alps by bike, summer in the Alps has something for everyone.
This August sees a wide range of fun events and activities taking place throughout the region. From e-biking festivals to family-friendly performance art, discover what's on in the Alps this August here.
How To Save Money On Your Holiday To The Alps
We work hard to ensure our transfers are as affordable as possible. That's why we price each transfer individually, depending on the destination, travel time and number of travellers.
Here's some more ways we're helping you save;
Cheap Midweek Transfers
A midweek transfer could save up to 50% on the price of your transfer. That means more cash to spend exploring the Alps!
As well as saving money, a midweek transfer is a great way of avoiding traffic on the roads, helping you to spend less time in the car and more time in the mountains.
Kids Ski Free
Booking a family holiday?
When you rent skis and snowboards through our convenient ski rental service as a full paying adult, you child can get their ski equipment for free!
Get fitted by our experienced ski technicians at one of our handy ski rental shops in Geneva or Albertville before continuing your journey to the resort. Easy, professional and affordable.
Save As You Ski With MyAmitours
Are you a frequent flyer to the Alps? Join the MyAmitours loyalty programme to earn 10% on every transfer you book as a member.
The more you ski the more you save!
Want To Hear About Our Latest Offers?
No one likes missing out on discounts and savings. That's why our newsletter is full of the latest news, developments and offers from Alps2Alps.
Sign up on our website to be the first to hear of our great deals and fantastic ski discounts.
Book Your Ski Transfer
A transfer with Alps2Alps is quick, easy and most importantly, affordable. Our friendly drivers will be ready and waiting at the airport to whisk you to your chosen destination so you can focus on the important stuff.
Take advantage of our 10% off summer discount and book your transfer to the Alps today.