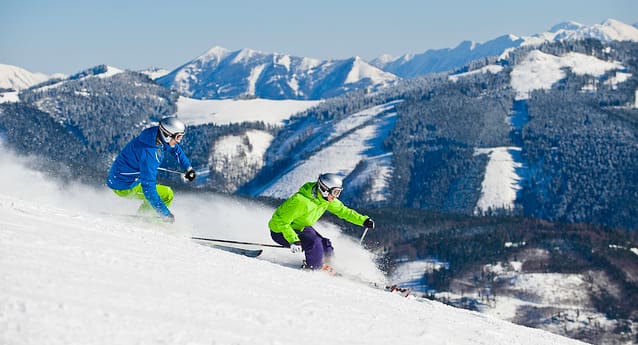 Top Pick Ski Resorts Near Salzburg Airport
Top Pick Ski Resorts Near Salzburg Airport
Austria has a global reputation for some of the most heavenly scenery, wonderful skiing and other-worldly service standards. 
Salzburg Airport is a great gateway to ski resorts in the Austrian Alps, with several excellent resorts within a short drive of the airport. The slopes at these resorts are well-maintained and offer something for skiers and snowboarders of all abilities, alongside legendary Après-ski, with plenty of bars and restaurants serving up hearty Austrian cuisine.
So if you're heading toward the Austrian Alps this ski season and are looking for a winter holiday that offers world-class skiing and breathtaking views, here's a look at our top ski resorts near Salzburg airport.
Popular Ski Resorts Near Salzburg Airport
Schladming
Schladming ski resort is a world-renowned ski destination that offers something for everyone, with its well-groomed slopes, picturesque scenery, and variety of terrain. Located in the heart of the Dachstein-Tauern ski region, Schladming offers access to a full 41 pistes and a stunning range of year-round activities on and off the slopes.
The resort is also home to several challenging black diamond runs, making it a popular destination for more experienced skiers and snowboarders. In addition to its slopes, Schladming also offers a range of other activities, including tobogganing, cross-country skiing, and snowshoeing.
From Salzburg Airport, you're looking at no more than an hour's drive to Schladming in decent weather conditions, so weekend and even day trips are very possible.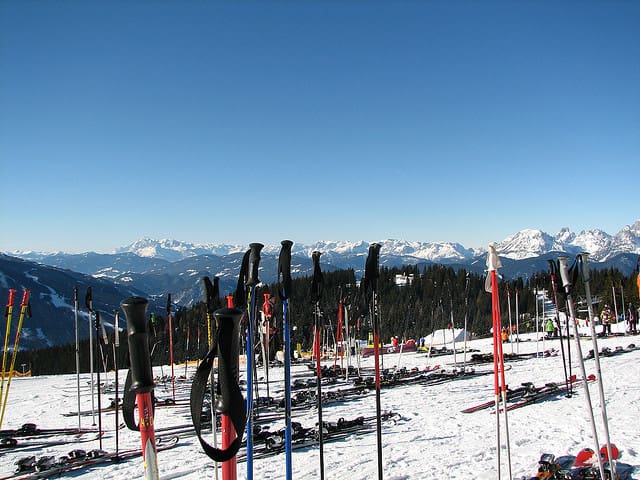 Obertauern
The Obertauern ski resort, less than an hour from Salzburg airport, is one of the most popular skiing destinations in Austria. The resort is known for its high-quality, snow-sure slopes and stunning views of the surrounding mountains. A total of 63 pistes stretching for over 100km ensure something for everyone. In addition to skiing, the resort also offers a variety of other winter activities, including snowboarding, sledding, and cross-country skiing. Visitors can also enjoy a variety of restaurants and bars, as well as a heated outdoor pool.
One of the biggest draws to this particular resort is the length of the annual season, which begins toward the middle of November and goes right on through until May. Off-piste skiing is reputed to be particularly exceptional here, as are the chances to stay in a hotel directly opposite your favourite slope.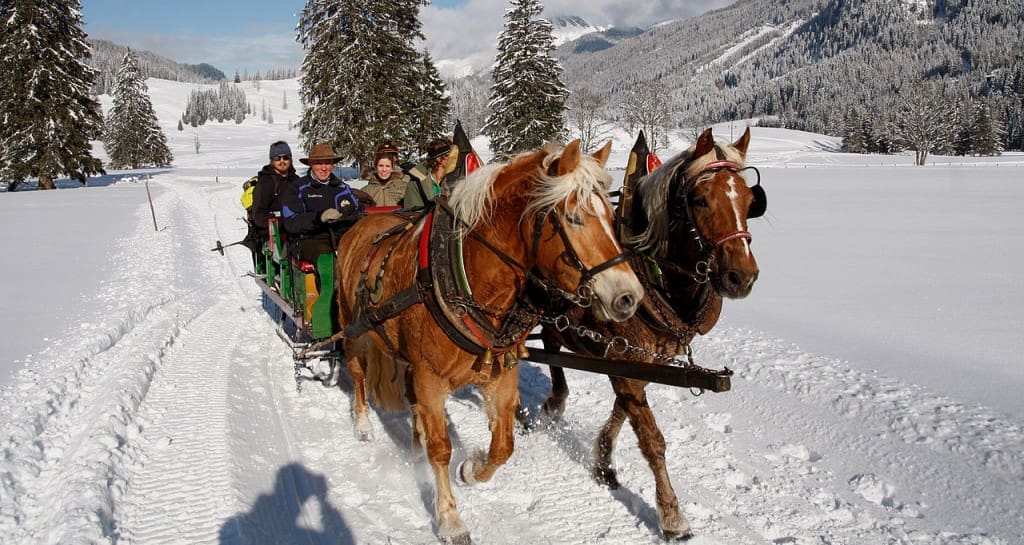 Zell am See-Kaprun
The small ski resort in the Austrian Alps, Zell am See, is just under 100km from Salzburg airport. It has a few lifts and some challenging runs, making it perfect for intermediate to advanced skiers, offering both downhill and cross-country skiing. There is around 77km of slopes in and around town, along with access to a glacier that offers super ski opportunities for a full 10 months of the year as well as plenty of trails for snowboarding and tobogganing. 
Zell am See is a historic town with the feeling of a place time forgot; a breathtakingly beautiful village that oozes charm and has a unique atmosphere all of its own. The resort is located close to the city of Salzburg, and accommodation options are plentiful, with something to suit every budget. 
Despite its traditional roots, the après-ski scene is lively in the Zell am See ski resort, with plenty of bars, nightclubs and restaurants to enjoy. If you are looking for some relaxation time after a day on the slopes, Zell am See also offers a number of spas and wellness facilities.
Untersberg
With a transfer time of only 20 minutes from Salzburg airport, the Untersberg ski resort is a popular destination for winter sports enthusiasts, open through December to April. The resort is situated in the Bavarian Alps and located in the Berchtesgaden National Park, known for its scenic mountain views. The resort offers downhill skiing, cross-country skiing, and snowboarding and also has a terrain park for adventurous skiers and snowboarders.
The Untersberg ski resort is a beautiful and serene place to ski and snowboard, offering a variety of trails for all levels of skiers and snowboarders, from beginner to expert. There are also several lifts, including a gondola, to take you to the top of the mountain quickly and easily. Untersberg is one of the smaller resorts you'll come across, yet still presents all the beauty of the Alps, some excellent off-piste fun and much cheaper prices than some of the larger resorts around the area.
St Johann
The St Johann ski resort, with an approximate transfer time of one and a half hours to Salzburg airport, is located in the Salzburger Sportwelt region of Austria, providing skiers and snowboarders with access to 41 kilometres of downhill skiing and snowboarding trails. There are also 11 kilometres of cross-country skiing trails available at St Johann, in addition to tubing, sledding, and a winter playground for children. It also hosts a variety of restaurants, bars and shops.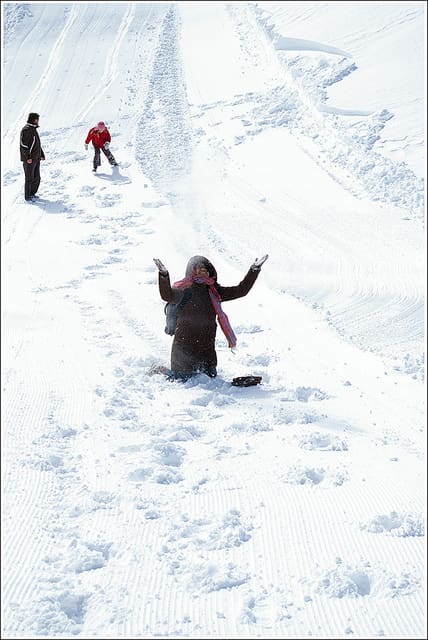 Hintersee
The Hintersee ski resort is a hidden gem in the Alps, a mere 30km from Salzburg airport. The resort is small, but it offers some of the best skiing in the area, with 40km of marked runs served by six ski lifts. Mostly catering to beginners and intermediates, Hintersee is a great place to head for a short break or for a longer stay for those still finding their feet. This resort is also fantastic for family ski holidays, hosting a children's area, a small ski school, a toboggan run, and a winter park for visitors of all ages to enjoy.
Bad Hofgastein
Bad Hofgastein is a ski resort located in the Gastein Valley of Austria, known for its extensive skiing terrain and luxurious accommodations and spas.
Bad Hofgastein is one of the most popular ski resorts in Austria. It has a variety of slopes for all levels of skiers and snowboarders, as well as a number of après-ski activities to keep you entertained into the early hours. The resort is quite small and can get crowded on weekends and during school holidays, so we'd suggest booking well in advance to avoid disappointment. And because it's so popular, the prices for lift tickets, accommodation and food can be more expensive than neighbouring Austrian resorts.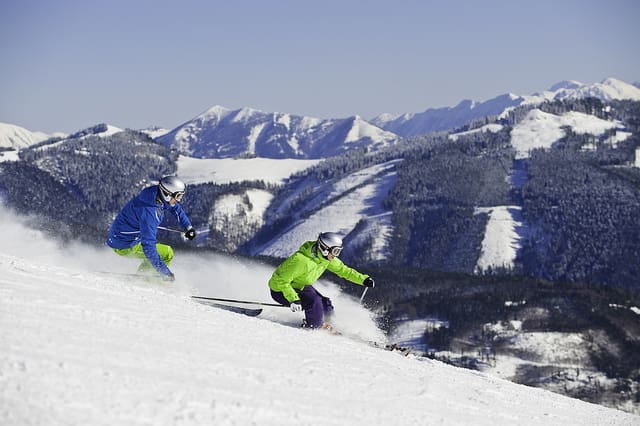 Can't wait to hit the slopes with your friends or family this ski season? Alps2Alps offers affordable, reliable and comfortable private airport transfers from Salzburg airport to resorts all over the Alps. Find your low-cost ski transfer and we'll get you there safely and in style.