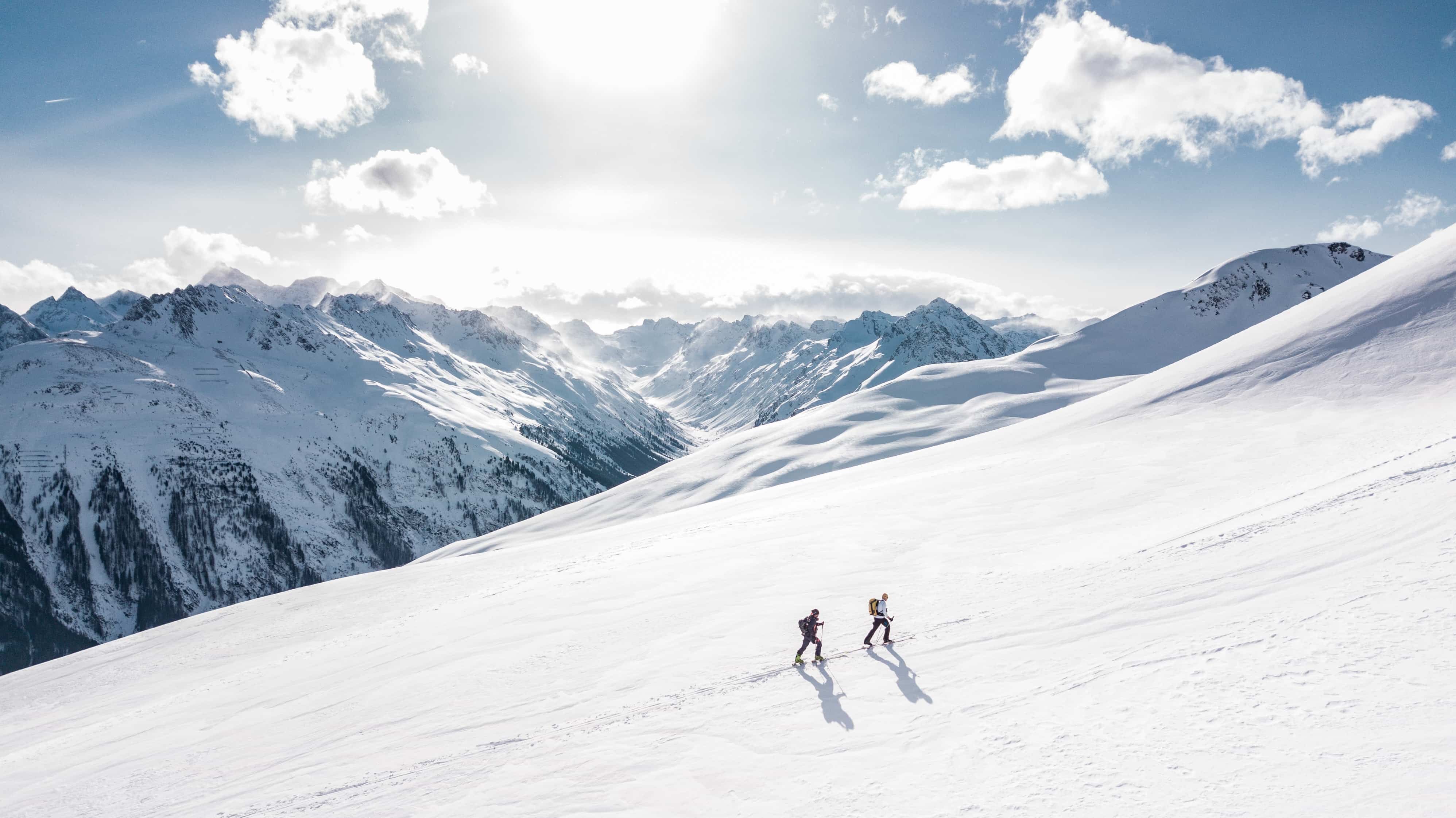 What is Ski Mountaineering? Best Mountains in the Alps
What is Ski Mountaineering? Best Mountains in the Alps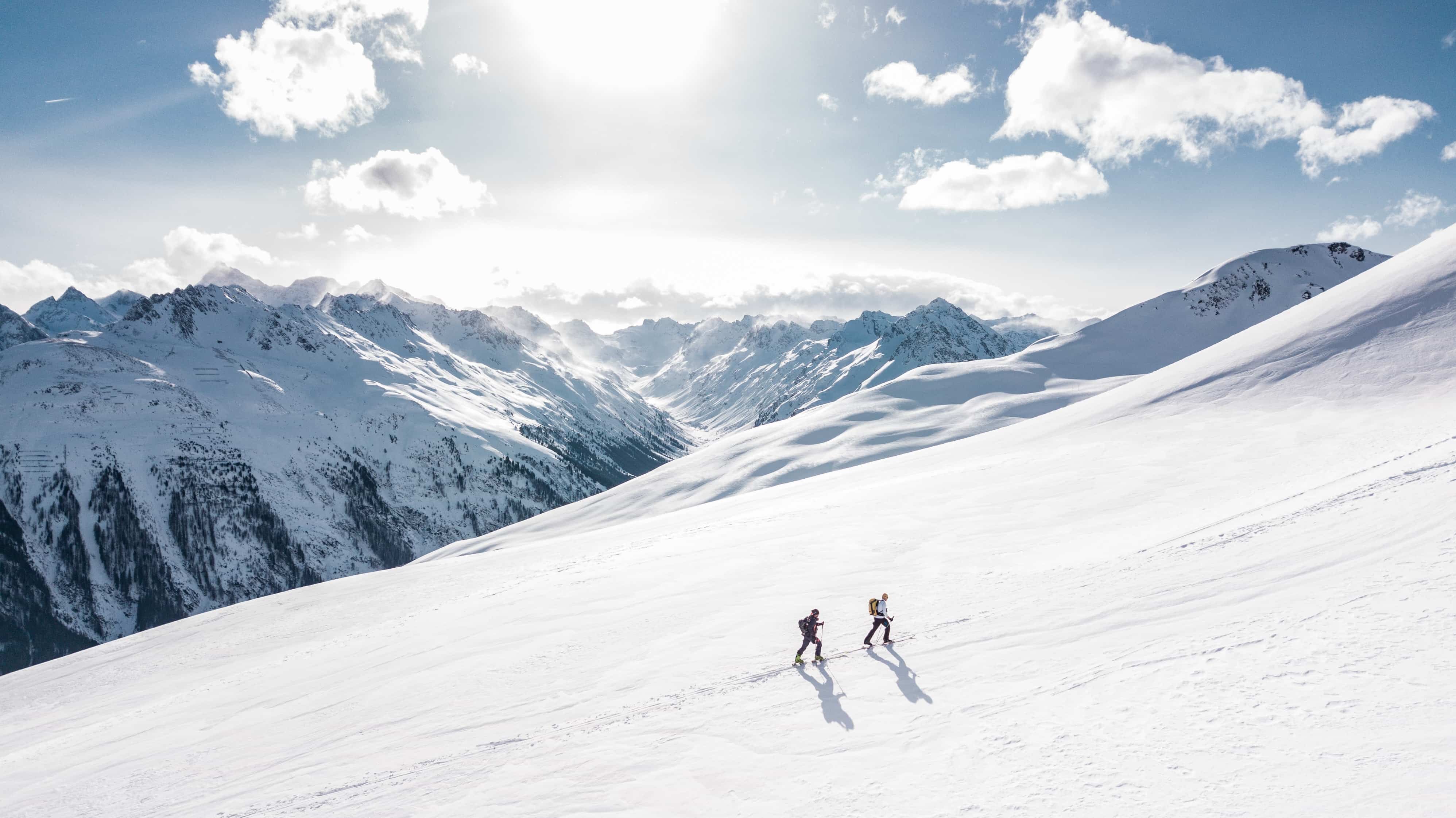 Combining the best of off-piste skiing, climbing and hiking, ski mountaineering is perfectly suited to nature lovers who aren't afraid of an adrenaline rush.
Sounds like fun? We explain what ski mountaineering is and explore the best ski mountaineering destinations to visit across the Alps.
If you want to venture through remote mountain ranges, enjoy unspoilt nature from above the trees and challenge yourself to climb steep summits, this sport could be for you…
What is Ski Mountaineering?
Put simply, ski mountaineering combines ski touring with mountaineering. It allows you to explore harder to reach mountains and remote spots by climbing, hiking and skiing to the summit. Ski mountaineering usually involves ascending and descending a mountain on skis, or carrying them up and skiing back down, depending on steepness.
There are two main skiing styles to choose from;
Alpine/Nordic
In this skiing style, the heel of the boot is locked down so that it stays in place for the descent.
Freeheel/ Telemark
In Freeheel skiing the heel of the boot is not locked in place, requiring a different technique for downhill turns.
One isn't better than the other. The type of skiing style you choose is completely down to personal preference.
How Hard is Ski Mountaineering?
Steep ascents, high altitudes and narrow ridges can make ski mountaineering a challenge, heightening the thrill when you reach the top of the mountain!
That being said, it does require a decent level of fitness, skiing skills and a good command of the slopes.
You can find routes of varying difficulty; however most are better suited to intermediate/ advanced skiers with off-piste experience. We also recommend starting a training regime before your trip to make the most of your time on the mountain as the high altitudes can make it harder to catch your breath.
Benefits of Ski Mountaineering
So, is ski mountaineering worth the effort? We think so, and here's why;
Allows you to explore remote areas
Thrilling descents
Offers a challenge for intermediate/advanced skiers
Fantastic workout
Great way to see nature and pristine alpine views
Do I Need a Mountain Guide?
Climbing steep mountains and traversing narrow paths on skis is not without its dangers, which is why hiring a mountain guide is essential for safety on the slopes.
An expert guide will know all the best and safest routes to help you reach the summit in one piece!
Ski Mountaineering Schools
If you're looking for a course or a mountain guide, here's a few trusted companies to get started with;
Ski Mountaineering Pack: What Equipment Do I Need?
For ski mountaineering, the first pieces of equipment you will need are skis with touring bindings and touring boots (which have secure soles)
For the uphill section of your tour, you will also need 'skins' which are attached to the bottom of your skis to prevent slipping.
You will also need the following items;
Ski mountaineering helmet
Alpine skis
Touring boots or ski boots
Touring bindings
Quality skins (from a trusted brand such as Black Diamond)
Ski crampons
Ski goggles
Harness
Ice axe
Rope
Avalanche safety kit and first aid
Warm, windproof clothing
Backpack
Sun protection
Food and water
When you book a tour with a mountain guide, many of these items will be included, or you can rent them easily at major ski resorts.
When is the Best Time to Go?
To get the most out of your ski mountaineering experience, it's best to go when snow is plentiful but the weather is milder.
The end of winter/beginning of spring in the Alps is a good time to start, as snow conditions are good but there is less chance of heavy wind and risk of avalanche.
How to Get Into Ski Mountaineering
Thinking of getting into ski mountaineering but not sure how? Here's a few tips from us to help you get started;
Take a Course
The best way to break into ski mountaineering is to take a course. This way, you can learn from experienced instructors and ensure you have the right techniques and safety advice to hand.
Understand Avalanche Safety
In addition to a ski mountaineering course, it's wise to get clued up on avalanche safety. A safety course will help you determine avalanche warning signs, which snow is safe and what to do in an emergency.
Build your Fitness
Skinning uphill and tackling steep descents is tough on the lower body. In preparation for your ski trip, it's worth building your endurance levels and strength. A combination of cardiovascular exercise such as uphill running, and strength training should put you in good stead for the mountain. Trust us – your body will thank you for it!
Hone your Ski Skills
Ski mountaineering is as much about skiing as it is climbing. Therefore, it makes sense to practice your skiing techniques in addition to focusing on strength and endurance.
Practice Backcountry Skiing
Backcountry or off piste skiing is great practice for ski mountaineering. Getting used to different types of snow and terrain is essential.
Find a Partner
Embarking on a new adventure is always better with friends. When choosing a partner to try ski mountaineering with, pick someone of a similar level to you. A trusted friend can make the experience a lot less daunting!
Best Mountains in the Alps for Ski Mountaineering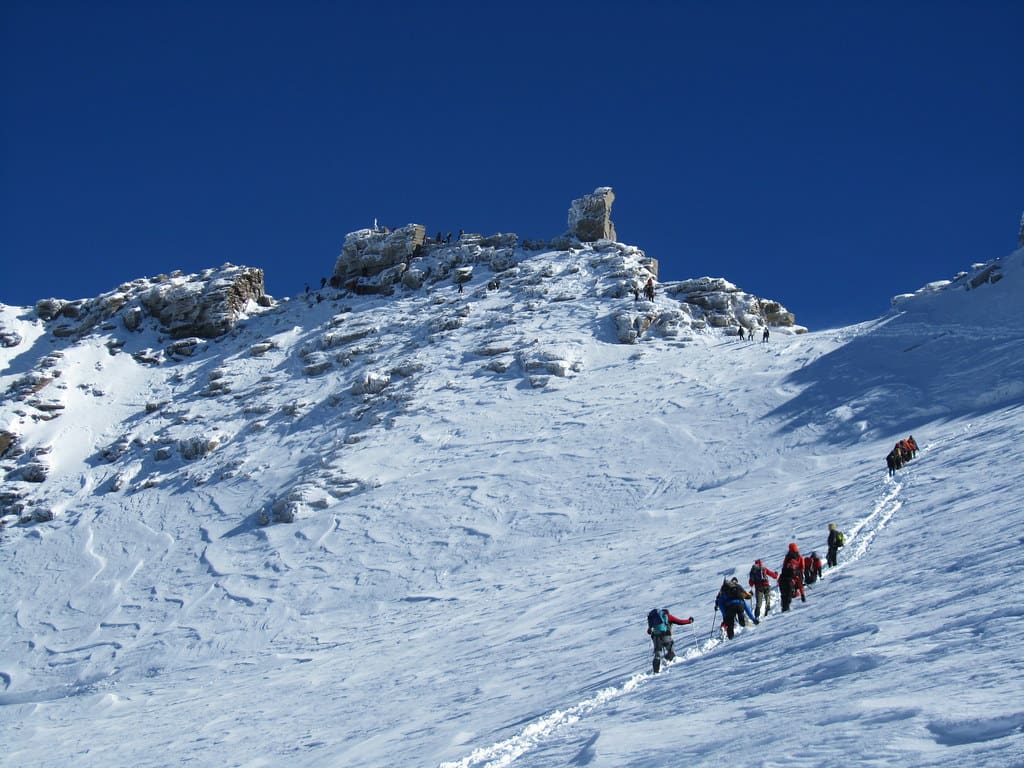 Once you're ready to try out your new skills for real, it's time to head to the Alps. We've made a list of the best ski mountaineering routes in the Alps to add to your wish list;
Silvretta Traverse, Austria
Ideal for those just starting out, the Silvretta ski tour features gentle ascents and descents, as well as more challenging glacial terrain.
Ski from hut to hut where you'll be rewarded with a hot shower, a hot meal and a cold beer. Perfect!
Where: Landeck to Galtur, Austria
Length: 5-6 days
How to get there: Explore Innsbruck airport transfers
The Haute Route, France and Switzerland
Perhaps the most famous ski mountaineering route in the Alps, the Haute Route traverses France and Switzerland, covering impressive glaciers, steep passes and incredible views of the Mont Blanc Massif and the Swiss Valais.
Where: Start in Chamonix and end in Zermatt
Length: 5-6 days
How to get there: Geneva to Chamonix transfers take approx. 1 hour
Bernese Oberland Traverse, Switzerland
Towering glaciers and remote landscapes make the Bernese Oberland traverse a must for those looking to get out into the wilderness. This route takes you past the largest glacier in the Alps, reaching upwards of 4000m which also means it's possible to attempt later on in the season.
Where: Interlaken, Switzerland
Length: 5-6 days
How to get there: Fly to Zurich or take a Geneva airport transfer
Gran Paradiso, Italy
With a summit reaching 4061 metres and all set in the natural paradise of Gran Paradiso National park, this route is challenging and stunning in equal measures. See incredible views of the Matterhorn, Monte Rosa and the Mont Blanc Massif and stop at friendly local villages on the way to taste some local wine and produce. The last leg of the tour is very steep, so is better suited to intermediates and a guide is essential.
Where: Aeosta, Italy
Length: 3-6 days
How to get there: Head to Geneva or Turin Caselle airport before taking a transfer
Getting to the Alps
Ready to begin your ski mountaineering adventure? If so, we can help you get there.
At Alps2Alps we offer professional, reliable ski transfers at affordable prices. Operating across all of the major alpine resorts, a transfer with us is fuss-free and helps you maximise your time on the mountain.
The benefits of an Alps2Alps ski transfer include;
Spacious vehicles for you and your ski equipment
Cheaper group transfers
Affordable midweek transfers and deals
Free long-term ski storage included
Book your ski transfer today to take advantage of these benefits and savings.