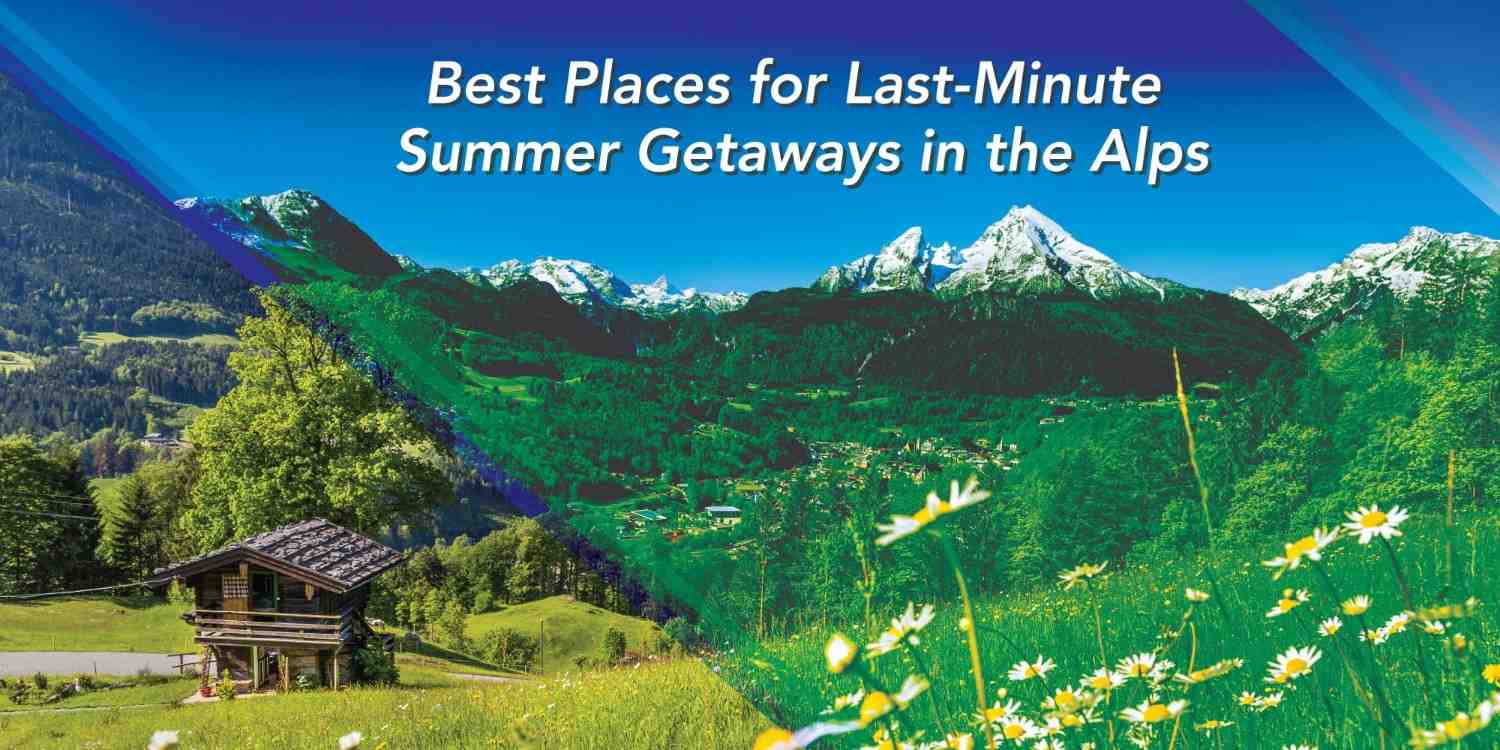 Best Places for Last-Minute Summer Getaways in the Alps
Best Places for Last-Minute Summer Getaways in the Alps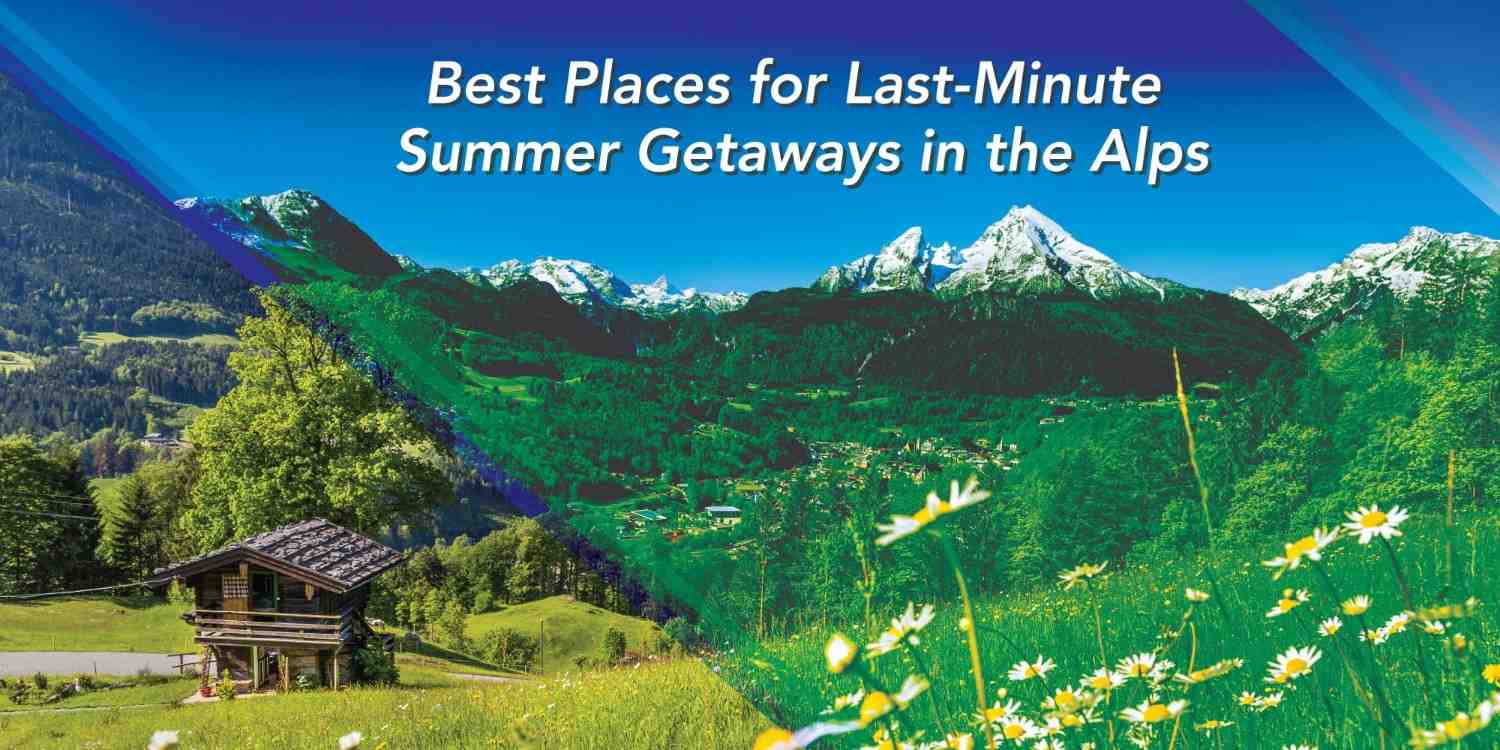 Summer is in full swing!
Once the temperature rises, lots of us start packing our bags to make the most of it. But, many don't have too much time to spare!
So, if you're seeking a quick weekend break, or a short mid-week vacation, you can't venture too far out. No one wants to waste these precious hours travelling!
This is why Alpine ski resorts are the perfect choice of destination. Unconvinced? Here are the best places for last-minute summer getaways in the Alps.
Understanding the Alps: Where Nature Takes Centre Stage
Let's dive into the Alps, those impressive mountains smack in the heart of Europe. Picture towering peaks, lush valleys, and meadows dressed in wildflowers. These famous mountains stretch across countries like France, Austria, Italy, and Switzerland, creating the perfect backdrop for an amazing summer getaway.
Best Times to Visit: Embracing the Alpine Summer
Alright, let's talk timing. Summer is the name of the game. Think warm weather, long daylight hours, and a bunch of things to do. Anytime from June to September is your sweet spot. During these months, the Alps light up with outdoor festivals, cultural happenings, and loads of chances to explore.
Whether you're a hiking junkie, a culture buff, or just want to chill and enjoy the vibe, this is when to do it. Check out what's going on locally, keep an eye on the weather, and choose the time that suits you best. It's all about soaking in that Alpine summer magic.
Les Gets, France
Les Gets' family-friendly atmosphere and traditional French appearance doesn't disappear with the snow.
Even under the sun, this resort is the perfect holiday destination. From aqua parks to paragliding, Les Gets' sporty reputation lasts all year round!
Geneva Airport – Les Gets – 1 Hour 35-Minutes
So, what of the transfer times?
Les Gets is only a 45-minute drive away from la Gare de Marignier, which is great news for those who don't want to miss the sunny weather sitting in the car for too long!
If you prefer to travel by plane, you're in luck also. The resort is only 1 hour 35-minutes from Geneva Airport.
Nearby Excursions You Shouldn't Miss
If you fancy trying something a little different, Les Gets is conveniently located near many exciting places that make for the perfect day out.
An added bonus? These activities are all close-by, so you won't waste your days travelling!
Pere Delavay's Botanical Garden – 15-Minute Walk
Love nature? Nestled only a 7-minute drive away, or 15-minute walk, from Les Gets itself is Pere Delavay's Botanical Garden.
Home to a stunning array of wildlife, this garden is open until September, and is free for every member of the family.
While exploring the grounds can be educational, it's also an entertaining day out even for the youngest holiday-goers!
Mechanical Music Museum – 5-Minute Walk
If you don't fancy being outside, or you're keen to delve a little deeper into French culture, stop by the Mechanical Music Museum.
Located only a 5-minute walk from the heart of Les Gets, on the Route des Grandes Alpes, the museum is an easy stop-off during any day out!
From chimes to music boxes, those who are musically inclined won't want to miss visiting this little slice of French history.
Aventure Parc – 20-Minute Walk
Fancy something a little more fast-paced?
If the kids need to let off some steam, or the adults want to relive their youth, the Les Gets' Aventure Parc is the perfect choice of activity.
At only a 20-minute walk from the centre of Les Gets, or a 5-minute drive, you'll have the whole day to enjoy the thrills!
Open until the end of August, there's plenty of time to swing through the trees or bungee through the sky! Trained professionals will be on hand to literally 'show you the ropes!'
Ellmau, Austria
After Ellmau hangs up its skis for the year, the popular resort takes on a completely new appearance.
The snowy slopes give way to rolling green hills, and it's impossible not to be impressed by the scenery.
Innsbruck Airport – Ellmau – 1 Hour 40-Minutes
Ellmau is around 1 hour and 40 minutes away from Innsbruck Airport. These timings are likely to be even quicker in the summer when the roads are quieter!
If you prefer to travel by rail, the resort is only a 35-minute drive from both Worgl and Kufstein train stations.
Nearby Excursions You Shouldn't Miss
Hiking in the area is hugely popular with those who can't wait to experience the Alps under the sun!
But, if this isn't for you, fear not. There's no shortage of things to do in Ellmau!
Ellmi's World of Magic -18-Minute Walk
If you've got the kids in tow, Ellmi's World of Magic is the perfect day out.
First, you get to ride a gondola up to the top of Hartkaiser Mountain. After that, you'll be greeted by an array of activities and rides, including climbing parks and trampolines.
It's largely geared towards children, but adults can't help but enjoy reliving their youth!
Plus, at a 6 minute drive or an 18 minute walk away from the centre of the resort, the children won't have a chance to get bored during the journey!
The Kaiserbad Ellmau Leisure and Spa Centre – 12-Minute Walk
The Kaiserbad Ellmau Leisure and Spa Centre is geared toward every member of the family.
At only a 12-minute walk from the heart of the resort itself, the trip won't take much time out of your day!
Whether you're looking for scenic views, swimming pools or water slides, you'll find it all in one place. It's the perfect bonding excursion for young and old alike!
Cervinia, Italy
Many people head to Italy during the summer. But, most ignore the mountainous areas!
If you're looking for a quick getaway, the Italian Alps are the perfect place to head. One of our top picks is always Cervinia!
Turin Caselle Airport Airport – Cervinia – 1 Hour 55-Minutes
Cervinia is around 1 hour and 55-minutes away from Turin Caselle Airport.
Alternatively, it's 55-minutes from the Chatillon/Saint-Vincent train station. But, it's important to be aware that there are no direct trains to the resort itself.
Nearby Excursions You Shouldn't Miss
Half an hour away from Cervinia is the Plateau Rosà, where you can ski in summer! It boasts snowy slopes all year round thanks to its high altitude.
But, if you fancy a different holiday from your Alpine usual, you won't be disappointed either.
Totem Adventure – 1 hour 20-min Drive
Whether it's rafting, paragliding, kayaking or canyoning, this Italian adventure park is an adrenaline-fuelled day out for everyone.
At just over an hour's drive from Cervinia, it's easy to get to and promises to be an unforgettable day out for the entire family!
Who wouldn't want the chance to raft through the Aosta Valley?
Meribel, France
Meribel is one of France's best loved ski resorts. Popular regardless of age and ability, it's easy to see why so many skiers flock here in their droves.
For this reason, you'd be forgiven for overlooking it as a summer holiday destination. But, you'd be missing out on a number of exciting experiences!
Quick transfer times aren't all it has to offer (although they're definitely an added bonus).
Chambery Airport – Meribel – 1 Hour 20-Minutes
Sitting 1 hour and 20-minutes away from Chambery Airport, it's easy to get Meribel, particularly in summer when your journey won't be prolonged by adverse weather conditions.
Prefer to go by rail? Good news! Meribel is only 40-minutes from Moutiers train station.
Nearby Excursions You Shouldn't Miss
So, once you've completed your short transfer to Meribel, what should you do first?
You'll find more activities on offer than you can wrap your mind around, from white water rafting to horse-riding through the Alps.
What if you fancy something a little different? There are numerous options to choose from, but we've picked some of the best:
Réserve Naturelle du Plan de Tueda – 23-Minute Drive
Love being at one with nature? Head to the Réserve Naturelle du Plan de Tueda.
Built around a lake that offers a variety of water sports, this nature park is home to stunning wildlife and rare animals.
The Vanoise National Park – 23-Minute Drive
Another 23-minute drive away, but in the opposite direction, sits another jewel in the Alps' crown.
Fancy exploring Meribel's giant natural playground? The Vanoise National Park is a 'green diamond' nestled in the heart of the Alps.
Whether you're looking to try a spot of trout-fishing in the Ouilette Lake, admire animals like mountain goats, or hike around the area, you can try all of this in the park.
The Vanoise National Park is a haven for both wildlife and families looking for an exciting day out.
Courmayeur, Italy
Courmayeur is one of Italy's best-loved ski resorts, boasting gorgeous sunsets and delicious Italian cuisine.
Apart from the lack of snow, not much changes in the summer months! It's still the perfect place for a holiday even when the slopes are closed to keen skiers.
Annecy Airport – Courmayeur – 1 Hour 55-Minutes
So, what of the transfers? There's more good news here. Sitting 50-minutes from Aosta train station, or less than 2 hours from Annecy Airport, Courmayeur is a hub of quick travel times!
But, once you're there, is there anything to do without the slopes?
Nearby Excursions You Shouldn't Miss
In Italy, it isn't only the food you need to try! There are plenty of activities and excursions to see and do while you're there.
So, if you've put down your mountain bike or hung up your hiking boots, what else is there to do?
Grand Paradiso National Park – 43-Minute Drive
The Grand Paradiso National Park is the oldest of its kind in Italy! Another bonus? It's less than an hour away from Courmayeur!
Here you'll be able to explore one of the highest mountain peaks in the Italian Alps. So, unsurprisingly, the views are simply breathtaking.
You'll be able to admire the Alps in a completely new way! After the snow melts, the landscape gives way to rolling green hills and crystal-clear lakes.
At first, children might not be thrilled at the idea of heading to a national park. But, with such an array of things to do and see, you'll find every member of the family entertained!
Val Veny – 13-Minute Drive
Inaccessible during the winter, Val Veny is another lesser well-known area in the Italian Alps that comes to life in summer.
With an endless amount of paths that make for great places to explore, climb or hike, Val Veny is a hidden gem you won't forget about in a hurry.
Plus, it's not a bad spot for a picnic!
Mayrhofen, Austria
Is your fix of the Austrian Alps still unsatisfied? Head to Mayrhofen in summer.
If the stunning Alpine views weren't enough, the area is the perfect place for a wide range of exciting summer activities.
Who wouldn't want to make a quick getaway to witness a sunset over the one of the most famous mountain ranges in the world?
Innsbruck Airport – Mayrhofen – 1 Hour 30-Minutes
Quick transfer times are something to smile about! So, we're confident you'll be smiling a lot in Mayrhofen.
It's only an hour and a half from Innsbruck Airport to the resort! So, once you're there, what next?
Nearby Excursions You Shouldn't Miss
The Zillertal Alps aren't just for winter!
From stunning wild flowers to nature trails, Mayrhofen is a beautiful place to be in summer.
But, it's just as exciting as it is beautiful! Thanks to the nearby Hintertux Glacier, you can actually ski in summer! Alternatively, why not explore an ice cave?
But, if you prefer to keep your snowy activities to winter, Mayrhofen has more to offer…
The Zillertal Arena – 11-Minute Drive
Calling all thrill-seekers!
Home to water sports, a roller coaster and even a waterfall, the Zillertal Arena is one of Mayrhofen's best-loved attractions. It's easy to see why!
Every member of the family, from adrenaline-junkies to nature-lovers, will find something to do here.
It will take just over 10 minutes to get there from Mayrhofen, meaning you'll have the whole day to enjoy the enormous range of activities!
Young and old alike come together to enjoy the arena year after year. Don't miss out on the Spruce Tree Castle!
The Zillertal Alps Nature Park – 15-Min Drive
To put its size into some perspective, hiking through the Zillertal Alps Nature Park would take you 7 days!
Those who are up to the challenge love putting themselves through their paces in this area of the Alps.
But, of course, this isn't for everyone. Those who prefer a more relaxing day out can take a guided tour, have a picnic, or simply stop to take in the breathtaking views.
Can't wait to make your quick getaway to the Alps? You'll need a transfer to get you to the resort! Luckily, we've got that covered. Mountains aren't just for winter, so neither are we! Find your quick, low-cost transfer here.