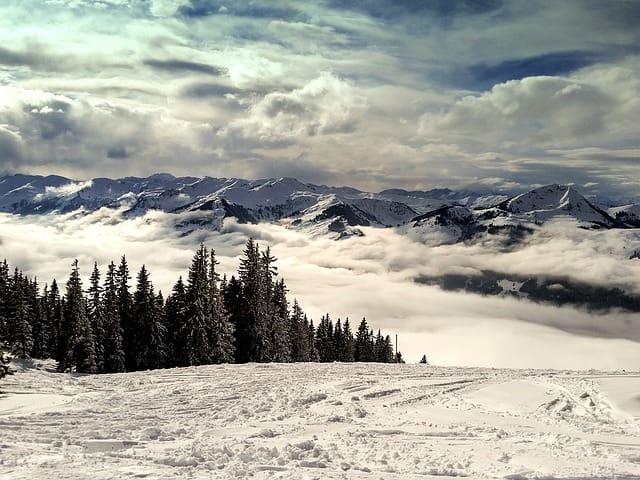 Best Ski Resorts Close to Munich
Best Ski Resorts Close to Munich
Munich is internationally known for its beer, it hosts the world's most famous beer festival – Oktoberfest – every year, and it is the birthplace of the much loved BMW vehicle.
But, here's one fact you probably didn't know about the city; there are over 50(!!) ski resorts within a 90 minutes drive of Munich International Airport. Impressive, right?
Less than two hours from plane to piste opens you up to a world of thrilling skiing, lively après ski entertainment and hordes of European culture. Whether you choose an Austrian ski resort or a ski resort in the Bavarian alps, there's a handful of world-class ski resorts that are just a short drive down the Autobahn from Munich Airport.
If you're tempted to fly into the Bavarian capital to start a weekend of skiing, snow and shenanigans, we've put together a life of the best ski resorts close to Munich.
Spend less time on the road and more time on the slopes; start plotting your next ski holiday now!
Popular Ski Resorts Near Munich Airport
As we touched on before, there are over 50 exceptional Alps ski resorts within 90 minutes of Munich Airport; some might say that's close enough for a quick day trip to the slopes.
While we can't take you through every resort that's at a reasonable distance from the airport, we've hand-selected a few of our favourites. Be warned, there is one sneaky addition that is just over a two-hour drive, but we think it's worth the (still very quick) journey!
Brauneck Resort, Bavarian Alps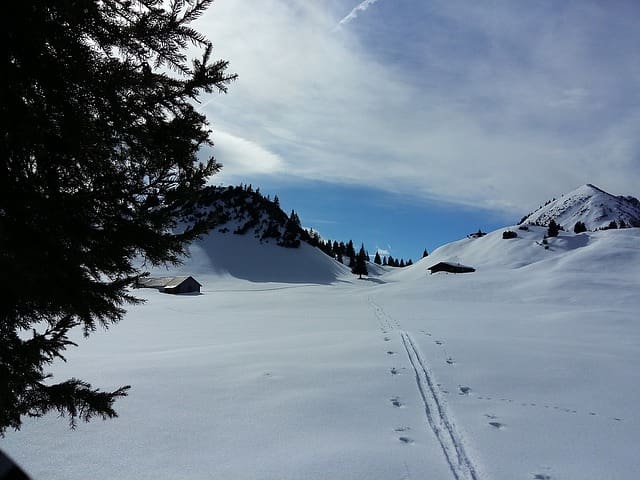 Where – Tolzerland, Upper Bavaria, Germany
Transfer time from Munich Airport – 1 hr 13 mins
Transfer distance from Munich – 94.6km
Resort elevation – 700m and 1,712m
Ski area – 34km
Brauneck's proximity to Munich Airport makes it one of the most popular ski resorts in the Bavarian Alps. In a little over an hour, you will reach this traditional village that's oozing Bavarian charm; it's very much the stereotypical vision of Germany. The resort caters to all guests, whether it's your first time on the slopes or if you're a seasoned pro, partly because the ski resort is also home to two more ski areas, Lenggries and Wegscheid. The resort also has a steady flow of investment at the moment, so the facilities at Brauneck are only going to get better!
Whether you're spending the weekend in Munich and looking for something a little different to spend a day or two or looking to book a dedicated ski holiday, Brauneck is a slightly petite resort packed with charisma!
Söll Ski Resort, Austria
Where – Brixental Valley, Kufstein District, Austria
Transfer time from Munich Airport – 1 hr 25 mins
Transfer distance from Munich – 145km
Resort elevation – 620m to 1957m
Ski area – 288km
In contrast to Brauneck, Söll is a sizable ski resort with over 288km of skiable pistes on offer! The enchanting resort is part of SkiWelt Wilder Kaiser- Brixental, granting you access to more slopes than you can need. Part of the magic of Söll ski resort comes from its low altitude of 620km; fragrant pine trees fill the area creating a stunning setting, but it also protects the area when heavy weather is due.
A particular intrigue of Söll is its night skiing. The ski resort has over 11km of illuminated runs from Wednesday to Saturday, and it's truly a magical experience that you must try at least once.
Side note; if you're a fan of a party or holidaying with a group of friends looking for fun off the slopes, too, Söll's choice of vibrant après-ski is nothing short of fantastic.
Scheffau am Wilden Kaiser Resort, Austria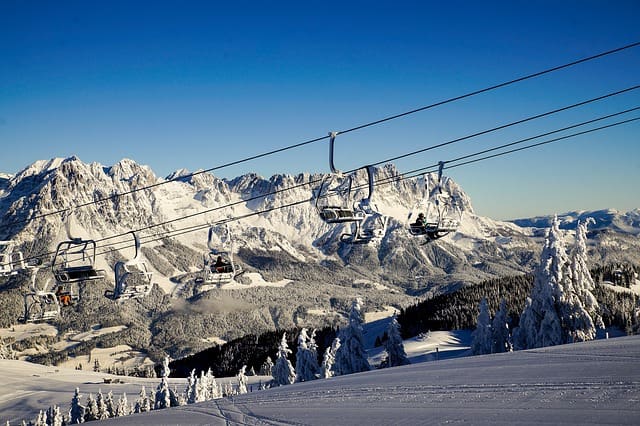 Where – Kufstein, Sölllandl, Austria
Transfer time from Munich Airport – 1 hr 27 mins
Transfer distance from Munich – 145km
Resort elevation – 620m to 1957m
Ski area – 288km
Another Austrian ski resort under 90 minutes from Munich Airport is Scheffau am Wilden Kaiser. With access to the Ski Welt Wilder Kaiser-Brixental ski area, you can find some of Austria's best skiing, perfect for hardcore skiers. But, that's not to say it's not a fantastic option for family ski holidays; Scheffau has a variety of pistes for every ability.
Scheffau ski resort is nestled in a snow bowl, meaning the resort is renowned for its excellent skiing and snow conditions, with slopes covered in snow at all times during the season.
The village is quaint and calm, it's beautiful to wander around and some say it's one of the prettiest in Austria. However, if you're searching for a lively end to your evenings, it would be better to check out a resort such as Söll. The tame village has Alpine architecture of dreams, traditional Austrian cuisine and cost accommodation options to relax at the end of a long day.
Kitzbuhel Resort, Austria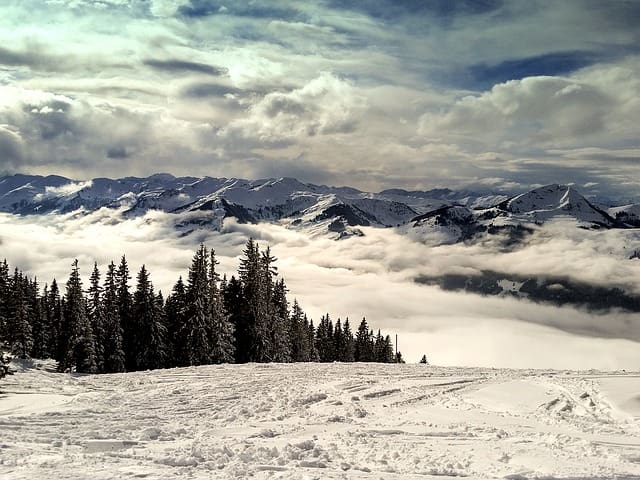 Where – Kitzbühel, Tyrol, Austria
Transfer time from Munich Airport to Kitzbuhel – 1 hr 25 mins
Transfer distance from Munich – 125km
Resort elevation – 800m and 2,000m
Ski area – 188km
Kitzbuhel is well known as one of Europe's most beautiful mountain villages; one look and it's clear to see why. An hour and a half from Munich city centre is this perfectly juxtaposed town. Kitzbuhel is full of boutique shops and upmarket cafes in a mediaeval village; it's truly magical.
The resort height is 760m, which is low, but don't be fooled into thinking this affects the quality of skiing, with plenty of terrain and piste choice for intermediate and expert skiers.
Kitzbuhel ski resort does have a claim to fame; it has been the host for the Hahnenkamm race for over 79 years, which is one of the ski world's most hotly anticipated winter sports events!!
Ellmau Ski Resort, Austria
(mini image)
Where – Wilder Kaiser, Tyrol, Austria
Transfer time from Munich Airport – 1 hr 34 mins
Transfer distance from Munich – 151km
Resort elevation – 620m to 1957m
Ski area – 84km
Ellmau is in the sweet spot; the resort is close to Munich Airport, but it is also a village with access to the giant SkiWelt Wilder Kaiser-Brixental ski area. The panoramic resort has a spectacular Alpine church at its heart, which sets the tone for the rest of this picturesque village.
The resort could be deemed as the 'perfect' family-friendly ski resort, with plenty of village amenities, pistes for all abilities and plenty of snow activities on and off the slopes aside from skiing – you certainly won't struggle to keep little ones, or yourself, entertained!
Alpbach Resort, Austria
Where – Alpbachtal Valley, Tyrol, Austria
Transfer time from Munich Airport – 1hr 47 minutes
Transfer distance from Munich – 167km
Resort elevation – 830m to 2025m
Ski area – 93km
Alpbach is a classic Tyrolean ski resort, to say the least. Under two hours from Munich International Airport and only 45 minutes from Innsbruck Airport, the resort is often full of skiers and families from across the world.
Alpbach is the epitome of easy yet fun Austrian skiing. The village is packed with charm, stunning scenery is in abundance, the ski area is second to none with something to offer everybody, and the vibe on and off the slopes is perfect.
Most accommodation options in Alpbach are family-run guesthouses or hotels, so they're all very welcoming and cosy. It has to be said that Alpbach ski resort is one of the greatest all-rounders!Can't wait to hit the slopes with your friends or family? Alps2Alps offer affordable, reliable and comfortable private airport transfers from Munich to resorts all over the Alps. Find your low-cost ski transfer and we'll get you there safely and in style.