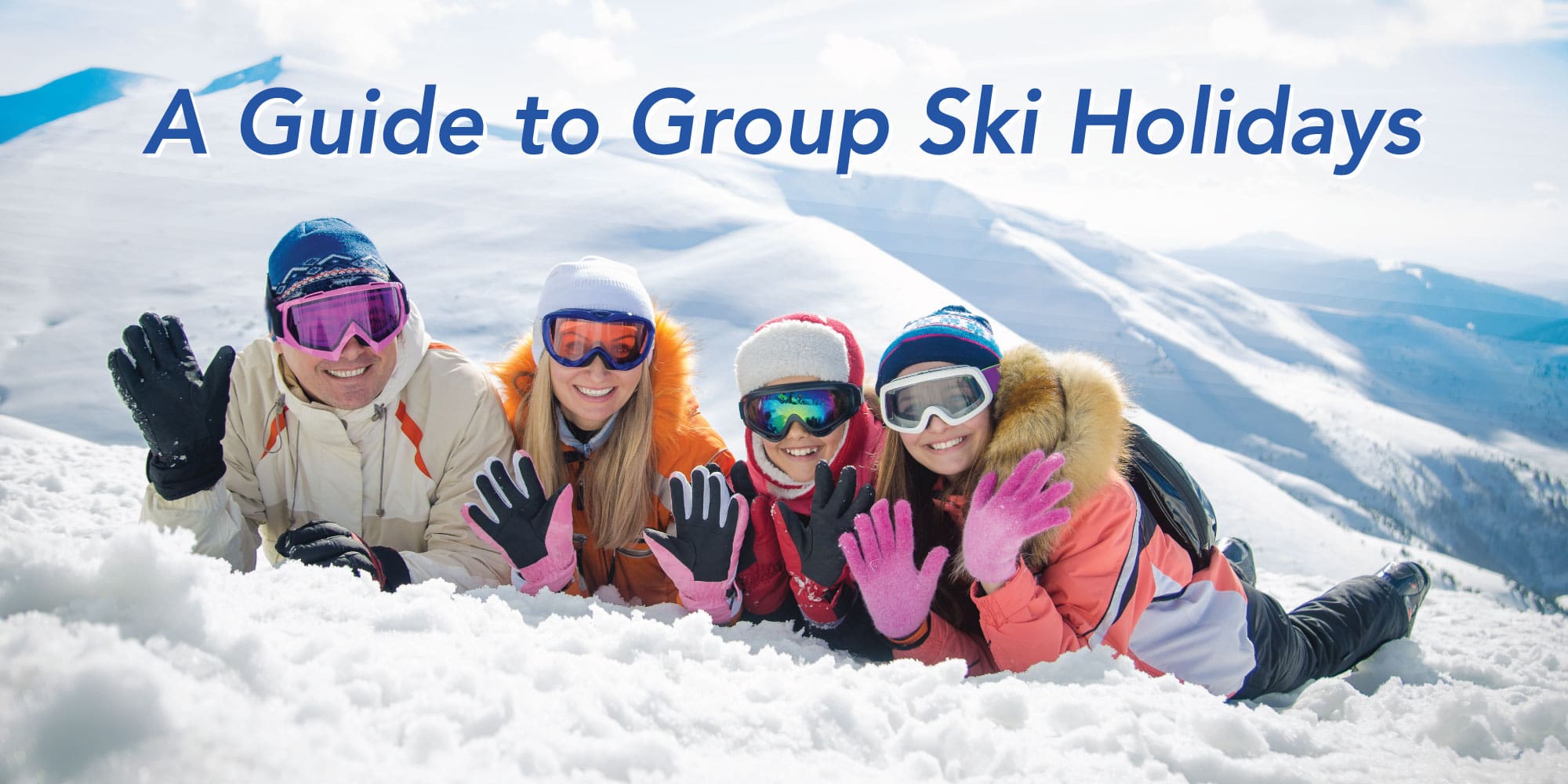 A GUIDE TO PLANNING AND SURVIVING GROUP SKI HOLIDAYS
A GUIDE TO PLANNING AND SURVIVING GROUP SKI HOLIDAYS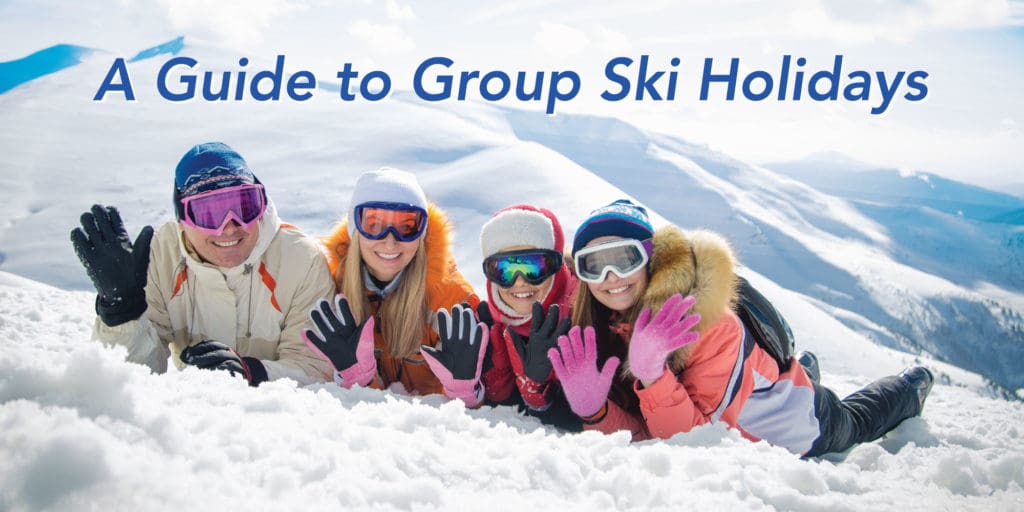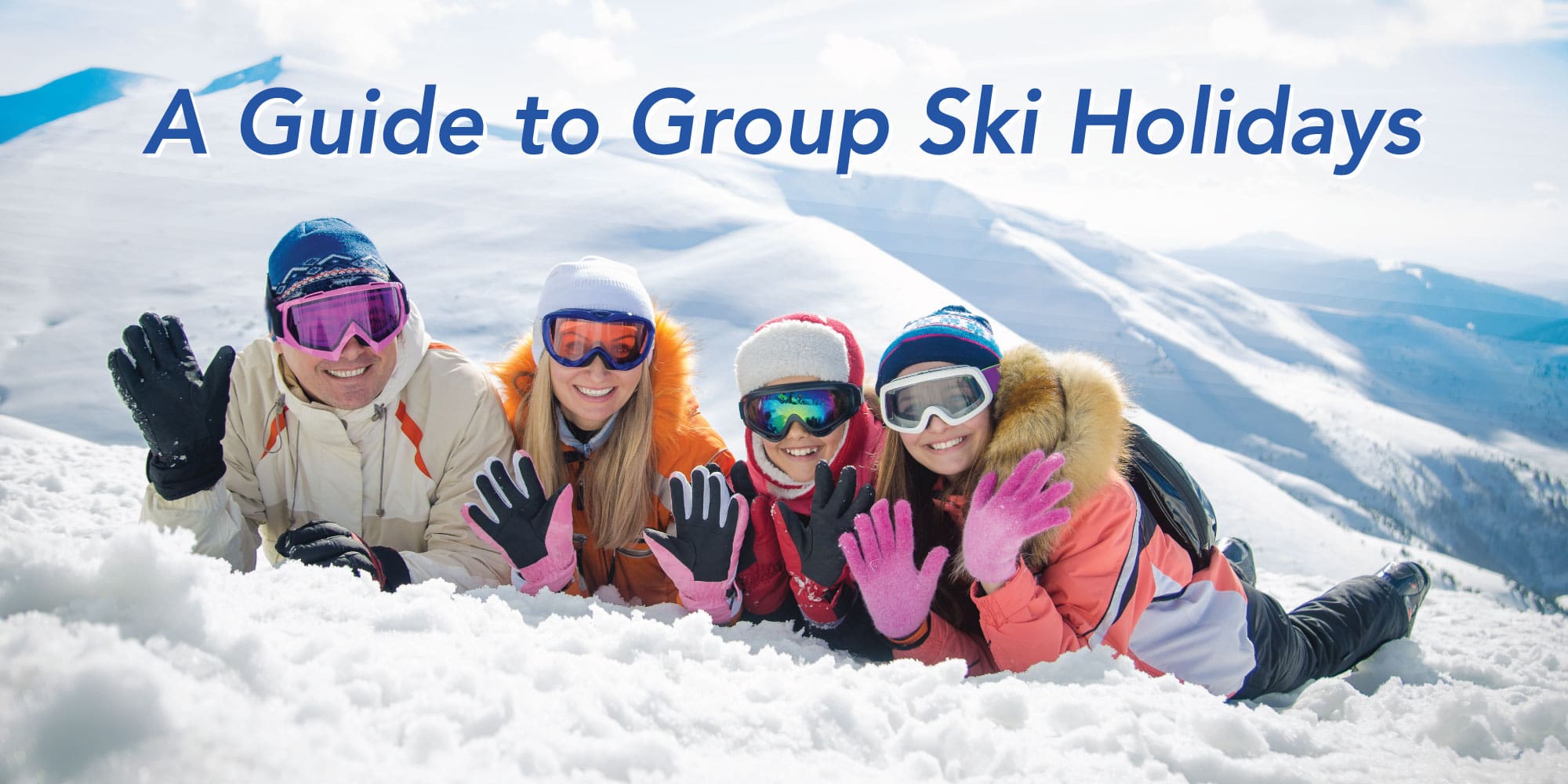 Are you craving the pack mentality? A group ski holiday might be calling your name.
While there's safety in numbers, group skiing isn't for everyone. Whether you're questioning if a group ski holiday is for you, or you just don't know where to start with planning – we're here to help.
Discover survival tips and advice for the designated organiser in our guide to creating the best group ski trip ever…
Advantages of Group Ski Trips in Europe
Group holidays offer a lot over solo or couple trips. From great photo opportunities to livelier après-ski, the advantages are endless!
So, if you're on the edge about whether to book one or not, here's a few reasons why it might be right for you:
Better Après-Ski
One major benefit of a group ski holiday? The après-ski is unparalleled.
Big groups might mean one round can break the bank, but there are more people to return the favour.
There are lots of people to stay up until the early hours with, and if some of the group wants to go home, there's plenty of others staying out!
From relaxed beers to live music – check out our recommendations for the best apres ski for groups in Europe.
No One Is Left Out
With ski holidays of only a handful of people, someone is often left out.
Everyone's skiing abilities differ, so one person can get left waiting at the bottom – or stuck at the top.
Even if solo skiing is your thing, nobody wants to spend the holiday alone. A larger group trip means there is likely to be others of similar ability to ski with (or to chill out at the spa with!)
Deal or No Deal
With group ski holidays, you're more likely to secure some money-saving deals.
The bigger the group, the more money you're likely to save! You can find discounts for everything from your accommodation to the ski rental store.
Who doesn't like to save money?

How to Survive a Group Ski Holiday
So, if our list of pros has convinced you that a group ski holiday is right for you, we're armed with some advice to make sure it's the best experience possible.
Here are our survival tips:
Take Some Time Out
Even for the most sociable among us, group holidays can sometimes be a bit too much.
So, make sure you take some time for yourself. If you're the only one who wants to venture off-piste, go alone!
If you need a lie in to feel refreshed for après-ski, meet everyone on the slopes later in the day!
You can still play by your own rules, even when it comes to group holidays. Taking some 'me time' can also help avoid any brewing arguments, so it's a win-win.
Don't Play Teacher
With big groups, one person might be on their first holiday. It's unlikely they'll want to take lessons alone, so they might be braving the slopes without them.
The result? You get roped into being their personal instructor. While no one minds giving the odd skiing tip here and there, nobody wants to spend their holiday teaching someone else.
Don't be forced into giving private ski lessons all day! Instead, tell them it's possible to learn to ski in a day and leave them to it.
Remember Your Wallet
The bigger the group, the livelier the après-ski. Fact.
While this can be a good thing, just make sure you're not the only one getting the rounds in. Getting your wallet out first every time isn't advisable for keeping costs down. Just make sure everyone pays their share.
Also, make sure you ask for group discounts and remember to haggle! If you don't ask, you don't get, right?
How do I Plan a Group Ski Trip? Top Tips
If you've been assigned as the leader to book the holiday, don't panic. We understand no one wants to be burdened with the organisation process, but someone's got to do it.
It's your task to make sure everyone has a good holiday. We're here to make sure you pull it off!
Here's some advice to ensure the holiday isn't a white-out:
Make Sure There's Something for Everyone
Group holidays mean keeping a lot of people happy. Sadly, not everyone in the party will be an advanced skier!
But, even those who don't know the difference between off-piste and on-piste need to be catered for. So, pick a resort with a varied range of slopes.
That's not all! Make sure to choose a resort with a variety of activities to do off the slopes. Some of your group will be keen for après-ski every night, others will prefer the quiet fine-dining experience. Ensure you keep everyone happy!
Do your resort research thoroughly as where you go will make or break the trip!
Book Early
This one sounds obvious, but it's forgotten too easily. When it comes to group holidays, always book early.
With big groups, the early bird catches the worm. It's as simple as that.
Accommodation gets booked up quickly, and the best deals get snatched up. To avoid this, book well in advance!
Ensure Everyone Is Committed
If you've been challenged with the task of booking the holiday, make sure everyone is committed. You don't want people cancelling at the last minute!
Trying to pick a date will prove to be the toughest challenge. With group bookings: majority rules. Go with the date that most people can do!
If anyone seems unsure or is wavering on saying yes or no, give them an ultimatum. Tell them they have to make up their minds – or they're not coming. Holding your ground will do you a lot of favours in the long term.
Collecting a deposit from everyone is a good way to make sure they're committed to the holiday. Once they hand over the cash – they're in for the long haul!
Stay on Top of It
With group bookings, there must be a leader. If it's proving too much to handle, assign someone else to be in charge.
If you're up to the task, always keep on top of things. Ignoring any emails or leaving everything to the last minute isn't recommended!
How do I Book a Group Ski Holiday? Your Guide
We've broken down the vital steps you need to go through to book a group ski holiday to remember.
Choose the Best Ski Resorts for Large Groups
The first thing when planning a group ski trip is to decide on a resort. The main things to look out for are a good mixture of slopes to suit all abilities in your group and great apres ski or entertainment options for all tastes.
Here are our top picks…
Group Family Ski Holidays
Planning an extended family reunion in the mountains? Nice choice! The following resorts have family-friendly facilities, activities and slopes as well as relaxing activities for the adults to cover all bases…
Alpe d'Huez is a family friendly resort in France that has been awarded Famille Plus status thanks to it's excellent facilities and services
Wengen in Switzerland has a relaxed, picturesque village that is completely pedestrianised, making is safe for young families
Avoriaz in France has a fantastic ski school, an impressive water park and great snow
Budget Group Ski Holidays
Looking for a cheap get away with your mates? There are plenty of budget ski resorts in the Alps that don't compromise on quality ski and snow…
Tignes in France boasts low prices and high altitude with affordable restaurants and a variety of slopes
Les Deux Alpes is a cheaper option, with five free ski lifts and happy hour deals
Cervinia in Italy allows you to explore the slopes of Zermatt without the high prices
Student Ski Holidays
Discover the best affordable student ski resorts in the Alps. Music, drinks, dancing – what more could you want from a student ski adventure?
St Anton in Austria is well known for its legendary nightlife and beer steins
Val Thorens in France offers underground clubs and apres afternoon singalongs
Chamonix in France is bursting with a student atmosphere, with loads of bars and clubs to choose from
Find the Best Group Skiing Deals
Bigger groups can mean bigger savings. For example, at Alps2Alps you can save 10% on large group ski transfer bookings for selected routes.
From accommodation to lift passes – keep an eye out for deals that could put more money in your pocket for the bar!
Get the Best Ski Accommodation for Groups
With group ski holidays, choose the ski accommodation well. Don't go with the first option!
If everyone's on a tight budget, hostels are a good bet.
Hotels will allow you flexibility if anyone cancels last-minute, or if someone changes their mind and decides to join in.
Alternatively, if you're looking for plenty of facilities and fine-dining, luxury ski chalets are a good choice for group holidays with a difference.
Book Some Group Ski Lessons
You may want to book some adult group ski lessons, depending on how mixed the ability is in your group.
Ski and snowboard lessons can help the less confident skiers and snowboarders in the group get to grips with the equipment, techniques and ski area so they don't get left behind on the mountain.
Search Out the Best Apres Ski for Groups
If you're planning a big holiday with your friends, chances are, some nights out are on the cards. Whether it's relaxing beers on the mountain or dancing all night in an underground club – the Alps are home to some unforgettable apres ski venues.
Before you travel, have a look around online to find the best spots, make sure they fit your budget and check any COVID restrictions. You may want to book some restaurants in advance to make sure you don't miss out.
Book Your Group Ski Transfer in Advance
With group bookings, there's a lot of people that need to get to the resort!
Trying to organise everyone onto public transport can feel like herding sheep, so private transfers are definitely the better option. Let someone else do the hard work!
At Alps2Alps, we operate a professional, affordable transfer service to all major destinations in the Alps. You can rely on us to get you safely to your chosen resort! Find your low-cost ski transfer.
What's New for Group Ski Holidays 2021 / 2022?
The world has changed since we last saw you on the slopes. Happily, the 2021/22 ski season in the Alps is back and raring to go with new openings, developments and activities for snow-lovers.
When planning your next group holiday, there are a few extra things you'll need to bear in mind…
Check the travel restrictions for your chosen country or resort
Check which ski resorts are open and when
Ensure all the activities and accommodation you book have COVID-safe measures in place
A private ski transfer to the airport is one of the safest ways to travel. With enhanced cleaning, driver health monitoring and free COVID cancellations – we're doing our best to make your journey to your resort as safe and comfortable as possible.