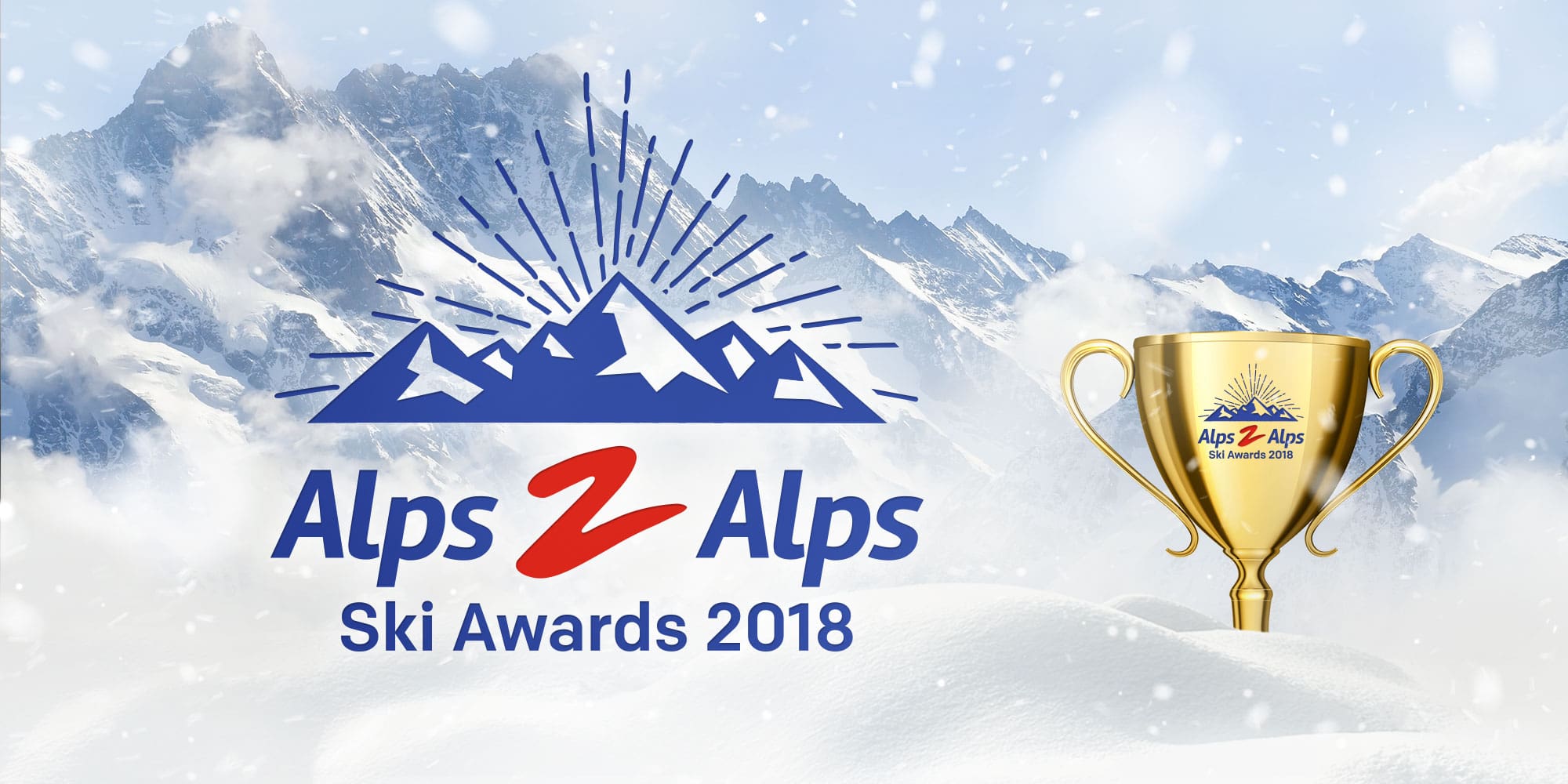 Alps2Alps 2018 Ski Awards
Alps2Alps 2018 Ski Awards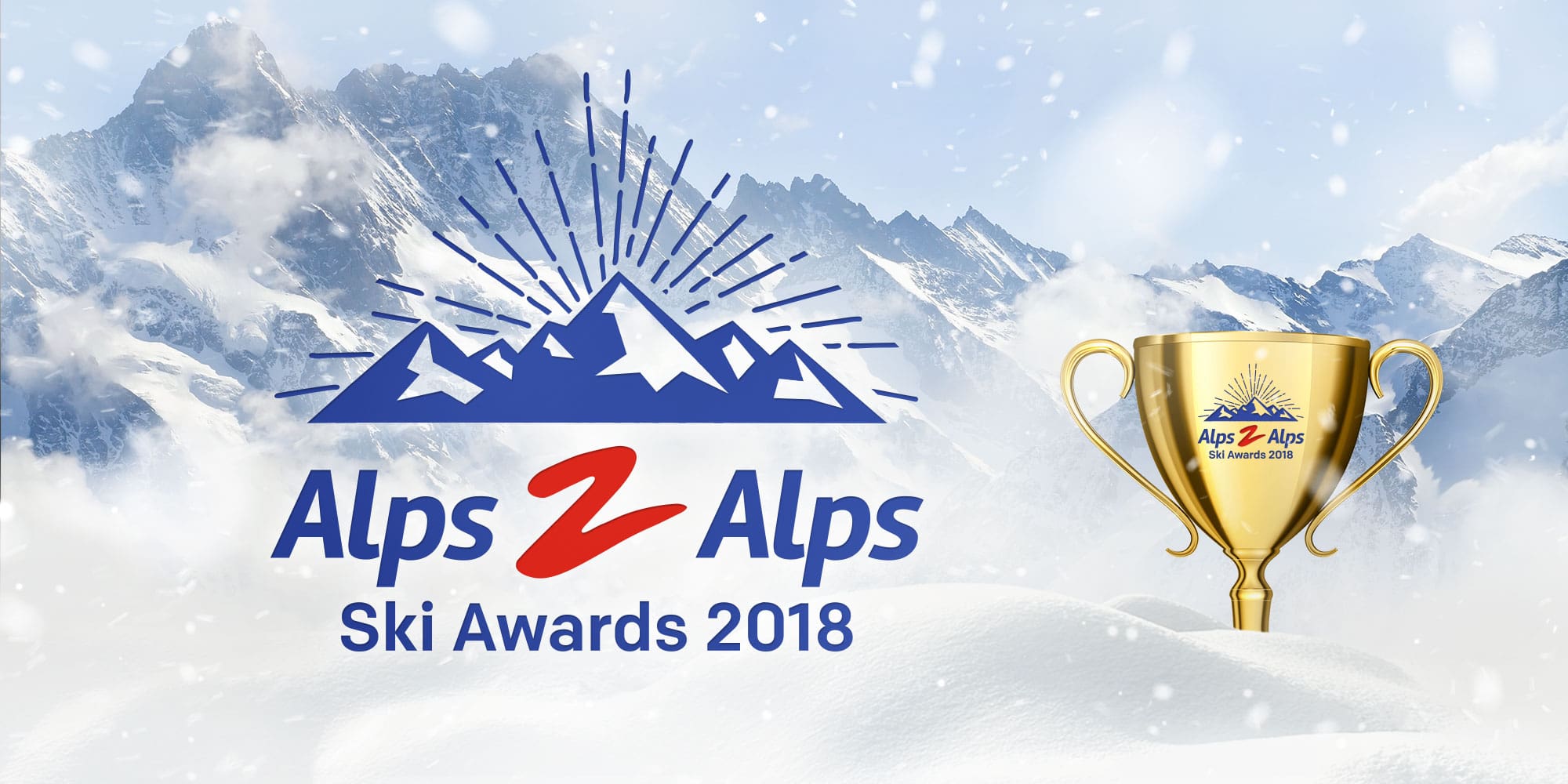 The votes have been casted, counted and verified – and it's finally here!
Here are the Alps2Alps 2018 ski awards. Time to kick off the season in style!
From off the slopes to on them, there's every category you can think of. So, who are the winners? Let's find out…
Most Eco-Friendly Resort – Saas-Fee, Switzerland
Having one of the highest ski areas in the Alps isn't all Saas-Fee has to shout about.
While its snow reliability is impressive, its efforts to be more sustainable are even more so.
Where to start? The town itself has been car-free for years, replaced by electric buses. Plus, all ski lifts and railways are powered by hydroelectric power alone!
It's little wonder why it's such an easy winner for the title of most eco-friendly ski resort.
Best Ski Lift – Sölden, Austria
Many ski resorts are becoming more and more high-tech.
But, no ski lift we've come across has been quite as impressive as the Giggijoch Mountain Gondola, found in Sölden. This one's a clear winner here.
You'll reach the pistes in record time! Whisking 4,500 keen skiers up the mountain each and every hour, the trip now only takes eight minutes.
There aren't many who can compete. Sölden is guaranteed to keep its promise of more time on the slopes, less time queuing!
Shortest Lift Queues – Cortina d'Ampezzo, Italy
Looking to escape the crowds?
Head to Cortina d'Ampezzo. You'll not only be greeted by breathtaking views of the Dolomites, but also the sight of welcomingly short lift queues.
Here, you'll find the best of both worlds. While the slopes are quiet, the town itself is lively. It's the ideal Alpine haven for those who want to enjoy peaceful pistes – before coming back to a bustling nightlife scene.
It's a worthy winner of the top spot!
Prettiest Ski Resort – Courmayeur, Italy
We travel to Italy again to find the prettiest ski resort in the Alps. Here, the prize goes to Courmayeur, which oozes traditional mountain charm.
Courmayeur has plenty to feast your eyes on. Stunning panoramic views of the Alps aren't the only thing on offer, as the town itself is a pleasure to gaze at and explore.
This resort is far removed from the likes of the purpose-built, inauthentic ski resorts. So, those who enjoy admiring traditional, historic architecture are in luck.
If that wasn't enough, this isn't the only reason Courmayeur has earnt a stylish reputation. The village is completely pedestrianised, and as you wander through its many pretty winding streets, you'll discover a number of quaint shops and enticing boutiques to explore along the way. While doing so, you'll find yourself in the company of immaculately-dressed locals.
Unsurprisingly, it's a popular place for romantic skiing getaways!
Best Resort for Off-Piste Skiing – Verbier, Switzerland
Craving some natural terrain? When it comes to off-piste skiing, Verbier is a cut above the rest.
Home to a number of steep inclines and challenging patches – you're sure to find the thrill you're looking for here.
Every off-piste skier worth their salt simply has to give it a go.
Best Ski Clothes Company – the North Face
If you love the great outdoors, you've probably heard of the North Face… Their clothing is the king of sportswear!
When you plunge yourself into sub-zero temperatures as you tackle your favourite winter hobby, clothing from the North Face is a welcome companion.
Allowing you to face the elements unfazed, and in style, it's easy to see why the company is so popular!
If you're still shopping for the new ski season, we highly recommend the North Face. Your body will thank you for it!
Best Ski Equipment Manufacturer – Rossignol
If you want to perform at your best on the mountains, Rossignol's ski equipment is the perfect choice.
'Why?' We hear you ask.
Their equipment is stylish, without compromising on performance. Whether it's off-piste, on-piste or free-riding – they've got you covered.
There aren't many that can compete!
Best Piece of Ski Tech – SkyRoam Solis
Hate deciding between skiing or staying connected? Now you don't have to!
The SkyRoam Solis is your portable WiFi companion, keeping you online even in the Alpine backcountry. This is ideal for those who love venturing off-piste, to areas with little chance of phone signal.
It's a must-have gadget for every skier battling a screen addiction.
Best Snowboarding School – MINT Snowboarding
Snowboard lessons? Check. Kids snowboarding? Check. Freestyle camps? Check.
In fact, there isn't much that MINT Snowboarding's school doesn't do…
If you're looking to become a pro on your board, you know where to go. You'll soon be the envy of everyone else on the mountain!
Best Ski School – British Alpine Ski School
Found in a number of exciting ski resorts across the Alps, BASS is the perfect ski school to help you get to grips with the slopes.
The British Alpine Ski School have an excellent reputation – and for good reason.
All instructors are professional yet friendly, with an infectious passion for the slopes. This personal touch is welcomed by any nervous fledgling skiers!
Best Black Run – La Pas de Chavanette, Portes du Soleil, Avoriaz, France
Adrenaline junkies listen up!
Reds and blues not cutting it any longer?
La Pas de Chavanette is calling your name! At 1.3 km long, with a 331m gradient, this black run is sure to put even the most expert skiers through their paces. For this reason, it's been dubbed 'the Swiss Wall'.
Best Red Run – Hahnenkamm, Kitzbuhel, Austria
Of course, we couldn't have ski awards without shining a spotlight on the Hahnenkamm.
This run is not only home to one of the world's toughest ski races, the Streif, but also doubles up as an exciting slope for the everyday skier.
Here, thrills aren't a maybe, but a given.
Best Resort for Night Skiing – Le Collet d'Allevard, France
If you're looking for great night skiing, why not head to the largest area France has to offer?
Skiing under the stars is a completely different experience which all skiers need to try at least once. But, it's particularly enjoyable on Le Collet d'Allevard.
Even in the dark, it won't take you long to find your rhythm.
Best Resort for Families – Alpbach, Austria
Travelling in the company of youngsters?
Most ski resorts in the Alps claim to be 'family-friendly'. But, which one takes the top spot?
We have to give this prize to Alpbach, in Austria. This pretty, quiet resort is famous for having more than its fair share of nursery slopes, as well as crèches for the very youngest guests.
Of course – it's not all about the pistes. Luckily, Alpbach's vast range of entertainment options is sure to keep all members of the family occupied even away from the slopes.
It's easy to feel at home when there's something for all ages! The welcoming, relaxed atmosphere is a lot to shout about also.
Best Ski Festival – Caprices, Crans-Montana, Switzerland
There's something about drinking at high altitudes, with the music echoing off the mountains, that keeps people returning year after year.
The good news for these people is that there are countless ski festivals to choose from! So, it's been tough to narrow it down. But, we've managed it – after much deliberation
Caprices in Crans-Montana is a haven for festival-goers, largely thanks to its electric atmosphere and non-stop electronica. Each year, the lineup gets better, showcasing a number of exciting stars. Everyone who visits swears this mountain-top party is one to remember!
You'll get to gaze across panoramic views of the Swiss Alps, with a beer in hand, as music plays continuously. What's not to like?
Best Resort for Après – Val Thorens, France
Val Thorens wins this prize hands-down.
If you like letting your hair down, you've come to the right place! Val Thorens has one of the best atmospheres in the Alps.
The alcohol isn't as expensive as some of its famous neighbours in the Three Valleys, which is great news for those who like getting their value for money.
The resort has party town written all over it, home to more bars and clubs than you can count. For an amazing après party, head to La Folie Douce, which is famous for its high-altitude clubbing. Meanwhile, Le Malaysia is known for having the biggest dance floor in the Alps! It's a must-visit for anyone on the hunt for an unforgettable night out.
Best Resort for Couples – Zermatt, Switzerland
When you think of Zermatt, in Switzerland, you might immediately think of its large, high-altitude ski area. Of course, this is a lot to shout about, as it can boast great skiing and snow-sure slopes. But, there's much more to it than that!
If you look a little deeper, the resort is overflowing with charm and character. It's car-free, giving its visitors a relaxed and authentic experience.
While the views of the Alps are simply breathtaking, you won't disappointed when you leave the slopes. The village itself looks as though it has come straight from a postcard!
Another bonus – there are a number of great spots that make for the perfect photo opportunity. Many couples head here for a luxurious Alpine escape.
Best Resort for Solo-Skiing – Val d'Isere, France
Consider yourself a lone wolf on the slopes? You might be tempted to try your hand at solo-skiing. 
In the French resort of Val d'Isere, the lively après is enough to keep you thoroughly entertained off the slopes. Often, the bars open before the pistes are shut!
Plus, all visitors are welcoming and friendly, exactly what you need if you're briefly missing being with a pack.
The general hustle and bustle here will make you feel as though you're in constant company – even when you're on your own.
Best Resort for Last-Minute Ski Trips – Tignes, France
Looking for a last-minute retreat? Head to Tignes.
Those craving more winter, who can't tear themselves away from the slopes, will find themselves right at home. With so much to do, and many pistes to choose from, there's no need to plan your holiday in advance here. The fun finds you!
Best Resort for Competitions – Murren, Switzerland
Fancy taking part in an amateur skiing competition? Or, do you want to watch one?
In the Alps, you'll be spoilt for choice.
Murren is home to the Inferno Ski Race, which is a nail-biting event whether you're a spectator or participant.
Best Resort for Winter Activities – St Moritz, Switzerland
Winter activities add a new dimension to your ski holiday. Some of us are looking to pick up new skills, have a different adventure – or simply fancy a change of scenery from the slopes.
In St Moritz, the possibilities are endless!
Ever played ice cricket? Want to brush up on your curling? Fancy slipping on a pair of ice skates for the first time?
Now's your chance!
Best Resort for Late-Season Skiing – Les Deux Alpes, France
What are the top three ingredients needed for the perfect late-season ski holiday? Plenty of snow, an electric atmosphere and varied slopes…
Les Deux Alpes can boast all of these, staying open until late June most years. It has one of the largest areas available to skiers in summer, which is great news for those who can't bring themselves to hang up their skis for the year.
Who wouldn't want to swap sand for snow?
Best Resort for Big Groups – Méribel, France
Méribel has long been held as one of the France's most popular resorts. There's something about it that keeps large groups returning year after year.
It's hard to put your finger on just what it is… The exciting slopes? Energetic après? Varied array of restaurants?
Whatever the reason, this is the perfect resort for group ski holidays.
Best Resort for Ski Stunts – Laax, Switzerland
Even for some of the Alpine greats, it's tough to compete with American resorts when it comes to ski stunts.
But, Laax is one of the exceptions to the rule…
Home to arguably one of the best terrain parks in the world, Laax is a playground for many freestylers and adrenaline junkies.
Best Resort for a Summer Holiday – Samoëns, France
In recent years, summer holidays in the Alps have become hugely popular.
Once the snow melts, your favourite mountains transform – becoming almost unrecognisable. So, where should you head?
Samoëns is a jewel in the French Alpine crown that comes to life in summer. Instead of skiing, you'll find a number of other exciting sports on offer. Plus, the relaxing, calm atmosphere is perfect for the time of year.
Best Resort for Work Trips – Serre Chevalier, France
Is there a better way to boost team morale than with a trip to the Alps?
Corporate ski holidays have skyrocketed in popularity in recent years, and for good reason. But, it can be tough to choose where to head to.
Serre Chevalier is brimming with activities for you, your colleagues and clients. Plus, its friendly and laid-back atmosphere makes for a welcome change from the office!
Quietest Ski Resort – Wengen, Switzerland
Even on a ski holiday, some of us are craving a little peace and quiet.
The Swiss gem of Wengen turns the rowdy reputation of skiing on its head. Oozing Alpine charm, the resort runs at its own pace, perfect for families with young children.
Best Resort for Beginners – Obergurgl, Austria
Of course, the tougher runs aren't for all of us.
Obergurgl, in Austria, has something for everyone – but is particularly well-suited to those who are just starting out.
Plenty of ski schools are found alongside gentle blue slopes and nursery runs. It's the perfect place to get to grips with your technique!
The best bit? When learning, good snowfall is a must – which is something Obergurgl has plenty of.
Best Resort for Shopping – Megeve, France
If your first love is the slopes, with shopping coming in at a close second – Megeve is the resort for you.
It's brimming with shops (200 to be exact) providing hours of entertainment for any shopaholic. From chocolatiers to fashion boutiques – you'll be spoilt for choice. Pick your poison.
Best Resort for Foodies – Morzine, France
With so many delicacies to choose from, it's easy to see why so many foodies head to the Alps. Besides, skiing works up an appetite!
Morzine won't disappoint when you're looking for something to eat. Here, fine dining is always on the menu.
It might not be your first pick when it comes to good food – but you'll soon change your mind…
Best Emerging Ski Resort – Sainte Foy, France
If you've never heard of Sainte Foy before, you're not alone.
But, this hidden Alpine gem is making its way into the spotlight.
Thanks to its traditional chalet-style buildings, family-friendly atmosphere and rich history – this resort is set to take over the French skiing scene.
Best Resort for Seasonnaires – Zermatt, Switzerland
Fancy living amongst the excitement of the slopes for the whole season?
Head to Zermatt. You'll be face-to-face with the Matterhorn, providing endless hours of entertainment – or a challenge for those looking for one.
An added bonus – wealthy guests usually means great tips!
Best Male Skier – Marcel Hirscher
Austrian-born Marcel Hirscher is in a league of his own.
He's the king of slalom racing, with a number of titles under his belt to brag about. This includes nine World Championship medals, six of them gold. He's also won three Olympic medals.
The most exciting part is – we don't think we've seen the best of him yet…
Best Female Skier – Mikaela Shiffrin
Mikaela Shiffrin is one of the skiers putting women on the map in the world of Alpine skiing.
She's already won two Olympic gold medals for America, and is on-track to win many more! If that wasn't enough, she's also the three-time reigning world champion in slalom.
We can't wait to see her at the next Winter Olympics!
Best Paralympian – Menna Fitzpatrick
Visually-impaired Menna Fitzpatrick has stunned the world with her performances at the Winter Olympic Games.
Having only 5% vision has prevented Fitzpatrick from taking the world, particularly her home country Britain, by storm.
To prove it, she now has four Olympic medals to her name, including gold. This gold medal she won in Pyeongchang in 2018, for the slalom.
Best Resort for Culture – Chamonix, France
For some of us, ski holidays are about more than the slopes. In a location as magical as the Alps, there's plenty of culture and history to sink your teeth into.
Boasting a booming art and music scene, Chamonix is the perfect location for those seeking a little more from their ski trip.
Walking around the traditional village, with its colourful buildings and beautiful architecture, delights every visitor with a love for culture.
Best Chalet Company – Alpine Infusion
Staying in a ski chalet nestled in the heart of the Alps is an unmissable experience.
With so many companies out there, it's hard to know which one to choose.
The luxurious Alpine Infusion gets our vote. Its traditional-style chalets offer something for everyone, including the option to ski in ski out!
You'll be closer to the slopes than you ever thought possible…
Best Overall Ski Resort – Val Thorens, France
We had to finish with the resort that takes the prize for almost everything.
Of course, being the highest ski resort in Europe is a lot to boast about. But, good snowfall and varied slopes aren't all it has to offer!
Val Thorens has long been one of France's most well-loved ski resorts. Whether it's families, students or work groups – skiers from all walks of life can be found on its slopes.
Here, you're sure to find the unforgettable, all-round experience. What are you waiting for?
If you agree with our list, or have a different opinion, be sure to let us know your thoughts on Twitter!
Tempted to visit any of these award-winning ski resorts? You'll need a cheap transfer to whisk you from the airport to the slopes! Alps2Alps offer a professional, affordable service to get you where you need to go. Find your low-cost transfer here.