TOP 5 Most Romantic Ski Resorts in Alps
Romantic ski resorts of the Alps have always been among the top destinations for romantic ski getaways. Of course – breathtaking mountain views, good food, skiing in the day and staying the night at luxurious hotels or romantic ski chalets for two are really effective aphrodisiacs. But there are so many amazing Alpine ski resorts, which one to choose?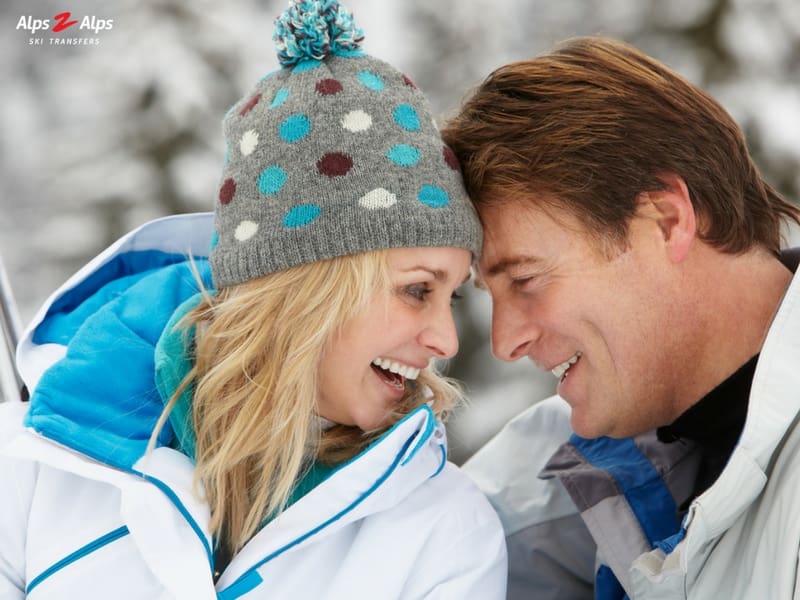 Let us help you decide – keep reading to see our list of five best romantic ski resorts in the Alps!
#5 Kitzbühel, Austria
Why Kitzbühel: Romantic fairytale and celebrity treatment
A top choice for those seeking the best romantic ski resorts. The Medieval Kitzbühel town with cobblestone streets and horse carriages provide a fairytale-like feeling, but the five-star hotels and top-quality service attract many celebrities. A few years ago, Arnold Schwarzenegger spent a ski weekend in Kitzbühel! Everyone here is treated like a celeb, even if you are staying at one of Kitzbühel's affordable, but still romantic ski chalets for two. Kitzbühel ski resort is famous for its notorious Hahnenkamm run – a must for a couple looking for some adrenaline!
Where to stay: Just a little outside the town centre and a 2 minute walk away from the Lake Schwarzsee Nature Reserve, hides the Hotel Seebichl – perfect for romantic ski getaways! Picturesque views from à la carte restaurant's terrace included!
Kitzbühel is within easy reach from Innsbruck, Salzburg and Stuttgart airports!
#4 Megeve, France
Why Megeve: Elegance, fashion and romance
Megeve ski resort – another one of the best romantic ski resorts proving couples getaways just like in the movies! It's high fashion, it's smart and elegant and has everything for the best romantic ski holidays:
Unbelievably wonderful views of Mont Blanc;
Cobbled Medieval streets with horse carriage rides;
Luxurious boutiques and Michelin starred restaurants.
French Alps are famous for their romantic ski resorts, but Megeve has been a lovers' top choice for a long time – in 1950s it became so popular that it was named 21st arrondissement of Paris!
Where to stay: For the most fashionable and elegant romantic ski getaway, try the Savoyard-style hotel Au Coin du Feu. Here you will be spoiled with a romantic lounge, an open fireplace, spa treatments and wonderful Mont Blanc views.
Book a quick airport transfer to Megeve now!
#3 Alpbach, Austria
Why Alpbach: The most beautiful village in Austria.
Alpbach is said to be the most beautiful village in Austria and not just by the patriotic locals. In 1983 it even won a television poll and won the title. And we agree! Here you will find:
Beautiful Tyrolean wooden architecture;
Fantastic mountain views;
Alpbach ski resort is more appropriate for beginners and intermediate skiers – a truly calm atmosphere for romantic ski getaways!
Where to stay: Those on romantic ski holidays will definitely appreciate Romantikhotel Böglerhof hotel. Here you will get that true authentic Swiss Alps feeling. There's also a wellness area, pool, saunas and super romantic dinners at the restaurant terrace with a mountain view to Ziller Valley.
Choose a reliable airport transfer to Alpbach by Alps2Alps!
#2 Cortina d'Ampezzo, Italy
Why Cortina: Wine and Venice just 'around the corner'.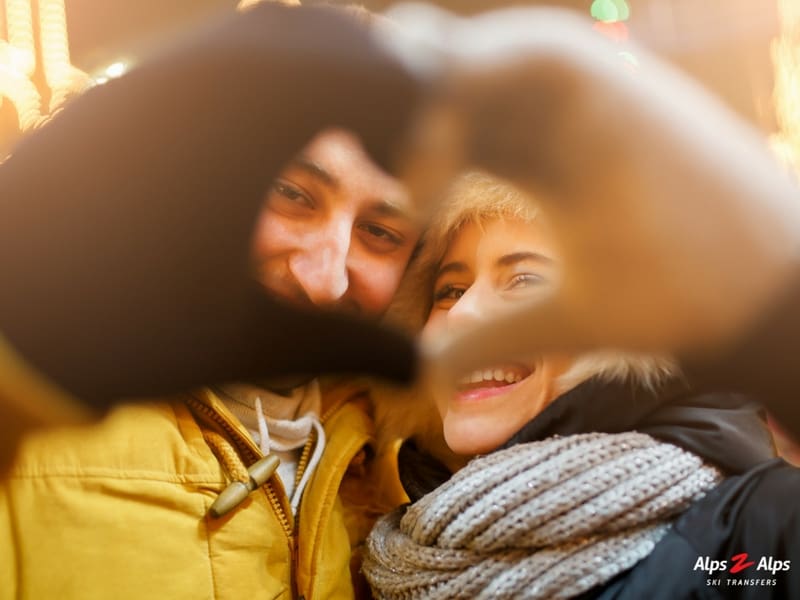 The "Pearl of the Dolomites" Cortina d'Ampezzo provides a complete list of what romantic ski holidays should look like:
Orange limestone Dolomites with snowy caps;
Beautiful village with exquisite restaurants and shops;
Aperol Spritz and Italian red wine;
Pizza, pasta, gnocchi, Tiramisu, gelato….
Cortina d'Ampezzo is not only one of the best romantic ski resorts, it's also just a two hour's drive away from a popular couples' destination in Italy… Want to take a day off from skiing? No problem, take a trip to Venice! Perfect romantic ski getaway!
Where to stay: Enjoy world-class service at Cristallo Hotel Spa & Golf. Get the most of your romantic ski vacation with:
Beauty treatments and wellness procedures,
Gorgeous views of the Dolomite Mountains
Delicious meals at any of the three hotel's restaurants.
Cortina is closer than you think if you book a transfer from Innsbruck airport!
#1 Wengen, Switzerland
Why Wengen: The most secluded romantic ski holidays!
Let's put aside all the technical details like the fact that Wengen was one of the first purposely made ski resorts. It is probably the best romantic ski resorts can offer – breathtaking views of Eiger, Jungfrau and Monch peaks, beautiful town and idyllic peace and quiet. Romantic ski getaways don't get any more intimate than at Wengen ski resort – it is accessible only by a tiny cog railway letting you feel like you're the only two people in the world!
Where to stay: There are numerous romantic ski chalets for two, but to enjoy the most romantic ski holidays, try Hotel Edelweiss. Here you will be spoiled with:
Calm atmosphere;
Romantic restaurant dinners;
Stunning Jungfrau views from your room balcony.
Getting to Wengen might be a bit complex. Save time and choose a hassle-free airport transfer!
Which of these romantic ski resorts would you like to take your significant other to spend nice and romantic ski holidays? Leave a comment below!