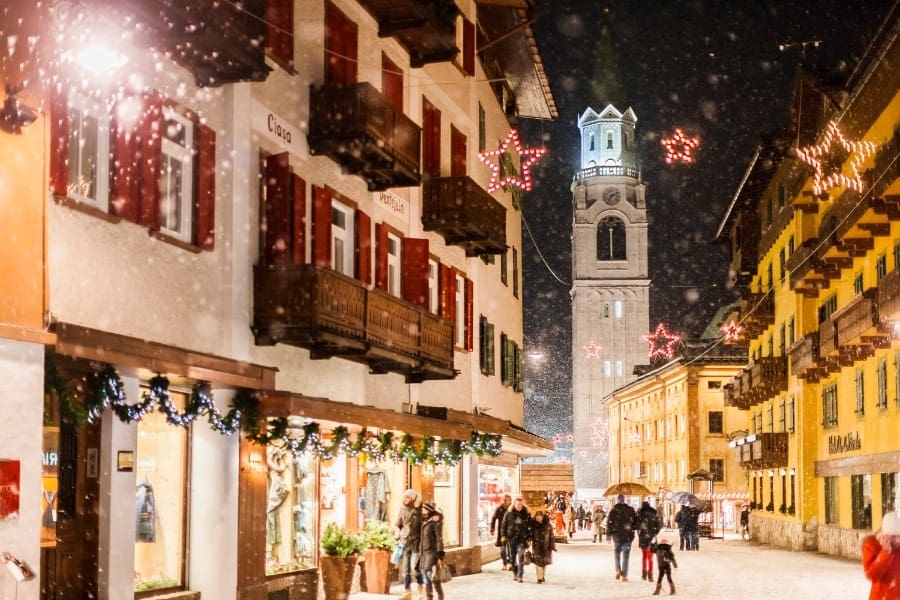 Alpine Traditions: Experiencing Christmas in Authentic Alpine Style
Alpine Traditions: Experiencing Christmas in Authentic Alpine Style
Explore the Unique Christmas Traditions of the Alps
Nestled among spectacular peaks and snow-covered landscapes, the Alps transform into a winter wonderland during the Christmas season. Christmas ski holidays in the alps are more than just pristine snow and world class ski areas. The alps are brimming with traditions, from age-old customs to delicious cuisine that will create a truly authentic Christmas experience, all against the backdrop of stunning natural beauty.
Festival Markets: A Feast for the Senses
Alpine festival markets are lively and diverse, attracting visitors worldwide. Explore stalls filled with artisanal crafts, offering a range from classic Christmas gifts to locally made art and ornaments. These markets go beyond shopping; they're a celebration of local culture with traditional performances and festive decorations. Some markets even offer extra activities like ice rinks, spas, and beautifully decorated Christmas trees.
Village Concerts: Melodies in the Snow
Christmas in the Alps wouldn't be the same without festive music. Enjoy the local culture through alpine village concerts, singing seasonal carols and bellowing songs. These events offer a unique and authentic experience, allowing you to embrace the Christmas melodies amidst the beautiful backdrop of the Alps, walking through the snow with the majestic mountain peaks surrounding you.
Traditional Cuisines: Savoury Delights of the Alps
Christmas in the Alps is not just a visual and auditory feast; it's a culinary adventure as well. Indulge in the rich and varied flavours of alpine cuisine, with traditional dishes such as raclette, fondue, tartiflette, and crozets, snacks, and drinks.
Enjoy Christmas in a cup – mulled wine – and aromatic roasted chestnuts as you stroll through the alpine snow. There's also a host of local dishes for you to try to get that truly authentic christmas experience including Kiachlns, Spatzlns, and baked Christmas cookies. Beyond the markets and street food, many restaurants in the alps will also be serving up a Christmas menu, allowing you to enjoy traditional seasonal cuisine in a fine dining setting, with the view of the snow capped mountains beyond the windows.
Top 5 'Best' Resorts to Visit Over the Holidays
There's no end of great traditional potential winter holiday destinations in the alps, so to help you get started, we've picked our top five. Each has their own strengths, so there's something for everyone no matter what you're looking for in your festive getaway. 
Best Christmas Ski Resorts for Families: Saalbach-Hinterglemm, Austria
For families seeking an Austrian high altitude winter holiday that combines skiing adventures with festive charm, Saalbach-Hinterglemm in Austria is an ideal destination. Nestled in the Salzburg region, this resort offers a perfect blend of family-friendly slopes, enchanting winter landscapes, and a vibrant atmosphere. The resort boasts 270 km of pistes, 140 km of which are blue slopes perfect for children to enjoy when not exploring the festive apres ski. 
Wonderfully idyllic, the village fully embraces the Christmas spirit with Christkindl markets, carol services, and beautifully decorated trees. With the apres ski kicking off after boxing day, you'll have plenty of time to relax and explore the beautiful setting as a family before diving into the Christmas activities, and even a chance to catch Santa Claus on christmas eve.
Travel from Munich Airport to Saalbach in 2.5 hours or if that's too long, the transfer from Salzburg to Saalbach is a mere 1.5 hours – long enough to build up excitement, but not too long for the kids to become restless!
Best Alps Resorts for Couples at Christmas: Courchevel, France
Courchevel ski resort in the French Alps is the sweet spot for couples seeking a romantic Christmas getaway. Known for its upscale atmosphere, the French Alps resort offers luxurious accommodations, fine dining, and the enchantment of a winter wonderland. Enjoy a variety of events together, such as parades, torchlight descents, and dance performances.
Stroll through Christmas markets with your partner, savouring mulled wine and taking in the snowy alpine scenery and festive village decorations. In the evenings, share a romantic dinner featuring seafood, oysters, foie gras, and chocolate desserts.
Options for your Courchevel ski transfer are varied and plentiful. No matter where you're travelling from, there's an efficient transfer route, ensuring you don't waste too much precious time on the roads.
Geneva to Courchevel and Grenoble to Courchevel both take approximately 2.5 hours, whereas transfers from Chambery to Courchevel take less than 2 hours.
Best Luxury Ski Resort at Christmas: St. Moritz, Switzerland
St. Moritz ski resort, known for its luxury and sophistication, becomes a winter paradise at Christmas.
Nestled in the Engadin Valley, this Swiss ski resort offers top-notch skiing, catered chalets, Michelin-starred dining, and exclusive holiday events. Alongside the traditional Christmas attractions like bustling markets and beautiful light displays, St. Moritz adds a touch of glamour. Enjoy the pristine slopes by day and attend lavish Christmas celebrations in the evening for an authentic alpine Christmas combined with the best luxury the Alps have to offer.
On average, transfers from Zurich to St Moritz take approximately three hours, but trust us when we say it is worth. Every. Minute!
Best Traditional Alpine Destination at Christmas: Gstaad, Switzerland
For a classic and timeless Christmas, Gstaad ski resort in Switzerland embodies traditional Alpine charm. The medieval architecture and snow-covered Bernese Oberland mountains create a picturesque setting reminiscent of a holiday postcard.
Gstaad is a unique resort that combines modern sophistication with the authentic charm of a traditional Swiss Alps ski resort, and its Christmas market is a standout après-ski experience. The market offers traditional Christmas gifts and local seasonal food, capturing the essence of Christmas in the Alps. Beyond the bustling market stalls, the town hosts Christmas shows, music, and decorations, keeping you immersed in the holiday spirit.
Best Alps Destination for Festive Markets: Innsbruck, Austria
Innsbruck is home to several lively Christmas markets, located in the Old Town, Maria-Theresien-Strasse, Marktplatz, and Hungerburg. Among these, the Old Town market, situated at the heart of the historic center, stands out as the most interesting and provides a quintessential Alpine Christmas market experience.
Like other good Alpine Christmas markets, you'll find stalls offering traditional snacks and drinks, such as warm mulled wine and beautifully roasted chestnuts. In Innsbruck, you can also discover memorable souvenirs, Tyrolean handicrafts, and Christmas decorations. The market is a great spot to sample the region's traditional food, including Glühwein, Kiachlns, and Spatzlns.
Conclusion
Whatever you're looking for in your Christmas holiday, whether it's an exciting adventure for the whole family, a romantic getaway for you and your partner, or a truly traditional celebration, the alps have something for you.
Wherever you decide to go, take the stress out of your journey by booking a private airport transfer today.