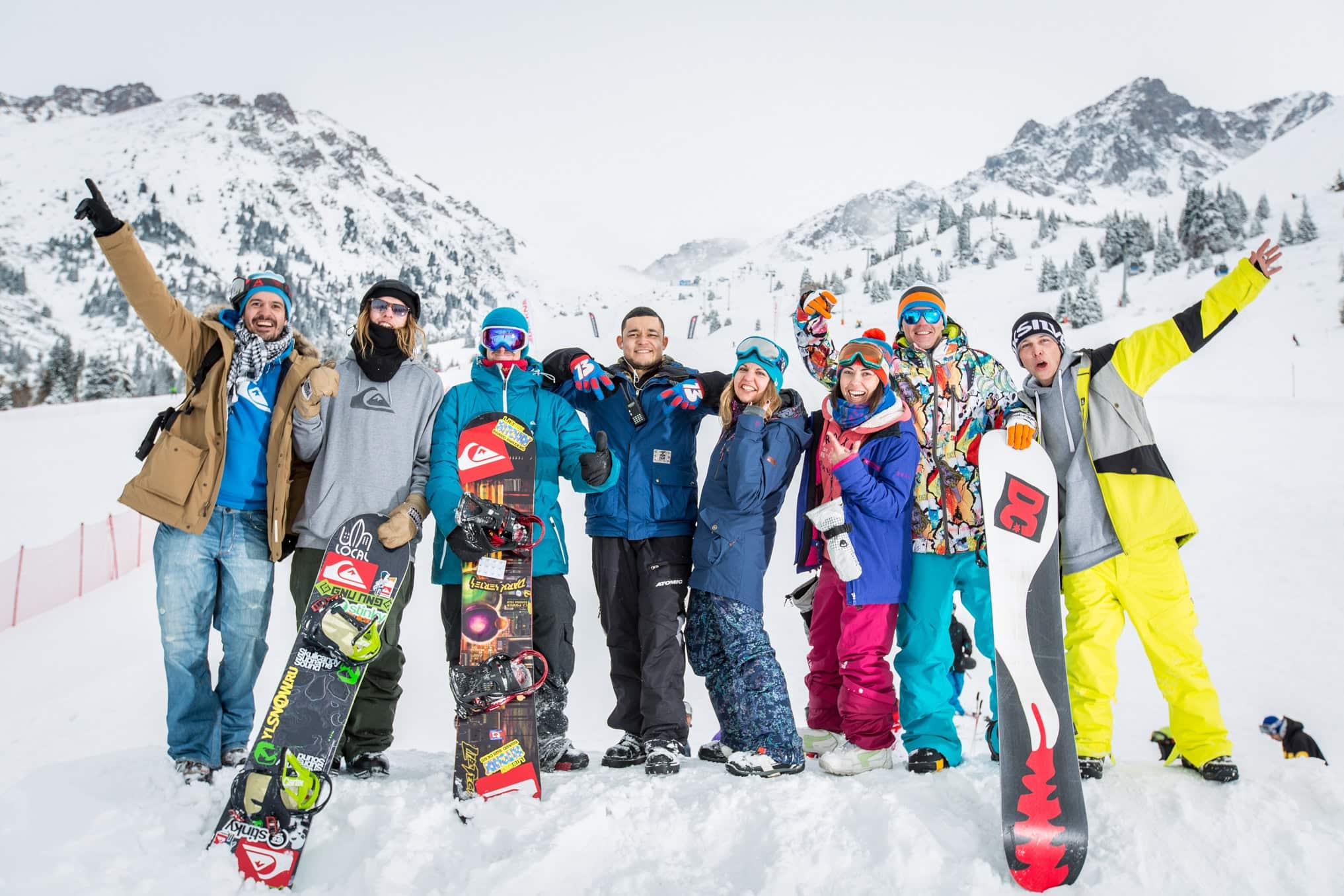 The Ultimate Guide to Planning a Corporate Ski Trip
The Ultimate Guide to Planning a Corporate Ski Trip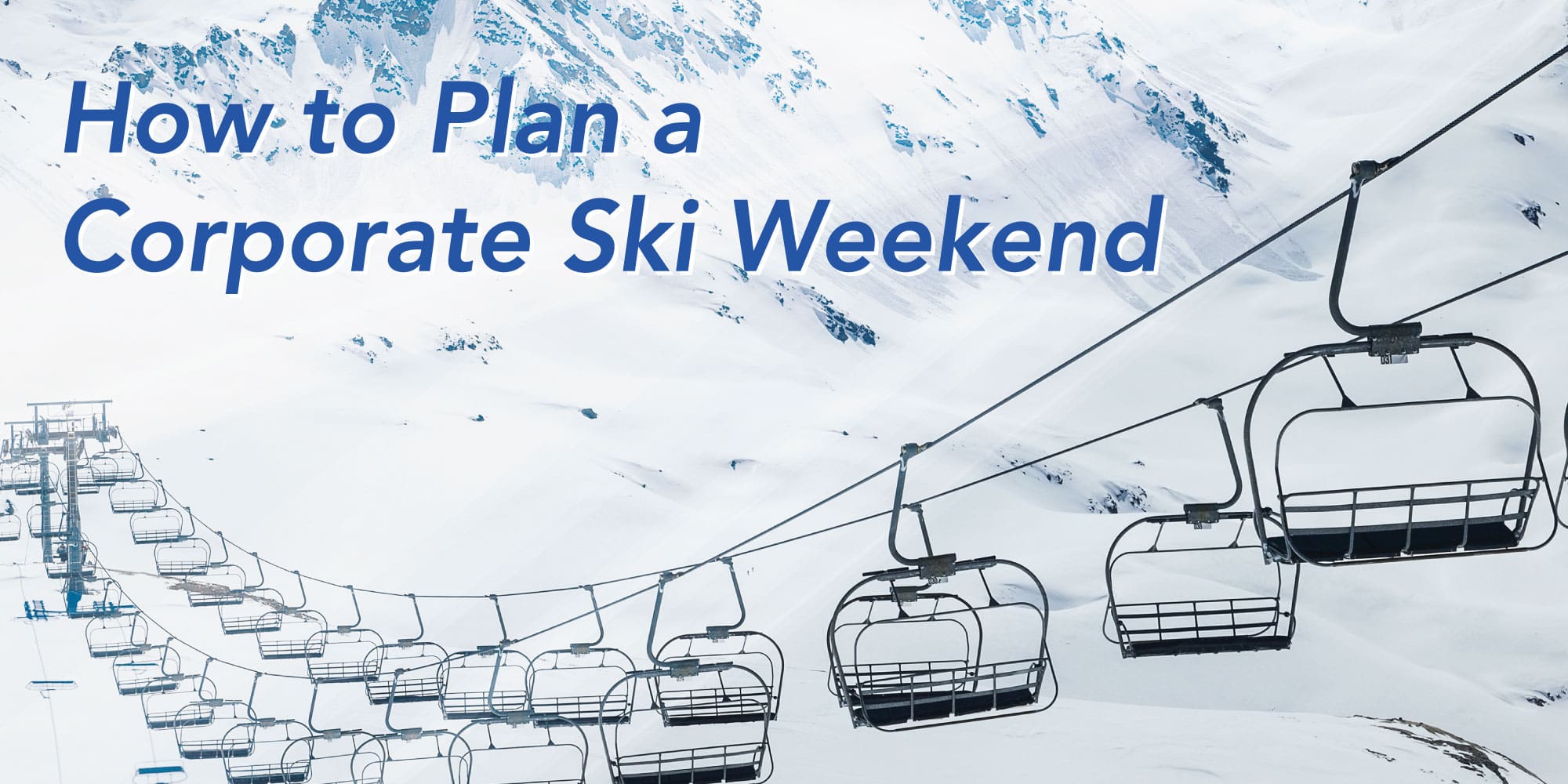 So, you've been tasked with the challenge of organising your work's corporate ski trip.
Ski weekends away can help to promote good working relationships, boost morale and build bridges with new clients. But, how to go about planning and booking a corporate holiday? With lots of people to organise, it can be tricky to keep everyone happy.
Fear not – this ultimate guide has all the information you need to ensure your group getaway is one for the books. With the right preparation, it can be a fun and rewarding experience for everyone involved! 
The Benefits of a Corporate Ski Break
A group ski trip away can be the ultimate bonding experience for colleagues. Whether you're looking to get to know new team members, build on existing relationships, or impress a new client – a trip to the Alps has much to offer.
Team building and bonding
Skiing and travelling as a group requires patience, teamwork and trust. All vital ingredients in a healthy working culture. Letting loose on the slopes and at the après bar is a surefire way to grow bonds and have fun with colleagues – new and old.
Motivation or incentive
Is your team in need of some inspiration? Do you have a goal you're working towards? A ski holiday provides a fantastic reward for team members if they hit certain targets.
Impressing new clients
Have a new client you need to make a good impression on? Some time in the fresh Alpine air provides a chance to chat about plans, build your relationship and kick-start a positive working relationship – all while having some fun on the slopes.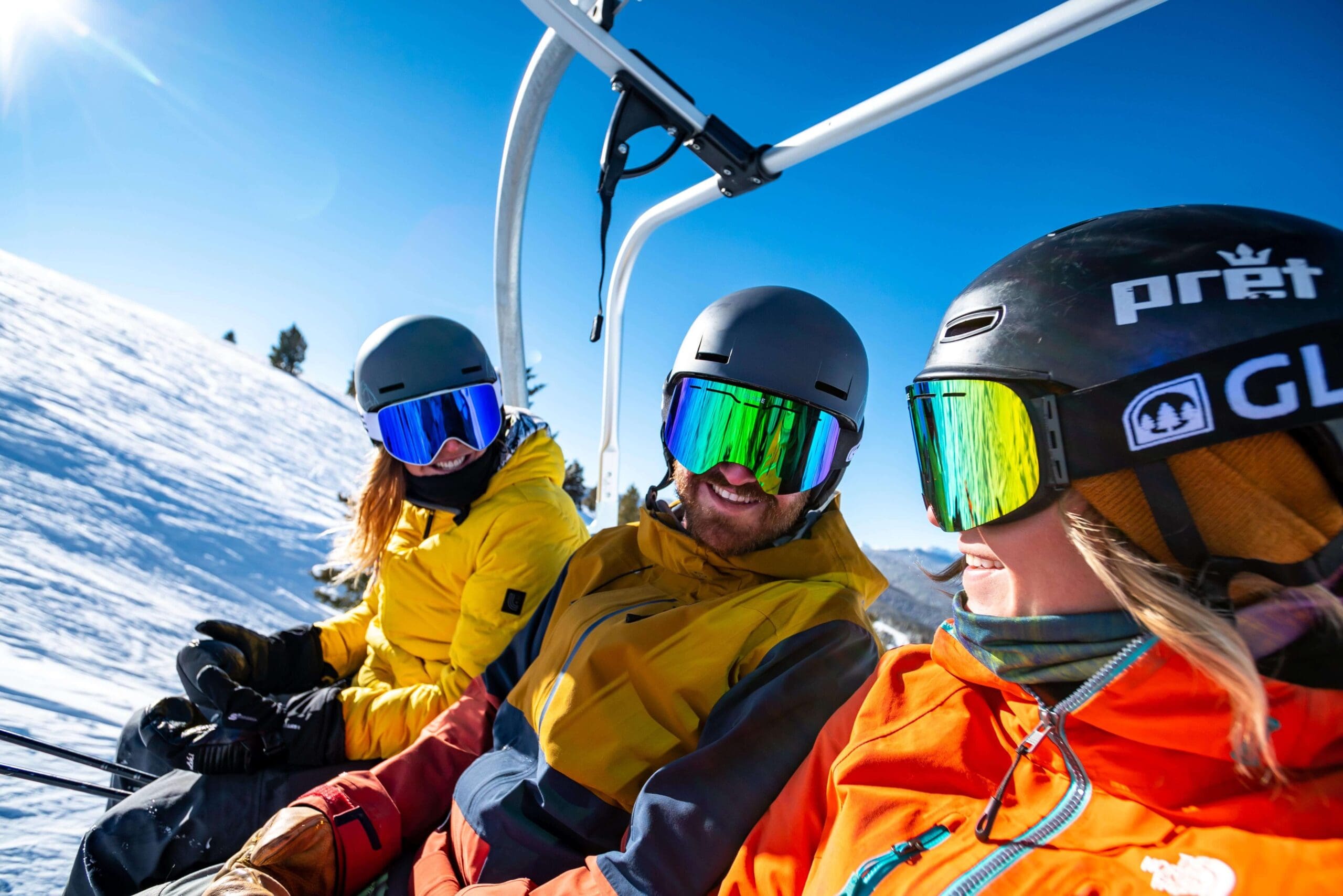 Planning the Perfect Corporate Ski Trip: Step-by-Step
Convinced? Next, we take you through planning the ultimate work ski holiday…
Work Out What You're Looking For
Before you get started, it's important to have a clear picture of the type of trip you are after.
Is it a team-building holiday? Are you trying to woo potential clients? Is the goal to motivate or reward your staff?
Make sure you plan your ski weekend in line with your business goals.
If you're trying to promote good relationships in the team, you'll need to organise plenty of entertainment off the slopes. To impress potential clients, you may want to book a table at the latest alpine restaurant.
Decide on a Budget
When organising a corporate ski weekend, it always helps to have a price per head in mind.
Chances are you'll deviate from this. Even if only a little bit. But, it can't hurt to set out your budget beforehand.
After all – this trip is meant to benefit your business, not hinder it!
Look for Group Skiing Discounts
Be on the lookout for any discounts! Many providers will reward larger groups with money off ski passes or travel.
For example, Alps2Alps offers discounts on group transfers of 4+ people.
Choose the Date Wisely
You've been posed with the near-impossible challenge of finding a date that works for everyone.
If you work for a smaller team, lucky you! To find your dates, ask everyone to fill out a shared online calendar with their availability and pick from the most available times.
You should also consider your group's proficiency level on the slopes and plan accordingly. If you have beginners in your group, it might be best to travel towards the end of the season when weather and slope conditions are at their best. Experienced skiers may prefer an earlier date to take advantage of fresh powder days.
Avoid going during peak times such as the school holidays. Peak times mean higher prices, crowded slopes and more queuing. It's best to miss peak times entirely, so head out when the season is just beginning or ending. Plenty of ski resorts are open late into the season or even all year round!
Week-Long Holiday or Weekend Getaway?
When deciding on a ski trip duration, it's important to consider the number of days skiing that will be comfortable for everyone in your group. Can your colleagues and clients handle a whole week together on the slopes? Can you all afford to be away from your desks for that long?
For those new to skiing or snowboarding, it's best not to overload them with more than four days on the slopes – especially if they are only beginners! 
Usually, short breaks or ski weekends work best when it comes to work skiing holidays. This way, everyone can experience the joys of the slopes without it taking too much of their time.
Choose the Best Ski Resorts for a Corporate Holiday
So, where are the best resorts for a corporate ski trip?
Destination is key!
Whether you are looking for a luxury ski resort with all the amenities or a cosy mountain lodge with plenty of outdoor activities, there is sure to be something that suits your company's needs. Consider factors such as location, cost, size, services offered, skiing abilities and, of course, après-ski! Location is crucial because it will determine how much time is spent travelling to your destination.
If you're looking to impress a client with glitz and glamour, head to Switzerland. For an all-around entertainment factor, head to a French ski resort.
Here are our picks for the top ski resorts for corporate ski trips:
Arosa, Switzerland

St Anton, Austria

Courmayeur, Italy

Courchevel 1850, France

Verbier, Switzerland

Morzine, France

St Moritz, Switzerland

Ischgl, Austria

Cortina d'Ampezzo, Italy

Chamonix, France
Remember, it will be an impossible task to please everyone, so don't try. But, if you have to sacrifice some high altitudes for more all-around entertainment or the VIP experience, so be it.
Choose a resort that has equal opportunities for both skiers and snowboarders. You don't want to aggravate the rivalry even more! And look for a resort that has a varied ski area to cater to different skiing abilities and preferences.
If you're really trying to impress an important client, heading to one of the more futuristic resorts can't hurt! Why not seal the deal in one of the world's most high-tech ski lifts?
Don't Forget Accommodation
Once you've worked out where and when you're going, it's time to choose ski accommodation. A bad night's sleep can ruin the whole trip!
An unfortunate consequence of being given the role of organiser means having to deal with those who drop out. So, if the numbers aren't set, choose accommodation which allows you some flexibility.
For shorter trips, ski hotels are usually the preferred option. They offer modern rooms along with fantastic facilities like swimming pools and fitness centres. Make sure you know you'll be getting your money's worth, and everyone will be accommodated.
Or, if you're going all out to impress a client, a luxury catered chalet will definitely do the trick. They provide space for everyone in your group and have all the amenities needed for a comfortable stay. Chalets come in different sizes depending on how many people you'll be accommodating; some even include private hot tubs for that extra bit of luxury after a full day on the slopes.
Factor in All Skiing Abilities
Not everyone on the ski trip will have the same level of skiing ability! So, categorise people into groups to ensure no one is left skiing solo. 
If your team skews towards beginners, look for resorts that offer lessons, have gentle slopes and ski schools — ideally those with multiple types of runs so advanced skiers can still enjoy themselves.
For those with a taste of adrenaline and years of ski experience on the slopes, make sure there are enough challenging runs — and even some off-piste options if available — so that everyone can get the most out of their ski trip. 
Always keep each group size down to six or fewer, and be sure to have a rendezvous location set in case of getting lost.
Arrange Corporate Ski Lessons
To help ensure all members of your group have an enjoyable time on the slopes, consider investing in private lessons since they can be tailored to each person's ability. Provide ski instruction for beginners and if you can, guiding for the others. The likelihood is that most of your team members will need to get to grips with or brush up on some core skills.
Whether it's ski or snowboard lessons, a few hours with a ski expert will help prevent any injuries or accidents from occurring. The last thing you need is colleagues off for weeks afterwards with broken limbs!
Think About Ski Hire
It's unlikely that everyone in your group will have their own skis. Either way, transporting them to the resort can be cumbersome and expensive. The best option is to hire your ski equipment and pick it up en route to the resort.
Arrange Ski Lift Passes
Whether you're taking the company out for a day on the slopes or heading away for a full week of winter ski activities, lift passes are a key part of the equation.
Once you've figured out how many days everyone will be skiing and how many people are coming along – this will help you determine how many lift passes need to be purchased. Once you have all the numbers together, it's time to hunt down some deals! Check out local resorts and their promotions before looking at online vendors too. There could be some great discounts that save your company money in the long run. 
Plus, if you purchase multiple lift passes at once, even more savings could apply!
Plan the Itinerary
The little touches count for everything and adding in a few steps before the trip actually helps you to create an experience that extends beyond the event itself.
Don't forget to provide them with an agenda so they know what to expect, complete with contact numbers.
You may only have a couple of days on the slopes, so make each second count!
Planning the days by making a rough itinerary gives you the best chance of getting the most done.
Don't listen to too many opinions, as this can over-complicate things.
Make sure you head to après-ski! This will be the most sociable part of the day and a great opportunity for networking or building stronger relationships.
Provide a List of Essentials to Pack
To stay warm and cosy on the slopes, be sure to bring plenty of layers including base layers, mid-layers, and outer layers such as ski jackets and snow pants. It's also important to pick up quality thermal socks that are designed specifically for skiing. Choose comfortable but supportive winter boots that are waterproof too! 
Skiing and snowboarding require specific clothing and ski equipment, but don't worry – there are plenty of options for all budgets. For starters, everyone should have ski pants that fit snuggly but still allow room to move comfortably. Ensure the fabric is waterproof to help keep moisture out while they're skiing or riding down the mountain. 
Next up: a jacket with insulation and waterproof outer material is key in keeping your team warm during their adventures.
Don't forget all your protective gear – helmets, goggles, gloves or mittens – as well as sunscreen and lip balm with SPF.
Choose the Right Transport
Choose a resort close to the airport to ensure you spend the least amount of time travelling.
Public transport will involve many changes and waiting around, so avoid this at all costs!
Make sure you can rely on your transfer to get you to the resort in the shortest time possible.
Alps2Alps offer an affordable, reliable service to and from all major destinations in the Alps. Find your low-cost transfer here!

Best Activities for a Corporate Ski Holiday
Particularly if this is a team-building weekend, you'll want to organise plenty of activities. The mountains are the ideal location to reward your staff!
Games and Ski Challenges
If you're trying to get your team to know each other better, sociable games are a must!
Particularly if you're splitting the group by skiing level, winter sports activities can bring everyone together again.
Winter activities such as ice skating or sledding will see everyone interacting in a laid-back environment.
Skiing is the ideal activity to promote good working relationships! Split the group into teams to see who can complete the most runs. The losers have to buy the first round!
Après-Ski
For a ski weekend focused on clients, restaurants and bars are the perfect places for networking! Impress a potential client by taking them somewhere that sources locally produced food and wine.
Check out the best places to go for some group après-ski in Europe!
Corporate Events
You might be combining your trip with a conference or corporate event. If so, make sure you leave enough time for fun on the slopes!
Overcome Corporate Ski Trip Challenges: Tips
Finally, we leave you with some tips to ensure your work holiday goes smoothly…
Don't Go Overboard
This is particularly relevant if you're attempting to impress a potential client.
Corporate ski weekends can be about glitz and glamour if you choose, but nobody will thank you for going too far!
Try and stick to the plan and go easy on the slope-side drinks.
Ensure There Is A Meeting Space
Does the trip need to be a working holiday? If you plan to have some strategy sessions while you're in the Alps, ensure there is a suitable space to hold meetings. This could be a conference room in your hotel, or, for a more informal atmosphere, the living room of your chalet.
Don't Forget About Food
After a productive day on the slopes, your team will be hungry. Food is a big part of any ski trip, so make sure you've planned for meal and snack breaks in your schedule.
If you want to visit some of the top Alpine restaurants with your clients, you will need to book in advance as they can be very popular. There's nothing quite like conversations around the dinner table to facilitate team bonding!
To keep the budget down, you may want to organise lunch packs for everyone from your ski hotel.
Alps2Alps has years of experience whisking groups swiftly and safely to the Alps. Learn more about our private ski transfers.