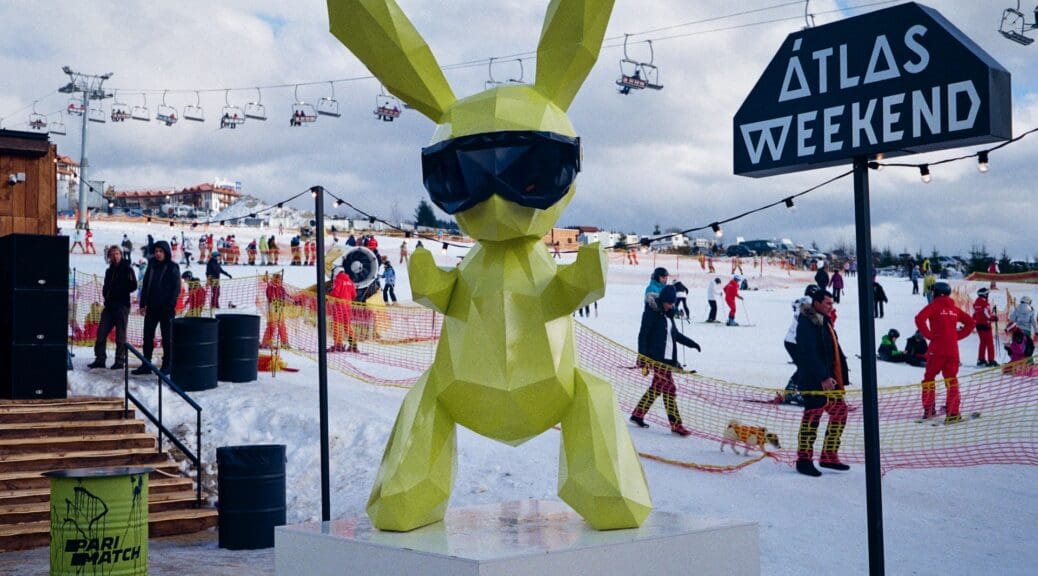 First-Time Skiing Holiday: How to Plan for Non-Skiers
First-Time Skiing Holiday: How to Plan for Non-Skiers
Group ski trips are undeniably awesome, especially when you're out on the mountain with friends. However, if for some, it's their first time skiing, you'll need to plan accordingly. If you have some beginners or even some non-skiers amongst you, you'll need to find some alternative activities to keep everyone happy.
It may sound like a tall order, but don't worry – we've created this guide to help you plan the best first-time ski trip for skiers and non-skiers alike.
Where are the best places to go skiing for the first time?
The Alps are home to a huge variety of ski resorts and ski areas that are suitable for all skiing or snowboarding abilities and holiday budgets. This means that there will always be somewhere that fits the bill perfectly for your group, whoever it includes.
When choosing a country or skiing area, make sure to consider your group's budget, ability levels, interests and accommodation preferences. It's also a good idea to look at events or attractions in the area that the non-skiing members of your group will enjoy.
When choosing the right ski resort, think about…
Resort amenities – is there a spa to relax in at the end of the day? Or is your group looking for lively apres ski bars to top off their day on the mountain?
Terrain – make sure there are nursery slopes and a few easy slopes for your first-time skier friends. Picking a resort with a good mix of blues, greens, reds and blacks is important if there is a big difference in skiing experience
Lessons – does the resort offer high-quality lessons for new skiers? Ask the newbies if they'd prefer private or group lessons and go from there
Attractions – is there anything to see or do apart from skiing for the non-skiers of the group? Whether it's a museum, cultural monument or a fun activity like go-karting – see what's out there for your mates
Events – are there any music festivals, concerts or art shows happening in the area for those who aren't as keen on skiing? Check out the local event schedules for activities that suit everyone's tastes
Best first-time ski resorts
Here's our pick of some of the best ski resorts for beginners…
Cervinia, Italy
With a generous 40km of easy runs, long, wide slopes and nursery slopes that are accessible directly from the village, Cervinia in Italy makes a great choice for first-time skiers.
As a high-altitude resort, the snow is pretty reliable and you can visit later on in the season.
Lech, Austria
What makes Lech a great choice for a first ski holiday is the limit on ski passes. This means you won't get overwhelmed fighting for space on the slopes. There are plenty of gentle slopes down the mountain, allowing you to explore the whole ski area.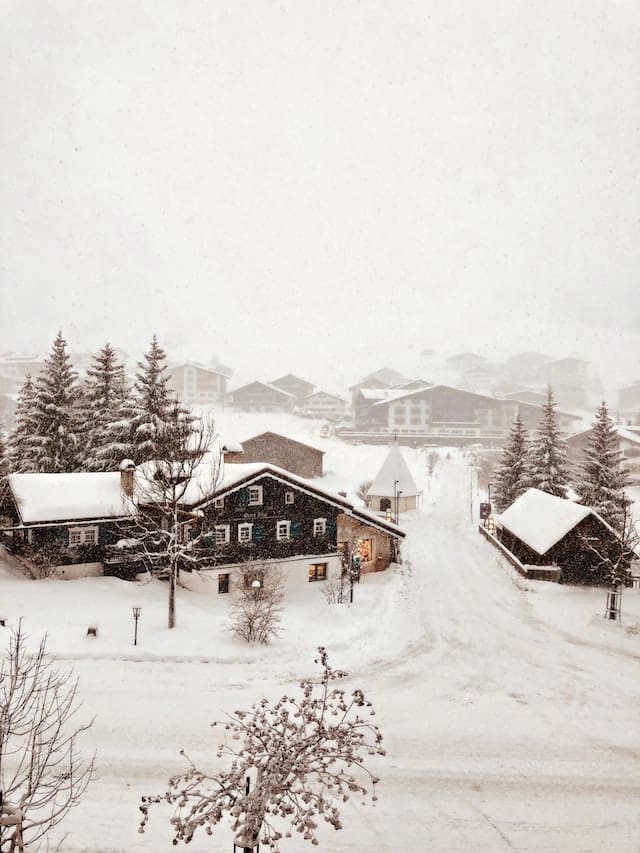 La Plagne, France
With 72 blue pistes and 7 green runs, La Plagne in France is great for beginners. You can explore the whole ski area via the blue trails alone. There are also lots of fantastic qualified ski instructors to help you gain confidence.
Saas Fee, Switzerland
Saas Fee offers a brilliant nursery area, easier T-bar lifts for accessing the beginner slopes and plenty of opportunity to challenge yourself as you progress. Here, you'll also find a wide choice of quality skiing lessons and private instructors.
Best ski resorts for non-skiers
You might be surprised at how much an alpine resort can offer to non-skiers…
Val d'Isere, France
Looking to party? The apres scene here is so good even non-skiers will have a great time. Head to the famous Folie Douce to see what all the fuss is about.
As well as drinking, eating is taken seriously here. Val d'Isere is home to a growing number of fine dining restaurants so foodies can try the best wines, cheeses and tasting menus the Alps has to offer.
To balance out this excess, go for a hike or a swim at the large aqua complex.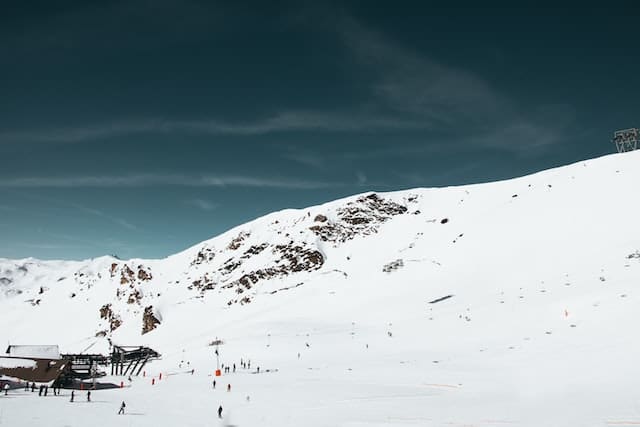 Kitzbuhel, Austria
History lovers and shopaholics will adore this picturesque village, with its cobbled streets and quaint buildings. Designer boutiques mix with local craftsmanship to offer an eclectic range of shops to while away an afternoon or two. You'll also be a stone's throw away from Salzburg where you can listen to classical music, try their famous chocolate treats and admire the architecture.
There are also excellent hiking opportunities in the surrounding mountains.
Zermatt, Switzerland
Ride the cable car to view the impressive Matterhorn peaks, or join a walking tour if you're feeling more adventurous. At the end of the day, kick back and enjoy one of the Michelin-star restaurants or more laid-back cafes for a taste of Swiss cuisine.
Cortina, Italy
Cortina is the perfect alpine destination for those who value elegance and beauty. Peruse the designer boutiques, relax with an Italian espresso or cocktail and soak in the atmosphere. There is also plenty of history to explore with tours of castles and historic world war sites.
Avoriaz, France
Take the fun off-piste with a helicopter ride over the mountains. Or opt for a pedestrian pass to explore the terrain on foot. There's also an excellent water park.
Alpine holidays for non-skiers
The Alps offer so much more than world-class skiing, making it the perfect destination if some of your group just aren't interested in hitting the slopes.
If this is the case for you, pick a resort or area which offers some of these alternative winter alpine activities and attractions:
Husky dog sledding
Zip lining
Paragliding
Spa days
Top alpine restaurants
Concerts
Music festivals
Museums and art galleries
A snow music festival is a great option for a mixed group of skiers and non-skiers as those who don't ski can join in for the music and dancing!
What to wear skiing the first time
It's all about the layers when it comes to your first-time skiing wardrobe.
You will need some good base layers made of breathable materials that wick away sweat and regulate your temperature. Try thermal leggings and long-sleeved tops in temperature-regulating fabrics.
Next, your mid-layer could be a loose T-shirt or a light fleece depending on the weather.
On top goes your ski jacket and ski trousers. As a first-time skier, you may want to rent these as they are expensive if you only end up using them once. Make sure your ski jacket is breathable and waterproof.
Snow boots can also be rented from rental shops along with your helmet, skiing goggles and the rest of your ski gear.
You'll also want socks, a hat, gloves, some casual clothes for lounging about your accommodation and some more clothes for evening and cultural activities.
Read our ski clothing shopping list for more ideas.
What to take skiing the first time
Think of your first skiing holiday just like a regular holiday. You'll need appropriate clothing, toiletries, entertainment and all the other travelling paraphernalia.
Don't forget your passport, any ski passes, ID and emergency cash!
Read our ultimate ski trip packing checklist for a full list of items to bring.
First-time skiing tips
Here are some tips for the first-time skiers in your group…
Practice on a dry ski slope before your trip – that way you can get to grips with the basic moves in a less daunting environment
Read up on the safety rules – this is essential in case things don't go to plan or the weather turns. Read our skiing safety tips for more information
Learn some of the basic jargon – this will help you look and feel more confident for those first few lessons
Swot up on some basic skiing etiquette – learn about the different types of ski lifts and how to use them so you don't look out of place on the slopes
Arrive early to get some extra lessons and get the feel for the snow
Get used to falling over – it will happen a lot more than you think
Take it easy and go at your own pace – don't be tempted to follow your friend down the black slope. Trust us – it's not a good idea
Focus on technique, not speed – learning to ski well takes time and getting the basics right first will help you on your way
Learn to slow down and stop – essential in an emergency!
Don't forget your layers – layering up is the perfect way to control your temperature out on the mountain
Level up your fitness and mobility before you go – skiing is hard work so do yourself a favour and start building lower body strength a few months prior to your holiday. Yoga classes are also a great way to improve mobility for better skiing technique and recovery
Rent your ski equipment and clothing – it's pointless spending lots of money on your own gear before you've even decided if skiing is for you. Renting equipment is cheaper and easier
Make sure your boots fit properly – this will make a huge difference to your comfort and enjoyment on the slopes
Find a partner with a similar level to you – this way you can explore the mountain together, taking in the breathtaking views as you try your first few blue runs
Take time to rest and recover – skiing is tough on your body, and the more tired you are, the more mistakes you will make. Sometimes a day at the resort spa is just what the doctor ordered!
Don't feel disheartened if you don't hit the ground running – skiing is challenging and it takes time to conquer. Keep going, and we guarantee you will feel the magic
Choose accommodation near beginner skiing areas – ski-in-ski-out resorts are great for beginners as you can make the most of your time
Make the most of the resort activities and facilities – it's ok to take a day off skiing to try other activities, like the aqua complex, snow sledging or taking in some alpine culture
Don't forget the SPF – the sun on the mountain can be strong and getting burnt on the first day is no fun
Book an affordable ski transfer so you have one less thing to worry about – a group ski transfer is a fuss-free and enjoyable way to get directly to your resort (without having to herd your friends from place to place). Here at Alps2Alps, we offer transfers for groups of all sizes at great prices
Don't forget to enjoy yourself! This is our most important tip of all. A holiday should be about fun and relaxation. Don't let the challenges of learning to ski get in the way of that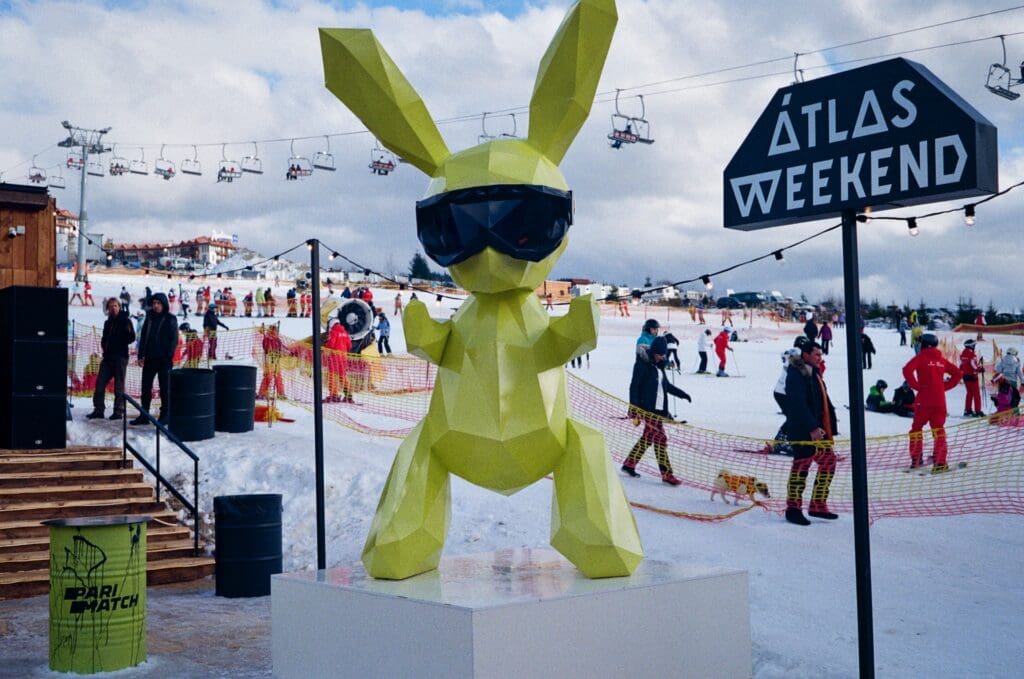 Planning a first-time ski trip FAQ
Whether you're getting ready for your first ski holiday or are planning a group ski trip for some beginners – find the answers to some common questions…
How long should my first ski trip be?
We'd recommend going for longer than a couple of days if you can. For the first two or three days you'll still be getting the hang of the basics. It's usually day 4 and onwards when you start to get into the really fun stuff.
If you're travelling with non-skiers you may want to plan some extra days for visiting nearby villages or doing cultural activities to make sure everyone is catered for.
Can I ski for the first time without lessons?
We highly recommend attending a ski school or getting some private lessons when you first arrive at your resort. This will give you the skills to stay safe and confident on the slopes for the rest of your holiday. Read our ski lesson survival guide for more information.
What should I do on my first day of skiing?
This depends on how long you have to play with. On your first day at the resort, you may want to spend some time getting familiar with your surroundings and settling in. Starting your ski experience with a lesson is the best way to set yourself up for a good ski trip. Just don't overdo it on your first day so much that you're too achy and tired to carry on!
Is it easy to ski for the first time?
The best things in life aren't always easy! It can take a bit of time and dedication to learn to ski well, especially if you're aiming to tackle the more challenging runs. However, skiing is surprisingly accessible if you just want to cruise down some blues and greens while taking in the fresh mountain air. Always start with some professional lessons to stay safe on the slopes.
Is it fun to ski for the first time?
Yes! We might be biased but we think skiing is one of the most fun sports out there – even for beginners. That being said, learning something new can feel frustrating and tiring until you get the hang of it. Take it easy, go at your own pace and remember – you can always take a day off to do something different if you need to.
We hope these tips help you plan the best first-time ski trip for you and your friends. Take the next step and book your group ski transfer with Alps2Alps.